Network performance monitoring tools can allow network professionals to have a real-time overview of an entire network so they can better troubleshoot problems and reduce downtime. Adopting world-class network performance monitoring software with dashboards, alerts, and other key features can help you save money and time while boosting productivity. Below, we've listed what we feel are the best options and what they can offer IT teams for networks of all sizes.
If you'd like to jump ahead to a top pick for the best tool, take a look at SolarWinds® Network Performance Monitor (NPM). We believe it's an easy-to-use, affordable option built to provide detailed reporting, data-driven insights, and customizable alerts to help keep your network healthy.
What Is Network Performance Monitoring?
What is network performance monitoring? Put simply, it's the practice of routinely monitoring all the components within an organization's network to track, measure, and troubleshoot performance issues, failures, or deficiencies.
To bolster performance, many enterprise networks use network performance monitoring software to automate the most time-consuming and labor-intensive areas of network monitoring. These tools help maximize time, increase productivity, and uncover key insights teams might overlook with manual network monitoring.
What Are the Benefits of Network Performance Monitoring Software?
There are a few critical benefits automated tools can offer organizations:
Staff and Budget
With the adoption of numerous new devices and apps—coupled with the fact many organizations are adopting work-from-home or hybrid work models—most networks may require highly trained network professionals to maintain the network, configure new users, respond to support calls, and plan and support network expansions and changes. Network performance monitoring software can help maintain or even reduce headcount, which offers a directly quantifiable return. In many cases, these tools can also give network professionals more time to work on more complex projects, which significantly reduces costs and drives increased revenue and productivity.
Decreased Network Downtime
Network downtime is a major productivity killer. You can directly quantify downtime not only by calculating the cost of time a network professional spends troubleshooting and resolving the cause of the downtime but by factoring in the loss of employee productivity, revenue, and the lost goodwill associated with downtime. Adopting toolswith automated, customized alerts can be an effective way to help an organization not lose revenue to downtime.
Decreased Support Calls
Though it's a great idea to have a help desk dedicated to resolving network- and device-related issues, an overwhelming number of support calls may be an indicator the network has recurring problems. Some network performance software can provide historical data around these problems, which can make these types of issues easier to address and less likely to occur in the future.
Additionally, network performance monitoring tools can often alert network management and support teams of problems before users even notice issues and generate support calls. The cost of support calls can be easily calculated by looking at the number of calls per week, the time to resolve a support call, and the cost per hour of support time. By reducing the number of support calls through proactive monitoring and management of the network, you can directly improve cost savings.
Decreased Time to Resolution
Time to resolution is defined as the time spent resolving an issue once support teams are notified. Longer time to resolution means an organization is paying more for the support it takes to address problems and for the downtime and decreased productivity. Network monitoring software can come with real-time diagnostic data and often includes dynamic network maps, which can be incredibly useful in resolving issues quickly and identifying issues before they become problems.
How Can Automated Monitoring Tools Optimize Network Performance?
The best network performance monitoring software tools are built to aid network professionals in improving the performance of a network by providing total visibility into the entire network. Getting a clear view of exactly what's happening in a network—including higher bandwidth usage, bottlenecks, and configuration—is the first step in maintaining a healthy network. Network performance monitoring tools can help with a range of operations, including discovering network devices and performing cross-stack network data correlation, uncovering connections using hop-by-hop analysis, and measuring overall large-scale network health.
Armed with this useful data, network professionals and support teams are much better equipped to troubleshoot and resolve network performance issues. Using this information, teams can more easily make sure networks are configured properly, isolate the root causes of network problems, identify and eliminate bottlenecks, drill down on resource usage, and much more.
What Features Should Network Performance Monitoring Software Have?
A major focus of a network performance monitoring tool should be to collect long-term data from a network and displaying it for analysis in easy-to-read ways. In contrast to active and passive network monitoring systems, performance monitors are typically focused on the longer term. We feel the best tools will offer these main features:
Discovery
A best-in-class solution should automatically search for all devices and applications within a network.
Monitoring
Once devices and applications are discovered, they should be constantly monitored across all network devices, applications, and wireless access points, with special attention paid to critical metrics like uptime or disk space.
Visualization or Mapping
A network performance monitoring tool should visually recreate the connections between elements within a network to provide end-to-end visibility and improve analysis.
Alerting
Network performance monitoring tools should come equipped with customizable alerts so the right person is alerted as issues arise and they can solve problems on the fly and reduce downtime.
Reporting
As issues and problems arise, it's important for network performance monitoring tools to be able to generate and archive reports of network performance to establish baselines.
Analysis
The best network performance monitoring tools should offer additional features to aid in troubleshooting and help network administrators drill down to the root causes of recurring issues.  
Six Excellent Network Performance Monitoring Tools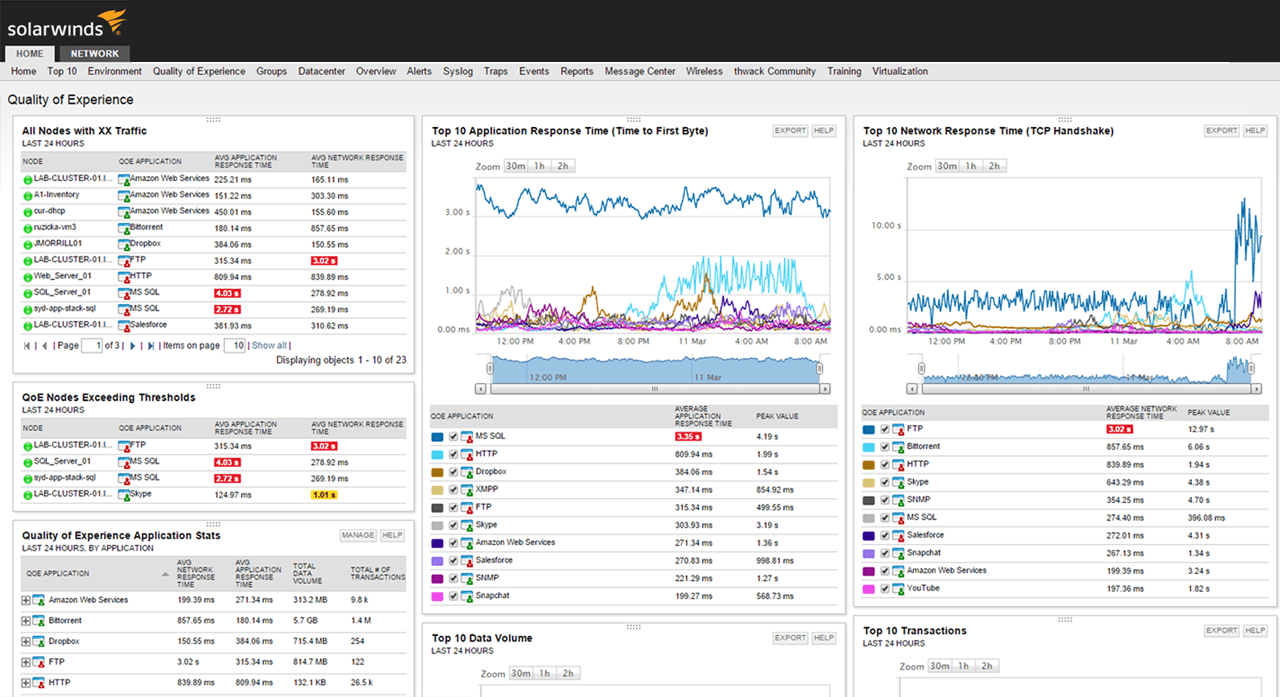 Built for networks of all sizes, NPM is designed to be powerful, affordable, easy to use, and easy to maintain. This network performance monitoring software can help network professionals quickly detect, diagnose, and resolve network performance problems and outages. It offers automated alerts that can help you ensure issues don't go overlooked. You can also drill down on metrics using the NetPath™ hop-by-hop analysis tool and PerfStack™ for cross-stack metric comparison. When you're monitoring to troubleshoot issues, we believe this level of detail makes a difference.
NPM is built with over a hundred prebuilt reports designed to help teams configure and monitor networks out of the box. Because every network is different, NPM also comes with plenty of customization and automation options. SolarWinds can also help networks adapting to changing environments, as they offer on-premises, cloud, and hybrid solutions.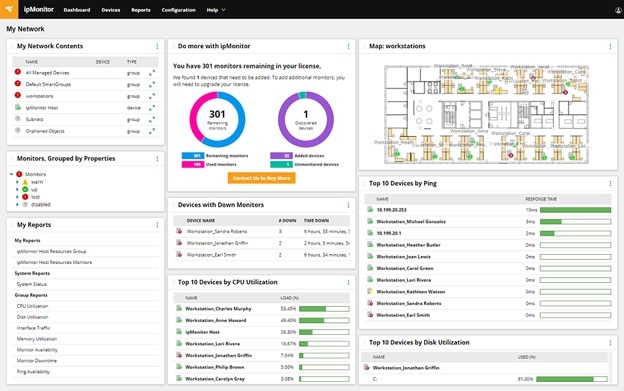 We feel SolarWinds ipMonitor® is another cost-effective solution for organizations looking for a quick network performance monitoring tool. Designed to monitor up/down time and performance for the most critical IT areas—including networks, servers, VMware hosts, and applications—the automated discovery process in ipMonitor also comes with built-in recommendations about the most critical elements of devices and applications to monitor. You can use its automated alerts and maps for greater monitoring insights.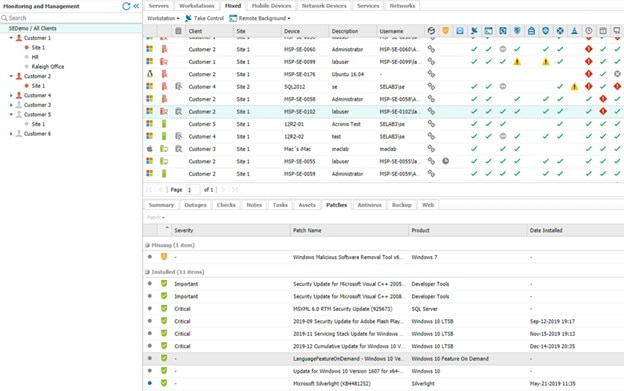 For managed service providers, which are responsible for monitoring hundreds of networks at once, Remote Monitoring and Management (RMM) can help users provide reliable service for a vast number of networks. In addition to performing the most critical network performance monitoring tasks, such as extremely detailed reporting, RMM is also built to provide quick and secure remote access capabilities, including documentation and password management.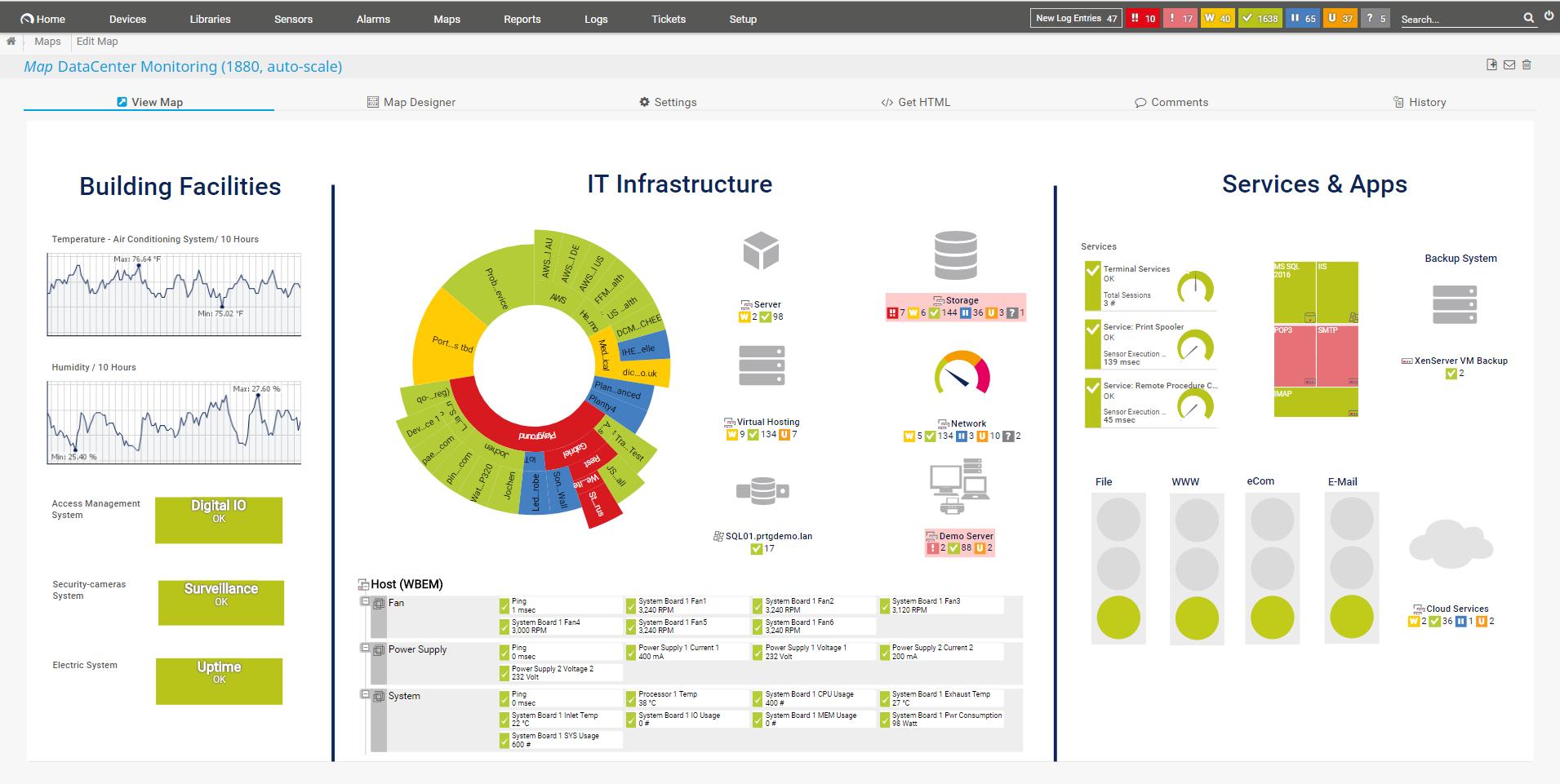 For organizations new to network monitoring tools, we think PRTG is a good choice for monitoring bandwidth usage and uptime. The tool can also provide reliable data around switches, servers, and routers. PRTG monitors all types of servers in real time with regard to availability, accessibility, capacity, and overall reliability.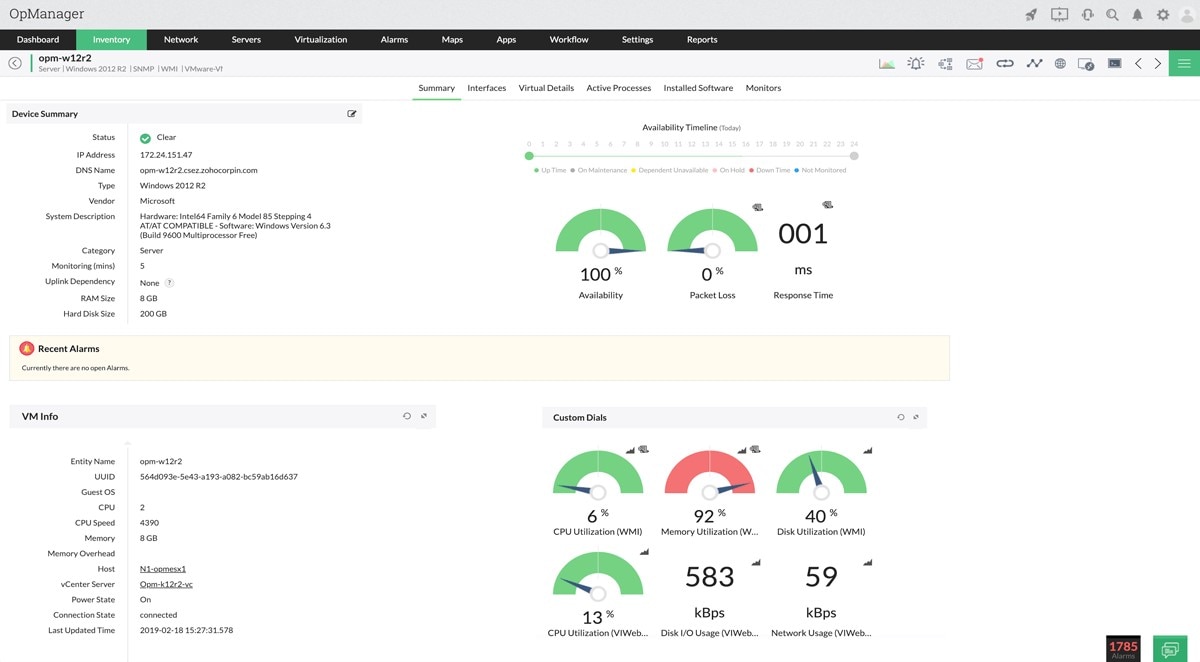 We believe this is another good on-premises network performance monitoring software for those looking purely for on-premises solutions and using Windows or Linux operating systems. Primarily used by mid-sized companies, OpManager has been praised for its email and SMS alert system. However, some users report its interface can be difficult to use.
Designed to provide a scalable solution for businesses of any size, OP5 Monitor is free for the first 20 devices. OP5 Monitor remains a favorite open-source solution for its automatic alerts and robust reporting tools.
Network Performance Monitoring Solutions Conclusion
Though there are plenty of network performance monitoring tools available on the market today, finding a tool capable of meeting your network's needs and growing with your network is critical. We like SolarWinds Network Performance Monitor for this reason and consider it to be one of the best choices around due to its industry-leading features at a great price. You can start with a 30-day free trial if you'd like to learn more.