Finding a remote desktop Android application suitable for your needs can be a real challenge. This guide will help you choose the best RDP app for Android for your company, looking at both paid and free options.
In reviewing these remote desktop support apps, we have focused on apps with RDP Android to Windows capabilities, although tools that support other operating systems besides Windows PCs will be mentioned. This guide considers the key advantages and disadvantages of each Android RDP client, plus overall user-friendliness, range and sophistication of features, and suitability for business use.
SolarWinds® Dameware® Remote Support (DRS) and cloud-based SolarWinds Dameware Remote Everywhere (DRE) top our list of the best RDP Android remote access tools. DRS and DRE are user-friendly, offer a wide range of features, including mobile applications, and are cost-effective. Both these tools are well suited to Android users looking for compatibility with remote PC and Android applications.
The Best RDP App for Android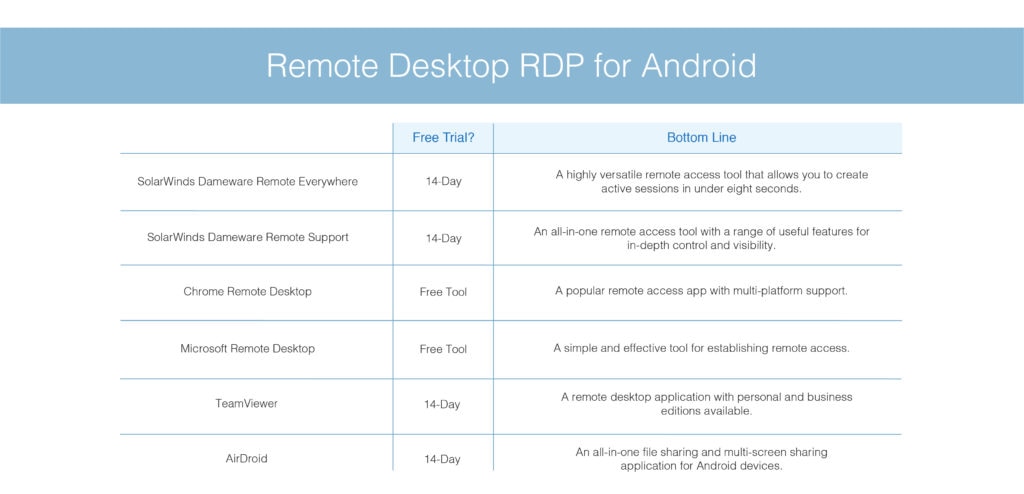 The smartphone revolution has had a notable impact on IT networks and software market shares. While Windows applications lead the software market, Android is quickly becoming a clear leader in the mobile market. In recent years, an increasing number of people have been accessing Windows remote desktop services from an Android device, so it's important to choose the right RDP Android client.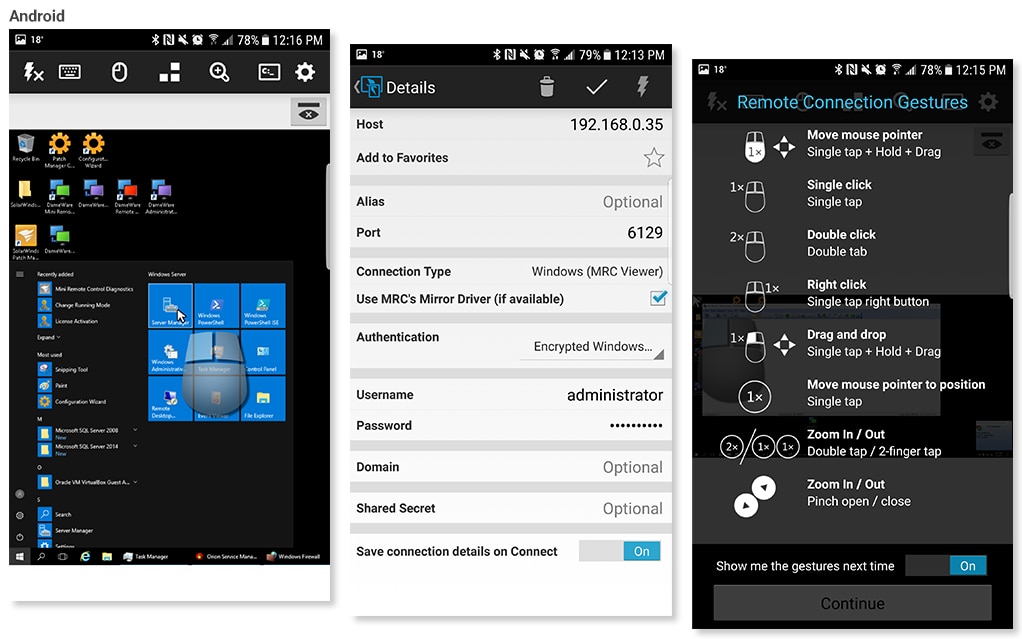 DRS is a popular SolarWinds remote desktop RDP for Android. This tool delivers quick and safe remote access and control capabilities, helping you get to the root of problems quickly. DRS is built to provide multi-platform remote access to Windows, Linux, and macOS computers, laptops, and servers. Access is via a single, easy-to-use admin console and can be established through the Android or iOS application. The DRS mobile application lets you remotely access and troubleshoot Windows computers from any location, all from your Android device.
This versatile and flexible solution allows you to deliver remote assistance anywhere and anytime. You can initiate safe over-the-internet remote connections both inside the LAN and across the internet. As such, DRS is a good option for businesses with employees who are likely to be working while on the go, such as traveling team members.
DRS lets you use remote access to start/stop services and processes, reboot systems, copy and delete files, view and clear event logs, and more. This simplifies IT remote support administration activities for your team, significantly reducing the need to make house calls for troubleshooting purposes. DRS is also designed to be highly secure and provide advanced authentication methods, including the option of enforcing two-factor authentication in sensitive environments using Smart Card logon.
Like DRE, DRS is an all-in-one remote access and systems management suite of tools. If you're looking for a solution with a narrower range of capabilities, to complement rather than replace the software you already use, then DRS may not be the right remote desktop RDP client for you.
Pros:
Multi-factor authentication
Remote access mobile application
Useful admin features for pinpointed access
Cons:
Less suitable for businesses looking for a narrower suite of tools
A 14-day free trial of SolarWinds DRS is available for download.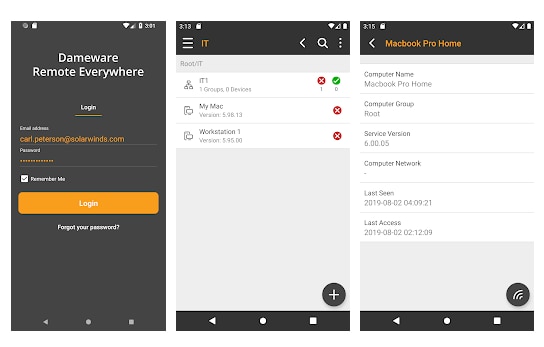 SolarWinds DRE is a highly versatile, web-based remote access tool offering an impressive array of capabilities for Android users, including compatibility with all operating systems. You can connect to Android devices from your Windows computer or use the mobile app to connect to an end computer from an Android or iOS mobile or tablet interface.
With DRE, you can create active sessions typically in under eight seconds, saving you time otherwise spent establishing connections with workstations. DRE is also a safe tool using advanced encryption protocols, two-factor authentication, and multi-level permissions—helping ensure only authorized people can establish remote access.
Your remote support technicians can connect with your users through either pre-session or in-session chat, by initiating video calls or using VoIP. Live chats can be established without disrupting active sessions. To help you keep track of correspondence, all messages are automatically saved to session logs.
This Android RDP client features a lightweight ticketing system, which allows you to closely monitor end-user requests and more easily resolve issues as they arise. In addition to being one of the best RDP apps for Android, DRE also functions as a remote computer-to-computer access tool, with support for all major operating systems. This makes DRE ideal for supporting a large client base who is likely to use multiple operating systems and device types.
DRE is a user-friendly tool designed to scale with your company as it grows, making it suitable for even small businesses. But DRE might not be the best fit if you're only looking for a basic remote desktop solution. This remote desktop RDP for Android offers an all-in-one solution with help desk and ticketing features.
Here's a brief overview of DRE's pros and cons:
Pros
Lightweight ticketing system
Many useful in-session features
Support for two-factor authentication and multi-level permissions
Cons
Less suitable for companies that already have a help desk and aren't only looking for a remote desktop solution
A 14-day free trial is available.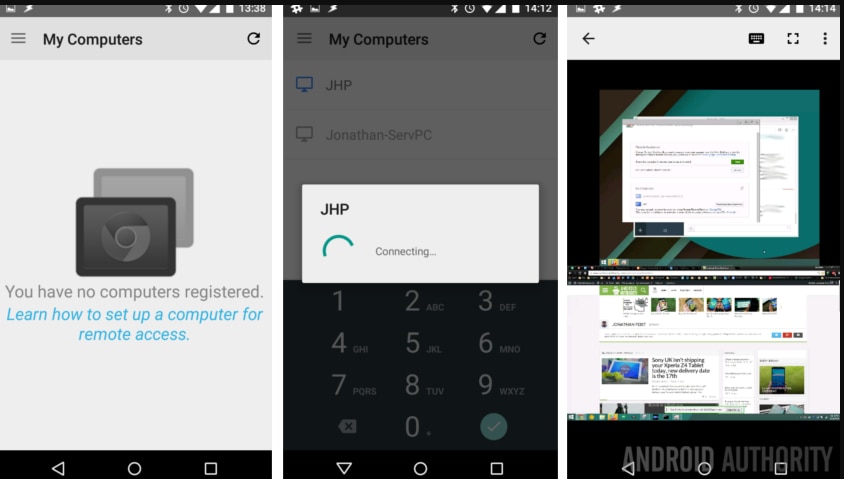 Chrome Remote Desktop is one of the most popular remote access apps for Android. Users can install the application from the Chrome Web Store on their computer and from the Google Play app store for their Android mobile device. While Chrome Remote Desktop offers excellent performance and accessibility, the mobile application doesn't provide the same level of functionality as the desktop tool.
This tool is suitable for accessing a remote desktop on Mac, Windows, and Linux. The mobile app is fast and simple but has limited functionality. If you're looking for an enterprise-grade and versatile remote desktop RDP tool for Android, this tool may not be suited to your needs.
Pros:
Simple and fast
Multi-platform
Cons:
If you're looking for a simple and affordable tool, then Chrome Remote Desktop is one of the best free RDP Android clients available.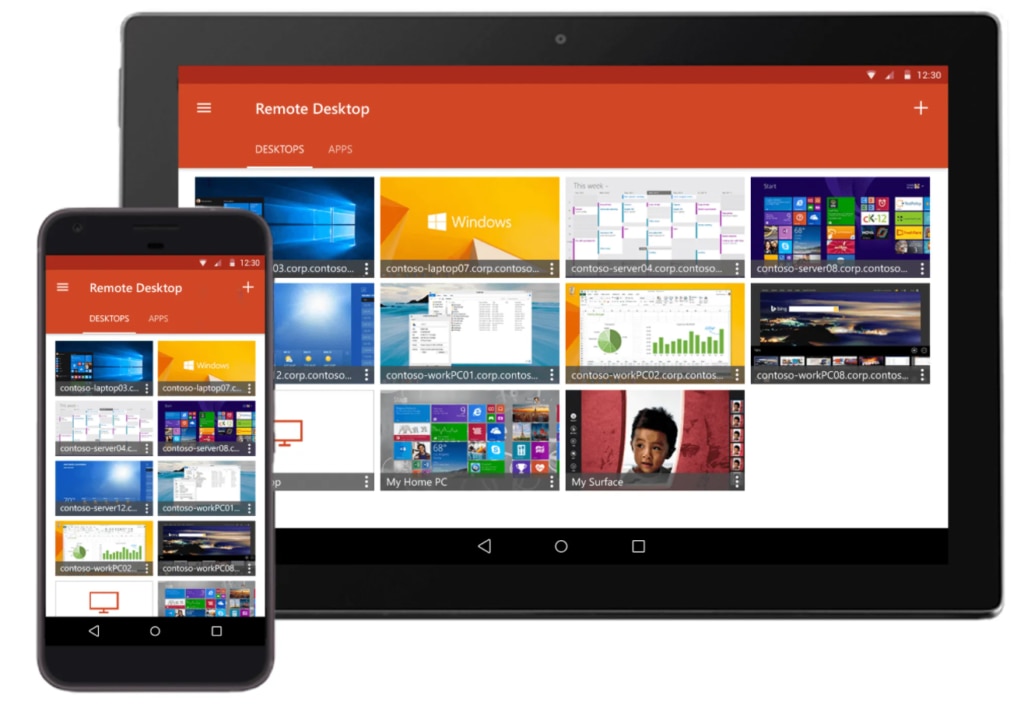 Microsoft Remote Desktop is one of Chrome Remote Desktop's biggest free competitors. This tool works similarly to Chrome Remote Desktop—you simply install the client on your computer and the application on your Android device. This will allow you to connect your devices and establish remote access. With Microsoft Remote Desktop, you don't need a Google Chrome installation to work on Windows devices.
Although the Microsoft Android RDP client can facilitate remote access to desktops fairly easily, it comes with limited functionality. For example, you can only create a connection profile or search for an existing one to connect to it. The small screen and keyboard design can make entering the password to connect to a profile difficult. You also can't modify the experience settings or themes, and the interface isn't very intuitive.
Pros:
No need for Google Chrome installation
Simple setup
Cons:
Limited functionality
Inflexible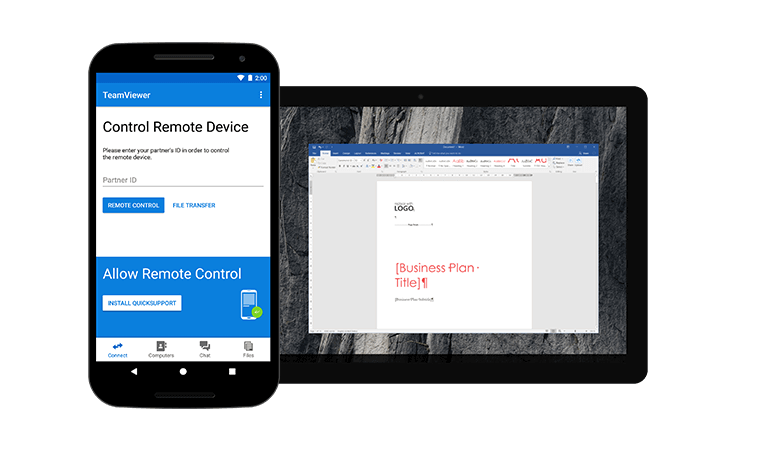 TeamViewer is a popular remote desktop application for remote access to your computer from your Android device. Although the setup for TeamViewer is a little complex, the app itself is simple and functional.
TeamViewer features file transfers in both directions, real-time sound and HD video transmission, and high-security encryption. The app is free for personal use, but you'll need to pay for a subscription if you want to use it for business purposes.
Pros:
Encryption
Real-time sound and HD video transmission
Support for file transfers in both directions
Cons:
A 14-day free trial of the business edition of TeamViewer is available.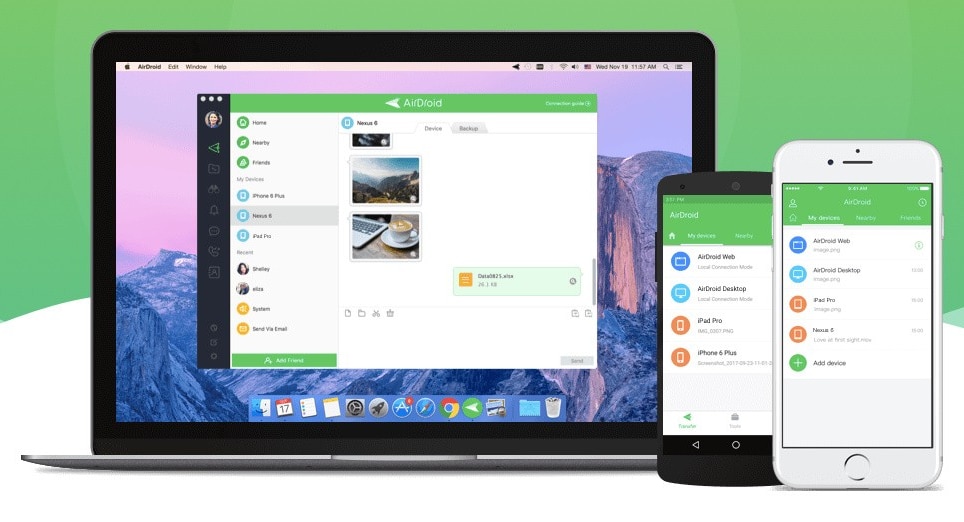 AirDroid is an all-in-one file sharing and multi-screen sharing application for Android devices. This tool lets you access multiple devices simultaneously from anywhere, with support for the most popular operating systems. In addition to allowing you to manage your desktop from an Android device, AirDroid also lets you pick up calls and send messages from your desktop using the application.
Other key AirDroid features include phone screen recording and screen sharing from both sides, with plenty of customizable settings. This solution can make or receive calls on your PC and supports notification sharing for all connected devices, ensuring you're kept in the loop.
To keep you safe, AirDroid provides highly secured backup and synchronization capabilities for your phones and desktop computers. There's a significant delay when sending SMS messages via a computer.
Pros:
Pick up calls and send messages from your desktop
Screen recording and screen sharing from both sides
Customizable settings
Secure backup and synchronization
Cons:
Delay when sending SMS messages via computer
You can download a free 14-day trial of AirDroid business edition here.
Getting Started With a Remote Desktop RDP for Android
Hopefully, this guide to the best remote desktop RDP for Android will save you some time by giving insight into the most popular and effective tools currently on the market. Overall, we recommend SolarWinds Dameware products: DRE and DRS. These tools offer an impressive range of powerful features and are user-friendly. They're also suitable for business use and highly scalable, making them ideal for small and large businesses alike. You can access a free trial of DRE here and a free trial of DRS here.