Small technical support teams face heightened pressure when managing customer requests with limited IT resources. This article aims to assist in choosing appropriate help desk software and showcase the resulting benefits for your company. Explore the top 5 help desk software options recommended in this article.
---
TOP Software for IT Teams
With an influx of customer requests and a shortage of IT resources, incident management is becoming a big source of stress for understaffed support teams. In this article, I'll help IT teams evaluate which software they should implement to meet their needs. I'll also describe how a help desk system with a sufficient ticketing system can make a major impact in mitigating and managing many of the tedious tasks that come with customer support.
The Best Help Desk Software
On the scale of IT service desk software and help desk support, I find SolarWinds Service Desk (formally known as Samanage) strikes the perfect balance. I highly recommend trying it. The service desk includes a self-service portal, a service catalog, a centralized knowledge base, and an SLA management tool—all of which operate without a hitch.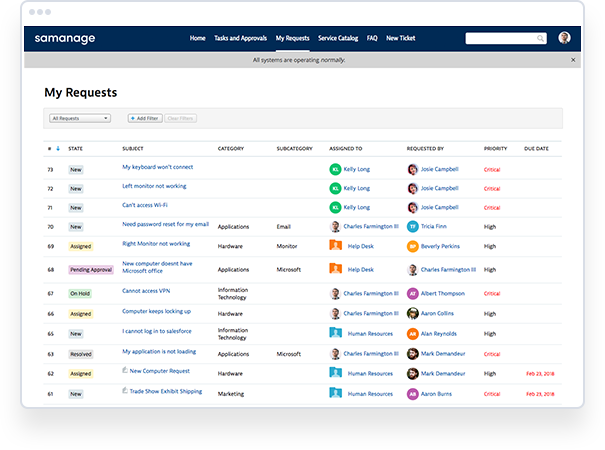 Service Desk is also a ready-to-use software. Admins won't be challenged with any tedious installation process and the customization is completely optional. This makes it fairly flexible, since you can update as much as you feel is needed depending on your ticket demands and IT quirks.
From an end-user point of view, you'd be hard pressed to find a better fit. It's easy to manage, track, and operate—and considering that many service desks try to stand out by offering something shiny or new, it's refreshing to have a utility that is always reliable and simply gets the job done well.
A big advantage of SolarWinds Service Desk is the ability to try the software during a free trial period.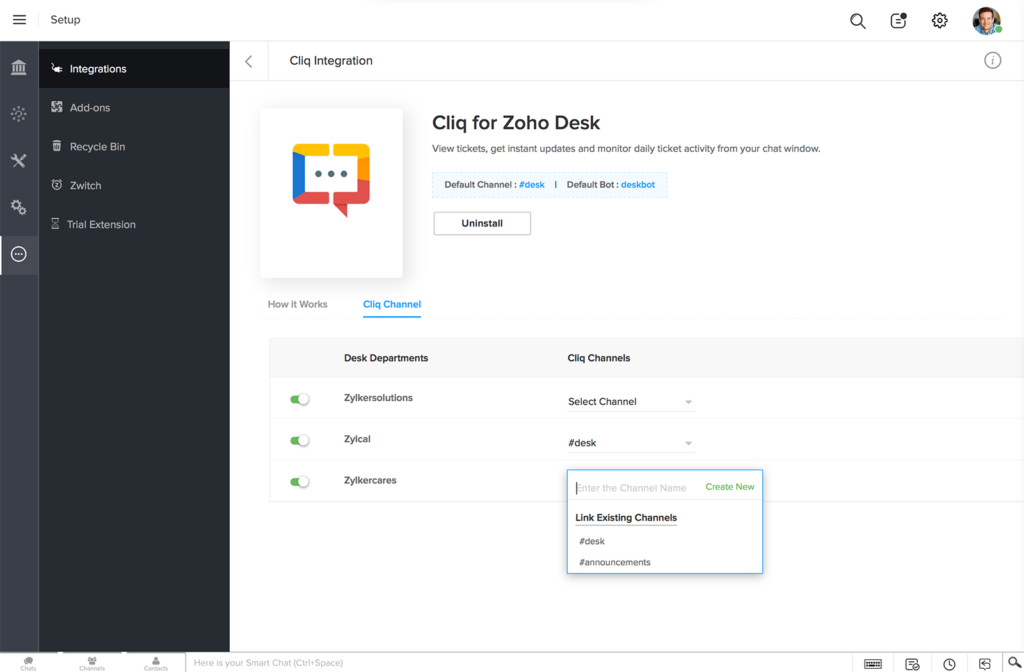 © 2021 Zoho Corporation. LLC. All rights reserved.
Zoho, typically known for their accounting software, also has an impressive administration software division of which Zoho Desk is the premier offering. What sets it apart from other help desk software is its built-in organization. This utility uses dashboards that are accessed via the cloud to organize customer tickets in real time. Tickets can be organized by management to show which ones are overdue, which are nearing their critical solution time, and which are brand new.
However, Zoho struggles to handle large workloads. Data can often get lost or go unnoticed, which makes it fairly unreliable for medium-to-large sized companies. They also have a hard time migrating information over from pre-existing tools and software. For IT teams who already feel under the gun, you likely won't want to invest in a help desk software platform necessitating a tedious installation process.
I highly recommend investing in SolarWinds Web Help Desk. There are few options on the market offering a ticket-managing utility that can also function as a highly efficient IT-asset manager at an affordable price. In addition, Web Help Desk is easy to install, users have no issues navigating the intuitive dashboards, and it's support is easily accessible if any issues do arise.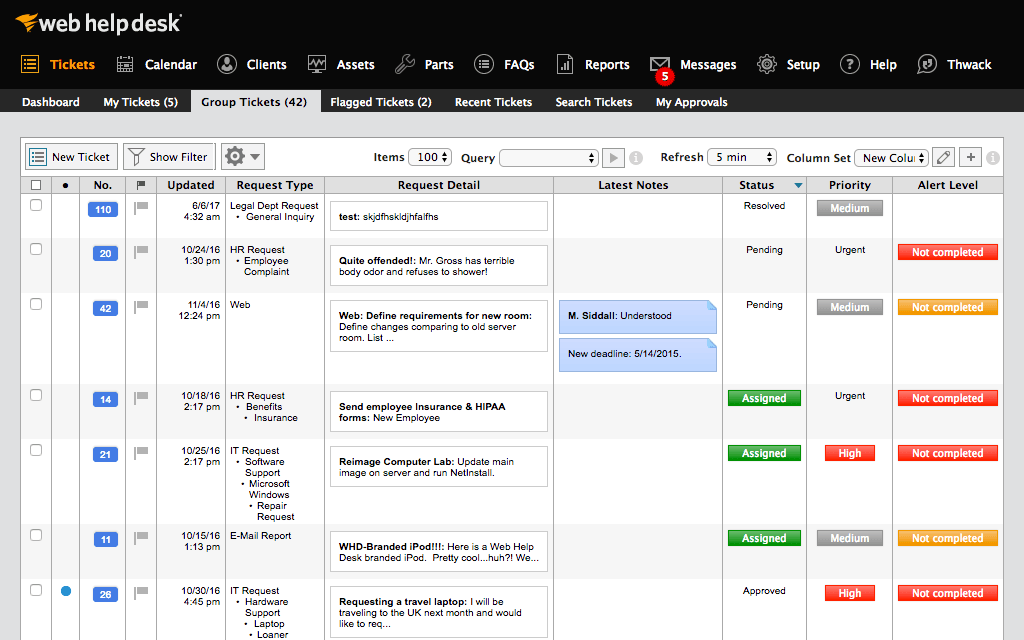 © 2021 SolarWinds Worldwide, LLC. All rights reserved.
One of the premier features of the SolarWinds IT help desk is its dashboard. Web Help Desk has a well-designed display with built-in reports that can be customized as needed. Users can set up alerts in case performance targets are breached or to remind them of approaching client deadlines.
But the dashboard's real selling point is its capability for technicians to assign IT assets to client tickets. This not only better serves the client, but it can help IT admins keep organized as slews of requests flood in and resources begin running thin.
Additionally, the desk is customer-friendly. Customers can track their ticket lifespan throughout the process, from the first request to its resolution. Customers can also be given satisfaction questionnaires after their ticket is completed. This provides valuable data to admins evaluating their customer support team's strengths and weaknesses.
SolarWinds Web Help Desk is the ideal product if you're looking for a lightweight tool that combines dual help desk and asset management functionality. In this case, you can also test this tool during the free trial.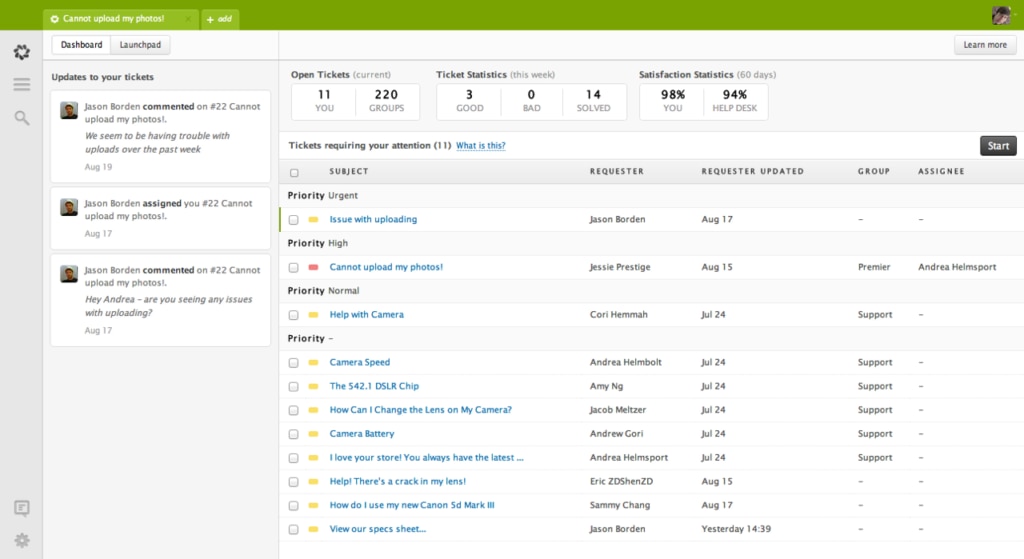 © 2021 Zendesk. LLC. All rights reserved.
The help desk software from Zendesk is mostly famous for its live chat facility, which I'd argue is one of the most important tools a help desk can provide. Their web desk deploys a centralized communication console, so users only need to access one point to get in touch with customers instead of jumping between email, chat boxes, web requests, etc. This type of communication is ideal for a help desk system since it makes customer communication the number one priority.
Because of this unique build, Zendesk is frequently used by websites with subscription services. I find this fitting since Zendesk's best features are only available with additional charges and subscriptions. Considering they already have such high prices to begin with, it's pretty irksome that the fees continue to add up over time.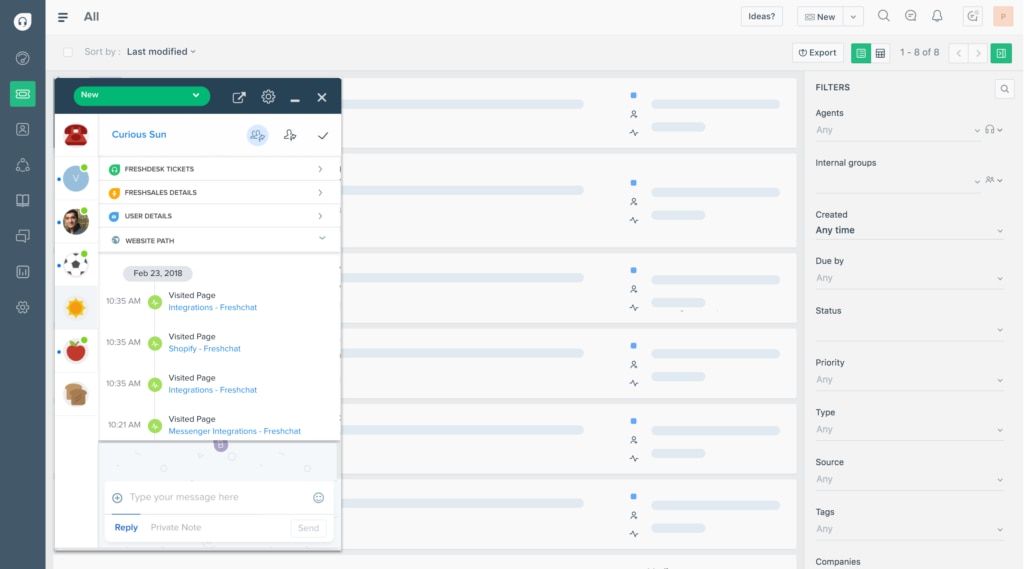 © 2021 Freshdesk. LLC. All rights reserved.
Freshdesk, a fairly standard help desk, is mostly known for its gamification feature which actually makes ticket tracking almost enjoyable. The dashboard has a tab that tracks ticket resolution via leaderboards and assigns top IT agents reward badges for good work. Of course, by making work "fun," admins can better motivate their IT teams to move quickly. But for those who don't buy into this methodology, they can toggle off the gaming tab.
Besides this feature, Freshdesk is pretty much a standard help desk software. It's known for being a little buggy, especially with its ticket featuring. People also complain about how often they need to restart their systems when using it. On top of that, integrating the Freshdesk API can pose a bit of a challenge for developers, particularly regarding syncing customer contacts. The lack of a consumer-focused vendor API will likely leave IT teams frustrated as they try to pair this utility into their systems.
An Alternative Option for Managed Services Providers
Finally, let's look at one more solution we opted to exclude from the main list. This is because MSP Manager is a ticketing and help-desk solution designed with a specific market in mind—managed services providers (MSPs).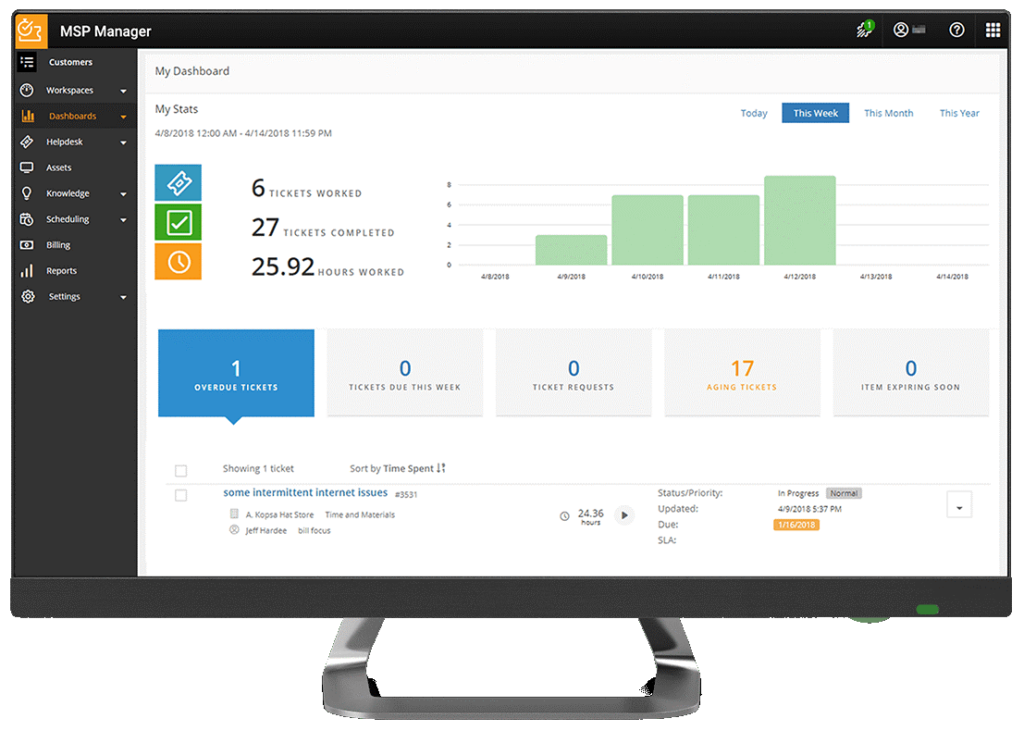 © 2021 N-able Technologies International Inc. All rights reserved.
MSP Manager is a complete help-desk solution that can help you provide added value to your clients while simultaneously saving you time and money. It includes a streamlined and easy-to-use ticketing system, batch billing exports, reporting dashboards, and quite a few other perks.
MSPs have unique needs when it comes to help-desk software. If this is your business, you'll be helping a lot of clients and will need all the support you can get. A solution like this one can be a lifesaver, enabling you to set up clear, intuitive processes—while working to keep security strong at the same time.
Why Help Desk Software?
With a growing IT skills shortage in large and small workplaces, tech support is stretching thin. Although there are less workers, the demand for IT services just keeps coming—businesses have higher volumes of support tickets, more end users need assistance, etc. On top of that, many workplaces have constraints on resources, which makes handling larger workflow traffic even more difficult, especially for IT teams who are struggling to find qualified hires. It's a frustrating trend for businesses that are trying to keep their customers happy.
For those IT teams feeling the brunt of these pains, I suggest upgrading your help desk support software. It can help fill the many gaps that your team is likely experiencing, especially if you're working in heavy customer-request climates.
Support Desk vs Customers Support Desk – What is the Difference?
You'll sometimes hear help desks referred to as a support desk or a customer support desk, but for the most part, these terms are fairly synonymous with one another. All of these help desk management services are designed to help companies resolve customer issues more efficiently by automating their complaint resolution practices. This automation is mostly taking place in your organization's ticket management processes.
If you're interested in a summary of the different types of tools, check out a comparison of Help Desk and Service Desk here: Help Desk or Service Desk? Comparison Guide
Customers have fairly high expectations for the speed at which their requests are addressed, answered, and solved. They won't be understanding if they have to wait on their busy IT team. So, for businesses wanting to keep their customers happy with faster ticket resolution, help desk solutions are necessary.
Help desks are also often automated, this will assist admins in their allocation of IT resources. This can help support teams dedicate more time to their internal operations. Afterall, in-house requests deserve as much attention as customer tickets. There are plenty of IT headaches help desks can assist with, but it's best for me to explain what they are and how they work with a review of my most recommended platforms on the market. I'll be rating them by how easy they are to configure and update, their general robustness and reliability, and their cost value.
Best Helpdesk Solution
Overall, there's not really a one-size-fits-all helpdesk solution. Some of these platforms get a lot more attention than others because they have special features. But at the end of the day, IT teams invest in these resources to save them time and money, not because they're fun or innovative.
As such, it's best to opt for enterprise-grade, reliable options. I recommend starting out with SolarWinds Service Desk to see if it suits your requirements.