LogMeIn has been in widespread use for some time now, but many of you are looking for a change. Although it might seem like LogMeIn has a near monopoly on the market, some competitive contenders can provide you with a suitable LogMeIn replacement. This guide provides a list of some of the best LogMeIn free alternatives and paid alternatives to help you choose the best one for you.
For those who don't have time to read the full list, I found SolarWinds® Dameware® Remote Support (DRS) to be the best LogMeIn alternative available. SolarWinds is a familiar name among IT administrators and professionals, best known for its Network Performance Monitor (NPM), and it has a long history of dependability and consistency, as proven by its vast and loyal community of users. DRS is an on-premises, multi-platform program supporting remote access to Mac OS X, Linux, and Windows computers, and it offers flexibility and customizability without complication. If you're looking for a cloud-based alternative, then I recommend SolarWinds Dameware Remote Everywhere (DRE).
To find out how other tools compare with DRS, check out my product list, which also features the best LogMeIn free alternative.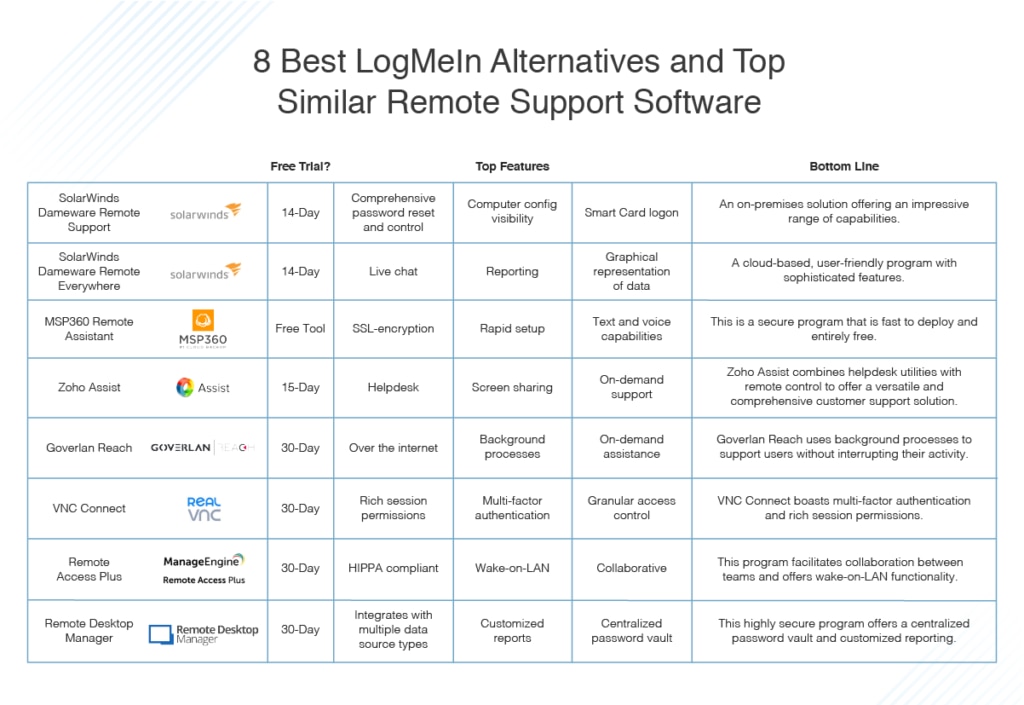 Best LogMeIn Alternatives
If you're wondering what to use instead of LogMeIn, you're not alone. Finding a LogMeIn alternative at an affordable price isn't easy, and the market seems to be becoming increasingly monopolized. There are, however, some impressive LogMeIn competitors out there. You just have to know where to look.
A LogMeIn equivalent doesn't have to cost the world. The following list ranks what I believe to be the best software similar to LogMeIn, free and paid. I've ranked these products with consideration of user-friendliness, range and sophistication of functionality, value for money, suitability for business use, and vendor dependability.
SolarWinds Dameware Remote Support is a LogMeIn equivalent offering rapid and safe remote control capabilities. Like LogMeIn, this program supports multi-platform access to Mac OS X, Linux, and Windows. It can access computers, servers, and laptops from a single console. The remote connection is initiated via the internet, letting you access computers in the local area network from anywhere, at any time.
Via the remote connect settings, you can invite users to join your remote session, similar to the "add technicians" feature in LogMeIn. Unlike LogMeIn, the program then displays a connection guide, which walks you through the required steps to make a connection with an end user. It's a simple process: once you've sent the internet session details to the end user by email, just wait for the end user to join.
One of the major benefits of DRS is that it simplifies IT troubleshooting. The tool's capabilities are highly versatile, allowing you to start and stop services on the accessed computer, copy and delete files, view and wipe event logs, reboot systems, and much more, just like with LogMeIn. This mitigates the need for house calls when conducting troubleshooting, saving you time, resources, and manpower. Moreover, the built-in system and TCP utilities allow you to remotely troubleshoot computers in some instances without needing to launch a full remote control session, so productivity doesn't have to halt entirely for you to remedy the issue.
The best thing about DRS—and a feature that sets it apart from LogMeIn—is its mobile capabilities, which allow you to remotely access network computers from your Android or iOS device. IT admins are often on the go. If they don't have access to a computer, they can use the Dameware mobile application to do their job from anywhere.
While LogMeIn only lets you manage a maximum of 10 sessions at once, DRS lets you manage an unlimited number of sessions at the same time. DRS allows you to manage multiple Active Directory domains, users, and groups, which boosts the convenience of the program. Like with LogMeIn, you can then remotely unlock user accounts, edit group policy, and reset passwords. Exporting AD properties, software information, and system configs is easy, with the option of .CSV and .XML formats. The visibility into computer configurations and the software being used you get with both DRS and LogMeIn assists with root cause identification.
The DRS console is easy to use, featuring a toolbar at the top with a range of icons available. The console lets you manage your Dameware environment centrally, along with your permissions and user accounts.
For security purposes, DRS, like LogMeIn, gives you the option of enforcing two-factor authentication in certain environments, via smart card logon, so you can rest assured the program and your connected devices are safe.
Perhaps the most impressive feature of DRS is the ability to connect remotely to out-of-band computers with Intel vPro with AMT, KVM support, and Wake-on-LAN—LogMeIn only works with Wake-on-LAN. This is one of many DRS functionalities designed to afford you maximum control and access. The usual obstacles associated with standard remote access programs aren't an issue for DRS, which gives you flexibility, versatility, and advanced utilities, all in a user-friendly package.
DRS is similar to LogMeIn, but it really stands apart in terms of its increased focus on convenience and its functionality range, making it the best LogMeIn alternative on the market. A fully functional 14-day free trial is available.
SolarWinds DRS is an on-premises solution, but a cloud solution, like LogMeIn, is available in the form of SolarWinds Dameware Remote Everywhere. Choosing between these two programs comes down to preference and requirement. DRE is a lightweight cloud-based remote support solution accessible from anywhere, provided you have an internet connection. It can connect to your workstations typically in seconds, giving you remote access and control quickly.
Cloud-based solutions often raise security concerns, but DRE—like LogMeIn—uses advanced encryption protocols to combat this issue. And it supports multi-level permissions and two-factor authentication to keep your remote support safe. Under the "Management" tab, you can access a "Secrets Vaults" page, where you can add and delete secret data. You can also change and recover passwords here.
Like DRS, DRE also allows you to connect remotely to out-of-band computers via Intel vPro with AMT, KVM support, and Wake-on-LAN. As previously mentioned, LogMeIn only lets you connect with Wake-on-LAN. Importantly, DRE is a highly efficient and time-saving program that gives you access to key information at the start of a support session, similar to LogMeIn capabilities. This includes device details, BIOS, Windows event logs, updates, and system information. With this data, you're positioned to resolve issues in as little time as possible.
DRE provides you with the tools and information you need to troubleshoot and rectify an issue. Like LogMeIn, it lets you take screenshots and recordings during active sessions, facilitating long-term visibility and future insight. You can also add notes to session details or to the end user's request and save any recorded sessions to the cloud for future reference.
Reporting is one of the most important things when it comes to remote support. Both LogMeIn and DRE offer quality reporting solutions. With DRE's reporting engine, you can augment your help desk's performance. Use the tool's robust reporting capabilities to gain insight, with access to technician performance data, end user survey outlines, and detailed session information. Data is displayed in the form of graphs, for ease of interpretation, where appropriate. The LogMeIn reports are less detailed, but the tool still gives you the ability to generate reports as needed.
Similarly, both tools put an emphasis on communication during a remote session. Because of this, both DRE and LogMeIn offer a live chat feature. This lets you communicate with the end user directly, connecting via in-session or pre-session chat. The tools also offer the option to use VoIP or conduct video calls to communicate without needing to interrupt active sessions. Correspondence is then saved to session logs automatically, so you can refer to them later if necessary.
Using DRE means you don't need to implement a complicated help desk solution, as end users can request help through an agent. Assign the ticket as required and add notes. Another neat thing about this LogMeIn equivalent is it, like LogMeIn, accounts for workstations having more than one monitor. DRE lets you switch between end user monitors with just one click.
A fully functional 14-day free trial of DRE is available.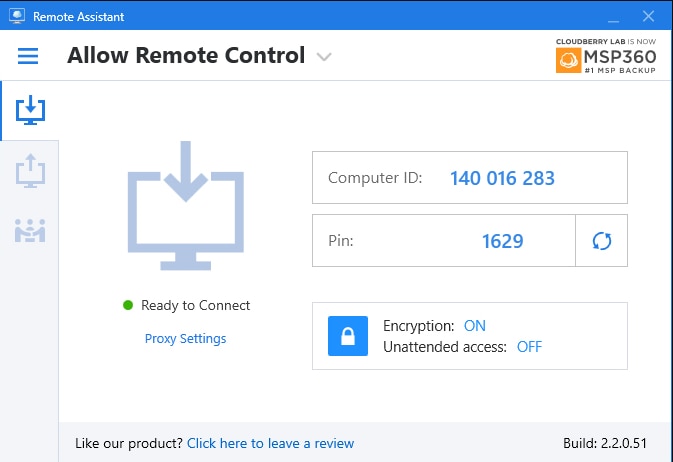 If you're looking for free remote desktop software like LogMeIn, then MSP360 (once known as CloudBerry) Remote Assistant is your best bet. This program, unlike LogMeIn, is entirely free and can be controlled over the internet. Despite costing you nothing, it's surprisingly feature-rich, and it doesn't require any installation, so you can be up and running typically in a matter of minutes. Moreover, communications between MSP360 servers and the remote desktop pass through an SSL-encrypted connection, meaning, just like with LogMeIn, communications are secured through encryption.
Similar to LogMeIn, text and voice capabilities are a generous addition to the MSP360 functionality, making it easy to communicate directly over the internet. The tool also allows for files to be shared during a session, improving communication and knowledge dissemination.
As a free tool, MSP360 Remote Assistant is impressive. However, it doesn't have the range of functionality and the sophistication of features that would make it truly suitable for business use.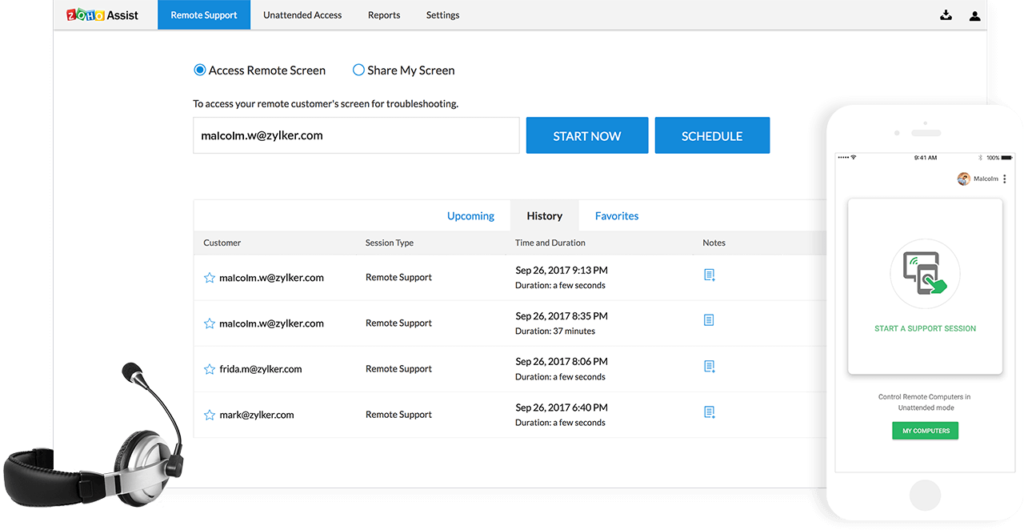 Zoho Assist is a popular LogMeIn alternative offering you the ability to support your end users on-demand and accessing computers remotely. Zoho is a well-known help desk provider, and its expertise in help desk solutions has contributed to this remote desktop software.
I believe Zoho Assist includes help desk integration, session reports, concurrent sessions, multi-monitor navigation, file transfer, instant chat, Raspberry Pi support, a web-based technician console, remote support, and much more. This elite range of features facilitate on-demand support, screen sharing, and unattended support via one application. Zoho Assist provides two-factor authentication and TLS 256-bit AES encryption.
The file transfer capability of Zoho Assist allows you to send and receive relatively large files (up to 2GB) from your computer to other connected computers across multiple networks. The program also supports multi-monitor navigation, letting you move between monitors on a remote computer with just a couple of clicks. It benefits from ample support, which is available 24/7, 365 days a year, via chat, phone, and email.
Zoho Assist isn't solely a remote desktop solution, but also functions as a help desk. This may be an advantage to some, though others may want a more specialized solution. A free trial is available.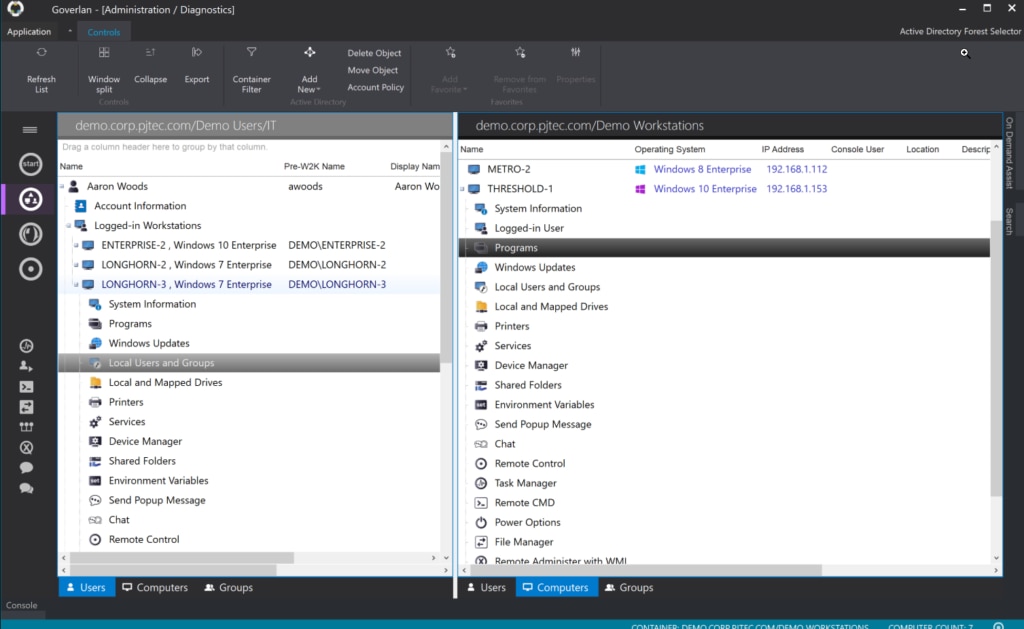 Goverlan Reach makes this list because it operates behind the scenes in most instances. It can reset a password, unlock an account, add a printer, install a driver or device, map a drive, run and end a process, install and repair software, and monitor performance quickly and with minimal intervention.
IT support provided through Goverlan Reach happens without needing to interrupt user activity. Workstations can be queried, controlled, and managed with background management tasks, reducing the need to control a desktop remotely as much as possible. This tool is different from other LogMeIn alternatives because it considers remote control a last resort and incorporates features designed to mitigate the need for it.
When you need to control remotely, Goverlan Reach offers an advanced, dynamic, and efficient way of doing so. You can view multiple systems at once within the console, detecting issues and unusual activity in real time. You can monitor disk, memory, CPU, and network activity levels to assist with rapid identification of any performance issues. Goverlan Reach supports multiple-monitor remote sessions and lets you shadow Microsoft RDP and Citrix XenApp/XenDesktop user sessions.
With Goverlan Reach, you can deliver on-demand assistance across the internet to any user, with privileged and unattended access to systems both externally and internally. This is a versatile tool, but its advanced features come at the cost of user-friendliness, and it takes some time to get used to. A 30-day free trial is available.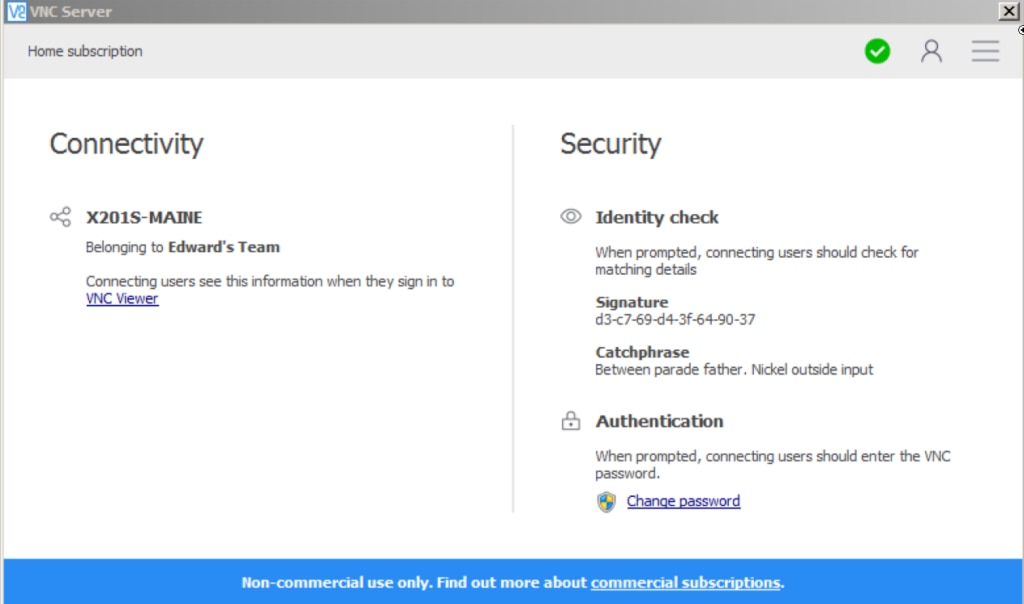 VNC Connect is all about providing safe remote desktop support and access in an increasingly connected world. This program regularly evolves according to the needs and requests of its users. Its most recent update includes support for HD audio to create an immersive remote access experience for users. This feature was implemented at the request of the VNC Connect loyal community of supporters.
This flexible tool offers plenty of options, so you can use it in the way best suited to your needs. It gives you the choice between attended and unattended access, cloud and direct connectivity, and preinstallation and connection on demand. It also offers printing, chat, and file transfer utilities.
This program includes 256-bit AES session encryption, granular access control, rich session permissions, and multi-factor authentication. No training or experience is required to use it, and it's easy to deploy. VNC Connect supports remote workers, letting you remotely access your own computers, so you can work from wherever you are. It also champions collaboration, encouraging departmental teams to share, train, support, and collaborate with each other.
VNC Connect could offer a greater range of functionalities, but it's nonetheless very cost-effective. The subscription-based service connects your entire ecosystem, offering good value for money. A 30-day free trial is available.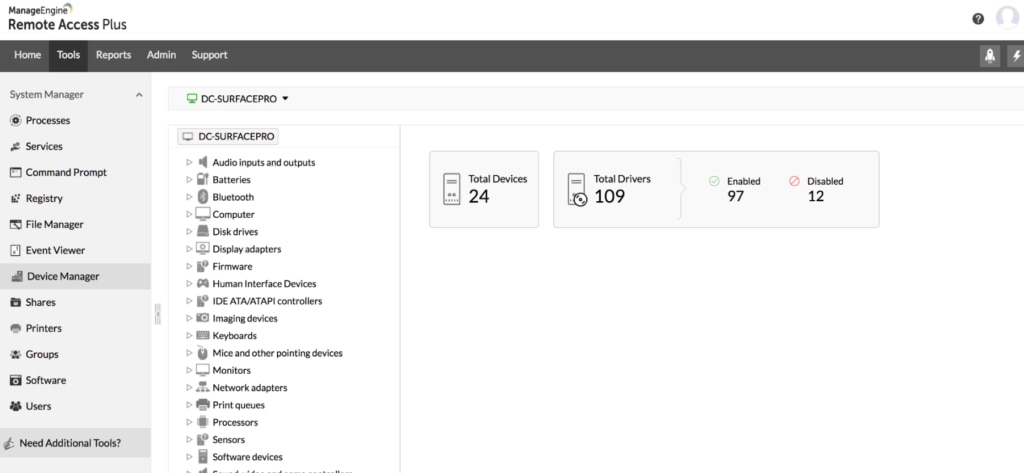 Remote Access Plus, by ManageEngine, is another impressive LogMeIn Rescue alternative for remote support. ManageEngine is a well-known name among IT administrators and professionals, with a reputation for sophisticated and enterprise-grade solutions. Remote Access Plus is no exception, offering advanced remote access control, Wake-on-LAN, remote shutdown, system management, remote file transfer, and much more, in a program highly suitable for business use.
Remote Access Plus is built on four major capabilities: Connect, Detect, Collaborate, and Rescue. You can connect with the computers on your corporate network, no matter where they are, with Wake-on-LAN functionality, so you can instantly turn remote computers on. You can detect and examine your network peers quickly and easily, with the capacity to diagnose the root cause of issues. The program helps you collaborate by bringing technicians together, via voice and video chat, letting them troubleshoot problems as a team. The rescue element refers to the resolution of issues within seconds, with the use of more than a dozen useful tools for remote resolution. This includes remote management of processes and services, the Command Prompt, files, registries, printers, and more.
Safe connections to privileged sessions, virtual machines, applications, websites, and remote servers can all be rapidly launched from a unified platform, giving you access to the program's functionalities in one place. To make things easier, you can launch one-click connections by injecting credentials directly into websites, systems, applications, and remote servers. You can also save your account credentials, facilitating automatic login.
Remote Access Plus is HIPAA compliant and can be used with Windows, Mac, and Linux computers. It's available on-premises or as a cloud solution. The only drawback is it could have a greater range of functionalities. A 30-day free trial lets you manage unlimited computers.
Remote Desktop Manager, by Devolutions, offers some interesting remote desktop management features. The most noteworthy is the safe access it provides for critical assets, helping protect your connections from insider threats and security attacks by using granular protection access control. The password management utility, which stores credentials in a centralized vault, is also impressive. Remote Desktop Manager even affords you the option of using an existing password manager, like KeePass, which means you don't have to maintain multiple password vaults.
This tool is useful for auditing and reporting, letting you generate customized reports according to specific criteria. And you can establish transparency and liability by tracking user operation, which facilitates a robust audit trail. You gain visibility into who's connected for several types of sessions, in real time, and will receive notifications if the session you're launching has already been opened by someone else.
This program integrates with multiple data source types, including Dropbox, XML, SQLite, Devolutions Password Server, Microsoft SQL Server, My SQL, Microsoft Access, FTP, Amazon S3, and much more. In terms of the tool's disadvantages, it could be easier to navigate, and new users will have to contend with a learning curve. A free 30-day trial of the Enterprise edition is available.
What Is Remote Desktop Software?
Remote desktop software uses Virtual Network Computing (VNC) to give a computer remote access to another computer via an internet connection. This remote access gives the user control over the other computer. Remote desktop software employs a client-server model to establish connection and control. The "server" refers to the computer being remotely accessed and controlled, while the "client" refers to the local device being used to access and control it.
The user interface of the server is shown on the client monitor, letting the user control the server with their mouse and keyboard. Whatever the user does is executed in the server environment, with the interface updated accordingly to reflect the impact of these actions.
There are several reasons you might want to use remote desktop software. You might use it for troubleshooting purposes, for example. Many IT administrators are on call 24/7, and remote access tools let them investigate and rectify issues on a device without having to be physically present with the device itself. They can potentially access the device in need of troubleshooting from home, by using their personal or home computer as the client.
Working from home is another reason IT administrators might use remote desktop software. People who work from home may need to access or connect to their corporate device. Remote access tools allow them to do this without coming into the office. Remote desktop software has enabled many organizations to offer their staff increased working flexibility, which can improve employee satisfaction significantly.
Remote desktop software can also be used by help desk providers to access a customer's computers. This remarkable customer support capability has vastly improved the performance of many help desks. By being able to access a customer's computer, tech support can implement a solution directly. This is faster and less resource-intensive than traditional processes.
Finally, remote access tools extend to personal use. If you're on the move or away from your desktop, you can use remote desktop software on your laptop to access personal files and documents.
Why Might You Want a LogMeIn Alternative?
For IT administrators needing or wanting to access their Mac or PC remotely, LogMeIn software likely doesn't need much explaining. LogMeIn has been one of the most popular remote access programs for years. It began as a privately-owned organization but has become a multi-billion-dollar publicly traded company and is now among the world's top SaaS software organizations.
But with this growth has come some changes, and the move toward industry consolidation raises a genuine affordability concern. Price history and the likelihood of prices increasing in the future is an important consideration when choosing remote desktop software, or indeed any IT management solution. Companies understand once a program has been subscribed to, customers become reluctant to make a change. Users become accustomed to the program features, have already invested time and resources in overcoming the initial learning curve, and don't want the hassle of canceling their subscription and renewing the hunt for a cheaper alternative. In other words, companies can often get away with bumping up their prices without losing too many customers. If you want to avoid having to pay a higher price than you were initially promised or having to change software in a couple of years, then price history is a key factor to consider.
LogMeIn Rescue and Central, the two main services provided by the LogMeIn IT management cloud, have been increasing in price year on year. Some of the price hikes have been substantial—for instance, when LogMeIn withdrew its freemium offering from the market, moving from free to $99.99 USD per year in 2014. And 2018 saw a 40% price hike over LogMeIn 2017 prices. Customers are deserting LogMeIn in droves, looking for software similar to LogMeIn they can trust to maintain some semblance of price consistency.
What to Use Instead of LogMeIn
Finding software similar to LogMeIn isn't a matter of simple substitution. This guide has considered a range of factors, including user-friendliness and feature sophistication, to rank the best LogMeIn alternatives on the market. Overall, SolarWinds DRE and DRS come out on top. Both are highly sophisticated, user-friendly, cost-effective, and dependable. If you prefer on-premises programs, then DRS is the obvious choice, though there are some accessibility benefits associated with the cloud-based DRE. Both tools meet enterprise-grade requirements and offer fully functional free trials.