Whether at work or in the home, we can all benefit from being able to access our Linux devices remotely. Maybe you're helping a family member or colleague with an IT issue, or perhaps you're working from home. Remote access capabilities are often especially important for individuals working abroad, at multiple sites, or who spend a lot of time on the go.
Here's a short list of software reviewed in this article: 
In recent years, remote desktop software and virtual network computing have become more sophisticated. In addition to desktop sharing, many tools can now conduct file transfers and offer highly secure remote access.
With more people working from home, having the right remote desktop software has become extremely important. Although there are plenty of remote desktop clients available on the market—both closed and open-source—not all of them will be suitable for your business' specific requirements.
Finding tools with features like RDP (Remote Desktop Protocol) compatible with Linux can be a challenge. This guide was written to help companies choose the best Linux remote desktop client. It provides a list of key advantages and disadvantages of the most effective and reliable Linux remote desktop tools currently available.
In determining the best remote desktop client for Linux, this review will consider factors like user friendliness, must-have features, and suitability for business use. It will also consider overall functionality and dig into recommendations for the configurations you might need: remote desktop Mac to Linux tools, remote desktop PC to Linux tools, and Linux remote desktop Android-supported tools. Although many of these solutions will also offer support for Mac and Windows remote desktop connection, Linux-users and Linux-supported tools are the focus of this review.
Overall, SolarWinds Dameware Remote Everywhere (DRE) and SolarWinds Dameware Remote Support (DRS) come most highly recommended. I think these tools are the most user-friendly Linux remote desktop clients, with many highly sophisticated capabilities. DRE and DRS are versatile and deliver a comprehensive array of utilities capable of meeting the requirements of Linux users and businesses looking for enterprise-grade remote desktop software.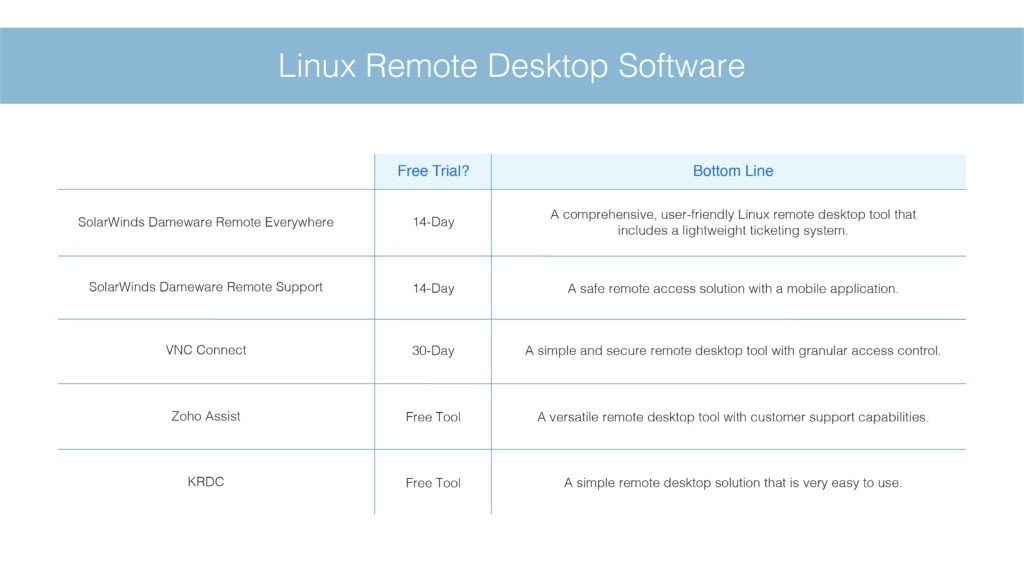 SolarWinds Dameware Remote Everywhere (DRE), as its name suggests, is designed to allow you to establish remote connections from anywhere. This cloud-based remote desktop tool offers powerful features with support for Linux devices. DRE can create active remote sessions typically in well under a minute, which means you can spend less time establishing connections with workstations. DRE is also built to be a secure remote tool and keep users safe with advanced encryption methods. This includes multi-level permissions and two-factor authentication, helping ensure only individuals with authorization can gain access.
DRE lets you communicate as needed with your users, even when you're in the middle of an active session. Your team can connect and communicate with users through either in-session or pre-session chat, video call, or VoIP. You can communicate without ever needing to interrupt active sessions, giving you extra flexibility. To keep track of your communications, which can be useful if another technician has to take over—all correspondence is automatically saved in session logs.
This Linux remote desktop client features a lightweight ticketing utility, which lets you closely monitor your users' requests without needing to rely on an intricate help desk solution. Instead, your end users can request help via the DRE agent. You can assign tickets as needed and add notes. This streamlined and easy-to-use ticketing system is compatible with all major operating systems, including Linux, Mac, and Windows.
Because DRE supports all operating systems and devices in widespread use, it can function as a remote desktop Mac to Linux tool, a remote desktop Linux to Linux tool, and a remote desktop PC to Linux tool. This means DRE is very suitable for companies supporting a significant client base likely to use an array of device types and operating systems.
DRE isn't especially well suited for businesses solely looking for a bare-bones, remote desktop connection option. This Linux remote desktop client offers a comprehensive solution—it even provides basic ticketing and help desk utilities—making it one of the more robust Linux remote desktop tools available.
This software is a user-friendly Linux remote desktop client designed to scale with your company as it grows, making it a good option no matter the size of your business now. A 14-day free trial can get you started.
Here's a brief overview of DRE's pros and cons:
Pros
Live chat feature
Support for two-factor authentication and multi-level permissions
Lightweight ticketing system
Cons
Less suitable for companies with a help desk already and not looking only for a Linux remote desktop client
SolarWinds DRS is another impressive and popular Linux remote desktop client. This tool delivers safe and rapid remote control capabilities, allowing you to get to the root cause of a problem as fast as you can. DRS provides cross-platform remote access functionalities for laptops and servers, as well as macOS, Windows, and Linux computers. You can set up safe access through a user-friendly admin console.
The flexible DRS solution lets you provide remote support from anywhere, any time. You can create over-the-internet connections with Linux devices both across the internet and inside the LAN. This tool is great for teams with IT admins on the go because it includes an intuitive mobile application. The application allows admins to access network computers remotely from their mobile devices, making this a versatile Linux remote desktop. It also allows for control from Android and iOS devices.
DRS designed to be highly secure, delivering advanced authentication methods. This includes multi-factor authentication, using Smart Card logon. This feature is useful in environments where security is a top priority.
Like DRE, this tool provides a complete systems management and remote control suite of capabilities. If you're looking for a basic solution with fewer capabilities, then DRS might not be the best option for your company.
Pros:
Multi-factor authentication, using Smart Card logon
User-friendly admin console
Mobile app with support for Android and iOS devices
Support for all major operating systems
Cons:
Less appropriate for companies looking for a basic solution with fewer features
A 14-day free trial of SolarWinds DRS is available for download.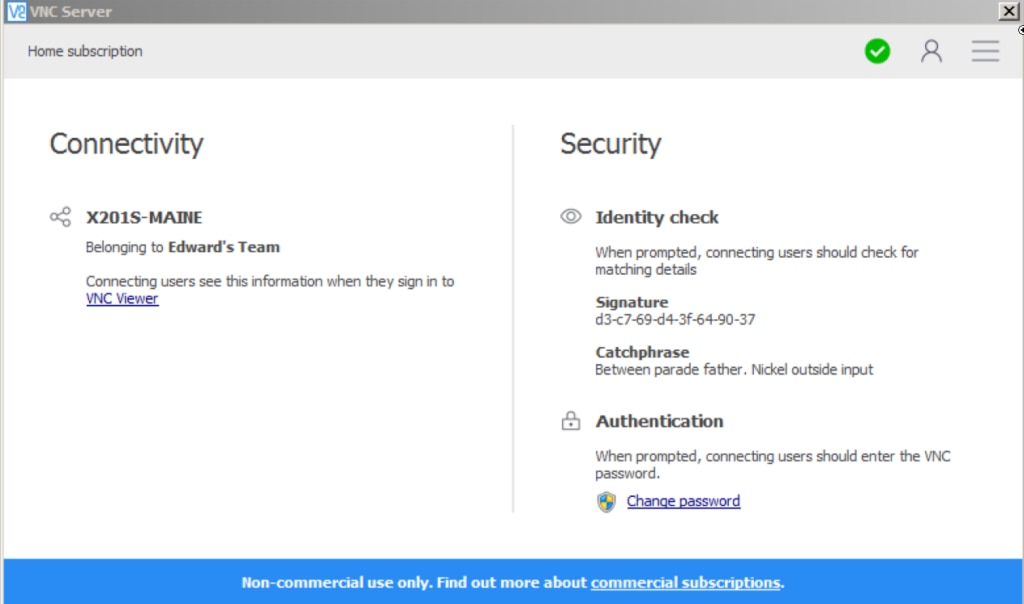 VNC Connect is a secure, but basic Linux remote desktop client provided by Real VNC. VNC, also known as Virtual Network Computing, uses the Remote Frame Buffer protocol to establish remote control over and access to another computer. This solution is powered by 256-bit AES session encryption and offers the highest level of security, with features like rich session permissions, granular access control, and two-factor authentication.
This Linux remote desktop tool features an intuitive and responsive user interface. It also offers file transfer, cloud connectivity, and printing capabilities.
VNC Connect allows you to customize the viewer window as needed, but also takes automatic screenshots for the connections, with simultaneous support for multiple sessions.
There are some disadvantages to using VNC Connect. The installation process can be a bit confusing, with many users complaining the instructions weren't especially clear. VNC Connect doesn't allow you to view multiple screens in a single view but requires you to scroll to view different screens.
Pros:
Multi-factor authentication
Granular access control
Rich session permissions
File transfer capabilities
Cons:
No single view for multiple screens
Confusing installation
A 30-day free trial is available.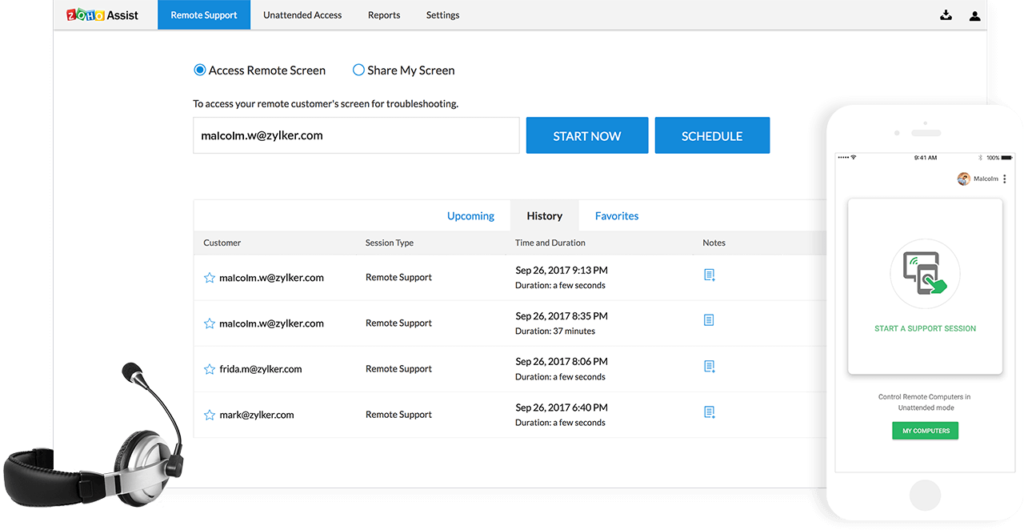 Zoho Assist is among the most well-known remote desktop tools for Linux users. This solution supports both unattended remote access capabilities and comprehensive remote support. Zoho Assist provides many customer support utilities, in addition to the ability to control or access another computer or alternative device, including mobile devices.
This tool is designed for IT professionals and individuals with customer support responsibilities, as well as outsourced IT, managed service provider (MSP) support, and IT help desks. Zoho Assist is secure, offering multi-factor authentication, as well as 256-bit encryption and SSL. Because Zoho Assist is a web-based tool, it relies on the users having a stable internet connection.
Pros:
Two-factor authentication
Support for unattended remote access
Advanced authentication protocols
Cons:
Reliant on internet access
A free trial of Zoho Assist is available.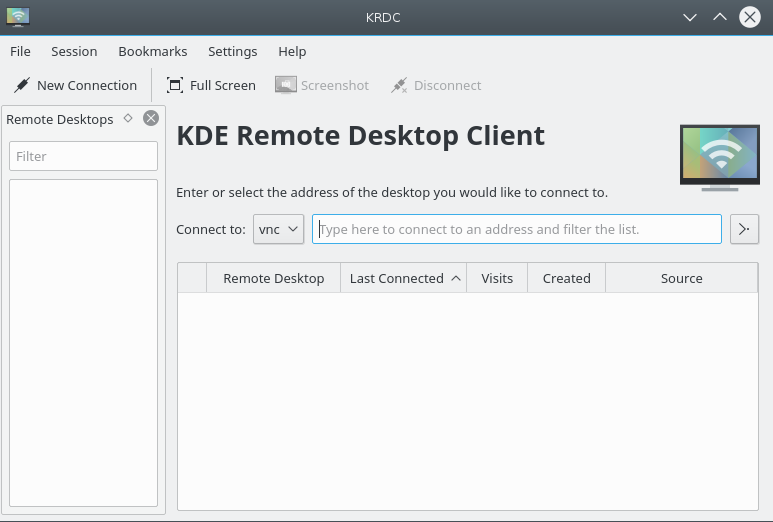 KRDC is a Linux remote desktop client developed for the KDE desktop environment. This tool uses the RDP or VNC protocol to deliver quick and easy access. KRDC is a simple tool best suited to small companies looking for basic functionalities.
This tool doesn't offer a ton of features, although it does allow for file sharing and accessing documents and other files on your system. The user interface is easy to navigate, and KRDC is free to use.
Pros:
Cons:
Getting Started With the Best Linux Remote Desktop Client
As remote working becomes more popular and, in some cases, more necessary, remote access capabilities have become increasingly essential. It's key for businesses to use reliable Linux remote desktop tools designed to make life easier for remote workers and IT technicians.
SolarWinds DRE and DRS are great picks if you're looking for a comprehensive Linux remote desktop tool. As safe options with strong, user-friendly features, both tools make it easy to create remote connections as needed. While smaller businesses can expect these tools to grow with them, enterprises can also enjoy the functionality they need right out of the box. Starting with a free trial of DRE or a free trial of DRS is the best way to see whether one of these tools is the right fit for your business.
*As of September 2020