Network testing is a process by which IT professionals can ensure their networks provide the best possible experience for end users by minimizing downtime and other common problems.
Below, we've created a guide outlining what you need to know about network performance testing, including answering, "What are network testing tools?" and providing a list of our top five picks for best network testing tools. If you would like to skip ahead to a best-in-class network testing solution, we recommend SolarWinds® Network Performance Monitor and SolarWinds NetFlow Traffic Analyzer for ease of use and affordability.
Five Best Network Testing Software Tools
How Is Network Performance Tested?
What Are Network Testing Tools?
Crucial Aspects of Network Testing
Ensure speedy diagnosis and troubleshooting
Top Five Network Performance Testing Tools
1. SolarWinds Network Performance Monitor (Free Trial)
You Need a Tool for Network Testing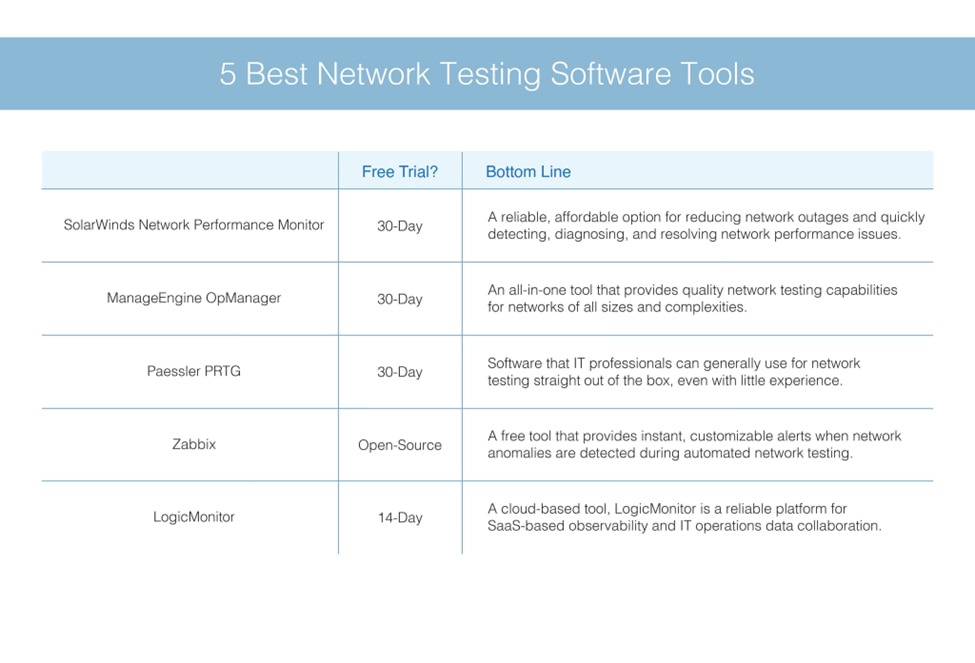 What Is Network Testing?
Network performance describes how well a network functions and, therefore, the quality of service the end user experiences. To help ensure performance quality is high, you can use network performance testing, which involves gathering metrics related to key network functions.
There are a few different network performance tests you might use, including download and upload speeds, penetration tests (performed to test security), and network load tests. For instance, one type of network test is performed by uploading and downloading a data object from the network, then measuring upload and download speeds, throughput, and successful message delivery rate, among other variables. The most common metrics used to determine network performance are network speed, throughput, download speed, upload speed, jitter, and delays.
The main focus of network performance testing is recording the above metrics associated with various network devices and processes. It makes it possible to set baselines for how quick and responsive a network is to both user and data communications. Recording these metrics allows IT administrators to analyze the data they receive for deeper insight and a greater understanding of current network activity, usage, and potential issues. This information helps admins optimize performance and ensure network uptime.
How Is Network Performance Tested?
One basic network performance testing method is the traditional, manual method. When testing manually, the IT professional conducting the process will check network performance by transferring a file between two endpoints (the most common endpoints tested are workstations and servers). The admin will then transfer the file back and measure the time elapsed for the upload and download processes.
While the manual process of network performance testing is capable of providing a very high level of visibility into network performance, the upload and download speeds being tested can also be impacted by several other issues affecting either of the devices involved.
Because servers are built to process much larger amounts of transmission data than one workstation can send, adopting a more holistic and comprehensive view of network performance testing is often necessary, especially for more extensive or enterprise networks.
Luckily, there's a better way to conduct this process, eliminating the potential for outside factors to affect data. Adopting network monitoring and testing tools provides a much more accurate understanding of current operations, performance, and issues across networks of all sizes.
What Are Network Testing Tools?
Network testing software automatically checks a network's uplink and downlink speed. Checking these speeds essentially provides an accurate overview of the network's level of responsiveness to user inputs, along with insights into how quickly and efficiently data is being transmitted throughout the network.
In effect, network testing tools perform the same tests as manual network performance testing, except the process is automated, which means more data exchanges can be performed at once, and the data gleaned from these exchanges can be better evaluated against historical data while proactively avoiding bottlenecks.
Network testing tools can help create a trail of historical performance data by performing qualitative and quantitative checks, which measure current and historical performance. This type of testing can then be used to create performance baselines and optimal ranges and alert IT professionals to critical thresholds when action becomes necessary.
Network testing tools are essential for nearly any business or organization with customer-focused web services, applications, or databases because network performance testing is usually intended to ensure optimal network performance from the end user's perspective. Additionally, network performance testing is critical for day-to-day business operations, as it ensures internal employees can carry out routine tasks efficiently.
Crucial Aspects of Network Testing
The following are some crucial aspects of network testing you'll want to keep in mind:
Establish baselines
The overarching goal of network performance testing is recording and creating baselines for the metrics associated with certain devices and processes. To this end, it's important to establish guidelines for network performance testing. Establishing these guidelines allows teams to analyze the data for insights and understanding about current activity, usage, and potential issues to optimize performance, ensure network uptime, and become more aware of abnormalities.
Alert based on thresholds
When developing testing protocols, it's important to configure acceptable limits and ranges for various critical metrics, such as network speed, throughput, download speed, upload speed, jitter, and delays. These acceptable limits and ranges should then be used to immediately identify network anomalies. However, manual testing doesn't offer alerting capabilities. Network testing tools can not only send alerts as soon as acceptable limits are breached but also can alert IT professionals when IT services fail to meet their expected service level agreements. 
Automate to handle complexity
Increasingly, networks are becoming more complex, distributed, and hybridized. These new challenges also increase the demands and baseline expectations placed on these systems. The increasing complexity of networks also makes adequately monitoring network components much more difficult than in the past. Automated network testing tools can help to properly measure network performance metrics while keeping admins aware of poor device performance.
Ensure speedy diagnosis and troubleshooting
It's important to have capabilities to help you speed up the troubleshooting process. A deeper understanding of when performance metrics indicate a potential issue within the system is crucial. Network testing tools are designed to send customizable alerts for bandwidth and performance issues so IT professionals can more easily troubleshoot, identify root causes, and resolve the issue before it becomes a crisis negatively affecting business operations.
Top Five Network Performance Testing Tools
Here are a few network testing software solutions to help record and measure critical performance networks while quickly alerting IT professionals to anomalies within their networks.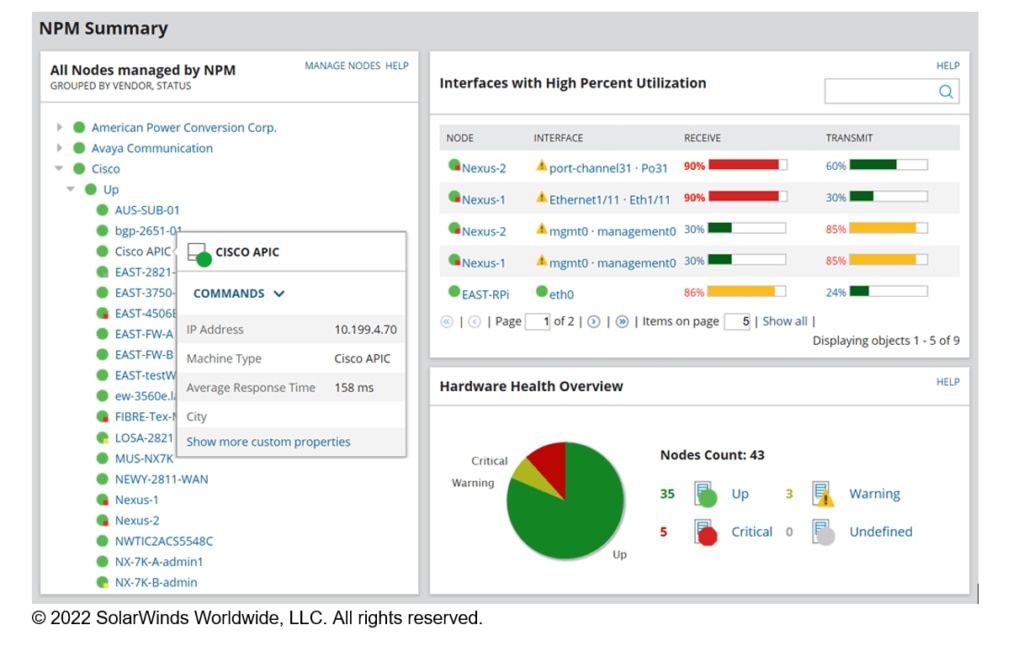 SolarWinds Network Performance Monitor (NPM) is a network monitoring tool known within the industry to be a reliable, affordable solution for helping admins reduce network outages and quickly detect, diagnose, and resolve network performance issues. While being reliable and cost-effective, SolarWinds is also easy to use for on-premises, cloud-based, and hybrid work environments. And NPM comprehensive dashboards offer holistic monitoring of an entire network, automatically highlighting which sections of the network are experiencing the highest latency while providing tools to help resolve those issues before they further impact end users. Use NPM to set threshold-based alerts, create network maps, and gain in-depth analytic insights using unique tools like NetPath™ and PerfStack™.
It is worth mentioning SolarWinds also offers its NetFlow Traffic Analyzer tool for empowering network traffic analysis and testing.
Learn More About the Product                       Download a Free Trial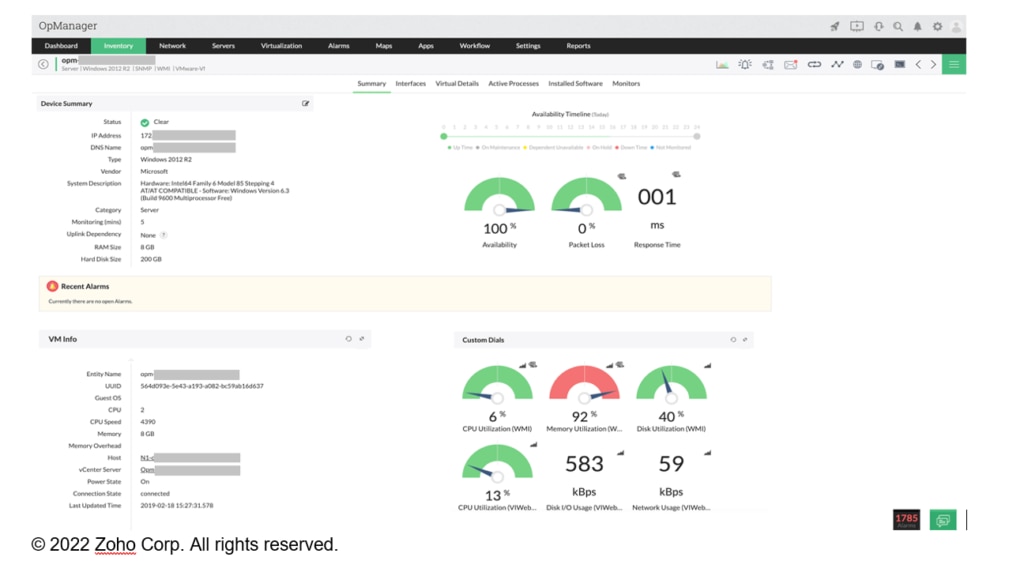 ManageEngine OpManager is an all-in-one tool providing networks of all sizes and complexities with quality network testing capabilities. First and foremost, OpManager network monitoring tools provide accurate and fast results in real time. In addition to automating network testing to save time and reduce resource usage, OpManager tools are accessible to teams from a single central console, making network testing easier. Designed to save time by providing multiple tests with various tools, OpManager also offers bandwidth analysis and storage monitoring, along with configuration, firewall, IP address, and switch port management to consolidate the often-grueling testing process.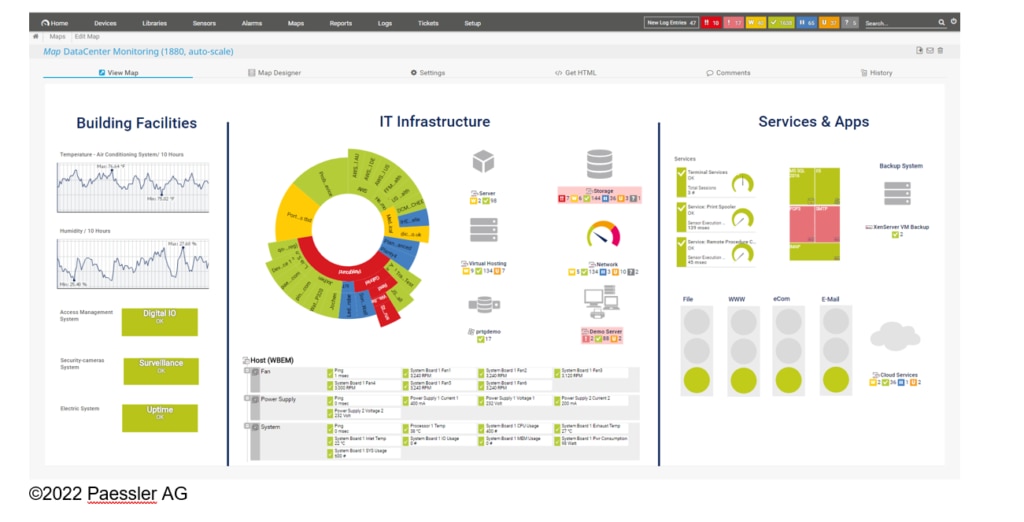 Zabbix is an open-source, free tool providing instant, customizable alerts when network anomalies are detected during automated network testing. However, while Zabbix was designed to be an enterprise-grade tool for monitoring and tracking the performance and availability of network servers, devices, services, and other IT resources, some reviewers note it's somewhat challenging to use for those unfamiliar with network testing software.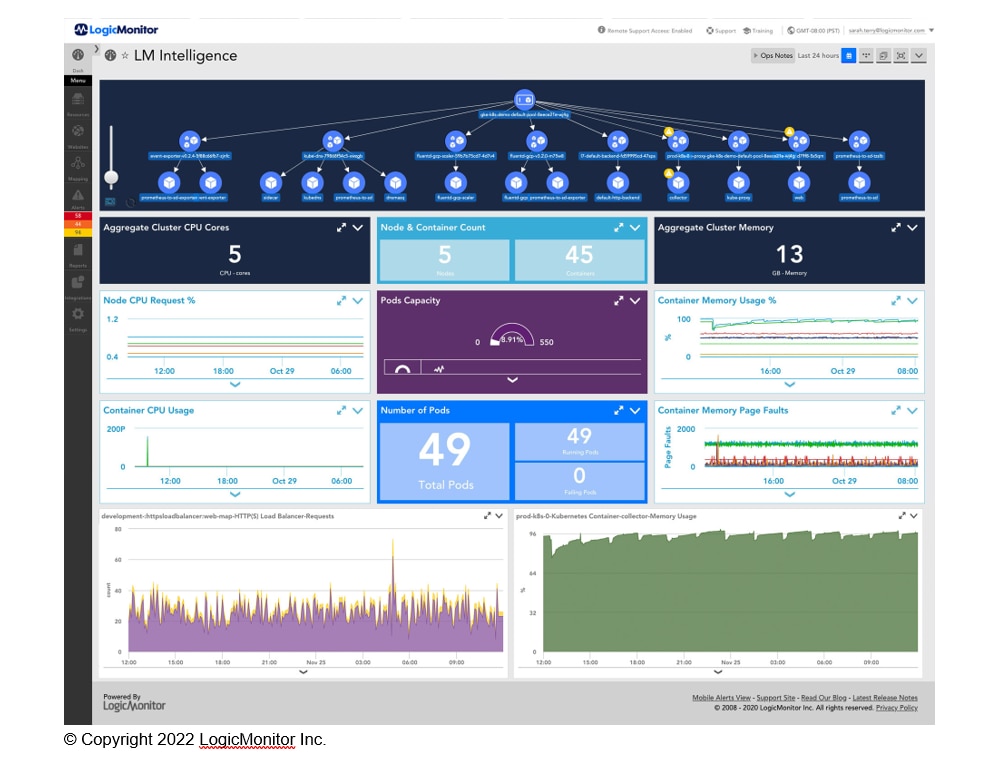 A cloud-based tool, LogicMonitor is a software as a service (SaaS)-based observability and IT operations data collaboration platform. It's intended to help ITOps, developers, MSPs, and business leaders achieve greater visibility across the technologies adopted by modern networks with an eye toward better end-user experiences. LogicMonitor also provides automatic alerts and built-in reports for ease of use. However, while many network testing tools come equipped with customer support numbers and services, LogicMonitor relies heavily on chat features, which users report can sometimes be more frustrating than a live call. LogicMonitor purports to focus more on innovation than troubleshooting, which could prove problematic for more traditional networks. 
You Need a Tool for Network Testing
Network testing is a critical part of maintaining a healthy, high-performing network. If you want to simplify your network testing process while reducing errors and downtime, start with one of the above tools and also consider free trials of SolarWinds Network Performance Monitor and NetFlow Traffic Analyzer.