Networks are rapidly becoming larger and more complex, with numerous different technologies playing into their growth and expansion. Network mapping is increasingly important for administrators and managers tasked with handling these growing networks. While the process of local area network (LAN) mapping can be performed manually, this manual work becomes risky as there is a higher chance something will be missed when it involves highly complex networks.
With the significant amount of network mapping software on the market these days, I decided to review the tools available in 2020 network pros need to check out to help reduce their workloads and improve accuracy. I go over why SolarWinds® Network Topology Mapper (NTM) is a top choice for those looking for high-quality mapping software. Spoiler alert: this tool automatically discovers your network topology and creates several different types of informative visualizations, so you can easily see and navigate through your network. And if you're looking for a more comprehensive monitoring solution, I explain why SolarWinds Network Performance Monitor is good all-in-one option for those looking for tool with not only network mapping but other essential performance measuring tools. 
But First: What Is Network Mapping?
Network mapping is the process of visually and logically mapping the network to understand the connections between the server and different nodes. Network performance software and tools usually include some network mapping features, so the network can be optimized.
Network maps are useful resources when admins conduct performance monitoring processes to check each part of the network. Maps can help show where performance bottlenecks exist and where there are opportunities to improve, so service quality is better for end users. Network performance monitoring outputs able to be visualized in network maps include metrics like the latency between the server and clients, bandwidth, throughput, and errors or failures that might arise. 
Best Network Mapping Tools
I believe using network mapping software is a vital step in managing your network efficiently and professionally in any business setting. There are several different tools you could use, including some free network mapping software, but I'm recommending a couple of products due to their extensive feature list and easy-to-use nature.
SolarWinds Network Topology Mapper (NTM) is a dedicated network mapping tool. It automatically discovers and maps out your network topology and shows you the structure of your network in easy-to-view diagrams.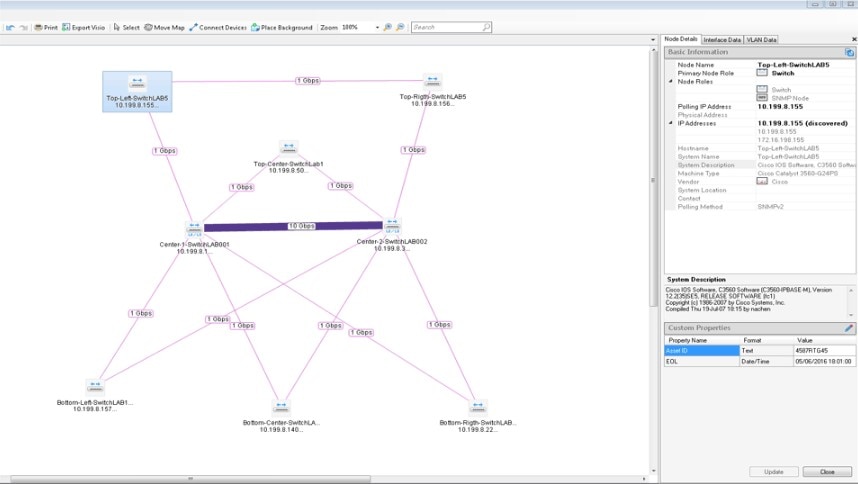 From a single network scan, NTM can build multiple different maps so you can compare and choose the map that best suits your needs. It also integrates well with other software, allowing you to export to Microsoft Office Visio, PDF, and PNG formats. You can try NTM free for 14 days.
For more comprehensive network map tools (plus additional features), I recommend SolarWinds Network Performance Monitor (NPM). NPM includes packet-level network topology insights (including cloud and VMware environments) and also offers great Wi-Fi heat mapping tools.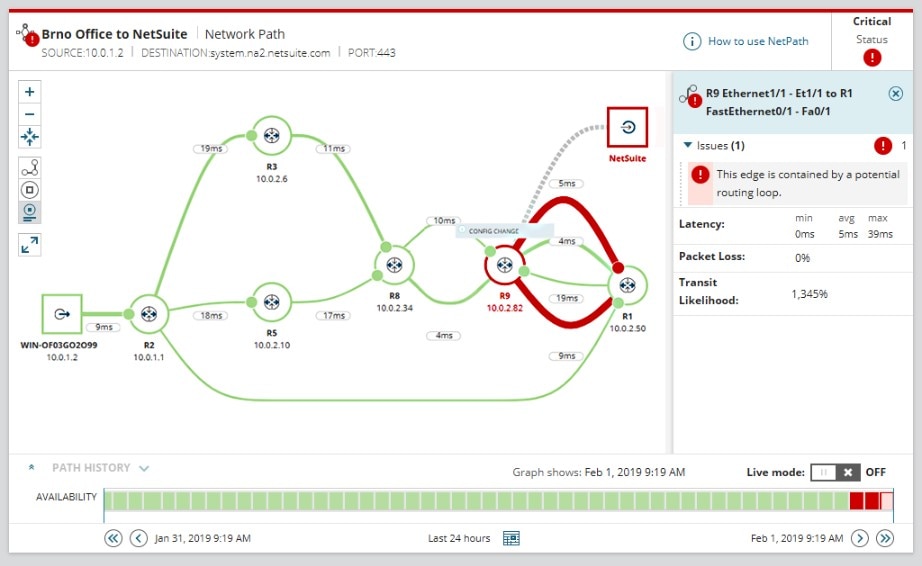 With the NetPath function, you can gain insight not just into your own network but into data pathways all the way to destination services. You can see hop-by-hop packet paths and instantly know where issues are occurring. You also get features such as the PerfStack™ dashboard, which allows you to compare the performance of different metrics side-by-side.
NPM also includes troubleshooting features and alerts, and is designed to be an easily scalable and reliable centralized network management tool. This is my pick if you want a truly comprehensive tool for provisioning and maintaining your network topology. You can get more information about the features in this network mapping tool here.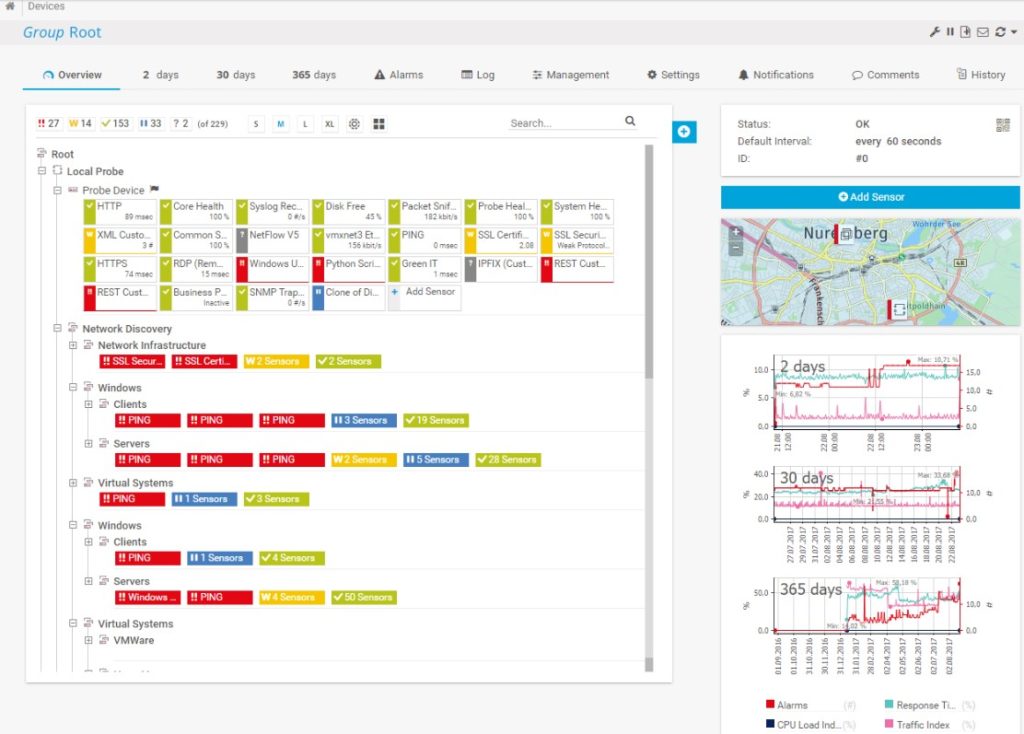 PRTG Network Monitor is another comprehensive software offering network monitoring for the entire network, including network traffic, application performance, cloud services, and database capacity, as well as network uptime, security, and hardware longevity. You can use it for network topology mapping, as it allows you to create maps using the PRTG map designer. This is a manual process, but once you've created the maps, you can use them to view network information in real time for your devices, connections, and status updates. I'd say this software is on the pricier end for what it offers.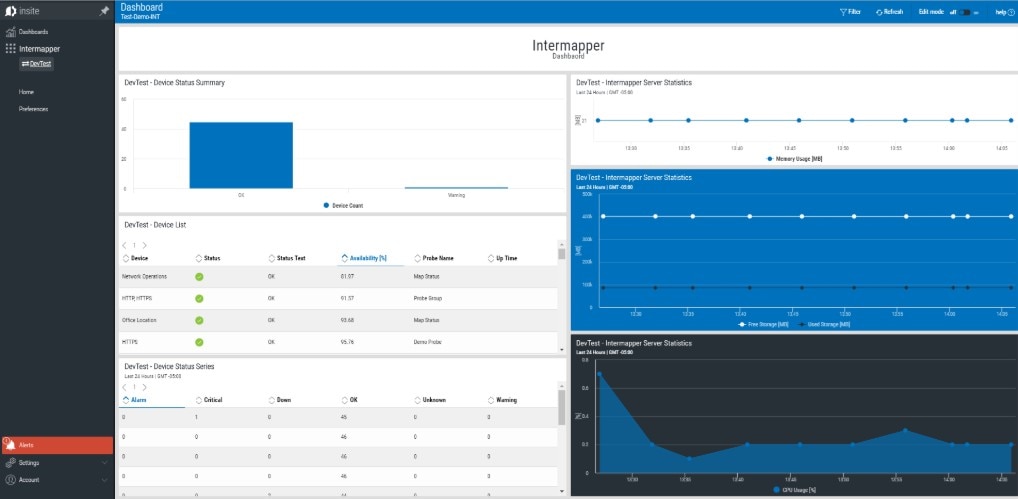 Another great option for network mapping software is the Intermapper tool by HelpSystems. The Intermapper tool has both network mapping and network performance monitoring features, and has cross-vendor support for Cisco, Apple, Dell, and others. With an intuitive and clear display, it provides a fully customizable network map, allowing you to see real-time network health with color-coded animations. You can choose either device-based pricing or a flat fee for unlimited devices.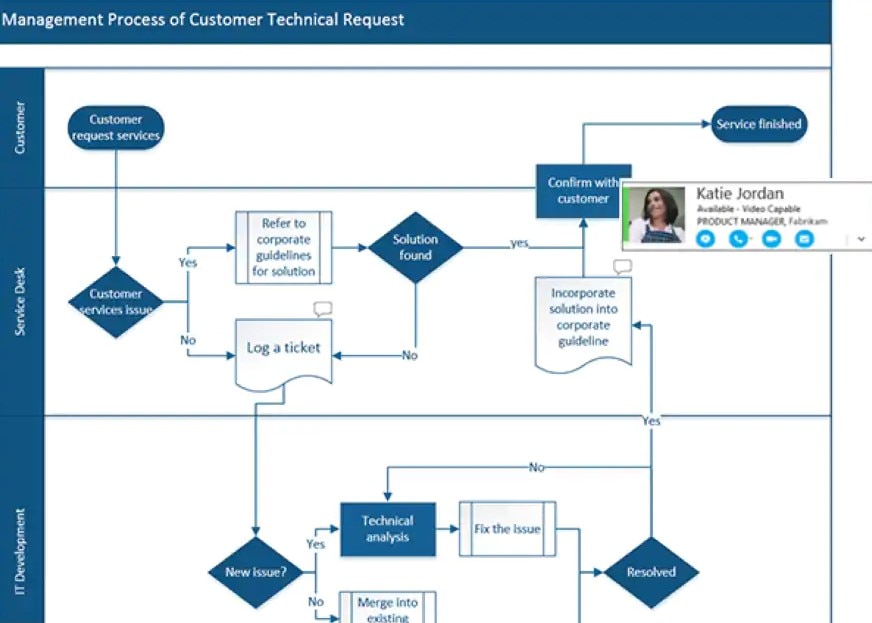 Visio is the Microsoft diagramming and vector application for creating maps and charts (including network maps). Visio is not technically a network mapping tool, but it can be used by network administrators for this purpose. However, the network diagram needs to be created manually using the "Detailed Network Diagram" template. Generally, automatic network mapping tools may be more suitable for troubleshooting and security purposes. Visio can be an inexpensive option for an enterprise unwilling to invest in automated and comprehensive network mapping software.
Getting Started with Network Mapping
As you can tell, there's a lot of network mapping software out there, from simple mapping and flow-chart programs to comprehensive network performance tools. When compared to some of the best free mapping software, paid products might seem expensive at first glance. However, paid network mapping and performance monitoring tools are much more comprehensive, reliable, and complete when it comes to usefully mapping your network.
I highly recommend SolarWinds NPM or Network Topology Mapper for professional network administrators looking for tools to help them manage their environments.
Recommended Reading:
Ultimate Guide to Network Monitoring: If you're looking at mapping your network and using software to do so, make sure you look at this comprehensive guide on network monitoring. Understanding your network and how it all functions is essential for the mapping processes to be useful.