To optimize data security and protect your business processes, you must ensure files are transferred securely. Managed File Transfer (MFT) software builds on File Transfer Protocol (FTP) standard protocols, providing your file transfer solution with security benefits, as well as compliance tools, convenience features, and intuitive user interfaces (UI).
The best managed file transfer software enables you to monitor and audit your file transfers through reports, alerts, and visualizations. As the need for secure file transfer becomes more critical and files increase in size and complexity, enterprise-grade MFT vendors can help your network reach high availability and fulfill business requirements while maintaining the utmost safety measures.
This article provides an in-depth MTF software comparison, sharing the pros and cons of some great MFT servers. My top pick for a managed file transfer solution is SolarWinds® Serv-U MFT, which enables you to make unlimited file transfers using a simple and smart UI. Serv-U MFT is designed to encrypt data using multiple encryption methods, all of which fully meet compliance standards, to powerfully protect file transfer activity. Download a 14-day free trial of Serv-U MFT today.
What Is Managed File Transfer (MFT) Software?
MFT software is designed to help FTP servers securely send and receive files using file transfer protocol best practices. FTP has been around for a long time, making it a tried-and-true file transfer solution—however, FTP is simple, full of limitations, and contains many inherent security risks. This means FTP often can become a compliance liability for organizations that regularly send sensitive data. MFT solutions can secure FTP transfers, facilitating safe data movement between systems.
On top of transmission capabilities, excellent managed file transfer solutions also support management features on your file transfer database:
Intuitive UI promoting easy, in-depth understandings
Automation tools for dashboards, alerts, reports, and logs
Customizable user settings for increased data protection
Ad-hoc file sharing and API integration
MFT software is designed to save you time, energy, and resources by automatically, yet accurately, monitoring and auditing file transfers. The best MFT software enables encryption for data at rest and in transit and supports authentication for delivery assurance.
Managed File Transfer Software Comparison
When choosing the right MFT managed file transfer solution, it's important to ask yourself which attributes are most important, and which you can sacrifice to gain other benefits. It's also crucial to consider licensing and pricing implications, as well as interface variables like simplicity and overhead processing. Balance all your individual enterprise requirements and desires and remember to keep in mind your goals for the future, to select a suitable managed file transfer solution.
Protect data in transit and at rest with SolarWinds Serv-U MFT, which enables FTP standard encryption protocols like FTPS, SFTP, and HTTP/S. Serv-U MFT is designed to run unlimited domains, users, and sessions between external and internal domains, enabling you to perform ad hoc file sharing that gives end-users the same functionality on your database as on third-party systems. You can upload, download, and edit large files anywhere, any time through 24/7 monitoring access with Serv-U MFT. This allows you to keep up MFT operations from a web browser or mobile device and through your FTP client or server.
Serv-U MFT's centralized interface is built for ultimate accessibility and ease and uses familiar systems like drag and drop. The Serv-U MFT Management Console can provide you with quick access to user-managed options, monitors, and system plus domain settings. You can control IP addresses, bandwidth, passwords, and quotas, plus other settings through Serv-U MFT. Automation tools can manage historical metrics and error messages, allowing you to expedite troubleshooting and gain in-depth knowledge of your file transfer operations.
Serv-U MFT is designed to support optional plug-ins, such as Serv-U Gateway, and enable integrations with Active Directory plus LDAP authentication. Serv-U MFT also helps ensure files comply with FIPS 140-2, PCI DSS 3.2, and other essential regulations, which supports the utmost file sharing security and opens up the potential for new business opportunities. Download a 14-day free trial of Serv-U MFT.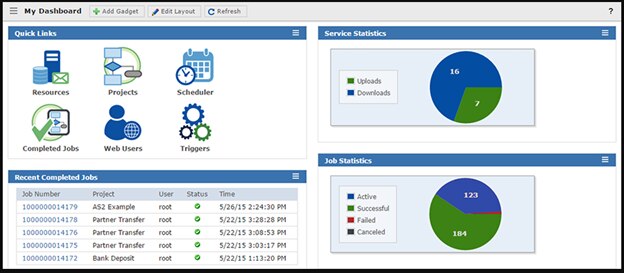 GoAnywhere MFT supports server-to-server and person-to-person file transfers with automatic AES encryption FTP standards, including SFTP, FTPS, HTTP/S, and .zip files. Auditing capabilities enable you to meet compliance regulations like PIC-DSS and HIPAA, and GoAnywhere MFT also supports FIPS 140-2 encryption ciphers to increase security when sending confidential information.
The centralized UI of GoAnywhere MFT is designed for simple use and can help you easily create workflows, schedule future transfers, and integrate with external cloud-based and web browser applications using GoAnywhere MFT's cloud connectors. Implementing GoAnywhere MFT in the cloud enables you to support secure file transfers no matter where your FTP client is deployed, and GoAnywhere MFT can support sending files through ad hoc emails and access authorized folders and files via a web browser.
Although GoAnywhere MFT has great file transfer and storage capabilities, it requires you to manually run maintenance. This can yield a steep learning curve that takes up time, money, and energy. Access a 30-day free trial and see if GoAnywhere MFT is the right managed file transfer solution for you.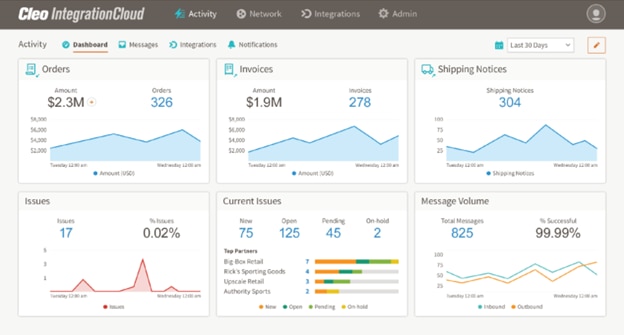 This cloud-based integration platform brings end-to-end visibility across EDI and API integrations, enabling users to rapidly and accurately run file transmission operations. You can enable Cleo Integration Cloud to manage services through automation tools or support self-service yourself—CIC even enables you to implement a blended approach of automation and self-service, increasing flexibility and control over your integration strategies.
CIC leverages FTP, FTPS, SFTP, HTTP/S, and email secure file transfer. You can create persona-based dashboards to provide technical and operational details to users and improve visibility into their activity. Easily manage changes like map tweaks, certificate updates, and endpoint modification utilizing CIC's features, and dive into real-life metrics to reveal actionable insights that can help you identify rejected transactions before end-users are affected. There is no free trial for Cleo Integration Cloud, but you can request a demo or watch demonstration videos on their website.
Concluding Thoughts on Best Managed File Transfer Software
MFT software enables you to use FTP standard solutions for secure file sharing that protects proprietary data from loss, modification, and theft internal and external to your organization. Along with increased security, MFT solutions can support your file transfer protocol through intuitive user interfaces that support convenience features, meet compliance regulations, and monitor file transfers through automated reports and visualizations.
The MFTsoftware comparison above highlights some great MFT server options, but I believe SolarWinds Serv-U MFT stands out above the rest. Serv-U MFT is designed for consistent file transfer monitoring, enabling you to increase the speed and reliability of your file transmissions while protecting data in transit and at rest. You can also manage user and system settings through Serv-U MFT for customizability over your MFT server activity. Access a 14-day free trial of Serv-U MFT today to get started.