Applications, services, programs, and databases all generate large volumes of log data at a near-constant rate. Any tech pro responsible for analyzing these logs will tell you it's a headache to organize and monitor them all. But since log analysis can help tech pros with a wide range of important tasks—from troubleshooting application performance to mitigating service interruptions—it's prudent that tech pros use professional logging tools to help streamline the analysis process.
But not all log analyzing tools offer the same advantages, and it's important tech pros purchase the best product to help them extract useful information from their logs in the most efficient manner. In this article, we review a few great options that any tech pro will find useful.
What is Log Analysis?
Log analysis is the act of analyzing data generated by your applications, network infrastructure, or any services you may have deployed. The data generated by these sources are called logs, and they serve as a record of the activity occurring on your applications. This data is critically important since it allows you to see a sequence of events that lead to an issue. With these insights, tech pros can facilitate better root-cause analysis, improve application performance issues, and predict and avoid any service interruptions.
But as mentioned above, the analysis process can be a headache. Because logs are generated in high volumes by different sources at a near-constant rate, you can't analyze the data without a few important initial steps.
The first step is to aggregate disparate log data into a single, central location. Unfortunately, it's no easy task to manually collect all of the dispersed data from across your infrastructure. This is the first reason why we recommend all tech pros invest in professional analysis tools, even if they're only running an application or two. But we'll come back to this topic later.
Once the logs are centralized, it's easier to parse through large data sets to extract valuable insights. But again, this is faster with automated tools. For one, log data is unstructured, meaning the data only offers information relative to its specific application. Log analyzers can streamline the analysis process in a way that's not just more efficient than an average human analyst, but more accurate, too.
The Best Log Analysis Tools
Now that you know the challenges and importance of log analysis, we're going to point you in the right direction for the best tools on the market. As we mentioned above, not every tool is made equally, so it's important you consider the drawbacks and advantages of each. After testing out some of the most popular tools, these are the ones we believe tech pros will find the most helpful: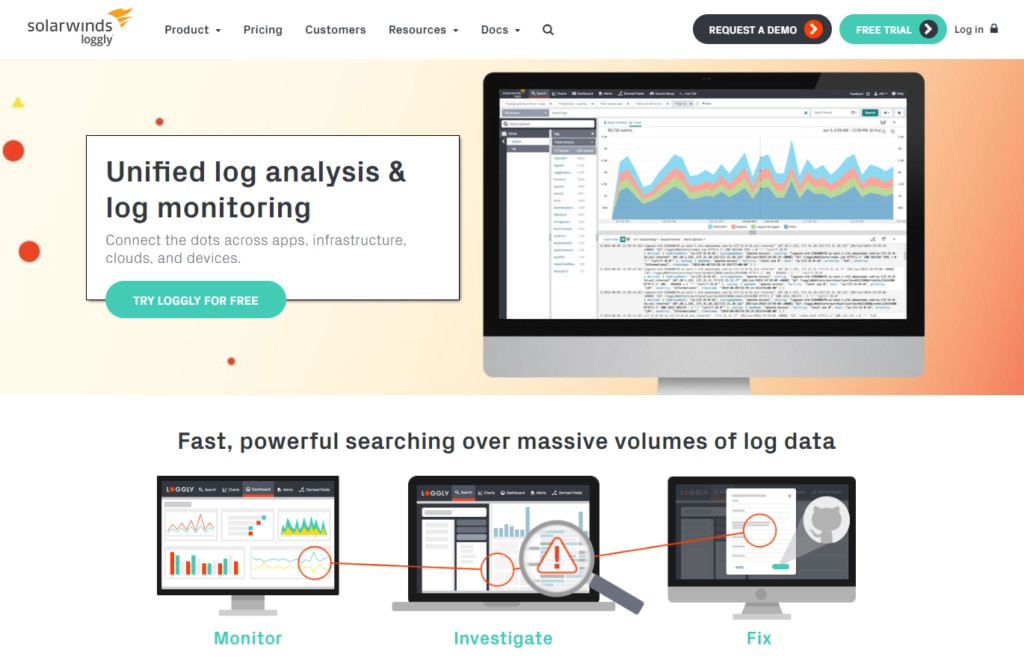 Loggly is a cloud-based, software-as-a-service (SaaS) solution for your log management practices. We highly recommend it to any tech pro seeking a professional solution to help streamline their log analysis process. Logging can take a large toll on local storage, due to the high volume of data you'll need to archive. With Loggly, you get robust features—but also the flexible, scalable storage of a cloud-based platform.
Essentially, Loggly works by automatically collecting logs from applications and network devices and centralizing these logs onto a single interface. It then formats all the logs with specific information such as event name, date, source, and severity. This allows users to easily gain insights into all application events in real-time.
Loggly is also built with tons of advanced capabilities, like configurable metrics and live-tail viewing so you can better monitor the logs across your network infrastructure after they're analyzed. What's more, Loggly offers visualizations and interactive dashboards that allow users to adjust charts, customize reports, or compare data across a given timeline. After all, there's no point in analyzing copious amounts of log data if you can't view, search, and access them with ease.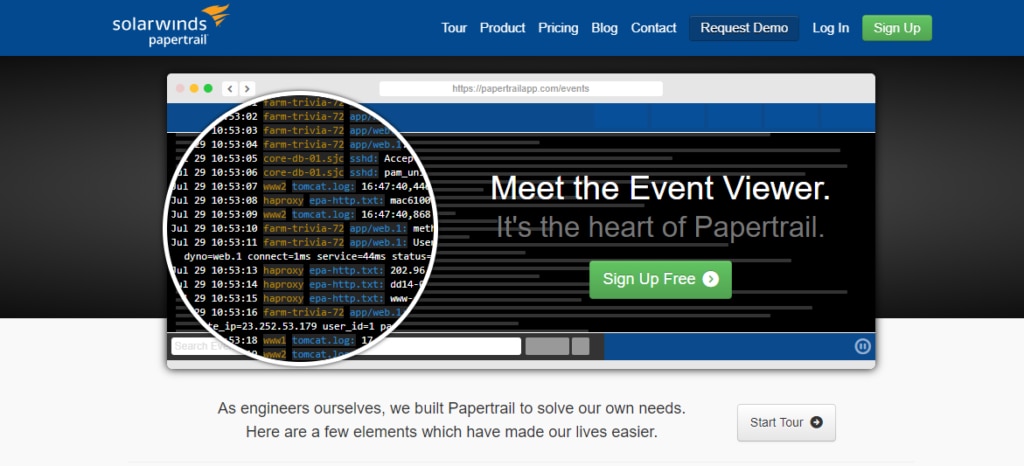 This is another strong logging analysis platform from SolarWinds. Papertrail is a centralized log management service with an excellent analysis tool. Like Loggly, it automatically scans log data so you can gain real-time insights into all the events occurring on your applications. These quick insights can help you find root causes faster and detect trends to preemptively address application issues before they even occur.
One of its best features is its enhanced searching, which frees users from using application-specific languages in their queries. You can just search using event identifiers, usernames, IP addresses, or any preferred combination.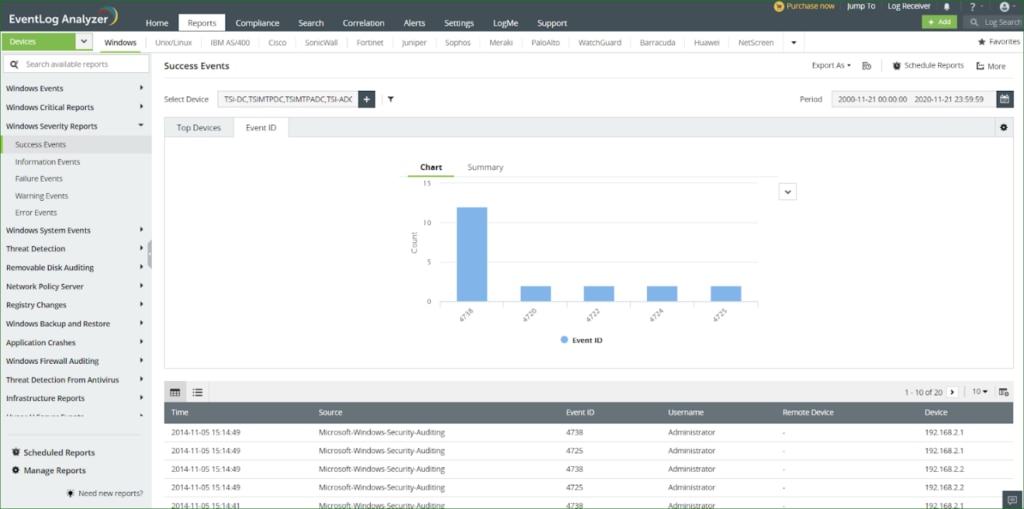 ManageEngine's Event Log Analyzer collects, analyzes, correlates, searches, reports, and stores logs on one interface. This makes it easy to turn all of your collected data into reports and graphs. It also has helpful predictive analytics that can detect abnormal behavior and send alerts to permissioned users via email or SMS.
With this tool, we actually struggled logging data from Windows event logs, which is a bit worrisome since Windows is a leading OS. Additionally, it can be a bit of a task managing all the applications required to fulfill security compliance. Still, it's a solid option with a good price tag.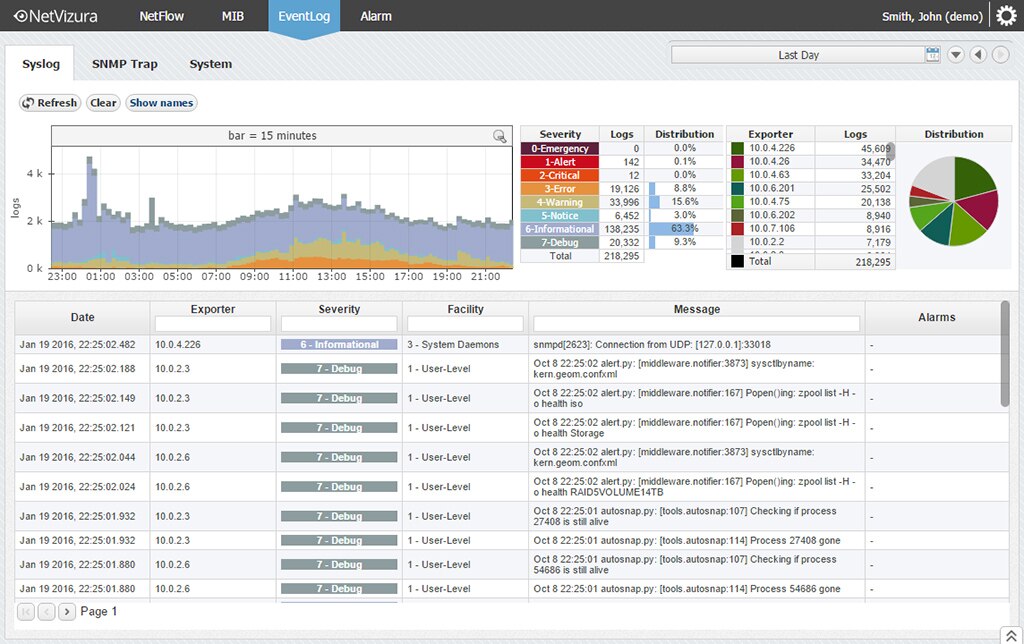 Netvizura offers an easy-to-use, flexible, and inexpensive network monitoring solution. Their premier product in the logging market is the NetFlow Analyzer, which is best known for its fast alert system—a big help for troubleshooting. In general, we think this is one of the better security options.
That being said, we had some issues with this one. For one, we weren't impressed with its processing capacity. For users monitoring small networks and applications, it should suffice, but we don't see this being a scalable solution for large enterprises. We also didn't like how few options were offered for custom reports. Still, it gets the job done, so independent tech pros might be interested in this product, even if larger businesses might not be.
Choosing the Best Log Analysis Tool
When looking for the best log analysis tool, you want to strike the right balance between capabilities, price, and usability. Typically, we suggest focusing on capabilities first—is the tool really going to do what you need it to do? Those capabilities may be different depending on your scope and objectives, so make a list of features that will really help you perform efficient, effective log analysis in your specific environment. And if you're starting with the above tools, check out Loggly's free version. This single-user version actually includes many of the robust features also offered in the full version, so you can try out their centralized logging, filter options, and much more, to see if the platform works for you.