Today, most organizations have complex IT infrastructure with a wide range of endpoints, including servers, applications, and the cloud. As it's difficult for businesses to analyze a huge amount of log data, organizations prefer using log analysis tools to centralize, analyze, and monitor logs. These tools reveal useful information about web app performance, security concerns, trends, errors, and more. The information gathered is used to make data-driven decisions. Log analyzer tools have significantly simplified the critical yet complex logging process for organizations.
How Can a Log Analyzer Tool Benefit Organizations?
Log management tool offers benefits that are not only limited to monitoring and analysis but also extends beyond IT management, helping to boost productivity and efficiency of various IT operations.
Efficient Business Operations: Several business operations such as accounting and finance rely on IT resources to carry out business-critical tasks. Log management tools provide necessary information through logs required to spot errors, outages, and issues with its advanced functionalities. These tools also play a significant role in maintaining SLAs by avoiding service disruptions and application downtime.
Quick Resource Allocation: Business requires various systems and network devices to perform day-to-day crucial tasks, for instance, hardware for storing data and network bandwidth to ensure smooth functioning of critical business processes. However, these devices and systems may face downtime and bottlenecks due to several reasons. Log analysis tools help to assess the health and performance of the infrastructure resources. Proactive monitoring of the resources through logs helps to prevent service disruptions.
Improved Security: It's important to follow strong security practices to ensure cloud-based business operations and financial transactions are safe and secure. Event log files greatly help in taking proactive security measures. It provides instant insights into security breaches and alerts relevant teams about the threats or failed authentication attempts, so teams can take quick actions to prevent loss and damage.
Best Log Analysis Tools
Choosing the right tool based on specific business requirements is challenging. Teams must focus on features and functionalities the tool offers, such as ease of use, quick configurations, real-time information, easy troubleshooting, and security.
Outlined below are the top three log analyzer tools designed to help businesses track issues and improve business IT operations: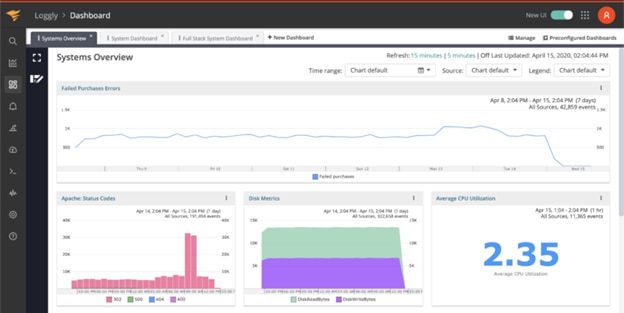 SolarWinds® Loggly® is a logging solution designed to streamline the entire log monitoring and analysis process to reduce complexity. The tool is easy and simple. It enables faster deployment with agentless architecture and helps in server and application-level logging using a single interface to manage all logs at one place. This centralized log data supports quick troubleshooting in a distributed environment with differently located teams.
Loggly's key features include:
Real-time insights offering complete visibility into logs of individual servers. Its Dynamic Field Explorer provides an organized summary of logs helpful in mapping anomalies and events.
Interactive dashboards and advanced charts provide easy to interpret insights and display the associated logs for further analysis and troubleshooting with a single click.
Simple query language based on Apache Lucene syntax efficiently locates the log messages and enables search using ranges of numeric values and words.
Loggly integrates with SolarWinds AppOptics™ to resolve issues faster and conveniently. Together, the tools can drill-down to the root-cause of the issues and improve the overall health of the applications and servers.
Loggly identifies patterns in the log data and saves searches to create and schedule alerts, reducing request latency and error rates.
It can also deliver notifications across multiple endpoints like email, Slack, Pagerduty, HTTP web books, and more.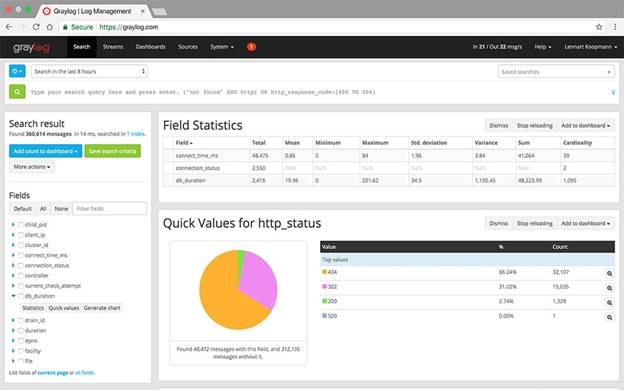 Graylog is an open-source log management and analysis tool which conducts in-depth evaluation of log data to deliver instant results. It's a highly scalable tool that can also manage large amounts of workload.
Some of its key features include:
Advanced data integration with the one-screen dashboard to share high level insights. It also allows the user to explore event information in detail with a single click.
Multithreaded search delivers instant log insights using single or multiple input parameters to efficiently resolve any support requests, errors, and issues.
Fault tolerance prevents data loss due to network outages and supports distributed load balancing operations without using any additional components.
Content packs simplify complex configurations on devices with in-built inputs. With its display templates, quick reporting and alerting capabilities, the tool can make the logging process easier.
The sidecar feature of the tool enables teams to gather logs from multiple or distributed systems. Sidecar is highly compatible and includes in-built security features.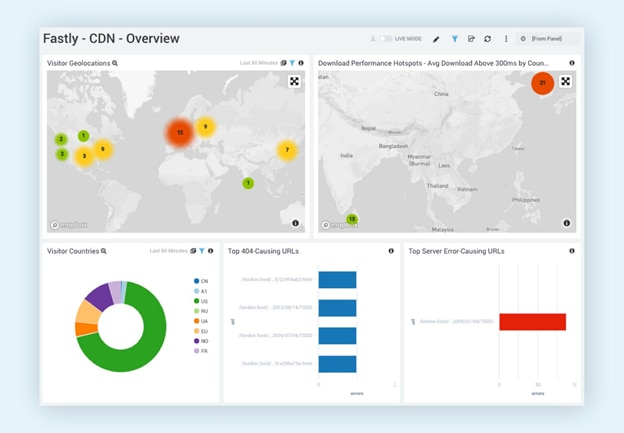 Sumo Logic is a robust logging solution designed to help track the performance of the entire infrastructure stack in real time. With its unified logging capability, development teams can identify threats, issues, and speed up application performance.
Some of its main features include:
Unified log management to visualize all the logs together in a single dashboard. Teams can correlate issues and conduct root cause analysis for quick troubleshooting of issues.
Built-in predictive analytics enables teams to identify issues, trends, and performance slowdown errors and resolve issues at all stages of the development pipeline.
Machine learning and automation capabilities of the tool helps identify the highest-impact threats, so teams can take quick actions.
Centralized management of the huge volume of cloud logs for full-stack visibility, and the platform can also scale up as per the user requirements.
Machine learning capabilities and predictive analytics help in quick detection of anomalies. Moreover, the tool easily integrates with various components of AWS, Azure, and GCP ecosystems.
Choosing the Right Log Analyzer Tool
Although there are many log analyzer tools available on the market, highlighted above are a few top log management tools. Determining which log analyzer tool is best can be challenging. Businesses must choose a tool based on specific requirements or the most preferred features and functionalities. All the above-mentioned tools perform log analysis by centralizing data, identifying incident discovery, troubleshooting issues, and sharing real-time insights in a distributed environment. While selecting the right log analysis tool, evaluate business requirements, IT infrastructure, and future growth plans. Loggly is a complete, powerful, yet easy log analysis tool used for cloud-based logging with interactive dashboards. Get your free trial today.