In the modern era there's often no way to avoid sending files containing sensitive information from one device to another. Unfortunately, there are several complications you can encounter during the process that can be detrimental to your business. These cover everything from file loss and corruption to slow file transfer speeds. To help avoid those complications (and their inevitable fallout), you need a file transfer solution designed to make the process as easy and painless as possible.
While many people have turned to WinSCP for their file transfers over the years, it's far from the only player in the file transfer protocol game. Nowadays some businesses look for alternatives that work well for Mac, Linux, and Windows while still delivering the seamless experience they expect. Personally, I go for SolarWinds® Serv-U® Managed File Transfer as a particularly reliable and easy-to-use option.
What Is WinSCP?
First, it's important to understand WinSCP. If you already know about WinSCP and you want to skip ahead to the list, you can do that here:
The top WinSCP alternatives for safer file transfers are:
Now, back to the basics of WinSCP. Short for Windows Secure Copy, WinSCP is a free and open-source tool designed for Microsoft Windows letting you safely transfer files between a Windows computer and another remote computer, including one running a different operating system. It supports a range of file transfer protocols including FTP, SFTP, SSH, and WebDAV. It's designed to make the remote server seem like any other Windows file structure. To achieve this, WinSCP comes with two interfaces—an interface resembling Norton Commander and a standard file manager where you can see your remote and local file structures side by side.
Generally speaking, WinSCP is a solid FTP client, but I find the interface to be dated and clunky. If you want to switch between the two interfaces, you have to change your preference settings each time. It's also built on Windows, meaning Mac users can't run a transfer—a big issue for the vast majority of organizations either using a mix of Mac and Windows or who rely exclusively on Apple products. Plus, if you organize files on a LAN using UNC, WinSCP isn't compatible with that either. 
Top WinSCP Alternatives for Safer File Transfers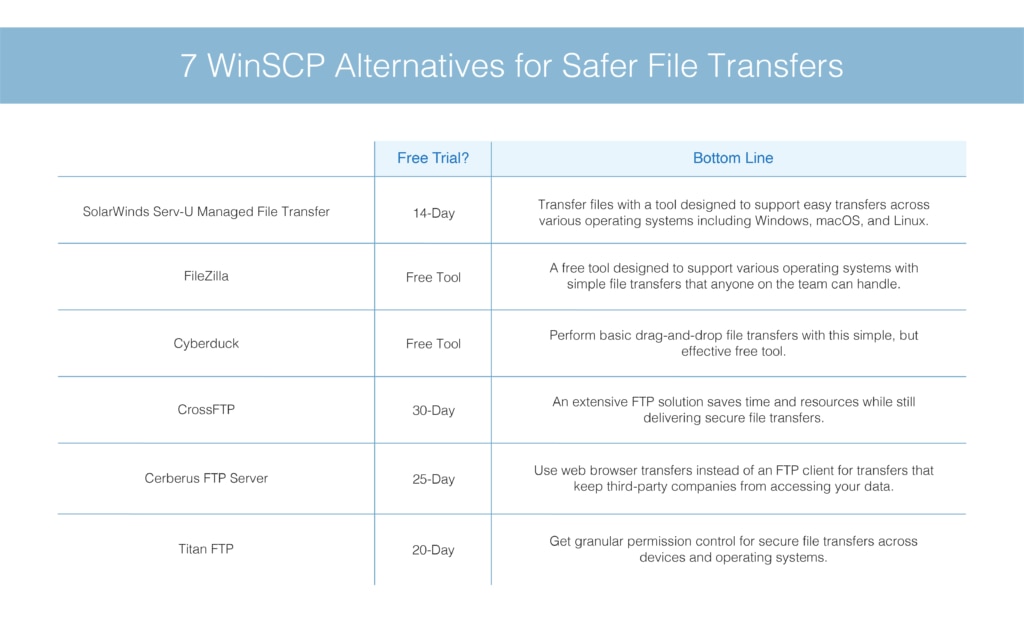 If you're looking for a quality WinSCP alternative for Mac, Windows, Linux, and more, look no further than SolarWinds Serv-U Managed File Transfer (MFT). Serv-U MFT gives you the business-level capabilities you need from a WinSCP alternative at an affordable price, making it a great choice across the board.
Serv-U MFT gives you control over your file transfers on both mobile and web devices within your organization (even for files bigger than 3GB). It goes beyond WinSCP's graphical user interface, though both offer single drag-and-drop features, making the file sharing process easy for your users no matter their level of expertise and experience. In fact, the intuitive dashboard is one of the areas where this solution stands out as a great WinSCP alternative for Windows, Mac, and more. It allows for easy, centralized control and offers customizable automation to simplify every step of the file sharing and management process.
Most importantly for any WinSCP alternative, Serv-U MFT comes with the essential security features you need for your file transfers (WinSCP offers password, keyboard-interactive, public key, and Kerberos authentication). It includes both authentication features and Active Directory integration. And it delivers safe, reliable file transfers using FTP, SFTP, FTPS, and HTTP/S protocols over IPv4 and IPv6 networks. Plus, the tool helps businesses demonstrate compliance for a variety of standards requiring secure file transfers (including HIPAA, PCI DSS, and more), which isn't an explicit goal of WinSCP.
You can try Serv-U MFT free for 14 days.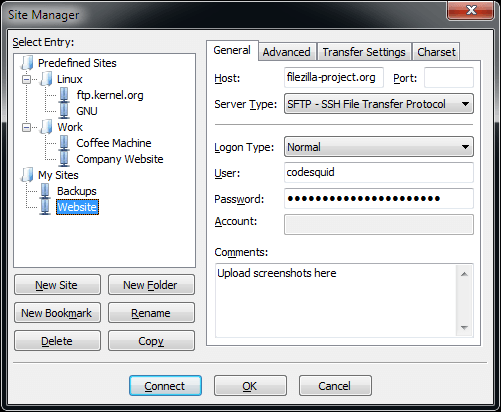 If you're looking for a free WinSCP alternative, FileZilla is the clear leader. It works with Linux, Windows, and macOS (while WinSCP integrates fully with just Windows) and offers basic control and visibility for your file transfers, including larger ones. One of the features that makes FileZilla stand out compared to WinSCP (though it still doesn't quite meet the standard of paid file sharing options) is the user interface. Like WinSCP, it offers drag-and-drop for easier file transfers for your users. It also lets you search through your files, queue your file transfer operations, create filename filters, access bookmarks, and more for an even more user-friendly and controlled experience. WinSCP offers some shortcut and jump list options. You can even configure your transfer speed limits to cap the number of file transfers occurring to get even greater control over your file transfers, which isn't a feature in WinSCP.
One issue worth noting is, in my opinion, FileZilla isn't the best WinSCP Linux alternative. Although it can connect to Linux systems, it can't delete any text on Linux. That does more than just affect your command lines—it also affects the user experience and your other FTP operations.
You can download FileZilla for free here.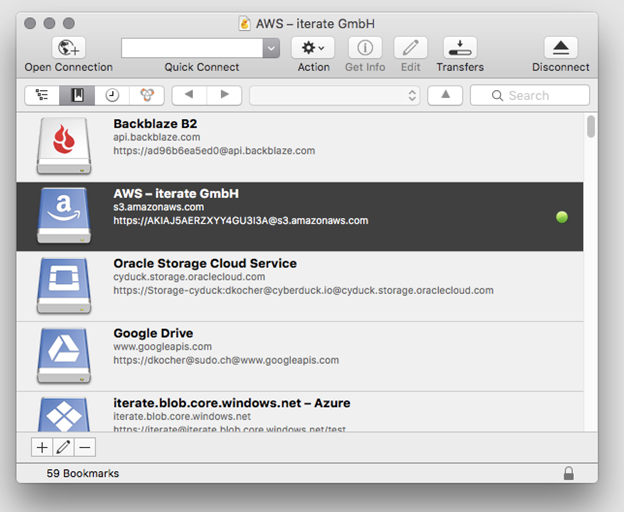 Cyberduck is another free WinSCP alternative—one built for macOS, which means its features are more macOS-leaning than the Windows-leaning WinSCP. It supports a wide variety of file transfer protocols, including FTP, SFTP, and WebDAV. The simple interface and its easy drag-and-drop capabilities make it a popular choice among users (similar to WinSCP's features). While you can't use the tool itself to edit files, Cyberduck integrates with any external editor, so you can make quick and easy changes to any text or binary file. WinSCP has an integrated text editor.
Like other free FTP solutions, Cyberduck can lack when it comes to the needs of a larger enterprise. The user interface isn't sufficient for some people's needs. Although the tool is free, it constantly prompts users asking for donations. You can download Cyberduck for free here.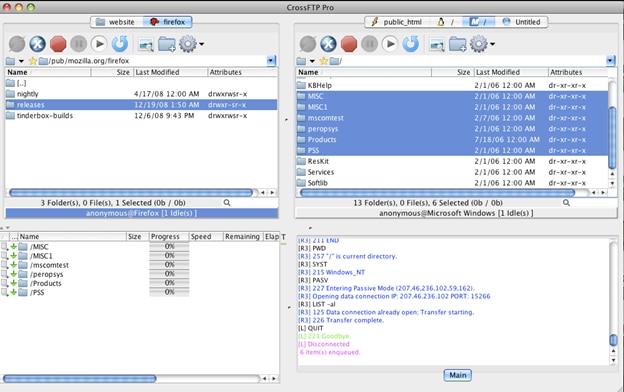 If you're looking for an extensive FTP solution to help save you time, money, and even FTP server resources, CrossFTP could be a good fit for you. The solution can transfer FTP, FTPS, and SFTP files (WinSCP offers SFTP, SCP, FTP, WebDAV, and S3). It also allows site-to-site file sharing. It lets you edit files, plus it supports sync-browsing and multi-tab navigation, allowing you to bind two tabs, so they can travel together—going beyond WinSCP's user experience. Plus, it allows you to implement speed limits on file transfers, so other programs can access the bandwidth they need.
While CrossFTP does have some customizable commands, the user interface is fairly simple and may be lacking for some users. There's a free version of CrossFTP available, but you can also try the Pro or Enterprise editions free for 30 days if you're looking for a more serious WinSCP alternative. You can compare the features of each to find the right one for your needs.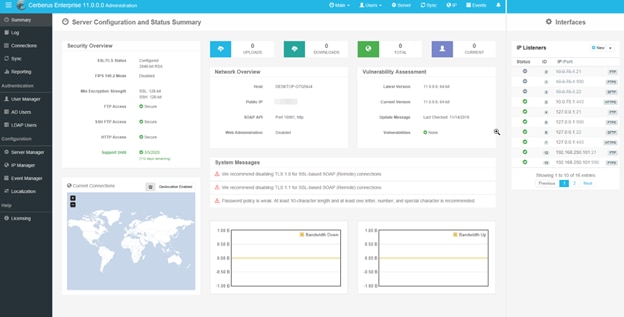 Cerberus is the dog guarding the Underworld in ancient Greek mythology. Like its namesake, Cerberus FTP Server is designed to guard your sensitive files as they travel between devices. The platform is built to securely receive and send files using SFTP, FTP, FTPS, HTTPS, or SSL encryption. Unlike a lot of the other tools on this list, it doesn't require an FTP client, instead using web browser transfers that let you send and receive files using common features like copy and paste.
There are both advantages and disadvantages to not using an FTP client that you need to consider when deciding whether Cerberus is the right tool for you. The main advantage is this can help keep third-parties from accessing your sensitive files. On the other hand, not having an FTP client means it's more difficult to manage your file transmissions. Luckily, Cerberus FTP Server has taken steps to counteract this disadvantage, including supporting two-factor authentication.
You can download a 25-day free trial of any of the three versions of Cerberus FTP Server (Standard, Professional, and Enterprise).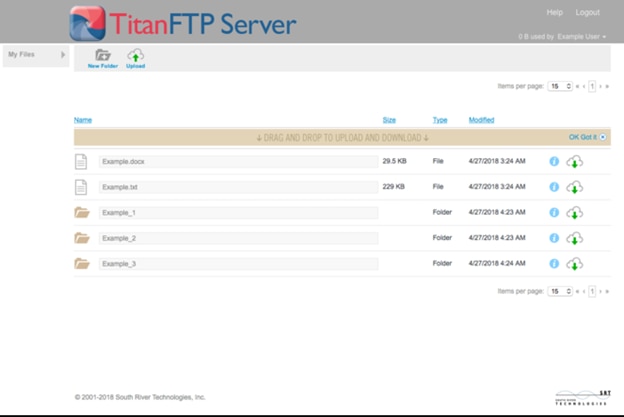 The last solution is FTP, which supports FTP and FTPS encryption across all major operating systems. Like Cerberus FTP Server, it comes in three different editions: Professional, Enterprise, and Enterprise+WebUI. Each added level has extra features making it a more powerful solution.
All the versions of Titan FTP are designed to maximize security during your file transfers. You can set permissions by users, groups, and servers. They also offer configurations allowing for file integrity checking and granular control. While there are several benefits to Titan FTP, it's important to note the Professional level only offers you FTP and FTP/SSL encryption for a maximum of 20 simultaneous connections.
You can try Titan FTP free for 20 days.
Choosing the Best Secure File Transfer Solution
There are many WinSCP alternatives. After comparing the benefits and drawbacks of the best ones, I believe SolarWinds Serv-U MFT is the best alternative, no matter the operating system or organization size. Serv-U is immensely scalable while still being user-friendly, so everyone on your team can use it. Download a 14-day free trial of Serv-U MFT today to try it out for yourself.
[As of September 2021]