Many professionals had to adapt to remote work at the start of the pandemic. However, distanced jobs may be here to stay: 86% of employees see remote work as the future. As a result, you might wonder if your IT asset management (ITAM) strategy is ready to leave the office.
Fortunately, there are a few strengths of a well-prepared ITAM remote strategy you can consider. By examining how adaptable your infrastructure is, you can determine if your technology is ready for a shift to remote work.
In this article, we'll cover why it's important to apply an effective ITAM strategy when employees are working from home. Then we'll provide four considerations to help you decide whether you're ready for remote work.
The Importance of ITAM Strategy to Remote Work
As of June 2020, around half of the U.S. workforce was working from home. With so many employees telecommuting, the need for remote IT asset management has become crucial. An organized approach could be the difference between chaos and collaboration.
If you're used to working with a centralized IT department, you're probably familiar with how complex technology can be, even when contained to a single location. Having employees spread across an area is unlikely to make workflows any simpler.
This is especially true if you're working on a hybrid model. With employees and equipment in a state of flux, you might find it difficult to keep an eye on all the changes. A solid ITAM strategy can be a vital asset.
Is Your ITAM Strategy Ready for Remote Work? (4 Key Considerations)
Let's look at four ways to learn how ready your company is to go remote. Every organization has slightly different needs. As such, we recommend you take the following as guidelines rather than as strict must-haves for IT asset management.
1. Comprehensive Tracking System for Hardware
Whether your employees are working from home or in an office space, they'll likely still need hardware. Keeping track of these valuable physical assets is crucial to a complete picture of your operations.
For example, how will you recover physical assets when a remote employee leaves your company? The ability to connect equipment to owners might be a useful tool. Likewise, distributing upgrades can be made easier if you know what setup each employee currently works with.
If you're in charge of IT management for a smaller company, you may be equipped to handle hardware tracking with your own system. However, if you run a larger business or one that uses more hardware, it's smart to consider investing in a digital tracking system.
Moreover, a tracking system can be combined with other metrics to improve its efficacy. For example, using technology with an informative dashboard can help you keep track of changes. SolarWinds® Service Desk is a prime example: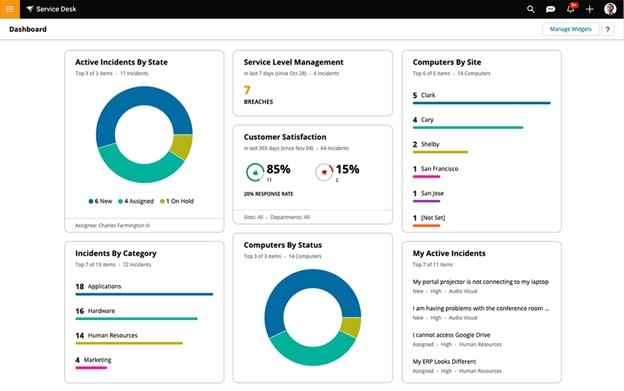 If you have a big change coming up, you may want to adjust your dashboard to prioritize your hardware records. Keeping an eye on how the numbers develop can help you prevent costly mix-ups.
2. Management Tools Designed for Software
Keeping track of software can be intimidating. With so many products and services available to employees, confusion may seem inevitable. As such, you may want to consider an ITAM strategy that accounts for remote software.
One important element of this is licensure. Companies such as Microsoft reserve the right to audit your programs and check for compliance. If you don't pass, you could be looking at costly fines and possible legal action.
We recommend using a tool to keep track of your license statuses. This can also give you a clearer understanding of how many are being used and paid for. It can even provide insight into what your company needs to scale further.
You might also consider using a tool to detect what version of software your employees are working with. If your team members are working from home, maintenance could easily fall by the wayside. Since delayed updates can lead to potential risks, a dynamic list of current versions can help keep your organization safe.
3. Efficient Incident Resolution Infrastructure
Quickly solving technological problems is often a top priority. Smoothing over these hiccups won't become less important in a more remote world. On the contrary, you might find efficient incident resolution is even more vital when technology is keeping your organization connected.
One powerful way to optimize your ITAM strategy is by integrating it with a service desk. An integrated ITAM and ITSM platform can provide your technicians with information about each ticket submitter's system. Plus, centralized access to other departments can make communication and collaboration much easier: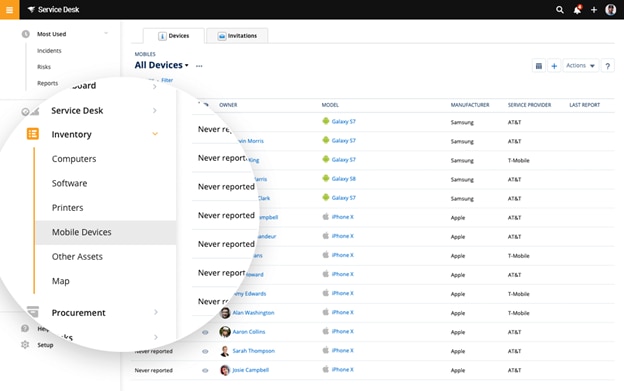 This technology can also help you track and identify trends in your incidents. For example, you may find a new piece of software is presenting compatibility issues with older hardware. Having this visibility can help you identify this issue before it becomes widespread.
In combination, these features can help you cut down on back-and-forth between technicians and users. Fewer tickets means more time for other tasks. Using fully integrated complete data has the potential to boost your team's productivity.
We also recommend you personalize your approach to optimized IT performance. This can help you adapt to your technicians' needs as they develop. You may also want to consider consulting some best practices for incident management.
4. Potential to Scale (Even at a Distance)
Your business may not be looking to go remote permanently. Even so, you may face times when a portion of your workforce is away from the office for a long time. Therefore, you'll want to consider including growth plans when assessing your readiness for remote work.
Each organization has different needs, so you may need to devote some time to figure out what your specific future looks like. For example, let's say you anticipate a wave of new hires in the coming year. How many laptops do you have on hand that can be provisioned for new users? Will you need to secure additional VPN licenses, so they can access your internal network remotely?
This can admittedly be a tricky process. Nevertheless, you may have already learned some lessons from the pandemic. If you review how your team handled the unexpected shift (both well and poorly), you can use the information as a blueprint for the future.
Conclusion
Between different locations and communication difficulties, remote work can be unpredictable. Fortunately, you can get an idea of your organization's remote IT asset management readiness by examining a few crucial areas of flexibility.
In this article, we covered four vital ways to determine if your ITAM strategy is ready for remote work:
A powerful asset tracking system.
Management tools to help you keep track of software.
The option to integrate your service desk for an efficient approach to incident resolution.
Flexible tools that enable you to scale your operations as needed.