Network software tools are resources to help optimize a network system. Many organizations and businesses operating a computer network or wireless network can benefit from network tools. Ultimately, their goal is to automate processes.
Maintaining high network performance, proper device configuration, security, and integrity of your data, or receiving early alerts on vulnerabilities in your environment all require an effective and dependable set of network tools.
In this article, we'll discuss the benefits and types of automatic network tools. We'll also look at the top fourteen free and paid network software solutions.
14 Top Network Tools and Software (Free and Paid)
Automatic Network Software (Paid Tools)
1. SolarWinds Network Performance Monitor
2. SolarWinds Network Configuration Manager
3. SolarWinds IP Address Manager
4. Paessler PRTG Network Monitor
8. SolarWinds Flow Tool Bundle
10. SolarWinds Advanced Subnet Calculator
Free Basic Tools or Comprehensive Paid Solutions?
Choosing Network Software Conclusions
Types of Network Tools
Network tools are classified into several types:
Network Monitoring: These tools assist in keeping track of various network processes as they occur to cope with any network issues.
Network Mapping: These solutions collect network data and generate a visual representation of the network, allowing users to map data with little effort.
Configuration Management: These tools enable administrators to make significant changes to the entire network from a single system.
Network Backup: These network tools copy and save all vital data from all devices, endpoints, and nodes into a backup server.
Network Discovery: This network software identifies all devices connected to a specific network.
Network Traffic Analysis: These tools identify and analyze network activity, including operational and security operations.
IP Management: These tools plan, track, and manage IP addresses within a network.
Network Security: These tools perform two main functions: They block unauthorized access and prevent unauthorized actions.
Automatic Network Software (Paid Tools)
1. SolarWinds Network Performance Monitor (Free Trial)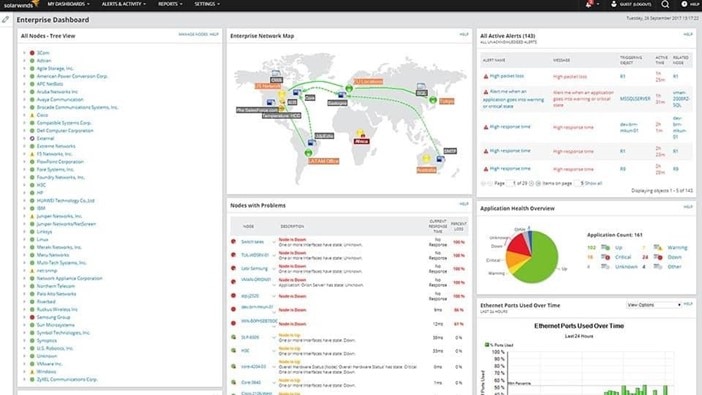 SolarWinds Network Performance Monitor (NPM) is a robust network monitoring software designed to detect, analyze, and manage network performance issues and outages in real-time. NPM focuses on monitoring the health of network-connected devices.
With affordable, user-friendly network monitoring software, you can reduce network disruptions and quickly discover, diagnose, and repair network performance issues. NPM provides sophisticated network troubleshooting for on-premises, hybrid, and cloud services with critical path hop-by-hop analysis.
Download Free Trial                                                              Learn More
2. SolarWinds Network Configuration Manager (Free Trial)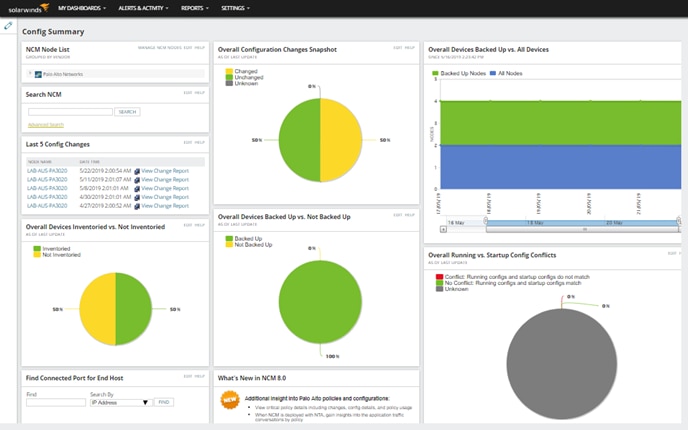 SolarWinds Network Configuration Manager (NCM) is a network configuration and compliance management tool. It helps to automate configuration backups so you can easily restore a corrupted configuration or provision a replacement device. You can continuously audit configurations and receive alerts if a device is out of compliance, then quickly remedy vulnerabilities with bulk configuration deployment. NCM will prevent unwanted network changes by delegating, monitoring, and alerting on changes.
By managing updates, compliance, and router, switch, and other network device configurations, NCM can help save time and improve network reliability.
NCM offers other features, such as:
Fully automated configuration for most managed network devices.
Ability to readily view, deploy, track, and back up all network device settings from a single location.
Configuration database maintenance, which can help you in the future with security misconfigurations.
Download Free Trial                                                              Learn More
3. SolarWinds IP Address Manager (Free Trial)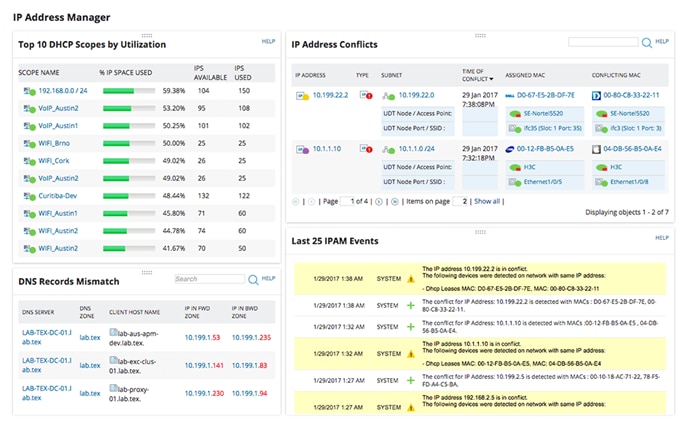 SolarWinds IP Address Manager (IPAM) is a complete set of tools that enables end-to-end planning, deployment, management, and monitoring of your IP address infrastructure while providing a rich user experience. IPAM discovers IP address infrastructure servers and Domain Name System (DNS) servers on your network automatically and allows you to control them from a centralized interface.
IPAM also includes a centralized console for monitoring and managing DNS records, and for generating automated customer DNS reports. It is best suited to small and medium-sized businesses.
Download Free Trial                                                              Learn More
4. Paessler PRTG Network Monitor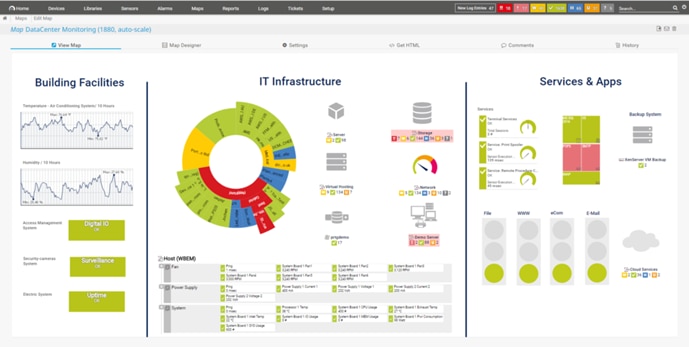 Paessler PRTG Network Monitor is a robust monitoring tool. It manages everything that happens in your IT infrastructure through an easy-to-use and intuitive interface. PRTG scales to any network size, making it an excellent choice for enterprises with expanding networks and little expertise in network monitoring. It also saves money by eliminating major outages and optimizing overall network quality through advanced technologies such as SNMP, WMI, HTTP requests, pings, SSH, and others.
5. ManageEngine OpManager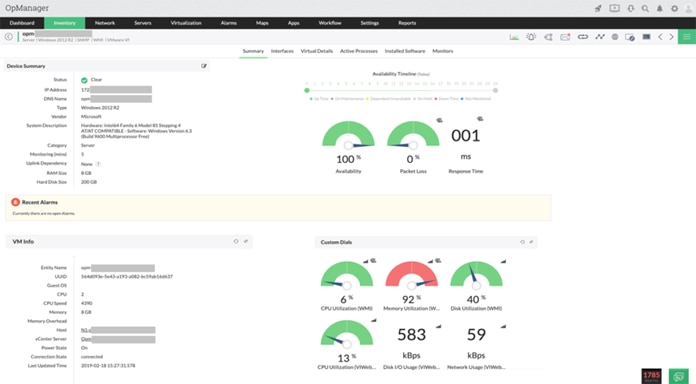 ManageEngine OpManager is a network management software package that combines network and server monitoring, bandwidth analysis, configuration management, and fault management. This solution is suitable for companies of all sizes.
OpManager users can monitor network availability, traffic, packet loss, performance metrics, and reaction time of various devices, such as servers, routers, switches, and virtual machines. If any equipment fails, OpManager automatically sends text messages or emails to the appropriate people. OpManager is compatible with Windows, Linux, iOS, and Android.
6. Datadog Network Monitor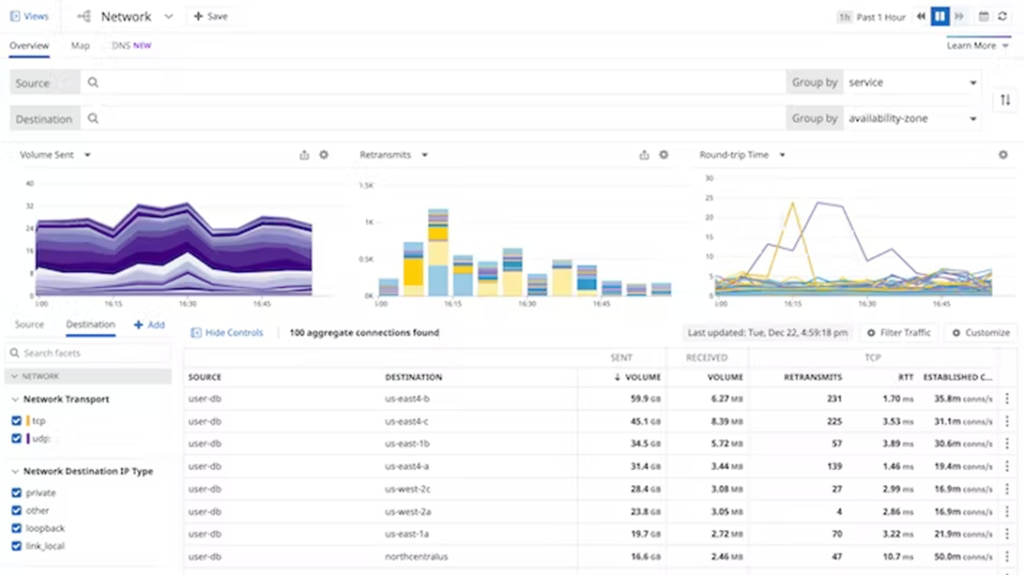 Datadog Network Performance Monitoring is a cloud application, third-party service, and infrastructure monitoring tool. Its features include error monitoring, log management, and user experience details, allowing customers to use the data retrieved to improve app performance and providing visibility into networks with meaningful, human-readable tags.
In addition, it integrates network traffic data with appropriate application traces, host metrics, and logs to consolidate troubleshooting into a single platform.
7. Intermapper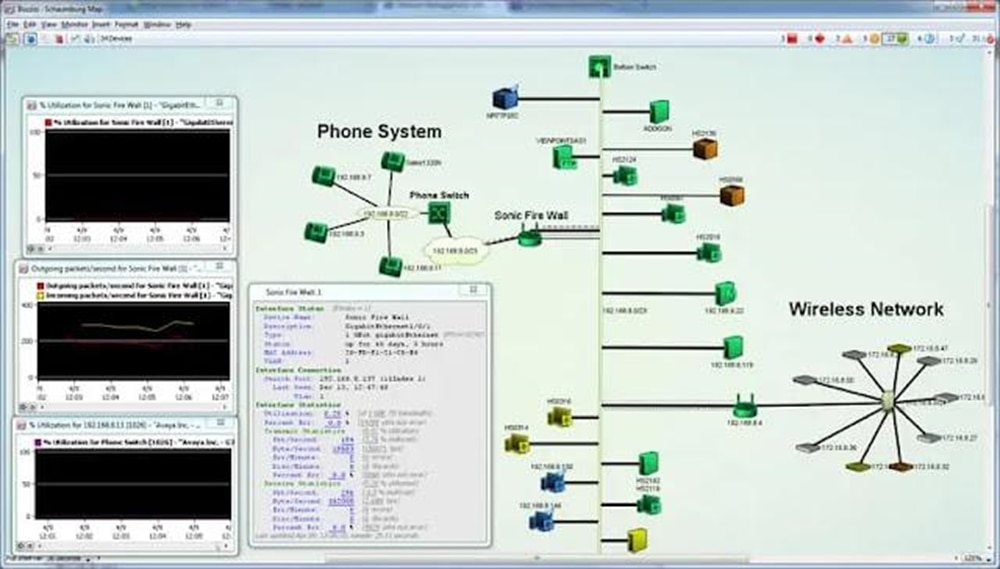 Intermapper is a comprehensive system monitoring tool for networks, network equipment, servers, endpoints, and other network-connected devices. It allows for real-time network monitoring, the storage of performance indicators, and the analysis of historical data.  
Useful Free Network Tools
8. SolarWinds Flow Tool Bundle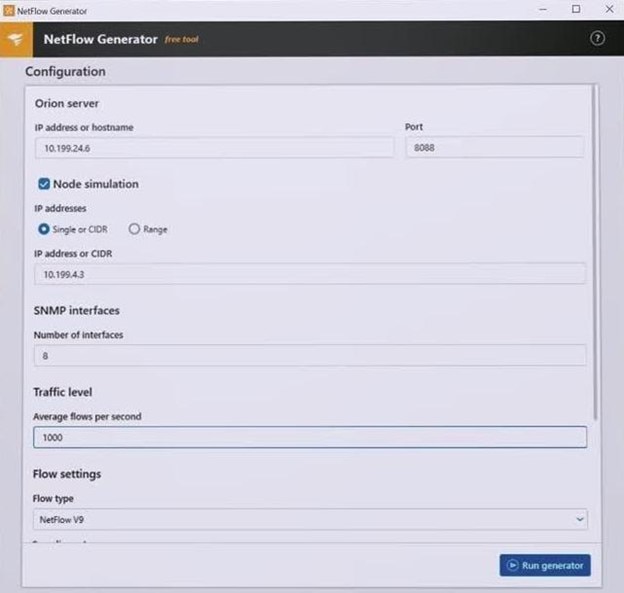 The SolarWinds Flow Tool Bundle is a free collection of tools that combines flow analysis tools to assist you in swiftly distributing, testing, and configuring network traffic volumes. NetFlow Replicator, NetFlow Generator, and NetFlow Configurator are included in this tool. The Flow Tool Bundle is available for download on the Windows operating system.
The ability to replicate IPv4 and IPv6 flow data to multiple destinations; generate simulated flow traffic to aid in flow tool troubleshooting; test and validate configurations; remotely and quickly configure NetFlow v5; activate NetFlow; and find bandwidth hogs are among the key features of the Flow Tool Bundle.
9. SolarWinds Traceroute NG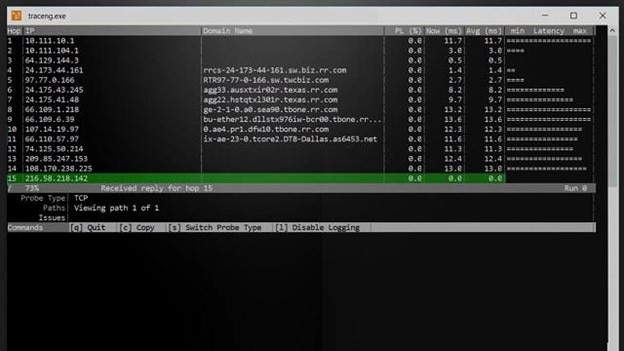 The SolarWinds Traceroute NG is free software that provides an accurate single path from source to destination and notifies users when the route is no longer available. The NG in the name stands for next generation.
Traceroute NG's key features include the ability to run TCP and ICMP network path analysis; support for both IPv4 and IPv6, making it flexible for larger networks using more modern protocols; and continuous probing, which will highlight any path changes and notify you when any downstream problems have resulted in rerouting.
10. SolarWinds Advanced Subnet Calculator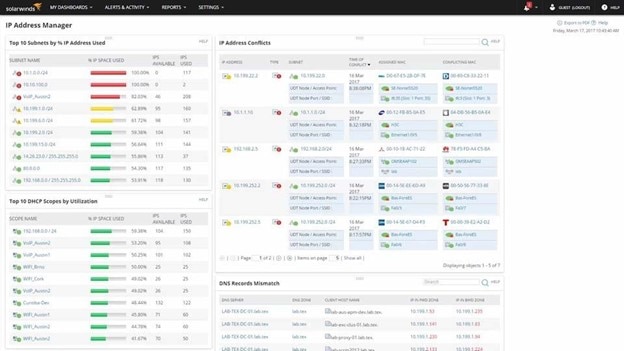 The SolarWinds Advanced Subnet Calculator is a useful and simple-to-use online tool designed to assist network administrators and IT professionals in quickly and accurately calculating network subnets and using this information for network subnetting. Using this free subnet calculator, you can build your network as needed and boost the productivity of your infrastructure operation.
11. ManageEngine Ping Tool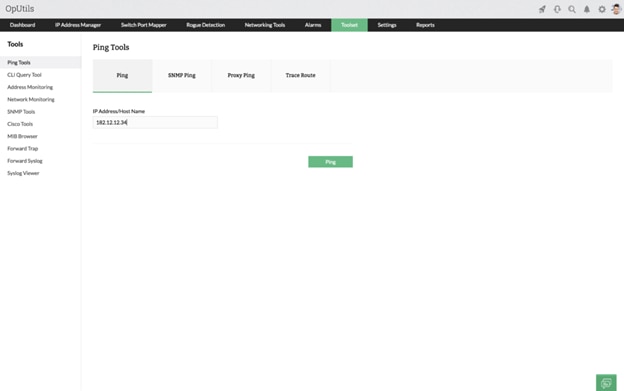 The ManageEngine Ping tool is a free ping monitoring tool designed for those who want to deploy a basic ping monitor. It represents the normal command line ping in graphical form. It's simple to use, even for nontechnical people, and includes a dashboard where you can see all the metrics from your ping tests as well as the status of your devices in the main table view.
The Ping tool allows you to calculate key parameters, such as round-trip time, packet loss percentage, and hop count. You can also monitor how many successful and unsuccessful ping counts there are to know how many times a device has passed or failed a test.
12. Spam Blacklist Checker
The Spam Blacklist Checker searches multiple spam blacklists to determine whether the provided domain name/IP address has been banned (e.g., flagged as belonging to a spammer). If you are not receiving mail from a sender or if you are sending mail that is not being received, use this tool. It's possible that the original domain name/IP address has been added to one or more spam blacklists.
13. Whois Domain Lookup

Whois Domain Lookup is a popular internet record listing that shows who owns a domain and how to contact them. Contact information can be provided for both the domain's registrar and the web hosting firm that provides space or storage for that specific website.
14. Spiceworks
Spiceworks is a free program with features that make it a great solution for small businesses. Some of its features include a dynamic dashboard that provides real-time information on network-related difficulties, limitless use on an unlimited number of devices, and the option to inventory your help desk queries.  
Free Basic Tools or Comprehensive Paid Solutions?
Now that we have gone through some of the best network tools and their features, you may be thinking about which solutions to adopt in your organization.
The free technologies listed in this article give small to medium enterprises access to tools that are typically comparable to premium solutions despite significant limits. In essence, they will be ineffective at managing a bigger network. This is because, as network infrastructure becomes more complicated, it is critical that organizations focus on automation to be more productive.
Here are some matters to consider before deciding on which tool to use:
The cost and time involved in training employees on the tool
Software cost
Whether the product's features fit your needs
Choosing Network Software Conclusions
Network tools are vital for all sizes of enterprises but finding the proper network tools does not have to be difficult. In this article, we discussed some of the best network tools, both free and paid, as well as how to select the best solution for your needs.