Enterprise service management (ESM) is a relatively new term in the IT service scene, but ESM isn't a brand-new invention. ESM expands on existing concepts from IT service management (ITSM) with a focus on improving IT services delivery and streamlining the end-user experience. It's important to have both the right ESM strategy and the right ESM software. My pick for software is either SolarWinds® Web Help Desk® or SolarWinds Service Desk, which are both designed to help enterprises improve their service management according to the principles outlined below.
What Is Enterprise Service Management?
The goal of enterprise service management is to establish an IT services suite that doesn't provides IT management to customers while streamlining communication between IT admins and end users, thereby creating an excellent service experience.
In other words, ESM focuses on how managed IT services are delivered. ESM combines a traditional IT management suite with innovative client-end tools to improve the speed and efficiency of delivery.
As you might expect, a strong ESM protocol benefits both customers and admins. A user-friendly solution can be more efficient and effective for everyone involved in the process. With a successful ESM suite, you can maintain a happy client base and even strengthen your brand as a great IT management business.
Benefits of ESM Software
When you use software designed specifically for ESM, you can make sure you're checking all the boxes for a comprehensive and effective ESM strategy.
ESM software should boost the most important aspect of your ESM strategy: efficiency. When your IT services team deploys high-quality ESM software, with features like automated ticket escalation and a user-friendly customer service portal, you can streamline some of the more time-consuming aspects of managed IT services.
Here are some of the main features of any successful ESM software, and how they can make your IT services run more smoothly.
Faster Ticket Management
When your client needs help with an IT issue, the first step is for the end user to submit a ticket to your IT help desk. If the process of ticket submission and resolution is slow and confusing, it can lead to costly downtime for businesses. An effective enterprise service management solution will focus on streamlining the ticketing process, and speeding up issue detection and solution, to get your clients back to work as quickly as possible.
Enterprise service management software offers features designed to speed up the ticketing process at each step of the way. When tickets come from multiple, different sites (email, SMS, or your IT services website customer service portal), a successful ESM software will help you automatically convert complaints into IT-ready tickets with all required information, then collect all your tickets in one dashboard for easy organization.
Ticket escalation is the process of analyzing a customer ticket to identify the underlying cause of the IT problem, then sending it to the appropriate technician or grouping it with related tickets into a single "problem." Software can help automate this process and save you time. For instance, when multiple users submit different complaints addressing the same IT problem, ESM software uses smart technology to group tickets and automatically escalate them into unified problem areas.
Meeting Service Level Agreements (SLAs)
Establishing and meeting service level agreements is a common concern for IT admins. For instance, when you establish a contract, you and your client will set guidelines for services and expectations. ESM software can improve your service level management, which means you can keep an excellent customer service record and avoid breaking contracts.
ESM software can provide you with notifications to alert you when you're approaching an SLA breach. It can also establish reminders for SLA service dates, to ensure you aren't overextending your time frame. Additionally, customer satisfaction features allow you to gauge your performance throughout the course of your IT services, to make sure you provide satisfactory service.
Even though SLA compliance is important for client satisfaction, SLAs aren't set in stone. If the demands of your client change, you modify your SLAs to reflect the most current client demands. Good ESM software should be able to keep track of those changes.
Keeping a Shared Knowledge Base
One useful—but often overlooked—part of enterprise service management is maintaining a shared knowledge base between you and your clients. This feature connects you to your clients, so they can better understand their IT performance and stay engaged with the IT administration process.
Knowledge bases can serve as a "first stop" for customers who have IT questions, as in many cases it allows them to address a problem on their own, without IT intervention. For straightforward issues like password resets, a knowledge base allows the customer to solve the problem, freeing up the technicians to work on more complex issues. Plus, the customer gets a fast answer and avoids downtime and frustration. Technicians can add to the knowledge base over time, and use it themselves, as they figure out the best procedures for solving problems. ESM software can help ensure the knowledgebase is organized, easy to use, and easily searchable, making it a useful tool for technicians and end users alike.
Choosing Enterprise Service Management Software
When you are considering the most effective enterprise service management software, you need to evaluate your options holistically. Does your software make the ticketing process more efficient? Does it help you meet your SLAs? Does it help you manage a shared knowledge base? In my view, the most comprehensive ESM software suite is from SolarWinds. SolarWinds addresses each of the main ESM concerns with two distinct IT management tools.
First is SolarWinds Web Help Desk, an on-premises solution ESM software offering a centralized knowledge base, ticketing management software, asset and inventory management, and more. As an on-premises tool, it doesn't offer vendor management or contract management.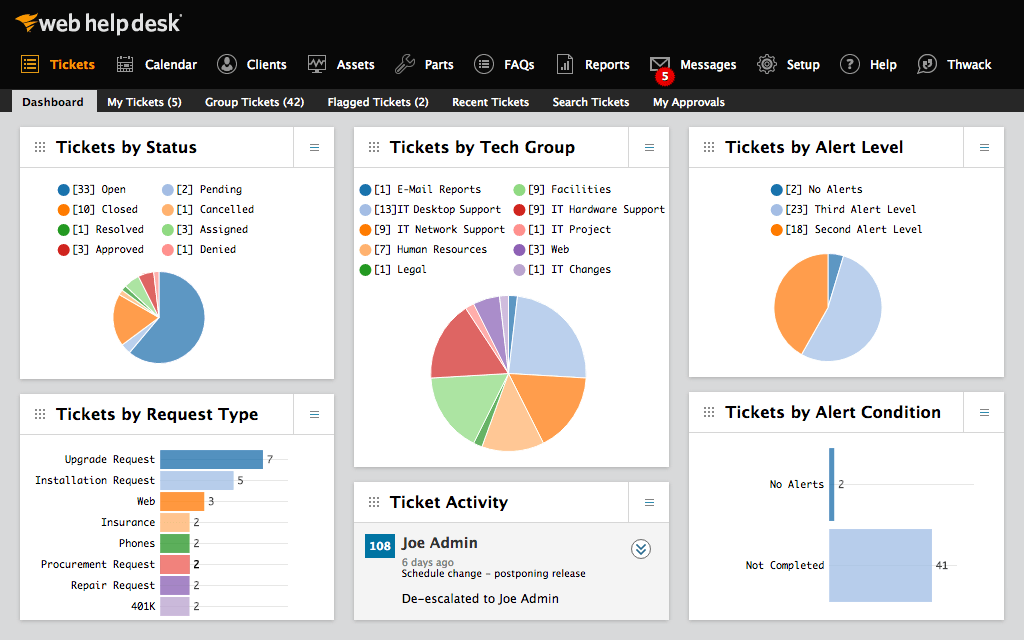 Second is SolarWinds Service Desk, SaaS-based IT asset management software with a broad scope. Service Desk provides an intuitive user portal, ticketing management and auto-escalation, SLA compliance notifications, and other features designed with modern-day ESM standards in mind. It offers most of the same features as Web Help Desk, plus vendor/contract management, a service catalog, a change management database, and a suggestion mode based on machine learning.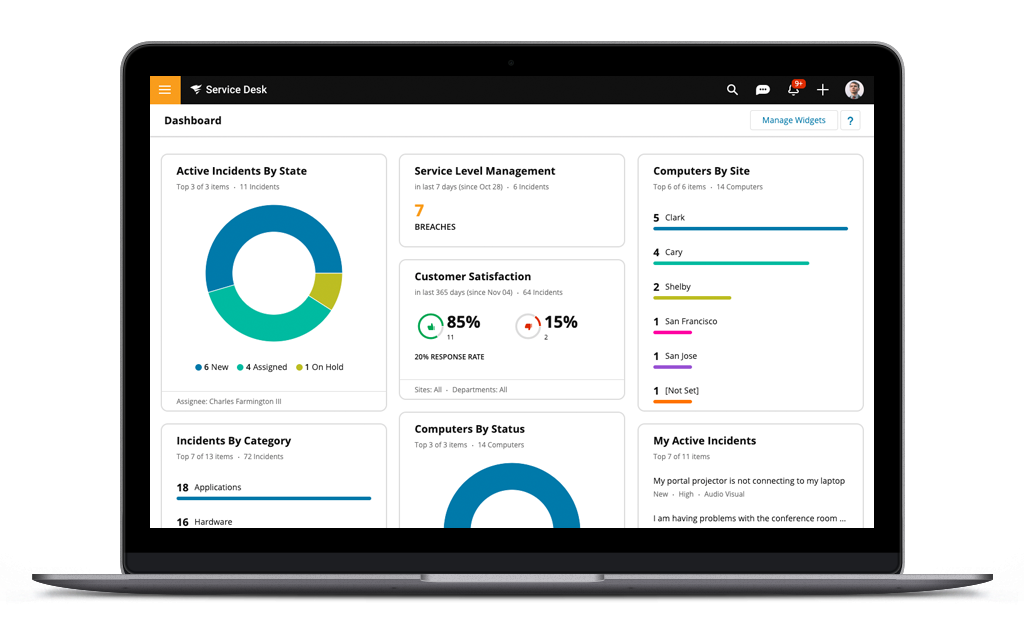 A successful ESM suite will help technicians fix IT issues faster, communicate better with end users, and streamline IT processes to minimize downtime. It's no wonder ESM has become a major consideration for most modern-day businesses.