Database cloud services are becoming increasingly popular. This is because they offer a range of benefits, including improved innovation and agility, lower risks, and fewer costs. Once you've chosen your database cloud provider, you'll have to consider how you should manage and monitor your cloud computing database. This guide provides a brief overview of what a database cloud service is and reviews the best cloud database solutions for managing and monitoring your database effectively.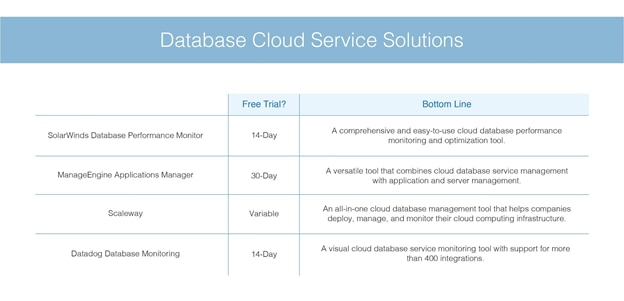 For those who don't have time to read the full article, I believe SolarWinds® Database Performance Monitor ranks highest as one of the best cloud database service solutions available on the market. This tool delivers enterprise-grade database performance monitoring and performance optimization for open-source and NoSQL databases, including MySQL, MongoDB, PostgreSQL, Redis, and Amazon Aurora. A 14-day free trial is available for download.
What Is a Database Cloud Service?
A cloud computing database, like a traditional database, is a library of either unstructured or structured data. Unlike a traditional database, a cloud database service is stored on a public, hybrid, or private cloud computing platform. In many ways, cloud database solutions operate similarly to on-premises servers. While on-premises databases connect with local users via a business' internal LAN (Local Area Network), cloud databases are stored on servers delivered by a Database-as-a-Service (DBaaS) or cloud provider. This means they can only be accessed via the internet.
The Best Database Cloud Service Solutions
To make the most of cloud database services, ensure continuity, and preserve cloud database security, it's important for businesses to effectively manage and monitor their databases. I found each of the following cloud database solutions can bring something slightly different to the table, helping you ensure your cloud computing database is monitored continuously, performing as it should be, and optimized to suit your business needs.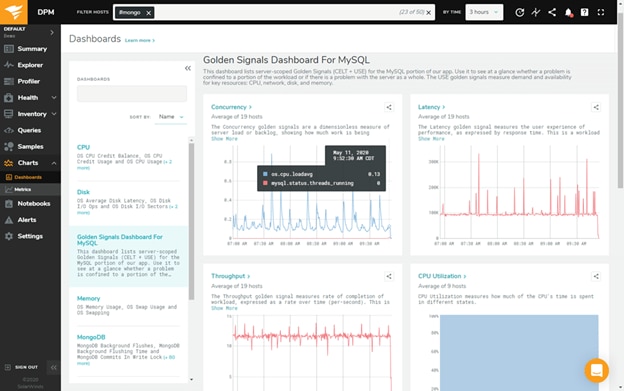 I feel SolarWinds DPM is a comprehensive and easy-to-use database performance monitoring SaaS platform with an intuitive web-based user interface. This tool enables you to monitor local, cloud, or hybrid databases, with real-time and historical data insights to help you identify performance problems.
DPM provides 24/7 real-time performance monitoring, which can help you meet KPI objectives for deployment frequency, MTTR, availability, MTTD, and much more. This tool can also deliver instant recommendations, helping you identify abnormal queries and modify server configurations as appropriate.
I found this database cloud solution to be flexible and customizable to suit your business needs. You can create custom dashboards where you can track metrics, monitor trends, access best practice recommendations, analyze performance outliers, view before-and-after performance, and manage resource allocation and capacity.

This cloud-based platform is built to enable you to monitor thousands of key system metrics, giving you complete visibility into the database's workload. DPM also offers smart analytics, helping you diagnose problems quickly, so you can implement code improvements ahead of time.
As a highly versatile and cost-effective cloud database monitoring solution, I recommend SolarWinds DPM to businesses wanting to achieve greater insight into their cloud databases. You can access a 14-day free trial here.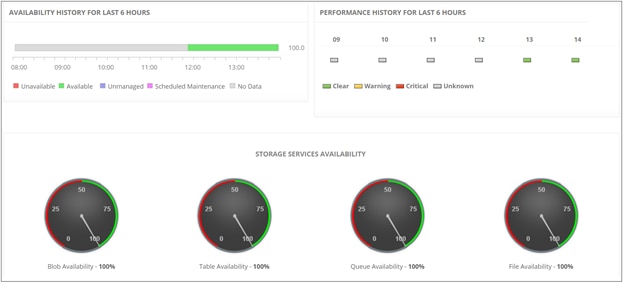 I believe ManageEngine Applications Manager, an all-in-one solution, includes an impressive range of database monitoring capabilities. Applications Manager also offers server performance monitoring utilities, enabling you to analyze your database's physical support in addition to monitoring your database operating metrics.
This solution allows you to monitor several popular relational databases, including MS SQL, Oracle, IBM Informix, MySQL, Sybase, PostgreSQL, and IBM DB2. You can also use this tool to monitor NoSQL databases, such as MongoDB, Couchbase, Cassandra, Apache HBase, and Oracle NoSQL. You can even monitor big datastores, as well as in-memory databases, like Redis and SAP HANA.
I found the versatility and advanced metrics in Applications Manager can also allow for comprehensive database performance management. This tool also offers capacity planning reports, helping you understand utilization metrics and prepare for resource upgrades. With machine learning technology, Applications Manager can also enable you to predict utilization trends and plan for them.
I think Applications Manager is especially well-suited to companies looking to combine database management, server management, and application management into a single solution. A 30-day free trial of ManageEngine Applications Manager is available.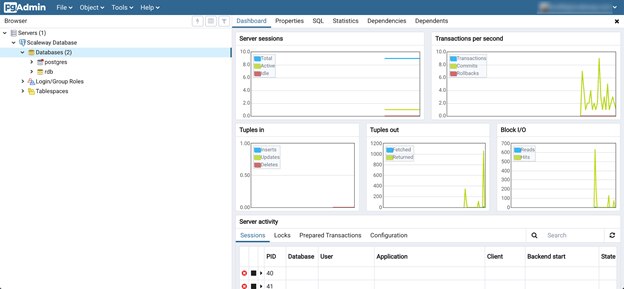 Scaleway, a cloud database management tool, is built to help companies deploy, manage, and monitor their cloud computing infrastructure. This platform can enable admins and IT teams to establish database instances, create custom reports, and define the network's access rules. It also allows you to clone your production databases into integrated development environments.
Scaleway provides features designed to help you achieve GDPR compliance, monitor your network effectively, back up data, and much more. This solution includes automated notifications, data synchronization, and load-balancing capabilities that can distribute site traffic across multiple platforms. This includes Microsoft Azure, Digital Ocean, Google Cloud, Amazon Web Services, and more.
The Scaleway Elements Database product delivers fully-managed cloud relational database instances, with PostgreSQL and MySQL as the database engines. This solution was purpose-built to enable teams to focus on development, instead of configuration and administration. Scaleway manages database provisioning and configuration on your behalf. You can sign up to try the Scaleway public cloud solution here.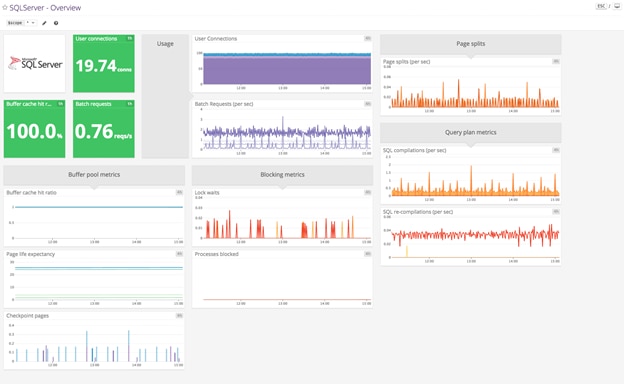 I believe Datadog Database Monitoring is another popular SaaS application for monitoring cloud database service performance. The Datadog Database Monitoring system offers an array of artificial intelligence machine learning techniques, which establish benchmark infrastructure and application performance profiles. These profiles are refined over time. To keep you informed of abnormalities or unexpected changes, Datadog Database Monitoring can automatically configure alert thresholds to reflect these performance profiles, reducing the number of alerts received by administrators.
Although the tool automatically establishes alert thresholds, these can be manually adjusted to suit your preferences and alert priorities. You can even generate custom conditions to trigger alerts. You can do this via a simple SQL query utility to combine performance checks that already exist.
I found this solution to be highly versatile, providing more than 400 integrations, such as Redis, Cassandra, MongoDB, SQL Server, PostgreSQL, MySQL, and many more. This database performance monitoring tool also includes many performance visualizations that, when aligned with website and infrastructure monitoring modules, can help you pinpoint exactly where performance problems are lurking in your IT system, as well as the root cause. In addition, Datadog APM delivers performance metrics for your servers and conducts delivery checks on applications, giving you more comprehensive insight into your infrastructure.
I think the key strengths of Datadog include the intuitive user interface and dashboard design, which use maps, color coding, and charts to enable rapid problem identification. With several troubleshooting features available, Datadog enables users to drill down into issues and investigate thoroughly. To simplify analysis, users can organize graphs to generate simultaneous performance stacks.
This cloud-based solution can monitor databases regardless of where they are. This means you can centralize service monitoring across multiple sites and monitor cloud databases.
The Datadog Database Monitoring tool also provides comprehensive reports for performance analysis, which are ideal for communicating database performance and future requirements to key stakeholders. You can distribute data through one of many integrations with team collaboration solutions, such as Slack. You can access a 14-day free trial of Datadog Database Monitoring and other modules here.

Choosing the Right Cloud Database Solutions
There are many solutions on the market designed to help you manage and monitor your cloud database services effectively. The solution you choose will depend on the extent of your requirements and whether you're looking for a specialized monitoring solution or an all-in-one cloud database management tool.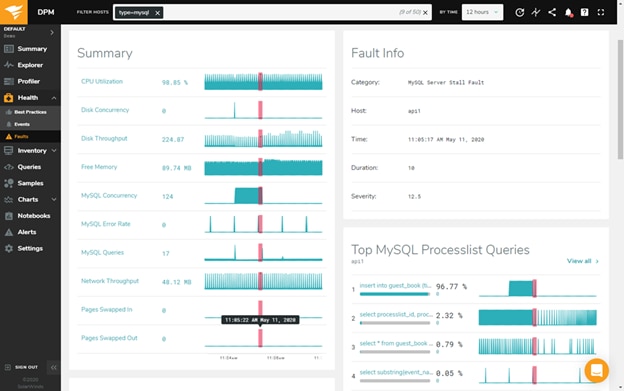 For a solution that combines versatility with specialist and advanced cloud database monitoring utilities, I recommend SolarWinds Database Performance Monitor. I found this tool requires no experience or training, is easy to launch, and offers a range of customizability options. The provider, SolarWinds, also offers ample product support. As a SolarWinds user, you can benefit from a vast and loyal community of users, who provide support and advice via the dedicated SolarWinds THWACK® community. There's plenty of support available, and I believe SolarWinds DPM remains one of the most user-friendly tools on the market. You can access the 14-day free trial here.