This guide will help you improve your understanding of centralized event log management by answering the following question: what is centralized logging? In addition, this guide will outline some of the most important centralized logging best practices and review what I think are the best centralized logging solutions currently on the market.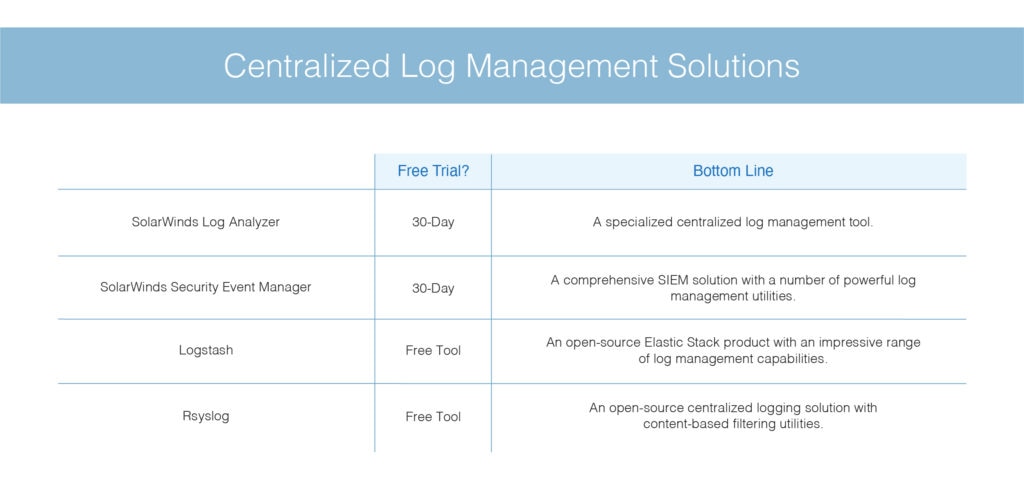 SolarWinds® Log Analyzer and SolarWinds Security Event Manager (SEM) rank highest on my list of the best centralized logging solutions because they each strike the ideal balance between versatility and user-friendliness. These centralized log management tools offer a range of powerful features I'll explore in more detail later in this guide. You can access a 30-day free trial of Log Analyzer here and a 30-day free trial of SEM here.
What Is Centralized Logging?
A centralized logging system is a type of logging solution designed to collect logs from multiple servers and consolidate the data. Centralized logging systems then present the consolidated data on a central console, which should be both accessible and easy to use. The purpose of a centralized logging system is to streamline and automate the process of manual log management, reducing the time and effort often involved in maintaining a massive repository of log data.
Centralized Logging Best Practices
Here are just a few of the many centralized logging best practices dedicated centralized logging solutions can help you implement with minimal effort.
1. Establish a Plan
To create a plan, carefully consider what you intend to log and why. Like all significant IT components, logging must be supported by a strategy. Your strategy should focus on preventing unnecessary complexity in your centralized logging system and should outline logging techniques and tools as well as locations for data hosting as you collect logs from multiple servers.
2. Create a Log Data Structure
It's also important for your logs to be formatted appropriately. If you fail to establish appropriate logging formats, identifying and extracting log insights will be a challenge. Your log structure should be easily interpreted and facilitate deeper insights and targeted troubleshooting.
3. Centralize and Separate Log Data
Your logs should be collected and shipped automatically to a centralized repository separate from the production environment. By consolidating your log data, you can facilitate organized management, enrich analysis, and reduce the likelihood of data loss.
4. Correlate Your Data Sources
By correlating data, you can quickly and accurately identify events potentially creating system malfunctions. As an example, detecting correlations in real time between app error rates and infrastructure resource consumption can assist with identifying anomalies so appropriate action can be taken.
5. Leverage Unique Identifiers
Unique identifiers are helpful for support, analytics, and debugging activities because they let you track user sessions so you can pinpoint which actions were taken by which users. If a user has a unique identifier, you can filter your user, search by it, and view all the actions taken by the user during a certain time period. You can then use this information to trace a transaction from the first click all the way to the executed database query.
6. Establish Real-Time Monitoring
Even a minor service disruption can have a significant impact on your customers and your business. To avoid service disruptions whenever possible, implement a real-time centralized logging solution capable of notifying you of issues and helping you investigate. Real-time visibility empowers your team and provides invaluable insight, helping you solve issues as they arise.
The Best Centralized Log Management Tools
With the right centralized event log management tools, you can collect logs from multiple servers, improve log management efficiency, maximize your team's efforts, and reduce the likelihood of service disruptions. The following centralized logging solutions can help you realize these benefits and more.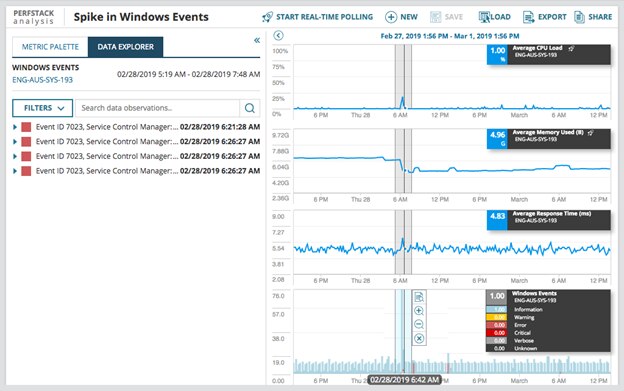 SolarWinds Log Analyzer is a user-friendly and scalable centralized event log management tool designed to assist businesses with small to large infrastructures. This solution lets you collect logs from multiple servers and easily investigate your machine data so you can rapidly identify the cause of IT issues. Key features of Log Analyzer include event and log collection, event and log analysis, powerful filter and search capabilities, support for tagging event logs, a real-time log stream, ingestion of flat log files, and much more. This centralized log management tool also includes Orion® Platform integration. You can use Log Analyzer alongside several other SolarWinds network and systems performance tools, with log and event data integrated directly into the Orion Platform console.
This centralized log management tool was built for enterprise-class log management, enabling you to manage syslog and SNMP trap data across your infrastructure to gain deep insight and conduct targeted troubleshooting. To assist with quickly finding log data and entries, Log Analyzer lets you refine your log data search with out-of-the-box, intuitive filters. Additionally, the tool is highly visual, displaying data in interactive charts to make visualizing search results and log volume easy.
You can access a 30-day free trial of SolarWinds Log Analyzer here.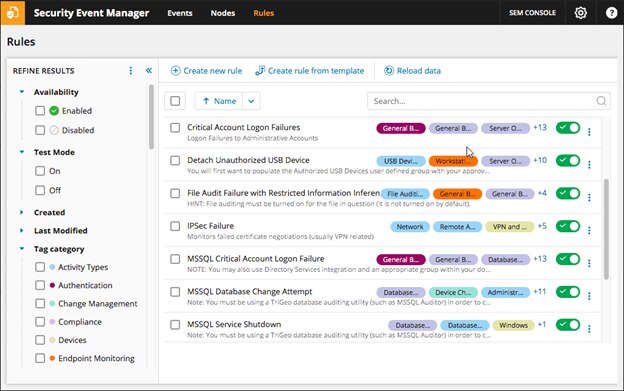 If you're looking for a more comprehensive centralized event log management solution with security information and event management (SIEM) capabilities, SolarWinds SEM may be the ideal solution. This tool helps you identify threats and respond to them quickly by monitoring for abnormal or suspicious behavior in your infrastructure in real time on a 24/7 basis. This tool features virtual appliance deployment, out-of-the-box content, and an intuitive user interface, making it possible for you to start collecting and analyzing data from all your logs in little time and with minimal prior experience.
SolarWinds SEM makes compliance reporting and audits much simpler by leveraging audit-proven reports and utilities to reduce the time needed to prepare for audits and demonstrate compliance. SEM includes utilities to support you in demonstrating compliance with HIPAA, SOX, PCI DSS, and much more.
This solution is also affordable and scalable, with a licensing model based on the number of log-emitting sources you're using rather than log volume. This means you don't have to be selective when it comes to your logs to keep costs low. Other key features of SEM include built-in file integrity monitoring as well as automated threat detection and response. A 30-day free trial of SEM is available.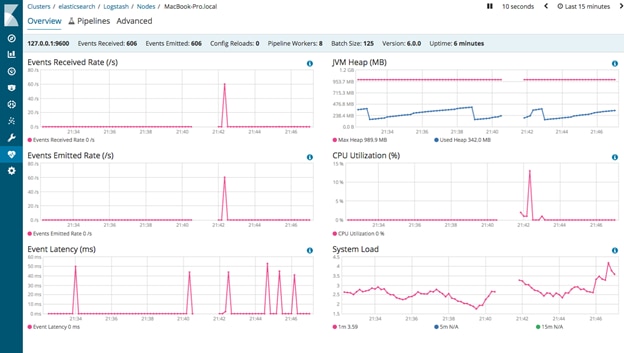 If you're looking for an open-source centralized logging solution, Logstash is a popular choice, especially if you're a fan of the Elastic Stack. This fully open-source solution gives you the flexibility to deploy it and use it however you prefer while also providing an impressive range of capabilities.
Logstash can collect a huge volume of data from numerous platforms and allows you to execute and define data pipelines to organize unstructured logs and more. Unfortunately, Logstash is only compatible with the existing Elastic Stack products. You can try Logstash for free here.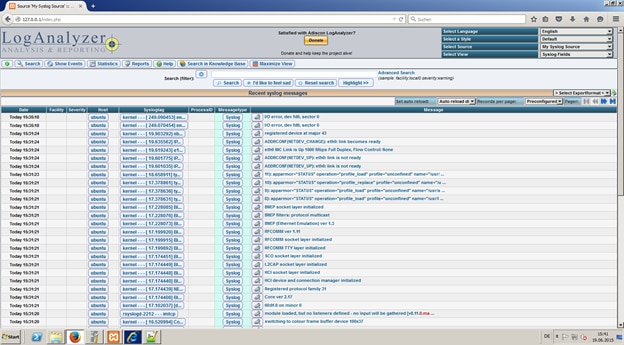 Rsyslog is another centralized, open-source logging solution. Rsyslog is a tool for Unix-like OS platforms and functions as a highly configurable message router providing dynamically loadable outputs and inputs. This tool can transform data from various data sources and deliver the output to multiple destinations, allowing you to deliver up to 1 million messages locally every second.
A Windows rsyslog agent is also available, which can be used to forward Windows event logs and establish a file monitor system. The Rsyslog features include multi-threading capabilities, support for big data environments, content-based filtering utilities, and more. You can download a free trial version of the Windows agent here.
Try the Right Centralized Logging Solutions Now
Whether you're hoping to implement an open-source centralized log management solution, a more extensive SIEM solution, or a specialized log management tool, one of the centralized logging solutions listed in this guide is certain to meet your requirements. Of the tools I've tested and described above, I recommend SolarWinds Log Analyzer and SolarWinds SEM the most. A free trial of SEM is available here and a free trial of Log Analyzer is available here. 
*As of March 2021