In the past, establishing a log management system was a reasonably simple process. However, in recent years—because of the complexity of log management standards, regulatory requirements, and growing networks—setting up an effective and compliant log file management system has become increasingly difficult.
Today, enterprise log management extends beyond basic data collection. Modern log storage and management involves reporting, normalization, analysis, and robust archival processes that can withstand disasters and other unexpected circumstances. Due to the evolution of IT infrastructure (which now includes cloud and hosted deployments) there's substantially more data than before, and data management is made more complicated by data residing across multiple environments.
To help IT organizations cope with the challenges of log storage and management, this guide provides a list of the most important log management best practices. It will also provide a clear answer to the question "What is log management?" and recommendations of the best log management solutions—SolarWinds® Log Analyzer and SolarWinds Security Event Manager (SEM).
What Is Log Management?
Log management involves combining data from services, hosts, applications, and much more. This data serves as a record of all the events that have occurred across multiple infrastructures and applications over time. These data logs are taken from various sources and are likely to be formatted differently, which is why businesses rely on log file management tools to parse logs into singular data points, standardizing their format.
When an enterprise log management solution has finished parsing and centralizing data logs, IT professionals can then extract important information from the logs, which they can leverage to analyze application performance and improve it. The numerous log files generated by software and devices across a company's infrastructure and IT systems provide critical insight. However, event logs are generated continuously, which can result in high data volumes, making organizing and managing these logs an ongoing challenge for IT professionals. Even if an IT team manages to aggregate this data effectively, they must also be able to perform advanced log searches, so the logs can be put to good use. Without the appropriate log monitoring tools, this can be very difficult to achieve—primarily because logs are likely to use different tags or syntaxes, and may even require entirely unique queries.
As difficult as effective event log management can be, ignoring event logs isn't an option for businesses that hope to be successful. Fortunately, the best log management solutions on the market can help you collect, archive, and appropriately manage even massive amounts of data.
Log Management Best Practices
Here are some of the most important log management best practices for companies.

1.   Centralize Logging
A centralized log file management system stores all your log data in a single, centralized, and accessible location. When logging is fully centralized, log management practices become significantly easier, as they help keep your storage systems organized and reduce the likelihood of logs being lost. When choosing a log management tool, consider a solution capable of organizing and managing data from multiple sources. Ideally, the tool you choose should also allow you to search your logs and establish retention policies to ensure logs are available when necessary. Centralized logging also makes it easier to share log data safely with colleagues and other associates.
2.   Create a List of Monitoring Priorities
Effective log storage and management requires you to understand which components you should be monitoring, and which you shouldn't. Many companies mistakenly believe everything that can be logged should be logged. However, this approach will negatively impact your approach to log management by overwhelming your logs with unnecessary data. This will make finding important data harder and more time-consuming. Logging everything that can be logged will also increase the complexity and costs associated with log storage.
However, it's important for companies to log all types of data essential for application development or daily workflows. You should also be logging all data that might assist with troubleshooting performance issues or improving the user experience.
3.   Make Log Security a Priority
A key part of successfully managing logs is ensuring they're secure. Logs often contain confidential information, which is why it's crucial for businesses to have systems in place to protect log data. First and foremost, IT professionals and teams should ensure they use high-security data transmission systems. Leveraging enhanced transfer protocols should also be a priority because they enable IT professionals to encrypt all log data before files are sent. Other key security capabilities include role-based access controls and secure accounts.
4.   Keep Scalability in Mind
Log data can take up a lot of space, which is often exacerbated when critical issues arise, accelerating the growth of log files because of an increased number of errors. In other words, the amount of log data you need to store at any given time can be unpredictable, and this unpredictability can be expensive and difficult to manage. Because of this, it's important for businesses to choose an enterprise log management tool that's scalable and can accommodate growth in a cost-effective way. To determine affordability, carefully consider a solution's pricing model before committing to purchase, to ensure the tool would be able to sustain growth without breaking the bank.
5.   Invest in the Best Log Management Solutions
Manual log management is challenging, error-prone, and risky. To ensure you're meeting log management best practices and complying with log management standards, it's important to invest in an enterprise log management solution able to meet your company's individual needs. For a reliable and comprehensive log management solution, we recommend SolarWinds Log Analyzer or SolarWinds SEM.
SolarWinds Log Analyzer
SolarWinds Log Analyzer is a specialized log management tool designed to help companies of all sizes manage their critical log data, to assist with troubleshooting. This tool can manage syslog and SNMP trap data, in addition to allowing you to filter through log data to identify the appropriate entries as quickly as possible. This highly visual tool makes data interpretation easy, providing interactive charts to quickly visualize search results and log volume. You can even refine timeframes interactively. A 30-day enterprise free trial is available here.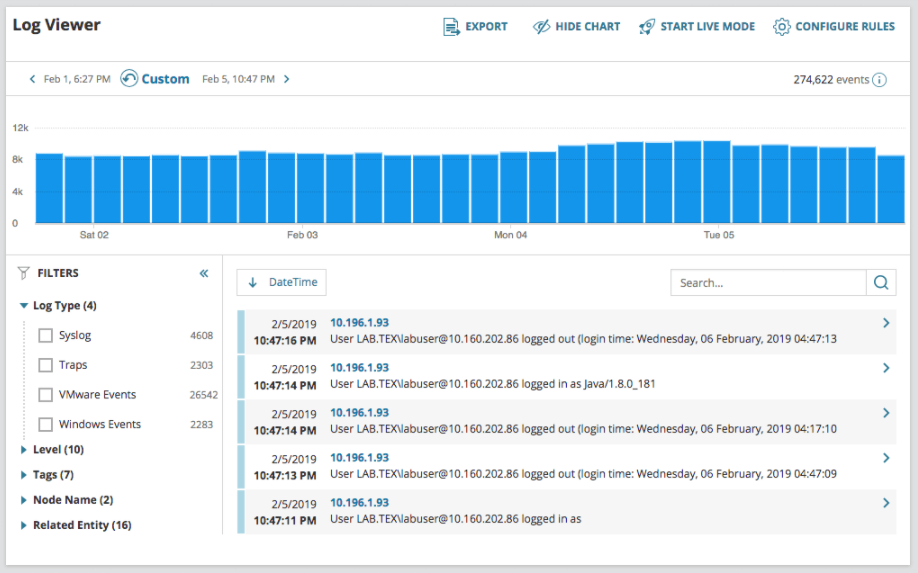 SolarWinds Security Event Manager (SEM)
SolarWinds SEM is a more comprehensive solution that functions as a Security Information and Event Management (SIEM) tool. SEM can help you demonstrate compliance and improve your security posture, providing centralized log collection and normalization, built-in file integrity monitoring, fully integrated compliance and reporting utilities, automated threat detection and response, and much more. With its simple licensing, we believe this is a highly scalable solution. You can access a 30-day free trial here.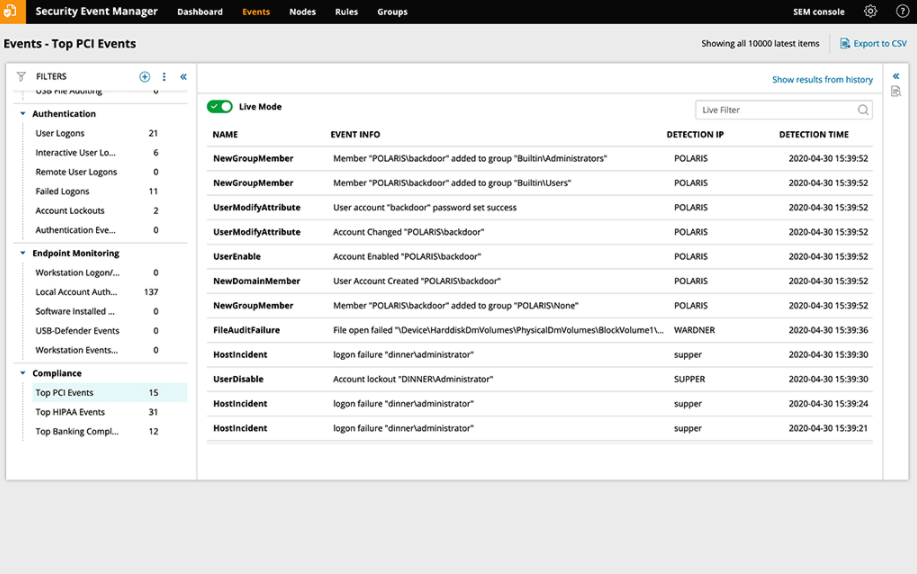 Getting Started With Log Management
Successful and efficient log management is difficult to achieve, especially given the increasing complexity of IT infrastructures and systems. However, by implementing the log management best practices listed in this guide and leveraging the best log management solutions available, you can rest assured your log data will be safe, accessible, and compliant. For a solution you can depend on, we recommend SolarWinds Log Analyzer and SolarWinds Security Event Manager. Try a free trial of Log Analyzer or SEM today.