One of the first tasks we get that we can clearly identify as "website monitoring" is often "make sure the website's up." We may be doing it for our personal website or blog, or that of a friend or relative running a business, or for work. Not only that, but monitoring whether a website is up is often the first monitoring job that requires us to use a tool rather than a command.
For most "is it running"-type questions, IT professionals can just, you know, check. That's what PING and its many variants are for. But that's not really what we're being asked to do in this case. We not only need to know if it's up and running now, we need to know how it's been running through the night while we slept, and if it went down, how long was it down for? Optimally, we need to be notified if and when it goes down so that we can jump on the issue quickly to get it running again.
The good news is that there are plenty of website monitoring tools to get this job done, and there's a solution for every budget. I'm going to break this review of best website monitoring tools down into three sections:
Free: tools that have no cost, ever
Freemium: solutions that have a free level of service, and another level of service you have to pay for
Paid: aside from a try-before-you-buy grace period, these tools are pay-all-the-way
But first…
Why "Paid" Does Not Equal "Evil"
Everyone's trying to save money. I get that. But for some reason, the idea of being asked to pay for site monitoring tools generates more than its fair share of ire among the tech crowd. Which is a shame, because this keeps many people trapped in solutions that don't ultimately serve them, their organizations, or their goals. Don't get me wrong—there are some amazing free options out there. But they are still going to require an investment in time and resources to learn, install, configure, and use. Missing features for these free tools may have to be built with the help of community support or an in-house IT team. In some cases, you won't get the polling frequency or data retention you need without moving to a paid tier of service. In other cases, paid website monitoring software has features you don't think you need today, but down the road you might realize you could have used those features, if only they'd been available.
Just remember that nothing is free, and the cheapest way you can pay for something is with money.
WINNER: Full Service, Reasonable Price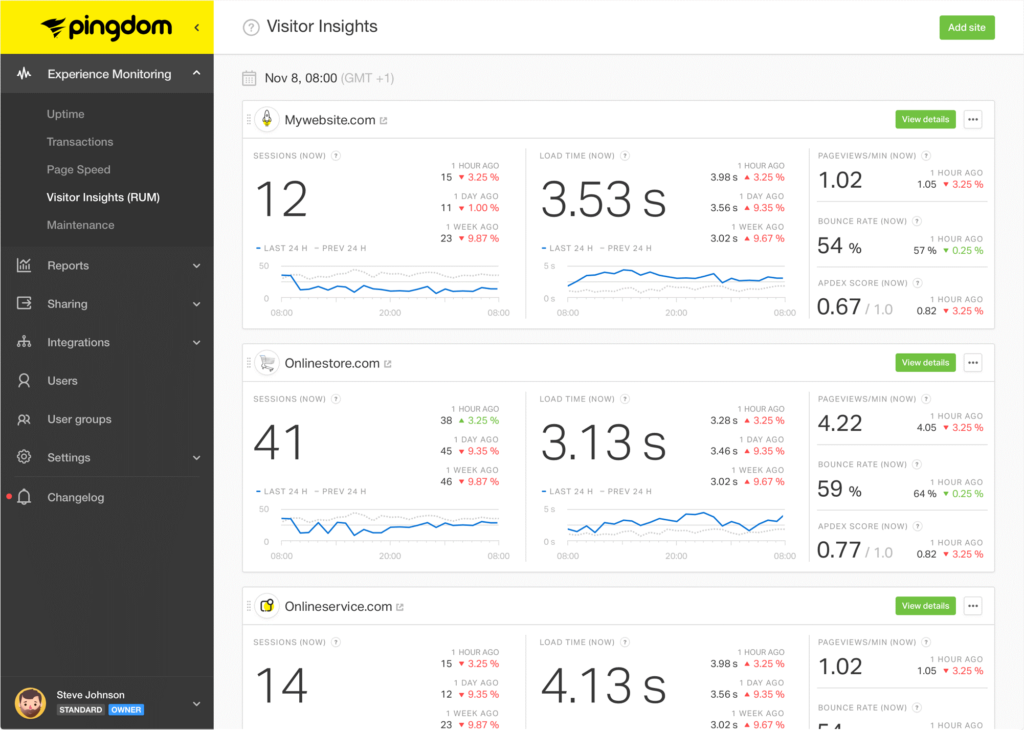 Pingdom® has carved out a niche as one of the leaders in this space by offering the widest range of website monitoring solutions, with a user-friendly interface and an affordable price (as long as your budget is something more than "free"). Uptime checks originate from over 60 locations around the globe and include a second check to filter out false positives. There are additional tests for page speed and synthetic transactions, so you can be notified (via SMS or email) not only when the site is down, but also when performance is slow or when a specific function stops working. Pingdom also offers a free 14-day trial, so you can try out all the features yourself.
So, What Else Is On My List?
That said, there are dozens of paid and free web monitoring solutions out there. The list below isn't intended to be exhaustive. I've simply listed out some of my favorites. Hopefully this gives you a leg up if you are just starting your website monitoring journey; or it offers a fresh perspective if you've been using a website monitoring tool but feel like it's time for a change or an upgrade.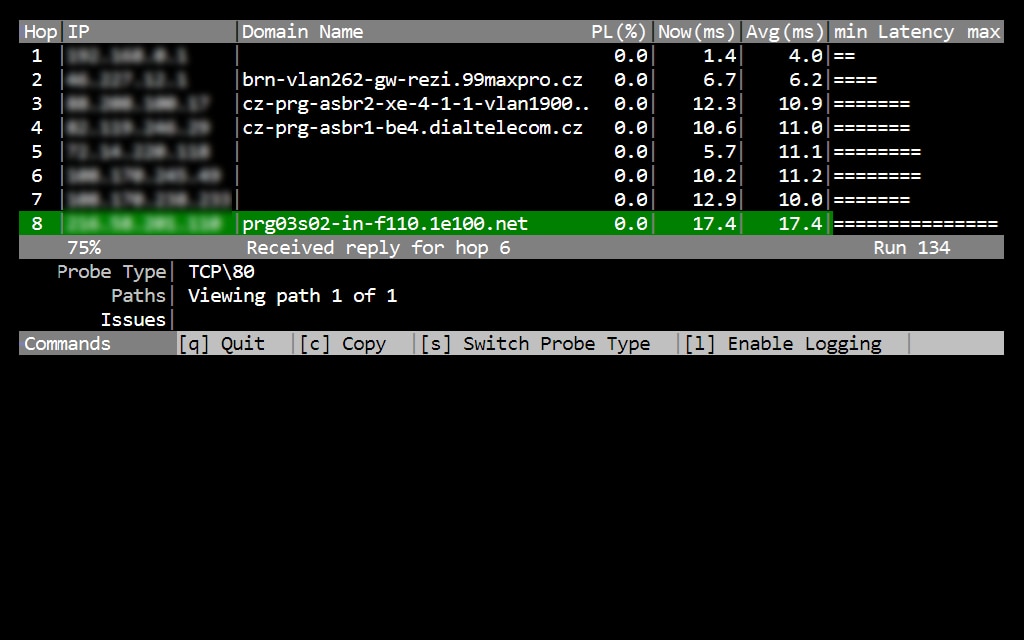 Let's start with something just a step up from "ping." Traceroute NG not only tells you "Is it up?" but also "What's the route you took to get there?" The internet is inherently multi-path, so knowing that your actual route changed around the same time the system became unavailable can be incredibly helpful to nailing down not just when, but why your site is down as well. While this is a tool that displays the current status, by exporting the results to a log (the "-l" parameter) you can keep a running tab on the availability of and path to a system.

Next, let's look at a very specific solution. Jetpack comes jammed with site monitoring solutions for everything from grammar-checking to responsive design support, so it's no surprise that it also includes a tool to email you if your WordPress-based website goes down (and when it comes back up). You don't get any stats besides a straight up/down, but sometimes that's all you need.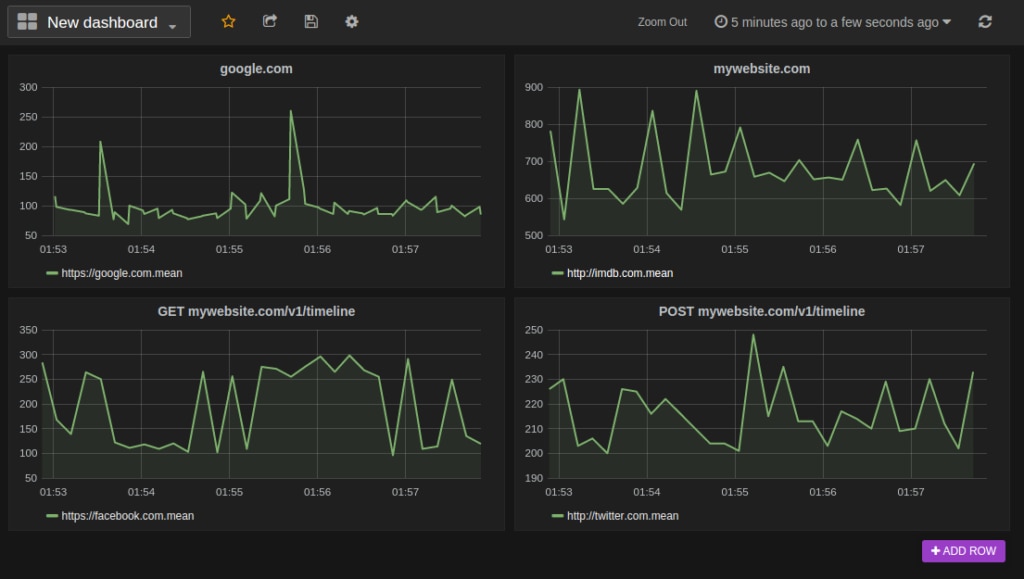 StatusOK is an open-source, self-hosted solution to monitor your website's uptime and APIs. For those willing to set up a server, install, and configure it, this tool offers a nice range of monitoring checks, plus some nice-to-have notification options. You can get notified of website issues on Slack, email, Mailgun, and HTTP EndPoint. Since it's open-source and available on GitHub, you can also add features and support yourself, or benefit from the kindness of others as the project continues. Data is saved to an InfluxDB database, with long-term statistics visible via Grafana.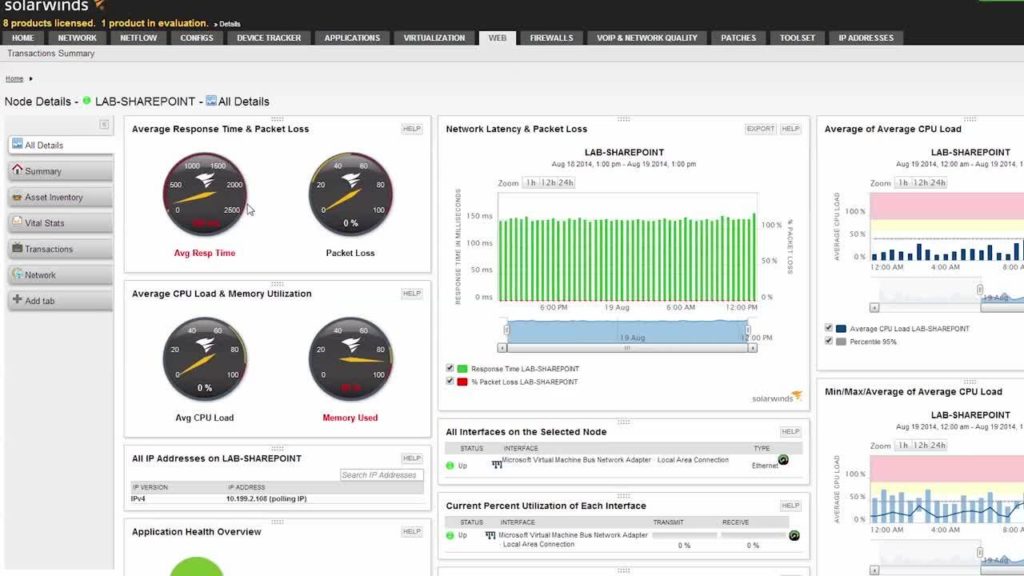 A scaled-down version of SolarWinds® Web Performance Monitor, this free tool lets you record one synthetic transaction from end to end—everything from logging in to the site, going to the accounts page, checking the balance, etc. This transaction can run regularly so that you know how your website is performing for users, even if it fails at a time when you don't have anyone on the system.
Freemium Tools and Services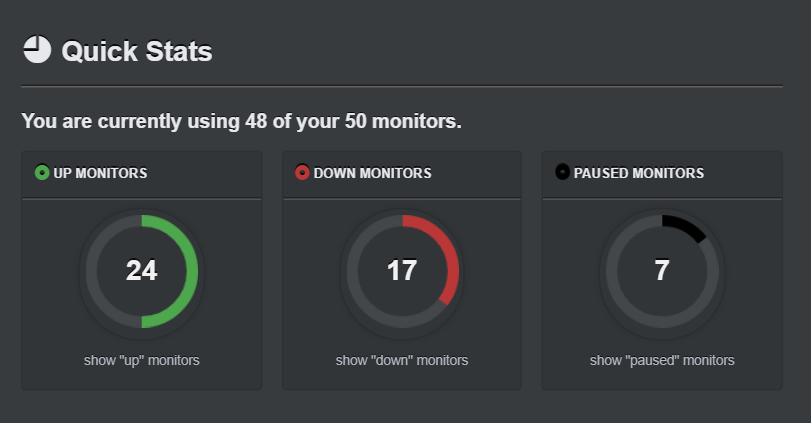 Used by some of the big websites like Expedia, Fandango, and Nginx, this service has been around almost a decade with a reputation built on customer service and reliability. They check your site every 5 minutes from 12 locations around the globe, with 2 months of logging retention. The paid tier allows checks more frequently (down to 1-minute intervals); offers more alert options; and maintains logs for a longer duration.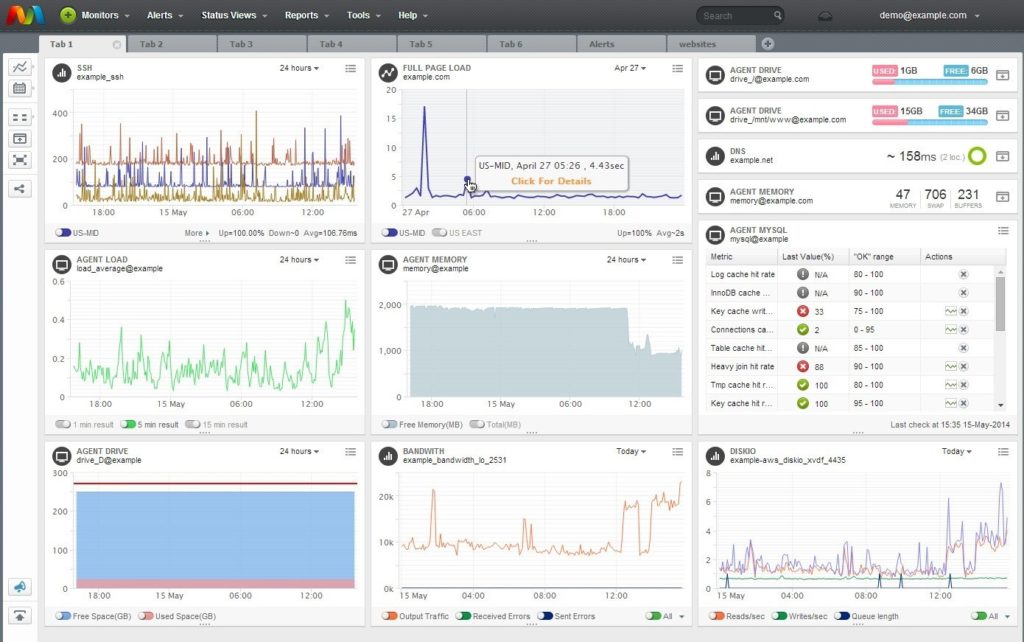 With plans ranging from free to hundreds of dollars a month, you can choose exactly which features and granularity you need. The free plan allows 5-minute checks and a range of tools not found in other services, including server health checks, multi-site network monitoring, and custom metrics.

"Basic" is clearly the operating strategy for Montastic. The free tier limits users to three URLs, checked every 30 minutes. And there's no dashboard, per se. You rely on notifications to understand how the website is performing. However, a full REST API is an interesting additional option, allowing customers of all tiers of service to build automation into their usage.

Started in 2006, this is one of the granddaddies of monitoring-as-a-service companies. Both venerable and trusted, Site24x7 lists is Groupon, Getty Images, Xerox, and Harley-Davidson among their clients, and it's not hard to see why. In addition to simple URL checking, they support monitors for DNS, Ping, TCP, FTP, POP, IMAP, and SMTP, support a REST API, and integrate with several notification services (Pager Duty, Zapier, etc.). Like Pingdom, checks include a recheck to protect against false alerts. Site24x7 can also test services and systems behind the firewall to alert you to hardware and application failures.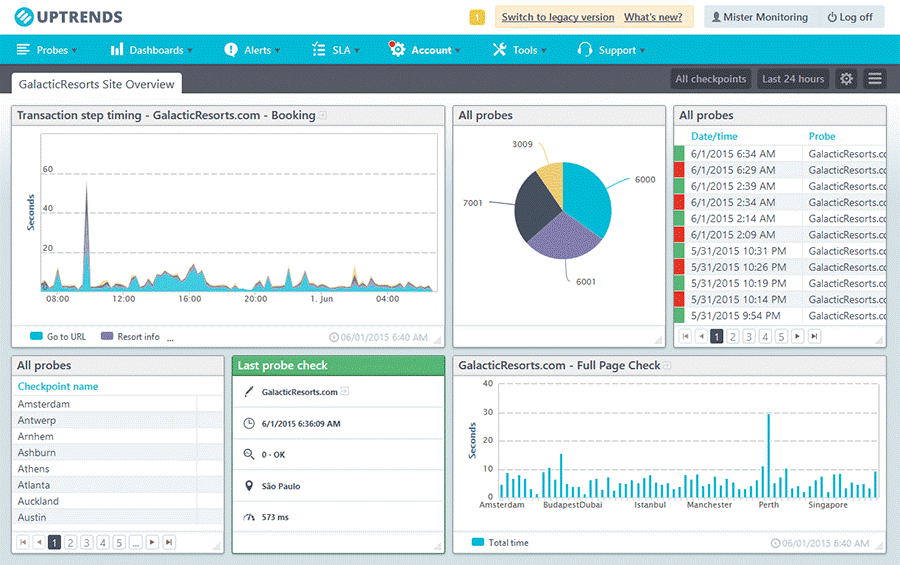 While Uptrends also offers a server monitoring option, we;re going to focus on their website capabilities for this post. Around since 2007 (almost as long as Site24x7), Uptrends has spent a lot of time making their dashboard easy to use and, frankly, gorgeous. But it's not all glossy UI. With over 150 global locations to perform checks from, and add-on features like SSL certificate monitoring and real user monitoring, they are a compelling option to consider.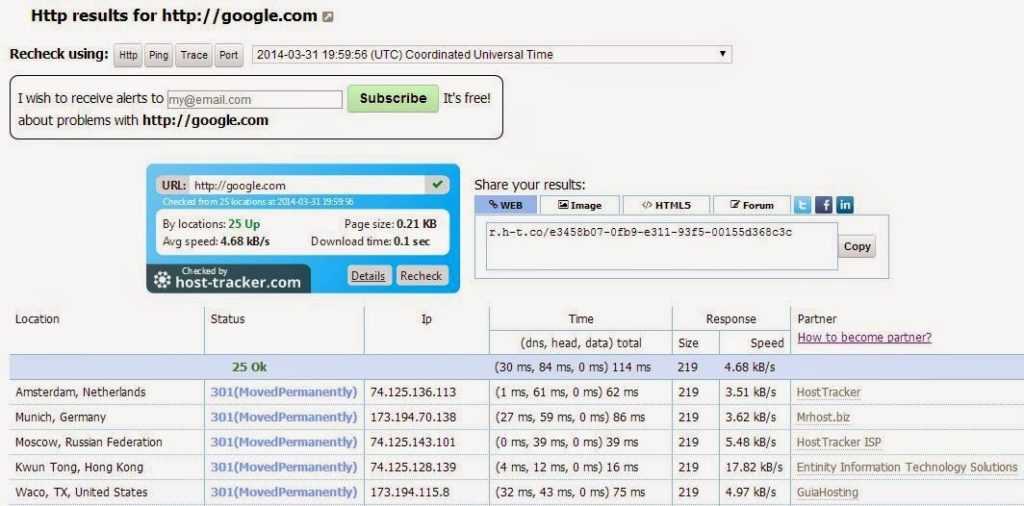 HostTracker takes website monitoring just a step further by including checks for protocols like MS-SQL, Oracle, MySQL, SSH, POP3, IMAP, and SMTP, as well as SSL certificate checks, and verification to see if the site has been inadvertently put on a DNS blacklist. They also take their notifications very seriously, supporting the usual SMS and email, and going the extra mile to include Skype, Google Hangouts, voice, and even HTTP Post request. For larger customers, there's an API and support for bulk operations to make changes to multiple websites at the same time.
The Mostly Un-necessary Conclusion
As I said at the start of this post, website monitoring is one of the first true monitoring tasks many of us perform, and one of the first ones where we realize a separate tool is needed to do the job correctly. The good news is that there's a range of solutions with a wide variety of feature sets at prices to fit any budget. We recommend Pingdom as the best full service, reasonably priced website monitoring tool on the market.