One of the most frustrating things when working on a laptop or other computer device is when the Wi-Fi won't connect. Employees may end up walking around the office, seeing the number of bars go up and down.
At home, these issues can be annoying, but at work they can lead to large amounts of lost productivity, which causes financial losses or unhappy customers. As a result, in a business or a large enterprise, having a reliable and well-functioning Wi-Fi network is essential, and keeping things working can sometimes be a task in itself.
Skip to Best Wi-Fi Monitoring Tools List >>>
However, there are several Wi-Fi monitoring tools to help you keep tabs on Wi-Fi health and optimizing your network for best performance. My top choice for a Wi-Fi monitor is SolarWinds Network Performance Monitor, especially as it has a high-quality Wi-Fi monitoring tool built in to a larger, more-comprehensive network monitoring tool.
What Are the Most Common Wi-Fi Problems?
Wi-Fi has many common problems affecting users, but many of these can be fixed with consistent monitoring and good Wi-Fi configuration in the first place.
The most common issue is under-performing wireless access points, or dead zones or dead spots within your building or office. Another major issue is one user or IP address using up too much bandwidth, or too much load or bandwidth across one access point. You could also have problems with access points and thin points having lower uptime than you would like.
Wi-Fi is available across three sections of the spectrum for communications (such as through a work network), including 900 MHz, 2.4 GHz, and 5.8 GHz. These parts of the spectrum were at one time enough to support all of the wireless access going on, but now with the huge explosion in Wi-Fi technology for commercial and home use, Wi-Fi congestion has become a real issue. When you have too many connections on one part of the spectrum, you can end up with slow Wi-Fi, and you can also have connections from multiple devices overlapping on these sections. This overlap can cause Wi-Fi signal strength to be patchy and can in some cases cause connections to drop.
How Does Wi-Fi Monitoring Work?
There are several Wi-Fi monitoring solutions developed to deal with this problem, and they perform this task with a wide set of capabilities. In many cases, tools can determine the status and performance of a Wi-Fi device such as an access point. These tools often include heat mapping and Wi-Fi strength mapping capabilities. They use packet sniffing, SNMP and other protocols to check each device and access point, and to determine how busy each section of the network is. This can help you to rebalance the network to work more efficiently.
You can also see quickly which channels are overloaded and which still have capacity for handling a larger amount of traffic. For example, Wi-Fi routers have a set number of channels on which they can broadcast, and a Wi-Fi monitoring tool can look at all of the channels and then help you to select which channel has the lightest load for optimizing performance. This can stop issues with congestion.
Best Wi-Fi Monitoring Software
There are a huge number of Wi-Fi monitoring tools on the market, with a wide variety of features and approaches to tackling this issue. Many of these tools have free trials available, which can help you to narrow down which Wi-Fi network monitor works best in your circumstances.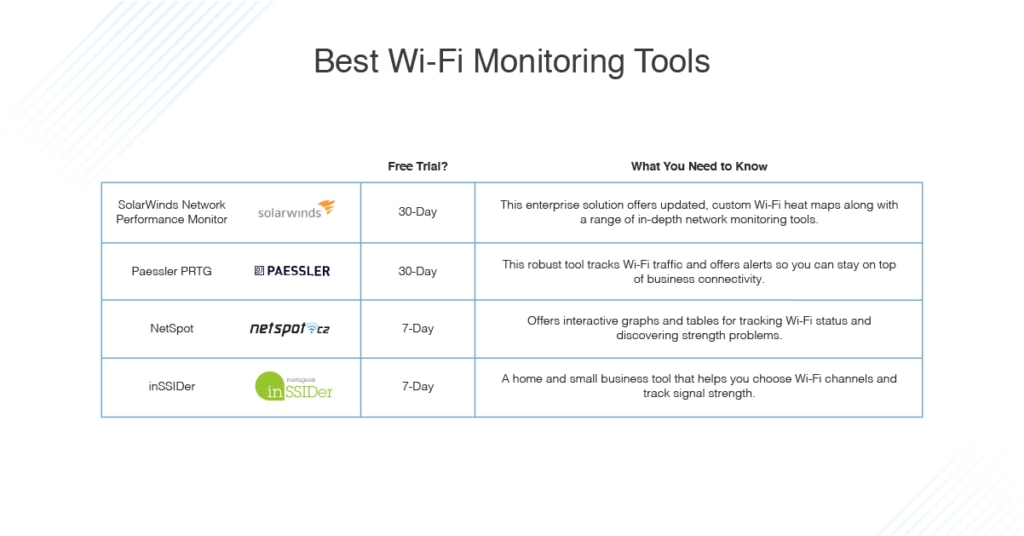 My favorite option for Wi-Fi monitoring solution is SolarWinds Network Performance Monitor (NPM). NPM has several great features for optimizing Wi-Fi performance and ensuring your Wi-Fi infrastructure is working as expected.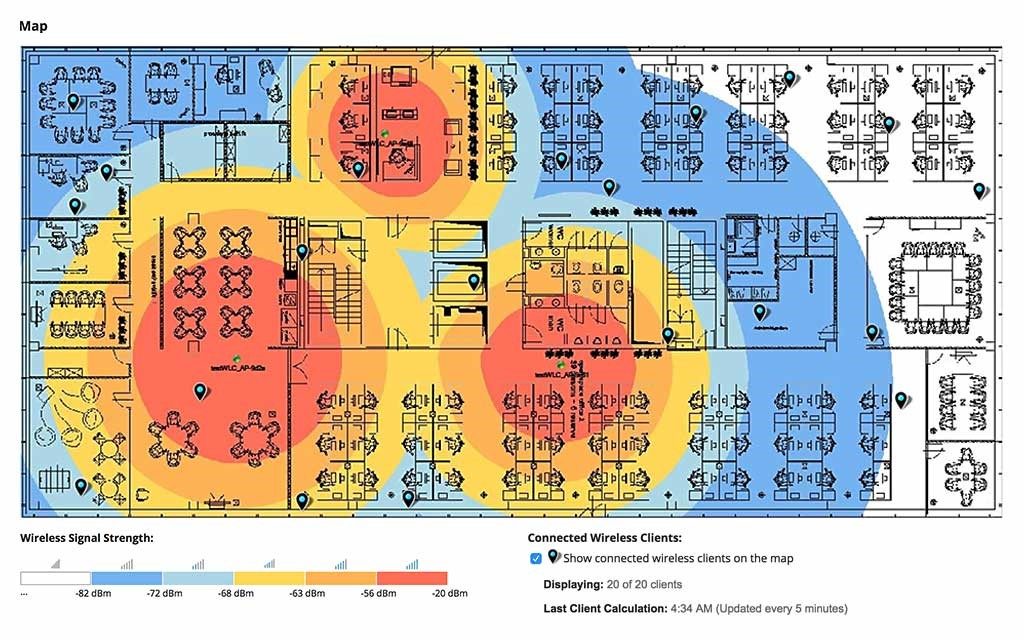 NPM can discover and map your Wi-Fi network, and determine all your Wi-Fi access points and controllers. This can help you to visualize your network and ensure you don't miss any access points or devices you may have forgotten about.
One of NPM's great features is its ability to build Wi-Fi heat maps, which allows you to spot dead zones more easily and improve Wi-Fi coverage. You can also use NPM to poll thin and autonomous access points, and gain information such as IP address, device type, SSID, channels used, and the number of clients currently connected. This monitoring can help you to set up alerts as well, so you can be notified if there is a sudden drop in Wi-Fi performance or a big spike in connected clients. NPM has a free trial for 30 days on the SolarWinds website.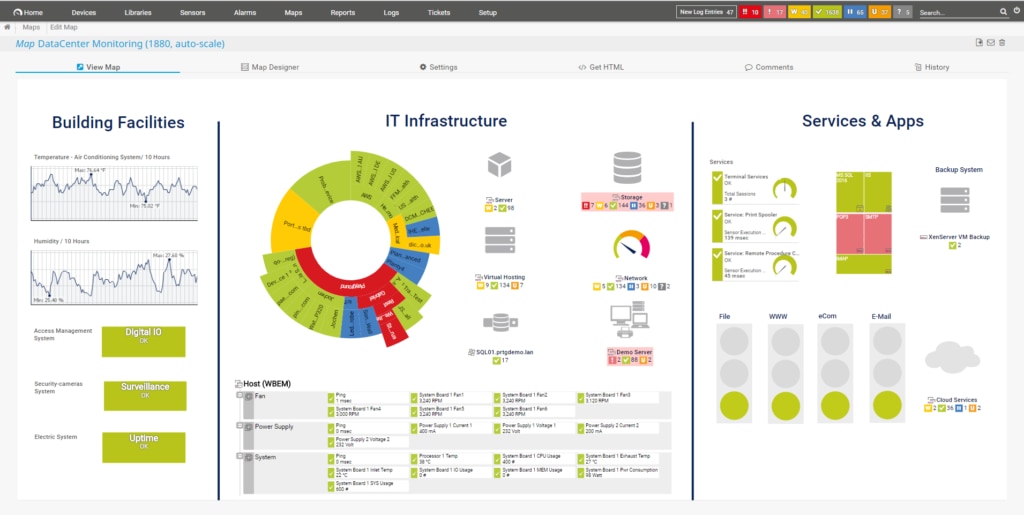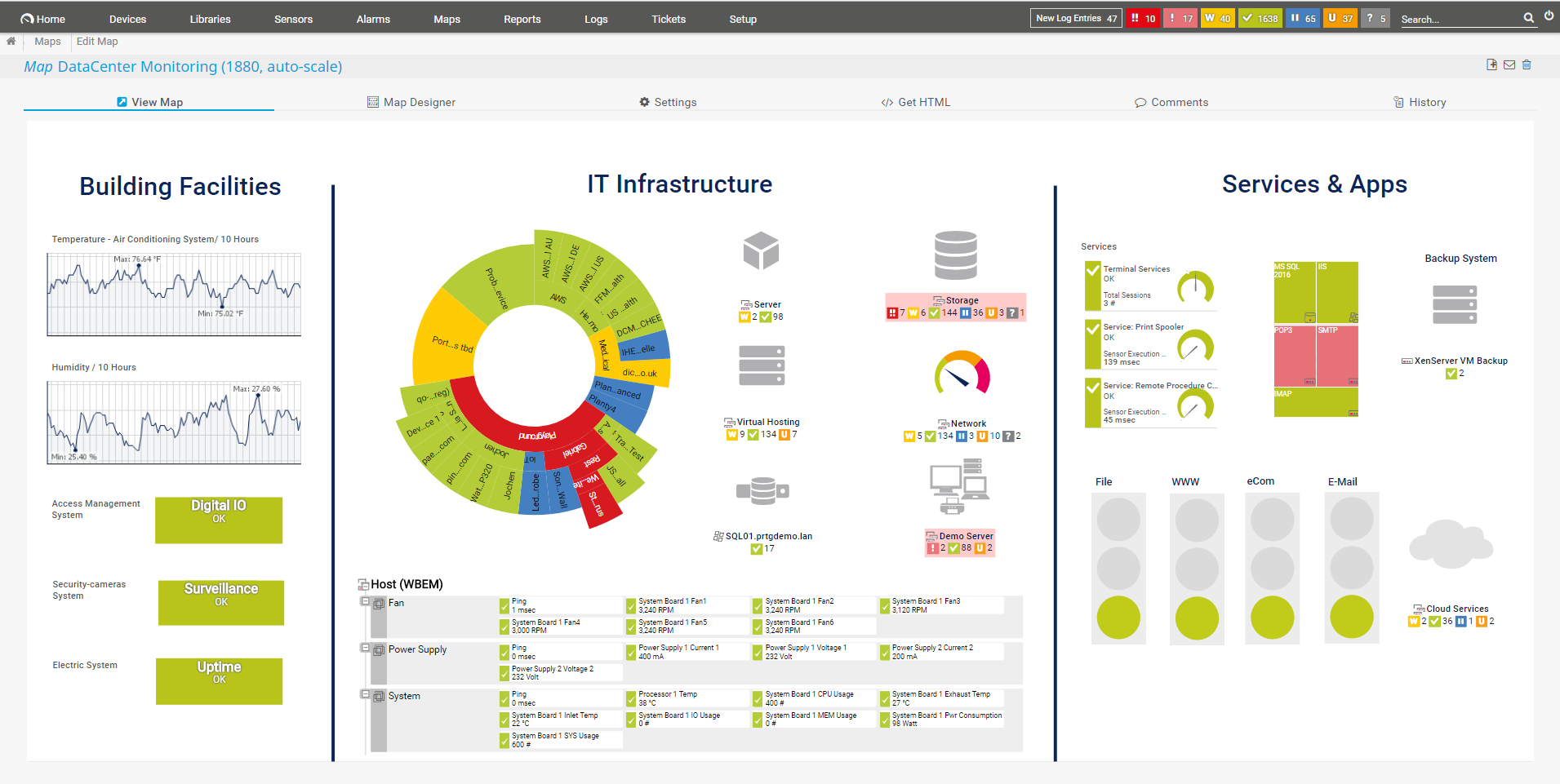 Paessler's PRTG tool is also useful for Wi-Fi monitoring. It uses SNMP, NetFlow, and packet sniffing for monitoring Wi-Fi traffic, and keeps an eye on five different factors in relation to your network. This tool tracks device status to determine uptime and downtime, and also uses built-in bandwidth sensors to determine bandwidth load.
In addition, it looks at how many data packets are travelling across any one access point, and queries devices with SNMP sensors to determine Wi-Fi signal strength. Finally, for security purposes, it can examine the last access time and user logged on network devices.
Finally, it includes an alerting and alarm system like NPM, to let you know when something has gone wrong. Alongside these Wi-Fi monitoring tools, it includes general network monitoring features as well. PRTG also has a free trial for 30 days.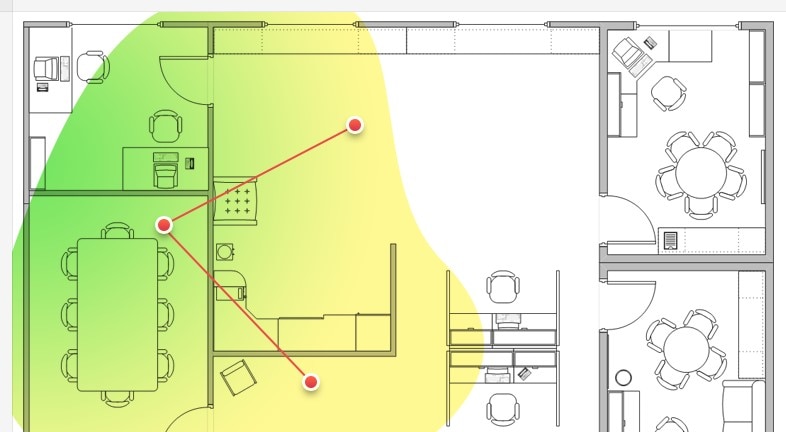 Another good tool is the NetSpot application. NetSpot collects information about your Wi-Fi network and presents information in an easy-to-understand way. Its graphics and tables are interactive, and it produces all its charts in real time, so everything is up to date. You can also customize these charts, which helps to make the NetSpot app feel like your own.
One great feature is NetSpot's "discover mode," which lets you can locate Wi-Fi issues in a specific area. This can help you to narrow in on Wi-Fi strength problems and find dead zones. It also allows you to find and compare your busiest and least-busy channels, so you can spread Wi-Fi load as necessary to get the best performance out of your network.
NetSpot has paid versions and a free version, depending on whether you want to use it for home use or a business.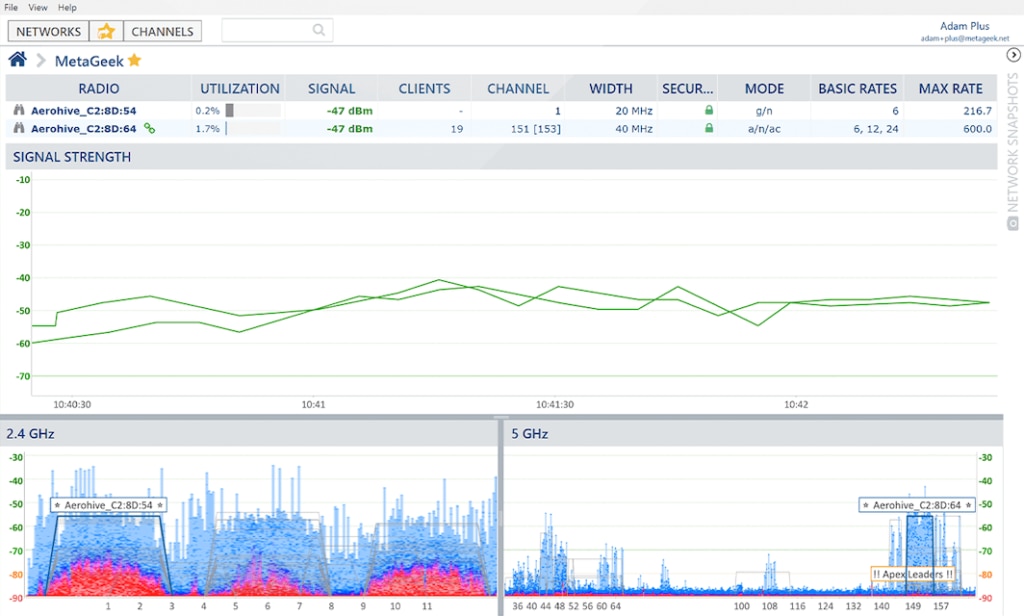 If you need a free tool for basic Wi-Fi monitoring, check out inSSIDer. This is a tool made for Windows and OS X and has some basic functionality useful for a home or small business user.
inSSIDer helps you to choose the right channel for Wi-Fi use, depending on which one has the least traffic. It displays utilization by channel and also performs packet analysis to determine high-utilization devices. You can see roaming events and track signal strength from the perspective of the device trying to connect. It can also graph signal strength over time.
While this one is a great free tool, it's not comprehensive enough or powerful enough for large enterprise use. Check it out if you're looking for something more lightweight to use in a home setting.
How to Get Started With Wi-Fi Monitoring
Wi-Fi problems can be annoying and disruptive, but with the right Wi-Fi monitoring software you can easily alleviate many of them. For professional or enterprise use, I find the best Wi-Fi monitoring software is SolarWinds Network Performance Monitor, as its Wi-Fi monitoring tools are easy to use and powerful, alongside the other network monitoring functionality it provides. Using these tools, you can troubleshoot issues fast, find dead zones, and stop Wi-Fi availability problems from affecting your business and staff productivity.