Monitoring the health of your website plays a critical role in its performance. However, many people mistakenly assume checking their site load times occasionally is enough.
If you want to gather information about your website capable of providing truly meaningful insights—insights offering the opportunity to make significant improvements—you need various testing tools. This is why choosing the right website performance monitoring service is so important.
In this post, we'll take a look at two popular website performance monitoring tools: SolarWinds® Pingdom® and Uptrends. We'll explore how they work and offer a detailed comparison of their features and other considerations, such as pricing and usability.
Pingdom vs. Uptrends: An Introduction
Before we get into how Pingdom and Uptrends compare, it's helpful to understand how they function. We'll start by introducing both services and the main features they offer.
Pingdom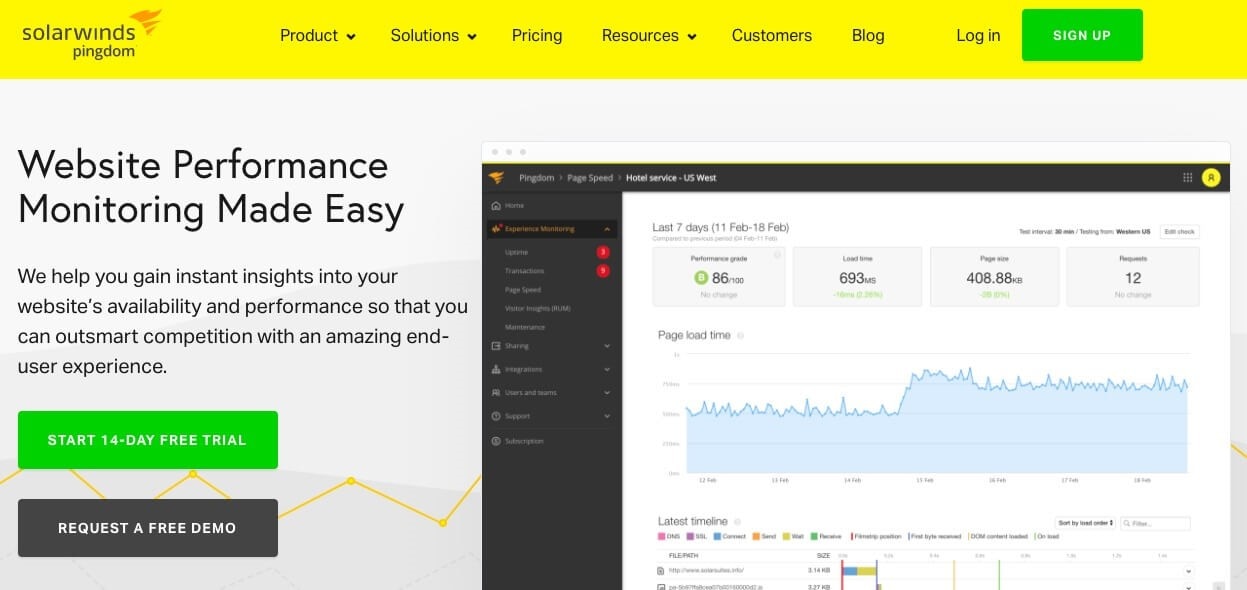 Pingdom is one of the most popular website monitoring tools available. It offers premium performance and availability monitoring to help you keep your site in tip-top shape.
Part of the SolarWinds suite of products, Pingdom offers a plethora of services and tools designed to give you a helpful view of your site's speed and functionality. Among its most notable and appreciated offerings is its free speed testing tool.

With this tool, you can simply input your URL and get tons of information about the loading speed of your site. In addition to loading and response times, it offers specific details and suggestions for actions you can take to improve your score.
Additional Pingdom features include the following:
Uptime monitoring. You can use uptime monitoring to test the availability of your websites, servers, and applications from over 100 locations across the globe. This feature includes instant alerts, root cause analysis, and public status pages.
Real-user monitoring (RUM). Pingdom also offers RUM, enabling you to gather performance data from your visitors, identify trends, and improve user experience.
Synthetic interaction testing. This feature makes it easy to help ensure your signups, login pages, and other transaction processes are working properly (and it alerts you when they aren't).
When it comes to making performance and uptime monitoring as easy as possible, Pingdom is hard to compete with. It makes staying on top of your site performance simple and straightforward. If an issue arises with your site, you'll be notified immediately so you can resolve it in a timely manner.
Uptrends
Another popular tool for website performance monitoring is Uptrends. The company started in 2007 and—like Pingdom—offers a collection of services and tools to track, manage, and optimize the performance of your site.
Like Pingdom, Uptrends also offers a free speed test.
Uptrends is an all-in-one solution for cloud-based website, server, and network monitoring. It includes many of the same features as Pingdom, such as web performance monitoring, server monitoring, RUM, synthetic monitoring and API testing.
A Detailed Comparison of Pingdom and Uptrends
After covering the basics of Pingdom and Uptrends, it's now time to dive a bit deeper to see how both solutions stack up in terms of two key factors: pricing and usability.
Pricing
The two services are comparable in terms of cost. Pingdom offers two main pricing tiers, including Real User Monitoring (RUM) and Synthetic Monitoring, available from $10 per month.
If you're interested in the Enterprise package, you'll need to reach out to the sales team for more information.
Uptrends also offers various pricing plans ranging from Starter to Enterprise. The Starter plan begins at $12.81 USD per month, but it doesn't include multi-browser monitoring or API monitoring. For those, you need at least the Business package, which starts at $38.95 USD per month.
Both Pingdom and Uptrends offer free trials for new users and a monthly or annual payment model.
How to Get Started With Pingdom
As you might recall, Pingdom offers a 14-day free trial for new users. Even better, you don't have to input any payment information to get started with your two-week trial. This gives you plenty of time to use Pingdom and see whether it's a good fit for your needs.
To sign up for the trial, simply enter basic information such as your email address and whether you want to trial the service with a personal, business, or enterprise account.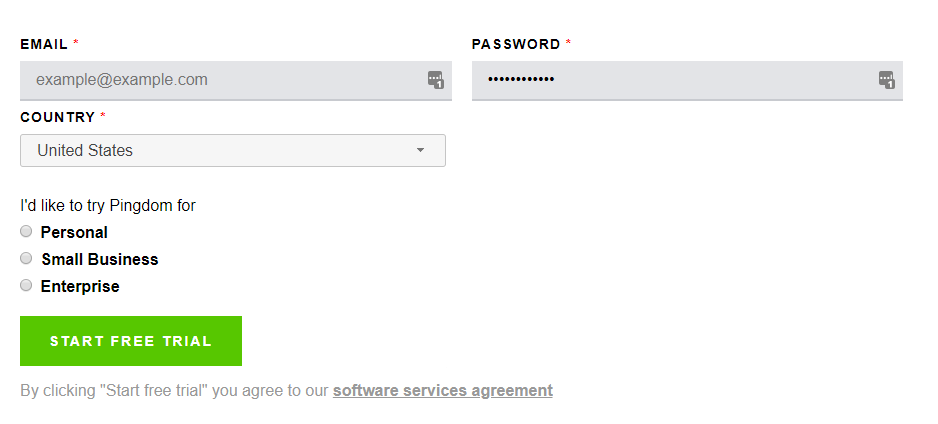 Once you input this information, Pingdom will automatically redirect you to the setup page to get started. You'll also get a welcome email in your inbox with additional information for getting started.
Conclusion
Staying on top of your website's performance and availability is critical. Pingdom boasts a robust collection of features designed to give you everything you need to make informed decisions about your website. The cost-effective plans Pingdom offers come fully loaded with premium support, including instant alerts so you don't miss an opportunity to improve the user experience for your visitors.
*As of March 2020