Syslog is a network-based logging standard used for applications to send data to a central server, providing information on events, statuses, diagnostics, and more. Unlike SNMP, which is an active approach to monitoring (aimed at preventing the occurrence of incidents), Syslog monitoring provides a passive approach, which allows you to deal with incidents after they happen. Outages are sometimes unavoidable, but an effective Syslog alerting tool can run a script automatically while simultaneously sending email notifications. As a result, it can speed up the damage control process, saving minutes or even hours of downtime. This can lower the impact on your end-users and helps you see a broader picture of the issues occurring on your network.
Syslog protocol is supported by lots of devices, including most network devices such as switches and routers, and some printers, firewalls, and web servers. Syslog data includes messages with different kinds of information and includes an inbuilt severity level from 0 (Emergency) to 5 (Warning). This makes security one of the main monitoring applications for syslog. This powerful tool can be used to manage complex networks with large volumes of data in need of a centralized monitoring solution.
To use syslog monitoring effectively, you need a syslog server on the receiving end, and many of these syslog servers aren't supported natively by Windows. But third-party server log monitoring technologies can be installed and used for this purpose. Syslog monitoring software usually includes a syslog listener, where syslog data is gathered, a database where syslog messages are collected, and software for management and filtering, to make it easy to comb through messages, set up syslog reporting, and automate parts of the workload.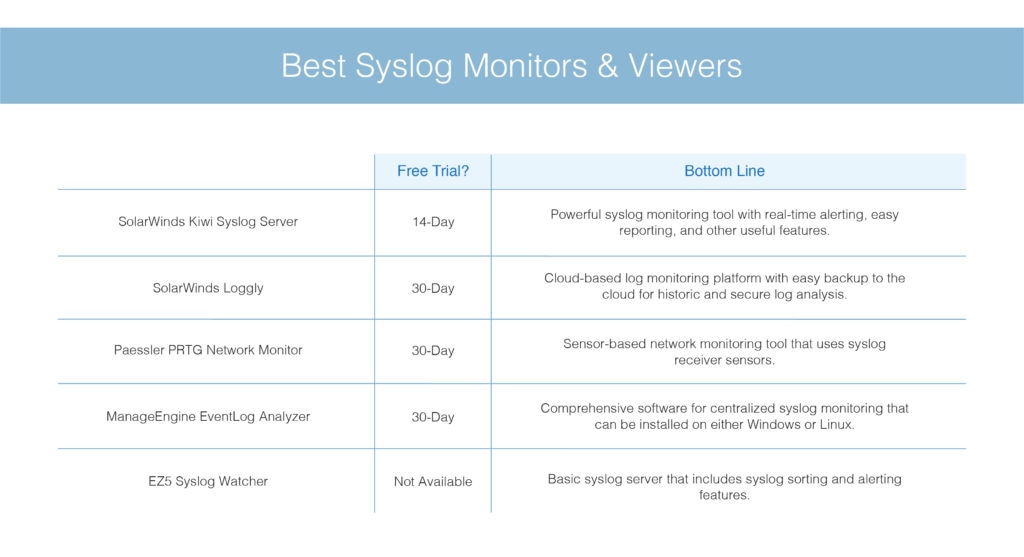 Best Syslog Monitors and Viewers
In this article, I'll go through some of my top choices for syslog monitors and viewers, with specific attention to what features make them optimal for syslog monitoring at the enterprise level. There are many other options on the market, but when dealing with large volumes of data coming from a large (and growing) network, it's important to have a high-quality and comprehensive tool with good support and documentation.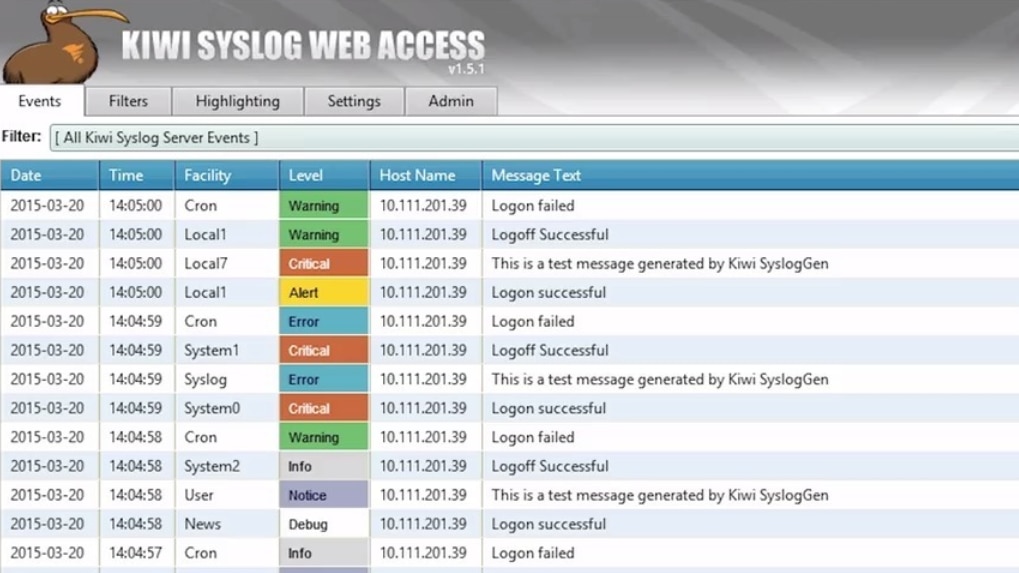 This syslog monitoring software is highly recommended for syslog monitoring at the enterprise level, though it's appropriate for smaller businesses as well.
SolarWinds® Kiwi Syslog® Server is a powerful tool for centralized syslog monitoring, built for accepting and monitoring syslog messages and SNMP traps from network devices (firewalls, routers, switches) and Linux and Unix hosts. The filters built into the software help ensure easy and quick syslog message monitoring, with log messages organized by time, hostname, severity, and so on. This helps save time and energy because you don't need to combine syslog data system-by-system, which allows a rapid response during emergencies or security breaches.
In addition, Kiwi Syslog Server includes a real-time syslog alerting tool designed to ensure you're continuously updated on log events happening across the system and includes built-in responses that allow automated appropriate reactions to certain log messages. These automated responses include running scripts, sending email notifications, forwarding syslog messages and SNMP traps to other hosts, and other options, including custom responses.
Other important features of this syslog monitoring software for Windows include easy syslog reporting, scheduled and automated log archival and cleanup, the possibility to access logs from anywhere in the world with safe web access, and the ability to forward syslog messages from Windows to the syslog server.
Overall, Kiwi Syslog Server ranks as a versatile and user-friendly among the syslog monitoring products on this list. A 14-day free trial of the full version can also be downloaded here.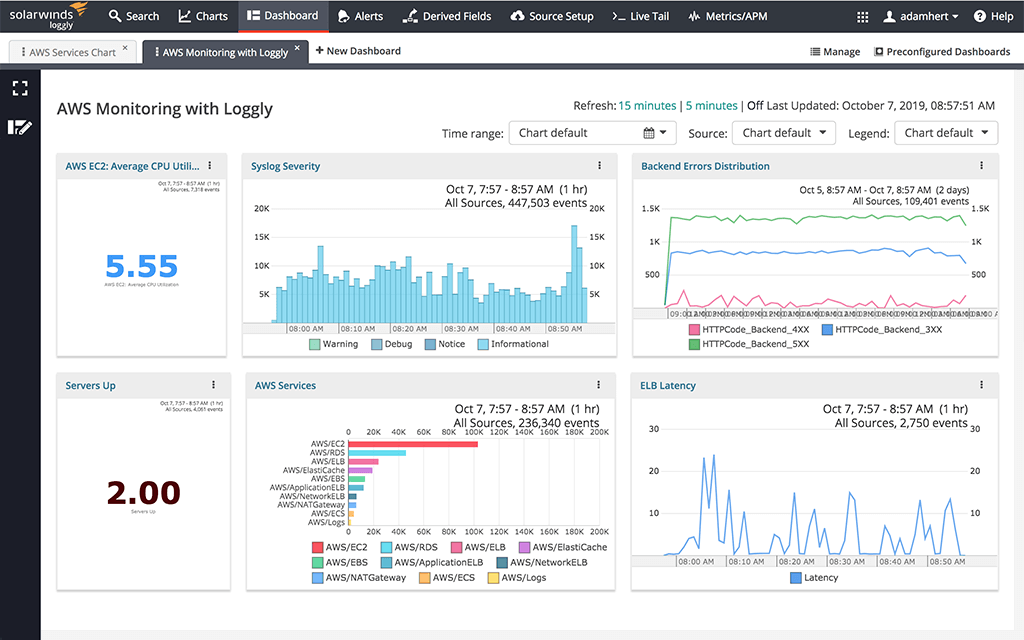 Another useful product for syslog monitoring is Loggly®. This tool has the main advantage of being a cloud-based solution, which means you don't need to install any software on your side. Instead, you can set up automated procedures for uploading your syslog files to the Loggly server. With Loggly, you get both storage and a syslog monitoring and analyzing tool. Storage space is included with Loggly, which means you can keep your Loggly backups in the cloud.
Loggly accepts and standardizes the format of syslog messages from different log capture systems, such as Logstash and Amazon Web Services. This syslog monitoring solution comes in four available packages, ranging from Lite (free) to Enterprise, each varying on the amount of data you can upload to the cloud, the number of user accounts allowed, and the time limit for logs storage. A free 30-day trial is also available.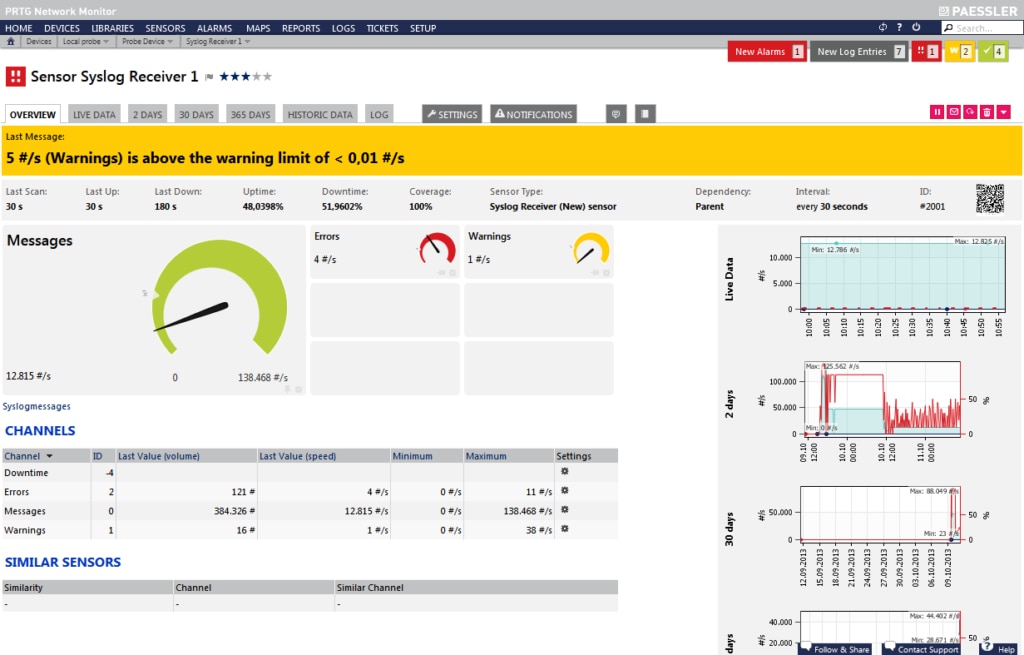 Another comprehensive tool for syslog message monitoring is Paessler PRTG Network Monitor, available both as an on-prem Windows syslog monitoring software and as a cloud-based version. This monitoring software is sensor-based. Each sensor is defined as a status or condition that gives you information about a specific part of your network, system, or server. One of such sensors is the syslog monitoring tool, which in PRTG is called Syslog Receiver. By activating this sensor, PRTG will collect the syslog data travelling through your network and save it in a database. Various settings for syslog message monitoring, including some automated responses under certain circumstances, can be specified within the system.
The sensor-based nature of PRTG allows the user to activate only the sensors they specifically need, allowing for a well-tailored syslog monitoring server. In addition, if you're using fewer than 100 sensors, the product is free to use. This makes it a good solution for smaller companies, although bigger enterprises will exceed the value quickly. One of the main issues with the sensor-based approach is for larger enterprises, the upfront cost of the servers (and the CPU cost to run them) can be prohibitive.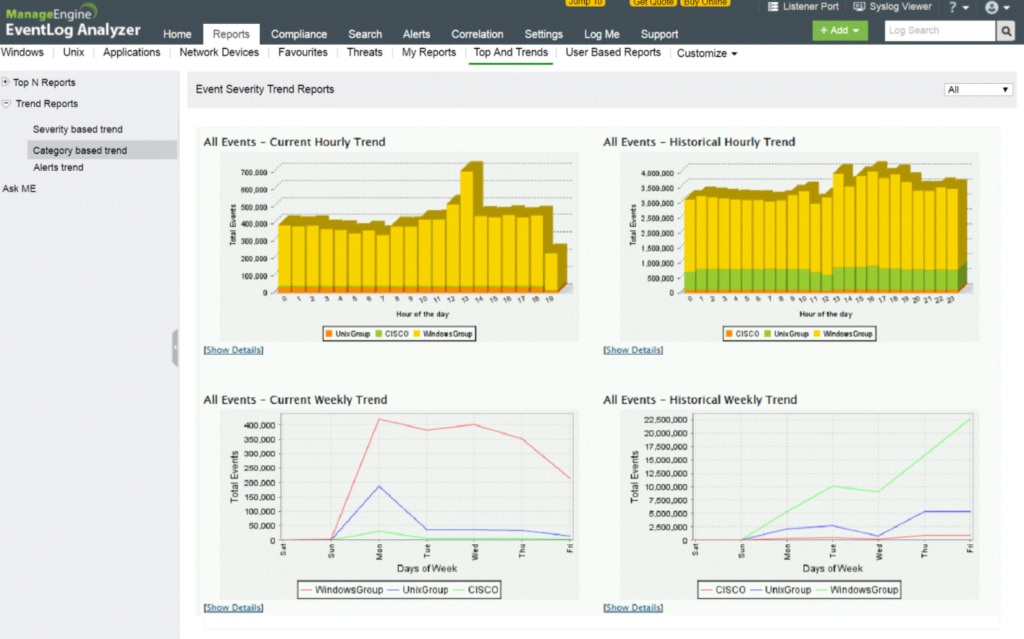 EventLog Analyzer is a comprehensive software for centralized syslog monitoring for Windows or Linux but can monitor syslog events from any other OS, with the ability to manage up to 700 sources. Its auto-discovery feature runs during setup, using the recognition of syslog standard format messages to automatically build a list of the syslog-capable sources in each network. Source devices include routers, firewalls, switches, and more. This makes it easier to discover your network and set up configurations without having to add devices manually.
Syslog reporting is made easy by intuitive and predefined syslog reporting, and important features include a custom log parser, data loss prevention applications, vulnerability scanning, and the possibility of filtering the messages. Archived logs can also be encrypted, so access rights to the syslog files can be limited to a few users with admin privileges. SNMP message monitoring is also possible with this software. On the downside, the interface isn't the most user friendly for this kind of product and could be improved. This monitoring software is free to use for up to five sources.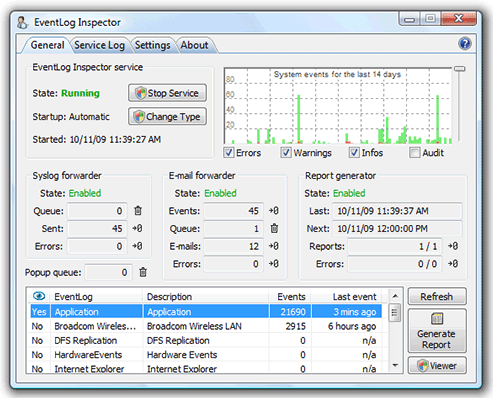 EZ5 offers this syslog message monitoring solution for Windows. Syslog Watcher is a basic syslog server with some extra features for syslog monitoring. Two features stand out for this software: the possibility to write your syslog messages in a database, making it easy to go through records while sorting and filtering syslog messages, and the multi-threaded architecture that allows Syslog Watcher to avoid new messages being held up by the processing of previous ones.
In addition, the database allows you to combine events and generate customized syslog alerting conditions, with the alerts sent to your email address. This makes it easier to spot when an issue has occurred, even when you're not looking at the software. Syslog Watcher is free for home use, but business users need to pay for the product. EZ5 doesn't offer a free trial, but there's a 30-day money-back guarantee.
Choosing a Tool
A centralized syslog and SNMP monitoring solution is key in keeping your enterprise network running smoothly and safely. Out of all the available tools, my choice is Kiwi Syslog Server, as it includes all the main desirable features in a syslog monitoring software. It also makes it easy for these features to scale for medium and large enterprises while keeping features and interfaces accessible and easy to use through a user-friendly interface.
If you're unsure which solution you should use for syslog monitoring and viewing, you can try out Kiwi Syslog Server and some of the other syslog message monitoring software free of charge and get some hands-on experience with them. This can help you to determine what's right for your business and consider the cost and setup for each.
*As of November 30, 2020