Though this list accounts for both open-source and closed-source products, it focuses on Linux-based network monitoring tools. A handful of common tools only operate on Windows, Pandora, or other systems, but most network monitoring tools run on Linux systems since Linux—with its higher degree of user input and easily recodeable security bugs—is often the choice for IT specialists who wish to manage network systems in growing enterprises. For this reason, I've excluded the few non-Linux-compatible monitoring tools. My personal favorite is SolarWinds NetFlow Traffic Analyzer—read my review below to learn why.
---
Best Closed-Source Linux Network Monitoring Tools:
1. SolarWinds NetFlow Traffic Analyzer
2. Paessler PRTG Network Monitor
3. Nagios Network Analyzer
4. Zenoss Cloud
Top Open-Source Linux Network Monitoring Tools:
5. Icinga 2
6. OpenNMS
7. Cacti
8. Zabbix
9. Pandora FMS
10. LibreNMS
11. Prometheus
12. EventSentry Light
13. Observium Community
14. Monitorix
15. Ganglia
16. Htop
17. BMW-NG
18. EtherApe
19. IBMonitor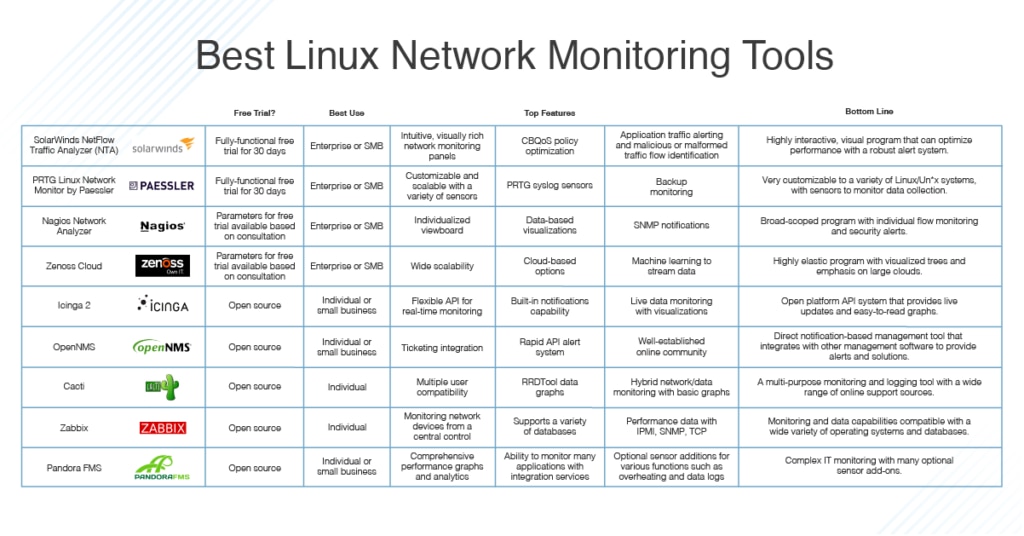 Best Closed-Source Linux Network Monitoring Tools
Of the closed-source products on this list, NetFlow Traffic Analyzer (NTA) provides a particularly broad range of monitoring functions for a scalable number of nodes in your network. It is notable among closed-source IT setups for being fully functional during its 30-day free trial period, so if your company is unsure if it's worth the investment, SolarWinds lets you see for yourself at no cost.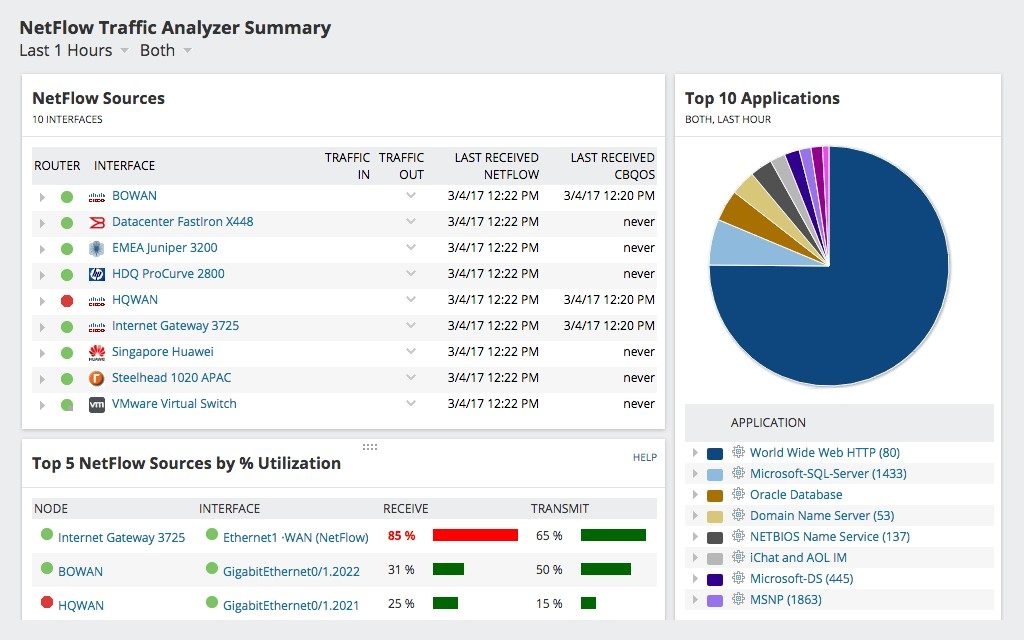 Key features:
Monitor and analyze network traffic
Bandwidth monitoring
Optimized data display
Class-Based Quality of Service
Alerts notification system
Once you've gained a basic understanding of how SolarWinds NTA works through the free trial, you'll be able to easily operate the tool due to its interactive, visualized data displays. One of the most useful features of NTA is its ease of use for non-experts—if you've got a basic idea of how Linux network monitoring works, this intuitive, interactive program will enable you to monitor and analyze network traffic without a great degree of technical expertise.
NTA also provides visualized bandwidth monitoring for users to observe the capacity of the network units, and to see if any IT issues are pending. Moreover, the tool's scalability helps ensure you can adjust your network units to the capacity that seems fit.
NTA is easy to use because of its Performance Analysis Dashboard. SolarWinds software is well known for providing a high degree of color-coded and searchable visual data. The Performance Analysis Dashboard helps you analyze your NetFlow with a great deal of precision, while operating in a streamlined visual display.
Another noteworthy aspect of NTA is its Class-Based Quality of Service (CBQoS) policy. Twenty-first century networks often operate using cloud-based applications, and SolarWinds recognizes some of these take higher priority in using network bandwidth. CBQoS helps you prioritize which applications should take up bandwidth, so these apps travel more quickly in your network.
This Linux network monitoring software isn't just a tool for measuring bandwidth and capacity—it also alerts you when something's wrong. NTA offers traffic-based alerts when it suspects a device is malfunctioning, and it can be a crucial tool for detecting threats in your network. In addition, while other network monitoring tools allow the central controller to view any new devices accessing your system and how much traffic they're conducting, NetFlow Traffic Analyzer takes this a step further—it provides you with alerts if unusual traffic is detected toward port 0, the neutral port attackers often use to access a system.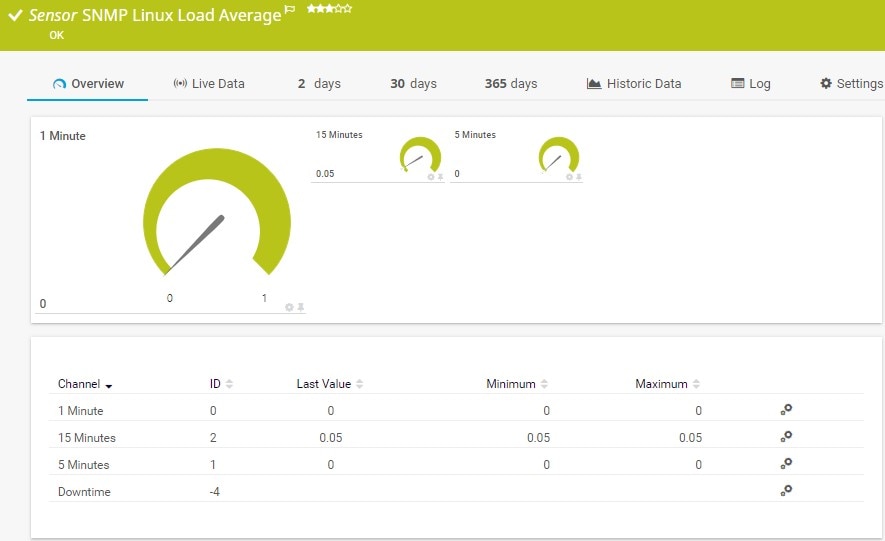 Paessler is a German software engineering company with a narrow focus on monitoring and data management software. Its closed-source network monitoring tool, called PRTG Network Monitor, offers a lower emphasis on data visualization and graphics than SolarWinds NTA, but is still a highly scalable product, with customizable sensor options to meet the needs of variously sized companies.
Key Features:
Robust selection of sensors
Personalized data collection
Alerts and notificaions
Distributed monitioring
PRTG Network Monitor is a useful program if your IT core has the desire to structure a tailored and robust selection of sensors for each of your devices, as well as a syslog for monitoring Linux data input. The sensors can focus on SNMP, LAN, cloud services, and a huge variety of other metrics. You can also customize threshold and alarm values and notifications.
With PRTG, you can configure your monitor to collect the exact data you want from a wide range of sources. The ability to customize sensors means PRTG is scalable, too. Paessler offers a minimum monitoring package with 500 sensors and one server monitor, called PRTG 500, all the way up to a maximum package called PRTG XL5, which includes an unlimited number of sensor installations and up to five server monitors.
Like SolarWinds, Paessler offers a 30-day free trial of the complete program. Pricing for both SolarWinds and Paessler closed network monitoring tools is variable based on the number of servers and sensors your system demands. As with all closed-source system monitoring tools, contact your brand of choice to decide which package is the right size for your purposes.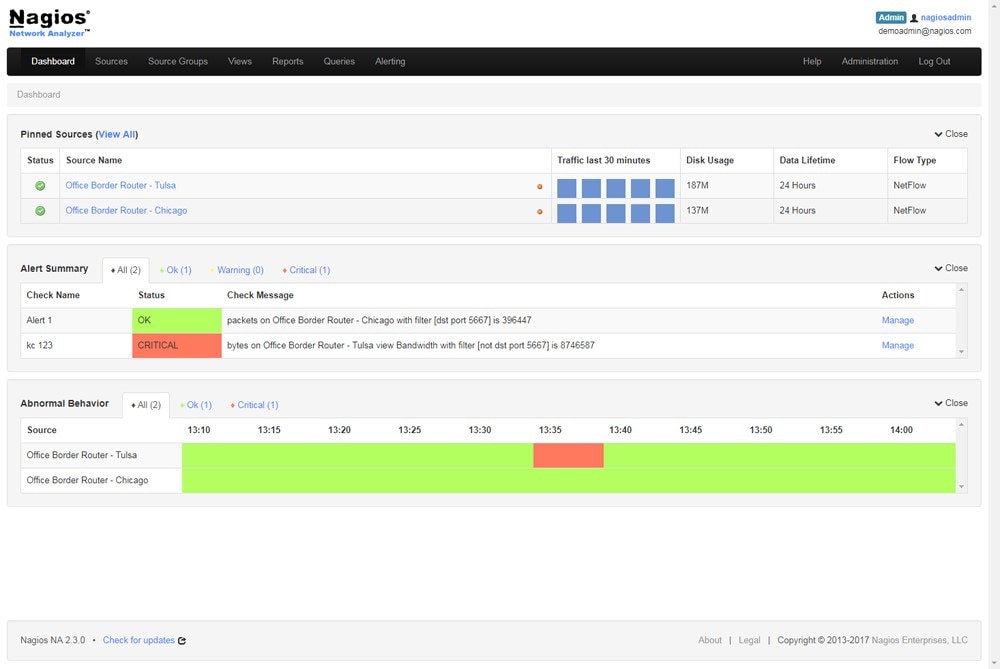 Key features:
Ports and devices monitoring
Data log monitoring software
Alert system
individualized viewboard
Nagios Network Analyzer can observe specified ports and devices for focused network monitoring. Like PRTG, the Nagios Network Analyzer contains data log monitoring software as well as network monitoring software, helping ensure your network and processes are running smoothly and without threat. If unusual activity is detected, Nagios Network Analyzer can send automatic alerts to the IT center regarding the type of aberration observed. And, like SolarWinds NetFlow Traffic Analyzer, it provides easy-to-use, color-coded graphics to visualize the data and information gathered from your server.
Nagios is designed around Linux/Unix compatibility, so it's ready to use within these parameters, and the individualized viewboard helps different IT specialists engage with specified areas of the network. The Network Analyzer may be a good option if you wish to focus on particular qualities of an immense network.
Nagios offers a free trial version of Network Analyzer, in addition to a scaled-back alternative, called Nagios Core, which is a free and well-respected open-source data monitoring software. The parameters of the Network Analyzer free trial are available upon request.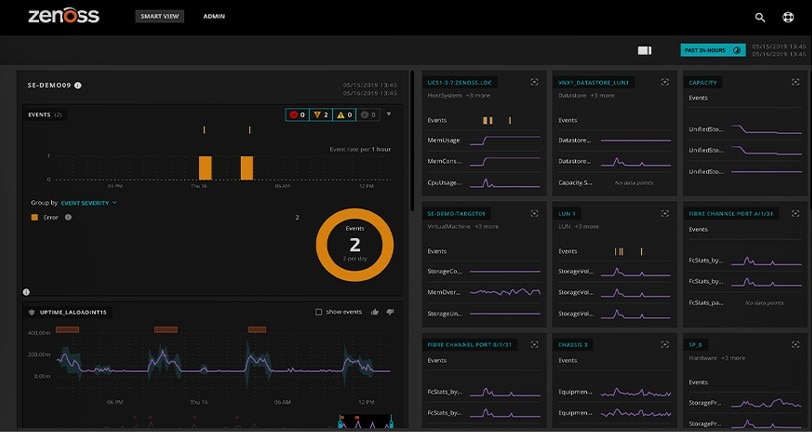 Key features:
network monitoring and data analytics
data visualization
cloud-based architecture
Zenoss is another well-established name in the network monitoring business, and with good reason. The company has offered a variety of competitive monitoring products since it was founded over a decade ago. Zenoss is most famous for its open-source program, Zenoss Core, which provides a combination of network monitoring and data analytics programming. But Zenoss has more recently expanded to offer a more robust, closed-source package called Zenoss Cloud.
Zenoss Cloud is particularly useful for highly scalable network monitoring. It offers a visualization of network data as well as data logs, making it a useful tool for network function operations and data security monitoring, and its machine learning approach ensures data is delivered to the central control in real time.
The most prominent advantage of Zenoss Cloud is its 21st-century capabilities. It's rooted in a cloud-based architecture, so your network can expand rapidly and monitoring operations will catch up. This is useful for spread-out, fast-growing, and large-scale businesses.
Zenoss Cloud, like the other closed-source tools on this list, offers a free trial. The parameters of the Zenoss Cloud free trial are available upon request.
Top Open-Source Linux Network Monitoring Tools
Open-source data monitoring can be useful for IT-savvy administrators who don't mind navigating an online community of software editors, constantly updating and evolving the public-use product to improve its defects. But open-source monitoring can be more time-consuming, less user-friendly, and more prone to hiccups or even malicious edits than a closed-source program. However, many IT experts find malleable, free software appealing—especially when there's a robust online community of users to consult for best practices.
Here are my picks for the best open-source network monitoring tools for Linux, each with its own benefits and drawbacks. I've found the most useful open-source tools tend to be the ones with large user forums to help navigate the software.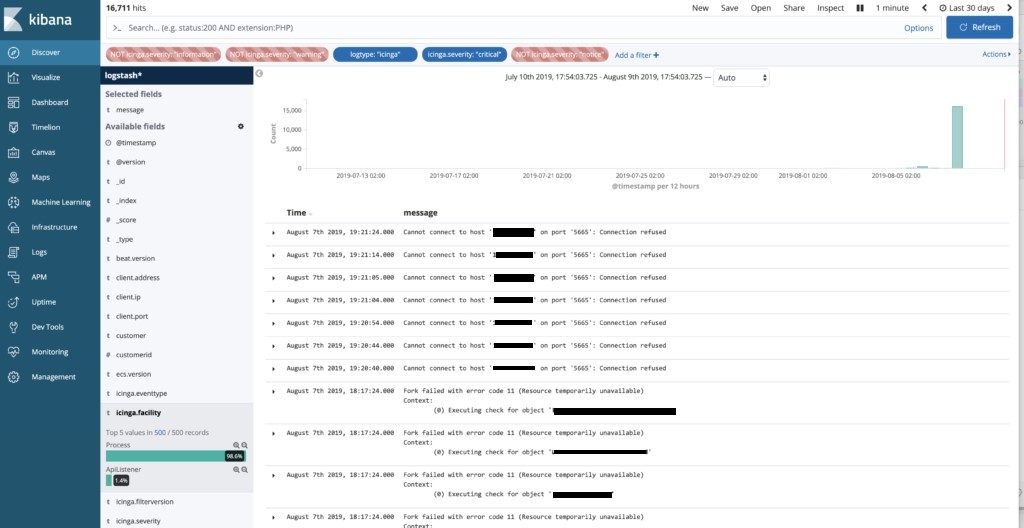 Key features:
live monitoring
highly interactive visual monitoring interface
data visualizations
Icinga 2 is a modified version of the well-respected Icinga, and it has recently gained popularity among IT specialists for its scalability and live monitoring tools. Icinga 2 is compatible with nearly any operating system, and it can measure a vast network and provide color-coded graphs. Although Icinga 2, like any open-source monitoring software, requires a bit more finesse to get started than a closed-source tool, it contains a highly interactive visual monitoring interface for easy access monitoring. It's also quite innovative for an open-source program, as it uses open-source API technology. This enables Icinga 2 to monitor your network at high speeds, producing data visualizations capable of adjusting to input in real time.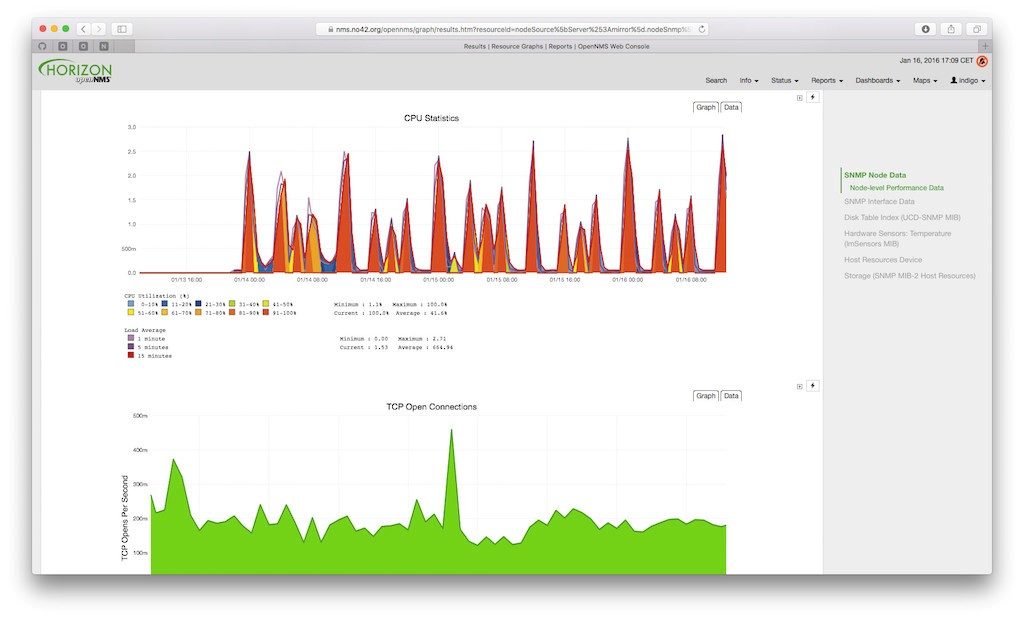 Key features:
robust notification system
ticketing integration
comprehensive alert system
OpenNMS has been around since the late 1990s, when it was established as a management-oriented open-source monitoring tool for businesses and large networks. It has since acquired a formidable online community with a streamlined process of modifications and improvements. OpenNMS prides itself on its notification system, which provides live updates to the central control based on API monitoring results. A unique aspect of OpenNMS is its focus on integration with industry-standard management tools, allowing for ticketing integration and southbound integration with other software programs. The alert system is comprehensive, with Java-native notifications as well as external notification scripts.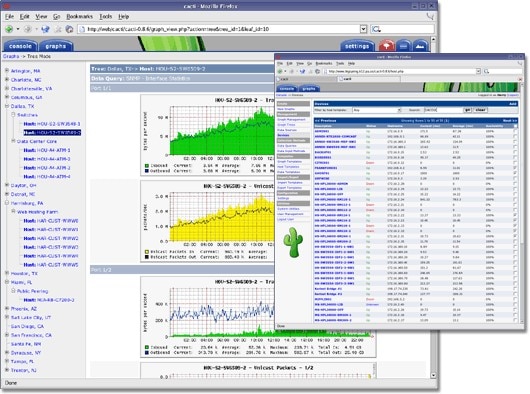 Cacti has been around for nearly 20 years, and it's one of the most prominent names in open-source network monitoring software. Cacti allows multiple users to monitor network devices and log network data, and it offers privacy settings to determine which users have access to what items. It also visualizes data by using RRDTool, a data logging and graphing software. Cacti's age and established reputation have led to a comprehensive online support system, with templates for how to operate the software on different devices.
Key features:
multiuser program
privacy settings
comprehensive online support system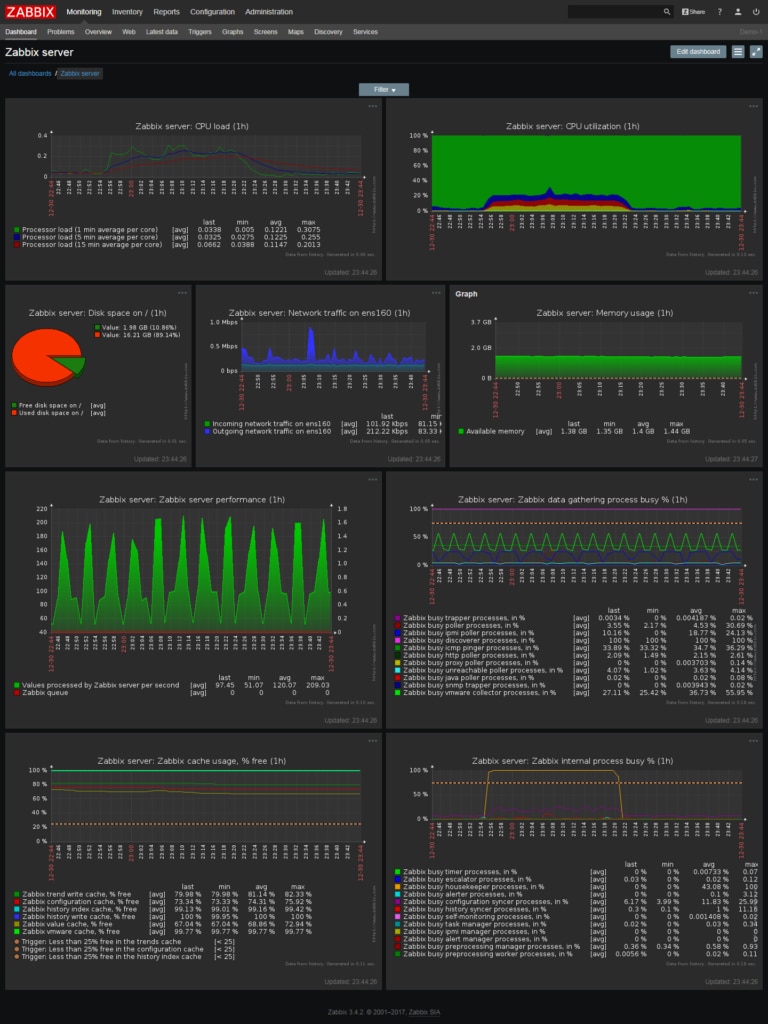 Key features:
clean monitoring dashboard
detect changes in network activity and disk space
Zabbix is a widely used and widely available network monitoring tool compatible with Linux and Unix systems as well as Windows and Solaris systems, which makes it a go-to for IT people of all sorts. Much like Cacti, Zabbix is an established monitoring tool with a significant online community. It provides a clean monitoring dashboard to detect changes in network activity, disk space, and CPU load to keep track of activity on your network. Zabbix can detect IT concerns or function lags due to its framework for SNMP, ICMP, and TCP monitoring. Moreover, it can use open-source alert software to notify the central control of any network malfunction.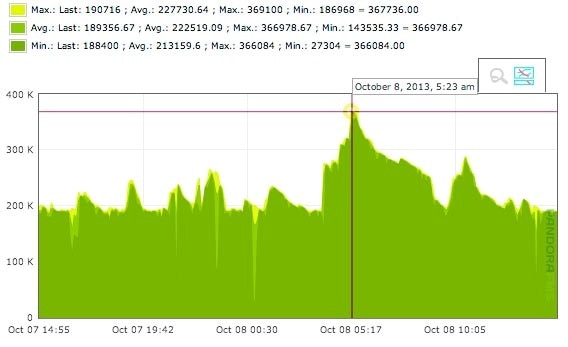 Key features:
options for application integration and sensor add-ons
graphical analysis
optional, additional tool for heat monitoring and shutdown information
Pandora FMS stands for Pandora Flexible Monitoring System, and it is indeed a flexible software. It provides a comprehensive network monitoring solution adaptable to practically any operating system and includes many options for application integration and sensor add-ons. The basic version performs a useful graphical analysis, which isn't always a given in open-source network monitoring tools. In addition to machine monitoring, Pandora FMS includes features for multiple simultaneous application integration, as well as optional open-source tools to monitor heat and shutdown information, which is not commonly available in open-source software.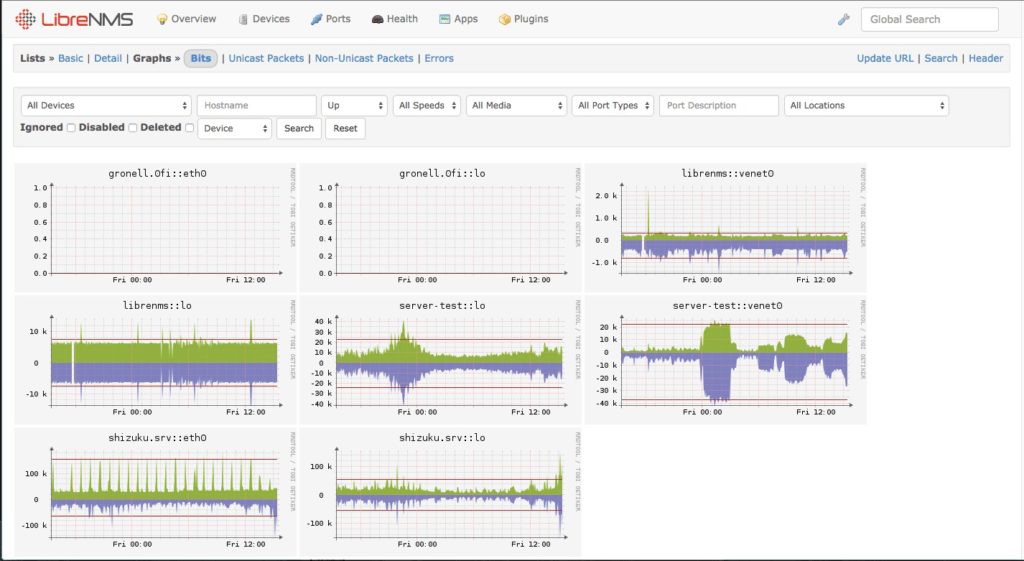 Key features:
open-source API software
automatic updates on network performance
horizontally scalable network system
LibreNMS shows its strength in its quick response program, which owes its efficiency to an open-source API software. This type of real-time monitoring isn't uncommon for more modern iterations of Linux network monitoring tools, but it makes LibreNMS particularly useful in providing automatic updates on network performance to an expansive multimedia alert system. LibreNMS combines this useful API communication with a horizontally scalable network system, which lets users quickly expand the number of nodes monitored by the central control without too much hassle. Because it's a relatively new program, founded in 2013, LibreNMS has many other useful twenty-first-century capabilities, like integration with Android and iOS apps, in addition to compatibility with virtual machines.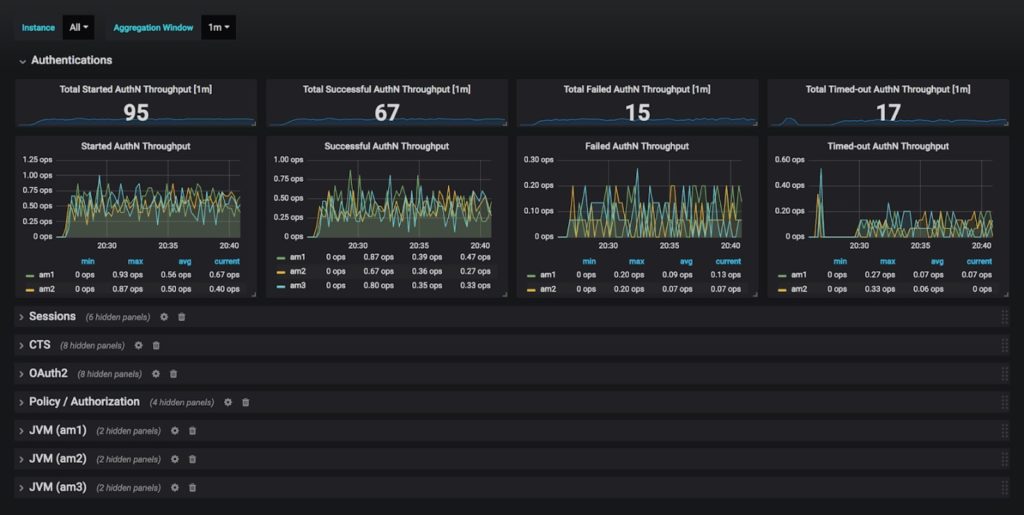 Key features:
integration with the Grafana graphing program
built-in PromQL feature
Prometheus is designed to be compatible with Linux and Unix systems. It provides an ample variety of basic network monitoring functions for free, including a comprehensive graphical visualization capacity due to its integration with the Grafana graphing program. Its built-in PromQL feature also provides customizable visualization of its interface. Prometheus is a newer software, so its community support mechanism may not be as robust as some others on this list, like Cacti and Zabbix. But it's used by a surprising number of major company networks and will likely gain influence in the years to come.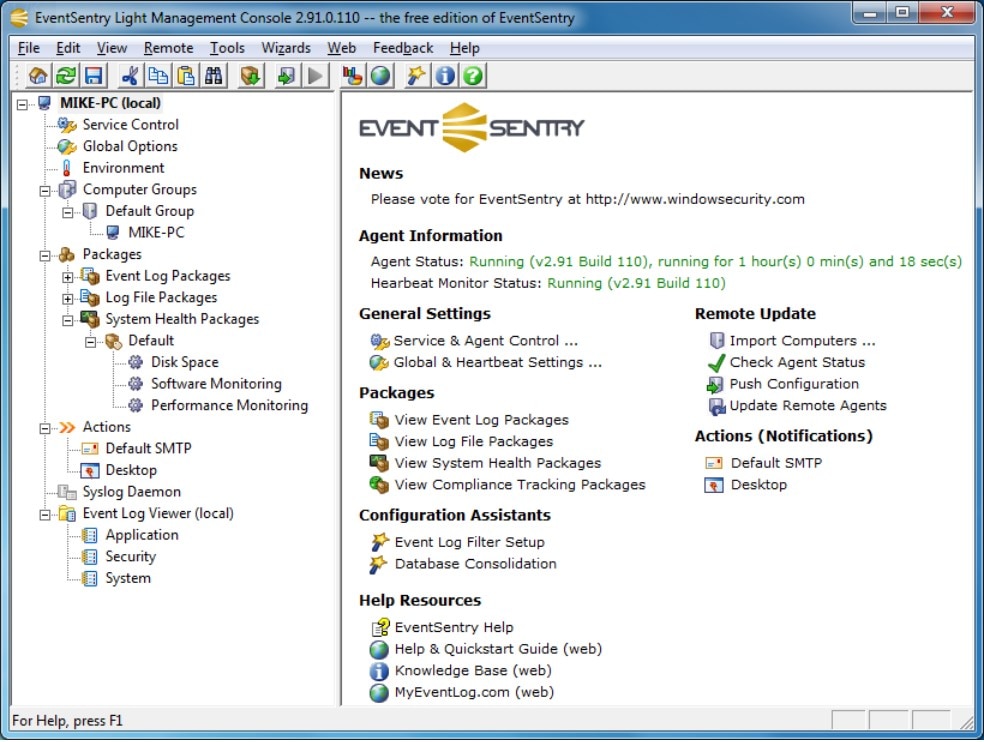 Key features:
Designed for small-business use
an online support community
monitoring network packets and data logs
EventSentry Light is the last of the open-source tools on this list with the capacity to monitor networks—the remaining programs are all designed for small or personal servers, or for more focused monitoring purposes. Designed exclusively for small-business use, EventSentry Light is a barebones but effective tool for monitoring both network packets and data logs, with an alert system in place to warn of unusual activity in either of these input areas. There's an online support community for EventSentry Light users, like with any open-source monitoring software, but more reliable user support is only available with the purchase of the more comprehensive closed-source version of EventSentry's combined network/data monitoring software.
Observium Community is a Linux network monitoring tool designed for small servers. It provides a compendium of online experts who send its users biannual patches and updates to system software. It's compatible with a wide variety of operating systems and uses standard SNMP network monitoring. Observium Community operates with an impressive variety of monitoring features, but it has small-scale aspirations—Observium Community admins warn that the program shouldn't be used for large-scale networks, and it's mostly operable on personal servers to manage network information flow.
Observium Community offers a useful visual graphics system, as well as a significant online support system. However, more real-time updates and notifications about network activity aren't available until you purchase the slightly more sophisticated, closed-source Observium software packages.
Monitorix is a small server monitoring device designed specifically for use in Linux, but it has since expanded to Unix-based operating systems. Although Monitorix operates on small servers exclusively, it provides a good deal of monitoring capabilities to update the user on system metrics. Its features have become increasingly comprehensive over the nearly 15 years since its inception, and it now can monitor everything from network capabilities to data consumption to disk drive heat, ensuring the user can observe most of the features critical to their network's operating success. Monitorix also includes simple but effective color-coded graphs for visual trend analysis.

Ganglia is a bit of an outlier on this list, because it serves a unique purpose compared to some other Linux network monitoring tools. Its name derives from a term in neuroscience referring to a neurological network linked to a vast number of cell bodies—and that's exactly what Ganglia simulates for computer networks. It's been around since 2000 and provides an extensive history of online user contributions, a necessary feature of any good open-source program. But its biggest distinction is its low overhead use per node, making it highly scalable for networks of hundreds, even thousands of distinct units.
Although Ganglia doesn't offer some of the more sophisticated data alert mechanisms as some other open-source programs, many large-scale organizations find it a useful tool in monitoring lots of disparate units. And, like several other open-source tools, Ganglia provides helpful data visualization using RRDTool software.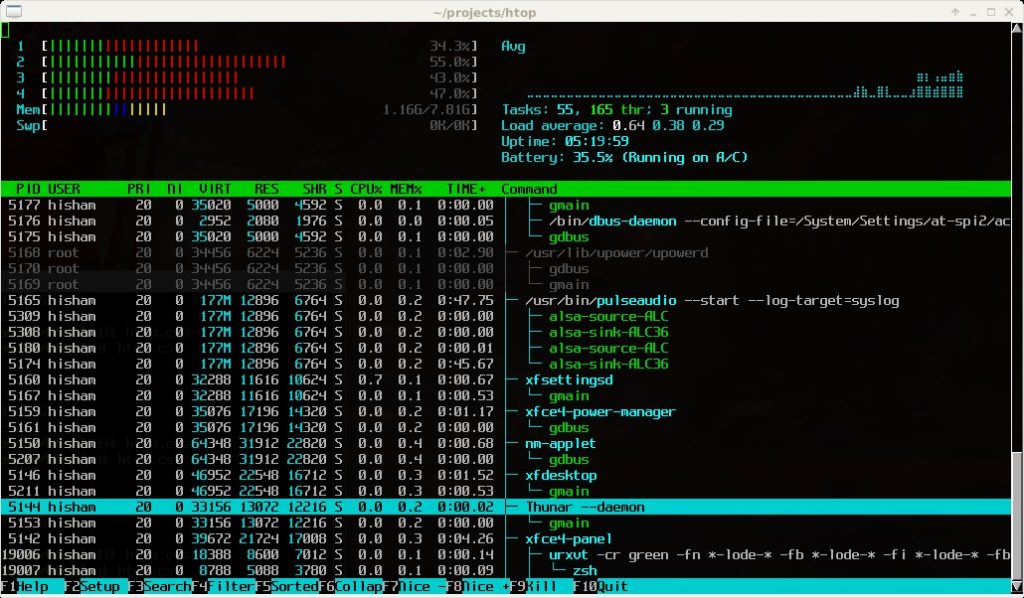 At this point in the list, we're starting to review less-complex programs to monitor small-network use with accuracy and reliability. Htop (the H stands for the designer's name, Hisham) doesn't contain graphical analysis software, but it provides a flexible monitoring program that can be installed on Linux as well as Unix-based systems. Htop might not be the most visually pleasing monitoring software—its interface looks more like an old-school computer from an 80s movie—but it's useful in providing live updates on network activity and storage capacity in plain English. Additionally, if you don't want to parse through dozens of monitoring updates, htop's interface uses an intuitive color-coding system.

The next monitoring tool on our list is one of the simplest, most straightforward, and yet surprisingly flexible Linux monitoring solutions. BWM-NG (which stands for Bandwidth Monitor–Next Generation) doesn't provide any graphical updates or fancy color coding, but it's nonetheless a useful program for small-network Linux specialists primarily interested in bandwidth monitoring.
The program is a modern reimagining of the previous BWM, and it's still in its beta phase—meaning you might have to use your Linux skills to rework inefficiencies. But BWM-NG offers an active online community of users to help you get there, as well as multi-service compatibility with Linux and Windows OS, a rarity for small-network open-source monitoring programs.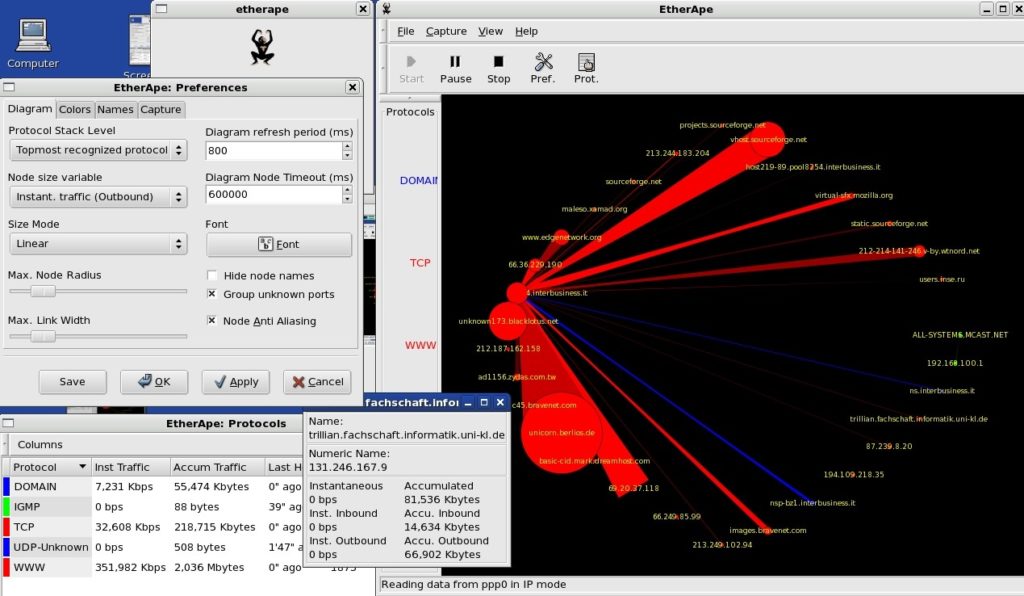 EtherApe is a network monitoring software compatible with Linux/Unix systems that shows there's strength in graphics. For IT specialists wishing to monitor small networks without the long lists of numbers and jargony script, EtherApe provides a slick graphical component for visualization of network data. Like some of the other open-source tools, it reads packets from your network and from a file, with support for commonly monitored devices like WLAN, FDDI, ISDN, and others. It's modeled after a more antiquated monitoring software called etherman. EtherApe hasn't been around for as long as some of the other programs on this list, so it's possible its online community and webpage updates might not be as robust.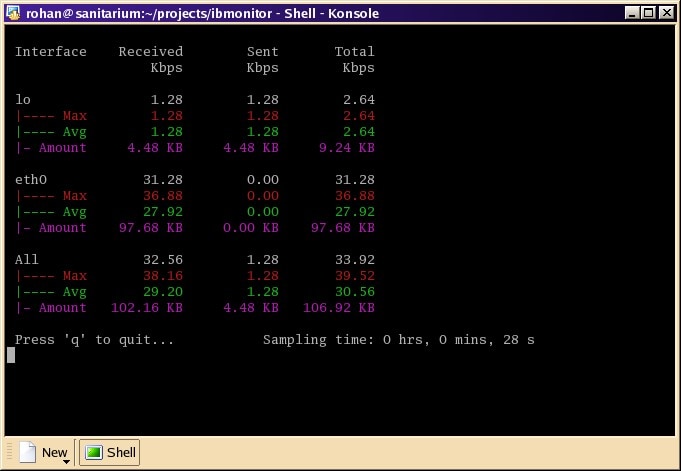 Ibmonitor is a terminal-based application, so it's not as easily convertible to newer control units as some of the other monitoring tools. Nonetheless, if you're using an older computer, ibmonitor is a tried-and-true tool for monitoring a wide variety of network activity with an interface you can personalize. If your goal is to monitor bandwidth usage and other basic Linux network updates for a small set of units, ibmonitor can provide simple analyses of your network and summarize your total network data, so you don't have to crunch the numbers. Like htop, it uses color-coded text to make sense of the stream of data it provides, and you can find a wide range of online forums to explain features.
How to Choose a Linux Monitoring Tool – 4 key factors
For IT specialists tasked with ensuring the health of Linux systems, implementing a Linux network monitoring tool is an integral step. There are several dozen network monitoring tools for Linux on the market, both free open-source and paid closed-source, which is why choosing between them can be overwhelming. Knowing what you want from your Linux monitoring tool is key to narrowing down the field, as is knowing the differences between the various tools—even when those differences might seem minute.
Hopefully, the list I've compiled has given you a good basis to start weighing the pros and cons. Here, I'll break down the major considerations for your decision making, including your budget, the level of support you'll need, and the size and scalability of your network.
1. Closed- vs. Open-Source
Your first decision is whether you want a closed-source or open-source software. Closed-source software can be costly, but if you're managing a broad network and don't have the time to realistically troubleshoot via online forums, then the specialized customer support offered with closed-source software can be well worth the initial fee.
Closed-source software also has the advantage of streamlined usability, and it often provides quick graphical analysis and interfaces designed for busy IT professionals managing lots of data. Closed-source also has the benefit of added security protection. Although open-source software is hard to hack, and open-source generally doesn't spark security concerns, the public availability of its code might seem too risky for a company with highly sensitive information.
2. Scalability
When selecting your network monitoring tool, it's important to consider the size and scalability of your program. Some open-source software is specifically designed for small-size networks, and therefore shouldn't be considered if you're running a major corporate network with many nodes.
Observium Community, for example, is an excellent monitoring tool, but it's intended to accommodate a handful of users. A tool like SolarWinds NetFlow Traffic Analyzer or Paessler PRTG Network Monitor, on the other hand, can be effectively used by large corporate networks that need to manage vast amounts of nodes, or expand their number of users at the drop of a hat.
You'll need to weigh scalability against other considerations. An open-source program like Ganglia is highly scalable—scalability is Ganglia's niche—but it might not provide the easy visual interface or automatic data analysis some of the other tools can offer. A software like Ganglia, with low per-node overhead, may be useful for researchers looking to monitor the basics of large network operations. But for IT specialists monitoring a large company network, other programs might be a better fit. More comprehensive monitoring tools, like SolarWinds NTA or Nagios Network Analyzer, might be more desirable for their real-time graphical analysis and security alert systems.
3. Support
Other crucial considerations include the level of support you're looking for and what exactly you want to monitor. When you research open-source programs, check out the online community of users—since open-source software is available to anyone, it almost certainly won't be serviced by a paid customer support team. If you're going the open-source route, there might be a monitoring tool whose community of users stands out. If this factor is important to you, consider an active user group like OpenNMS, or a user community with email updates like Observium Community.
Or, you might want to use an open-source tool to focus on a specific monitoring area. If your focus is on bandwidth monitoring, for example, BWM-NG might be worth a look. If your interest is small-network visual maps, maybe check out EtherApe. If you want a quick alert system, EventSentry Light could be your choice.
4. Cost
Before purchasing a closed-source tool, you need to consider its overhead costs versus its benefit for your company. For major commercial networks, advantages offered by closed-source monitoring tools are likely worth the investment. If the security assurances, streamlined customer support system, and multi-use features of a closed-source tool appeal to your needs, my highest recommendation goes to SolarWinds NetFlow Traffic Analyzer.
SolarWinds NTA contains all the necessary components of an effective closed-source monitoring tool—security, reliability, customer service, and flexibility. It offers network analysis, bandwidth monitoring, security monitoring for suspicious activity, and regular alerts to update you on any notable network activity. SolarWinds is known for its upscale visual analytics, and NTA provides an easily digestible web-based interface with graphs and stats on your network information, with a dashboard to keep track of all the moving parts.
An added advantage to SolarWinds NTA compared to the other closed-source tools is its ability to integrate with other premium software. SolarWinds offers multiple other tools for data logging and security monitoring, like User Device Tracker, Network Configuration Manager, and Network Performance Monitor. For comprehensive IT management, SolarWinds offers the opportunity to expand your monitoring tool into a much more robust network analysis program.
Best Linux Network Monitoring Software
Before you select a Linux network monitoring tool, you need to have a comprehensive understanding of the needs of your company. Some open-source tools have specialties you may not find useful, while others might be right up your alley. If you're an IT specialist with the time and expertise to set up—and keep track of—an open-source program, you might be inclined to look at the free Linux network administration tools.
If you need the reliability and toolkit of closed-source software, you might decide it's worth the investment. And if you can't decide, most closed-source tools offer a free trial. Some software providers, like SolarWinds and Paessler, even allow a fully functional free trial for 30 days, so you can see for yourself the advantages closed-source software can offer. I still recommended checking out NetFlow Traffic Analyzer as the most comprehensive Linux monitoring tool on the market.