The relationship between managed services providers (MSPs) and their customers has never been more complex and all-encompassing. Delivering reliable and comprehensive customer service depends on your ability to rectify issues quickly and efficiently. Because of this, help desk solutions and software are becoming an increasingly important aspect of delivering reliable and comprehensive customer service.
To help you continually improve your quality of customer service, this blog will recommend the best help desk and asset management software currently available. These tools are designed with your support teams in mind, and their features reflect this. They help MSPs improve, secure, and maximize the benefits of the services they offer.
In today's highly competitive business landscape, delivering the highest quality customer service is paramount for managed service providers (MSPs) to attain rapid growth and maximize customer satisfaction. Handling service requests with quick turnaround times can help MSPs elevate their customer experience. To achieve this, MSPs must deploy reliable and high-quality help desk tools and solutions. IT help desk software is an invaluable tool for MSPs as it helps them manage client service requests efficiently. Most ITSM practitioners even feel that it is among the key pillars of every successful MSP business. 
MSPs can curb operational costs and streamline routine service management tasks by deploying a help desk tool. However, since various MSP help desk tools are available in the market, identifying the right solution for your business is not an easy task. You should consider multiple aspects, such as customization and integration options, deployment timeframe, analytics & reporting facility, and budget, before choosing an MSP help desk software. To help you improve your customer service and foster positive client relationships, this blog will outline some of the best MSP help desk tools and solutions. 
A comprehensive help desk ticketing and IT asset management software 
SolarWinds Web Help Desk is a holistic and easy-to-use MSP help desk software with asset management capabilities. This customizable software offers a host of useful features for simplifying and automating your help desk ticketing, billing, and IT asset management tasks. It provides a web-based centralized dashboard that allows you effectively manage service requests, incidents, and problems. Centralized management and automatic, rule-based routing of service tickets help maximize your staff productivity while reducing mean time to resolution. As a reliable MSP service desk tool, it gives you the flexibility to automatically convert email requests to help desk tickets and set up parent-child ticketing to resolve issues quickly and gain customer trust. In addition, it provides timely reminders regarding unattended tickets to your help desk staff.
SolarWinds Web Help Desk also helps you scan and discover all the hardware and software assets in your clients' organizations and consequently maintain an up-to-date IT asset inventory. This readily-integrable tool provides powerful remote monitoring and management capabilities, enabling your help desk technicians to offer remote assistance to your clients. Centralized asset tracking also helps keep a tab on the number of used and unused software licenses in your clients' organizations for better IT inventory planning and budgeting. This tool also sends timely alerts regarding the lease expiry and license renewal dates, which helps ensure software compliance for all your clients.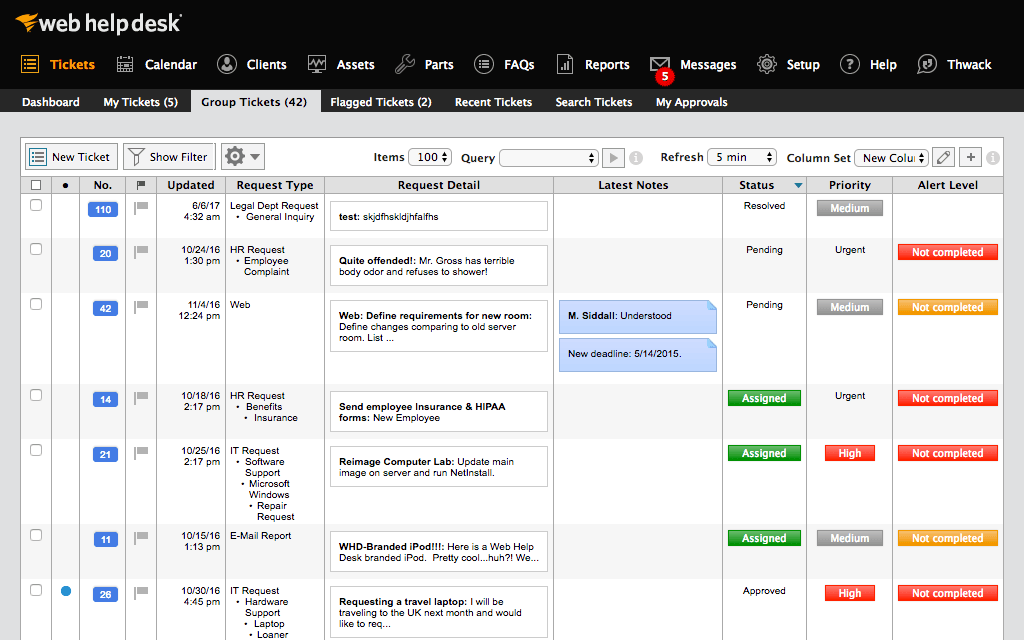 Time and billing management tool 
SolarWinds Help Desk Tool allows MSPs to streamline their billing activities while serving multiple clients. It makes billable time tracking easier by supporting work time allocation on a per-note or per-technician basis. This is particularly useful when multiple help desk agents are working on the same issue. Your help desk technicians can add unique billing rates and terms, such as Net-30 and Net-60, while adding work hours to tickets using the time and billing management utility of SolarWinds Web Help Desk. 
Help desk knowledge base software 
Building a structured and comprehensive knowledge base is critical for MSPs to boost help desk productivity and maximum customer satisfaction. SolarWinds Web Help Desk provides a web-based knowledge management tool that helps MSPs reduce the number of incoming client service requests by promoting self-resolution articles. This tool automatically suggests relevant articles to clients based on their service requests. Help desk technicians can also attach the hotlink of the relevant article in the ticket note section in case smart article suggestions are not available to clients while raising a service request via the web portal. 
With the demand-driven knowledge article submission functionality, you also get the flexibility to add new knowledge base articles for service requests that have a common resolution path. Further, this tool allows you to import knowledge base articles from third-party tools or create a knowledge base from scratch using the predefined article templates and resolutions from previously solved tickets. 
Reliable help desk reporting and SLA management tool
Manual tracking of ticket status and help desk productivity is often perplexing and tedious for MSPs serving multiple clients. SolarWinds Web Help Desk helps eliminate the hassle of monitoring key help desk KPIs manually and supports data-driven decision-making by offering advanced analytics and reporting capabilities. It provides interactive dashboard visualizations and custom reports to easily monitor and manage help desk ticket status, staff performance, and billing information. Further, you can share these reports with relevant stakeholders (supervisors, managers, finance, etc.) daily, monthly, or as per your custom schedule. 
While managing clients' IT assets, MSPs can also track the asset usage, location, and purchase history through interactive charts, graphs, and summary reports displayed on the SolarWinds Web Help Desk dashboard. SolarWinds Web Desk also helps you devise and manage account-specific service level agreements (SLAs) to elevate overall customer satisfaction. It helps you sort help desk tickets based on priority levels and configure automatic reminders to prevent SLA violations. 
Incident and problem management software 
It is vital for MSPs to rapidly address the incident tickets raised by multiple clients to enhance their service quality and customer satisfaction levels. SolarWinds Web Help Desk allows MSPs to seamlessly handle incidents by automating ticket creation, prioritization, and routing. This robust and cost-effective incident management tool also helps you manage the incident and problem tickets rapidly and efficiently from a centralized console. It allows you to link multiple incident tickets to a single problem ticket for better organization and faster troubleshooting. 
The parent-child ticketing ensures automatic closure of incident tickets when their corresponding problem ticket is closed, thereby reducing the time and effort required to manage incidents. Furthermore, you can also set up automation rules to streamline and accelerate the incident resolution process. 
Seamless integration with IT operations management tools 
SolarWinds Web Help Desk can seamlessly integrate with other IT operations management (ITOM) tools, such as Network Performance Monitor, Network Configuration Manager (NCM), and Server & Application Monitor (SAM), from SolarWinds for accelerated troubleshooting. Integration with ITOM tools allows MSPs to quickly translate network issues, such as server failures, device configuration errors, and application slowdowns, into help desk tickets, ensuring a speedy resolution. Further, your IT staff can directly use the SolarWinds Web Help Desk from NPM, NCM, and SAM web portal for ticket creation and assignment. 
Besides these tools, you can also combine the Web Help Desk tool with SolarWinds Dameware Remote Support software to enable remote troubleshooting. Dameware Remote Support tool allows your help desk technicians to remotely access your clients' workstations for resolving various IT-related issues. It also helps boost service desk efficiency by allowing your technicians to troubleshoot incidents across different clients' sites without traveling to their physical locations. With Dameware Remote Support, your help desk personnel can start a remote desktop session directly from the service request page with a single mouse click. 
Boost your MSP business growth with help desk software
Businesses across industries are adopting next-gen technologies and solutions rapidly to sharpen their competitive edge and elevate customer satisfaction, and MSPs are no different. To remain profitable and competitive, MSPs constantly need to improve their service quality and become more responsive to changing customer needs. Adopting help desk solutions is a viable solution for MSPs to reduce operational costs and deliver excellent customer service. However, before going on a buying spree, pen down the exact help desk features you need to improve your service desk efficiency. From our experience, we would suggest you employ an all-in-one solution to get the best out of your MSP help desk strategy. 
SolarWinds Web Desk is one such comprehensive solution with powerful customization capabilities that you can employ to enhance your help desk productivity and customer service. With remote monitoring, automated ticketing, and powerful reporting, SolarWinds Web Desk offers all the necessary tools MSPs require to deliver exceptional IT services to their clients. It is also truly scalable and flexible to your changing business needs. To access a 14-day free trial of SolarWinds Web Help Desk, click here. 
Get More on Help Desk Tools and Solutions
If you'd like to further explore the topic of help desk tools and solutions, be sure to also read: