The relationship between managed services providers (MSPs) and their customers has never been more complex and all-encompassing. Delivering reliable and comprehensive customer service depends on your ability to rectify issues quickly and efficiently. Because of this, help desk solutions and software are becoming an increasingly important aspect of delivering reliable and comprehensive customer service.
To help you continually improve your quality of customer service, this blog will recommend the best help desk and asset management software currently available. These tools are designed with your support teams in mind, and their features reflect this. They help MSPs improve, secure, and maximize the benefits of the services they offer.
All-in-one help desk and asset management software
N-able® Remote Monitoring and Management (RMM) and N-able N-Central® are similar, all-in-one solutions for MSPs. Both deliver a suite of remote monitoring and management utilities that can support and improve your help desk solution. While both tools empower MSPs to serve customers effectively from one consolidated dashboard, they're designed with different goals in mind.
N-able RMM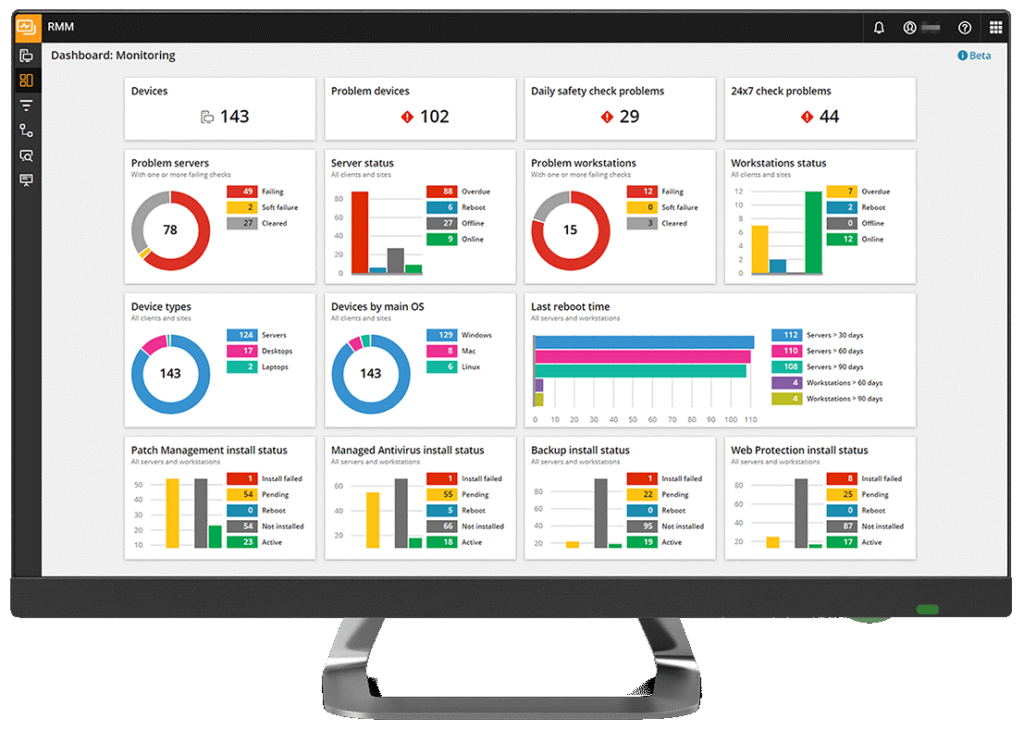 RMM offers an impressive range of capabilities, which can help you effectively secure, maintain, and improve customer IT systems from within a single and centralized dashboard. If you want to equip your business with all the tools it needs to hit the ground running, RMM is for you. This tool provides centralized ticketing capabilities you can control from anywhere via a convenient mobile application. It also allows you to track devices and monitor customer networks with ease.
This help desk software isn't limited to just one platform—it can remotely monitor MacOS™, Linux™, and Windows™ systems. Monitoring capabilities cover desktops, servers, laptops, and even mobile devices across multiple operating systems. RMM's remote monitoring features include alerts and performance checks, security monitoring, virtual machine monitoring, granular roles and permissions, and the ability to perform automated and bulk operations.
N-able N-central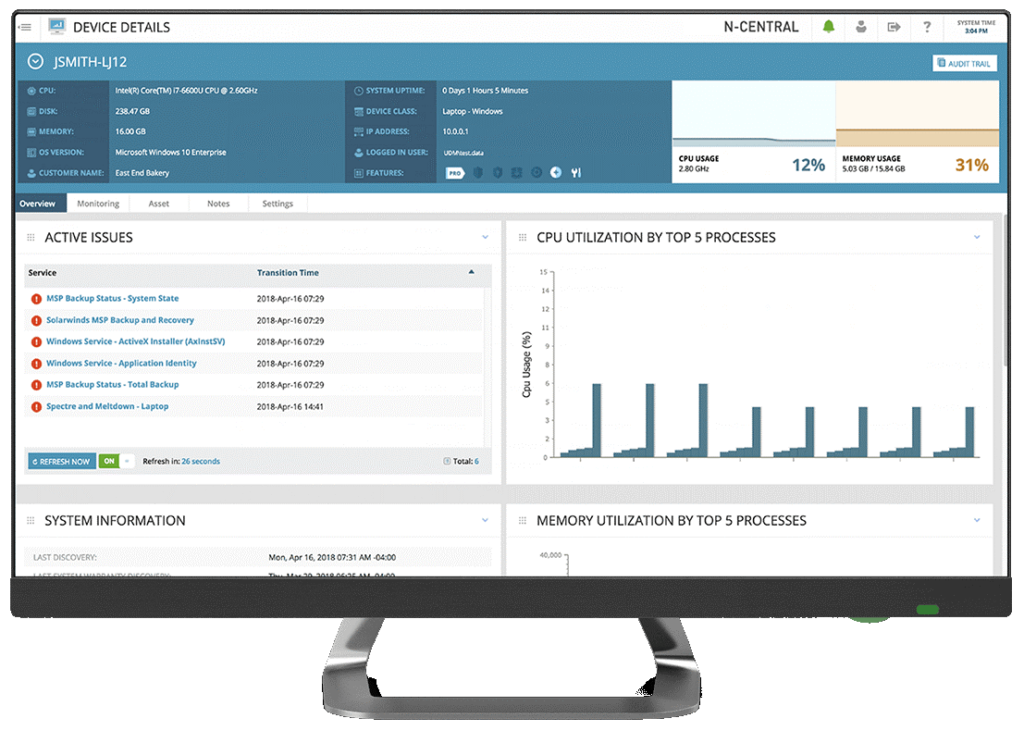 N-able N-central offers many of the same features as RMM but is best suited to MSPs who want to scale their business with advanced automation and the power to customize offerings to meet the needs of diverse customer networks. It uses powerful, layered automation capabilities to help you onboard, configure, or patch hundreds of devices with unmatched efficiency. N-central also features advanced security solutions, including signature, rule, and behavioral-based scans.
This all-in-one MSP solution can improve customer uptime with proactive alerts and self-healing capabilities, organize your services and customers in a single intuitive interface, and let you customize scripts to meet specific device-type or customer requirements. If your business is established and you're looking to improve customer retention, service margins, and technician efficiency, then N-central is likely the ideal solution for you.
Integrated tools for N-central and RMM
To extend their capabilities, you can combine a few key tools with either RMM or N-central to help your all-in-one solutions go the extra mile for your customers. You can purchase N-able Take Control, N-able Backup, and N-able Passportal separately and integrated, or use them as standalone products.
N-able Take Control enables remote access capabilities which you can integrate with RMM and N-central, allowing you to perform maintenance and fix issues without ever having to leave your desk. This remote support tool facilitates rapid support with low costs. It includes robust reporting, anytime access, contact lists, live chat, fast file transfers, and service management functionalities. Take Control enables both attended and unattended remote access, making it a foundational tool that every help desk should have in their inventory.
N-able Backup allows you to back up full systems quickly and recover from IT disasters. Backup uses TrueDelta technology to reduce backup times by storing changes rather than full files. The tool also includes a Backup Accelerator, bare metal protection, virtual and continuous recovery, bandwidth throttling, standby image backup, private encryption with end-to-end encryption, and Advanced Encryption Standards (AES). N-able Backup is the ideal tool for creating fast backups and restores, in addition to saving user work and preventing data loss.
Finally, Passportal is a password management and IT documentation management tool. It integrates IT documentation into a powerful password management software, giving MSPs the option of selling password-management-as-a-service to their customers. It also includes a self-service password reset utility that can significantly reduce the amount of reset request tickets received by your support team, saving your technicians valuable time. Passportal allows you to safely store and manage all user passwords and documentation, rounding out a truly comprehensive and integrated toolkit.
Ticketing and billing management software
N-able MSP Manager is a profiled PSA and ticketing help desk tool that offers a range of effective ticket and billing management capabilities. This tool helps you answer important questions that can help drive business decisions—like which customers make you the most money, which take up the most time, and whether someone is approaching their monthly SLAs. MSP Manager organizes all your customer information into business management dashboards, helping you keep track of important information, including contacts, rates, contracts, ticket histories, billing information, and much more.
MSP Manager delivers an intuitive and lightweight ticketing solution, with the option of batch billing exports, robust customer and knowledge management utilities, mobile applications, sophisticated reporting, and scheduled exports to external calendar programs. It even features a branded customer portal, so you can keep your business at the forefront of your customers' minds.
The mobile application for MSP Manager helps you improve efficiency and deliver a higher quality of customer service. It features a Quick Ticket utility, allowing you to create a new ticket to track customer requests in just a few clicks. The mobile application lets you receive push notifications to keep you alert, and enables easy time tracking with built-in timers.
MSP Manager is a welcome addition to any help desk solution and, because it was designed with MSPs in mind, is especially useful for boosting your customer service strategy. This tool is scalable, user-friendly, and features easy-to-navigate dashboards that organize data in a clear way. You can access a 14-day free trial here.
An email security tool
With a majority of business communication still taking place over email, it's important to take the time to properly protect and secure email communications to reduce any vulnerabilities. But doing so for multiple diverse customers can be incredibly overwhelming. N-able Mail Assure is a cloud-based email security tool which is a helpful addition to any modern help desk solution.
Mail Assure uses collective threat intelligence, long-term email archiving, and 24/7 email continuity solutions to protect inbound and outbound emails. It utilizes sophisticated email filtering technology, which incorporates input from processing large volumes of email data. This data feeds into the unique Intelligent Protection and Filtering Engine. This, combined with real-time pattern threat recognition capabilities and machine learning technology, helps protect your users against emerging email-borne threats.
Mail Assure processes email data from more than two million domains, with nearly 100% filtering accuracy. The real-time pattern threat recognition capabilities leverage a range of filtering technologies, including anti-phishing and impersonation protection, to deliver a robust and dependable security solution. This tool offers support for SPF, DKIM, and DMARC, enabling you to take every possible measure to help prevent spoofing emails and email phishing attempts.
If you want to give this tool a try, you can access a no-strings-attached 30-day free trial here.
Choosing the right MSP help desk software
 If you want to get the most from your MSP help desk strategy, we recommend starting with an all-in-one software and building from there. N-able N-central and RMM provide comprehensive and versatile capabilities that can elevate your help desk for your customers' benefit. These all-in-one solutions help you improve your services, boost security, maintain backups, and deliver a full monitoring and management solution.
With remote monitoring, remote access, and endpoint detection and response, RMM and N-central are the ideal choice for MSPs. Both RMM and N-central are highly scalable and will grow with your organization for years to come. To access a 30-day free trial of RMM, click here. To access a 30-day free trial of N-central, click here.
Get More on Help Desk Tools and Solutions
If you'd like to further explore the topic of help desk tools and solutions, be sure to also read: