ManageEngine is a popular IT software company on the market, delivering an impressive range of services covering help desk management, desktop management, application management, IT security management, network and server management, remote work management, privileged access management, and more. ManageEngine products include Service Desk Plus, OpManager, and Desktop Central.
ManageEngine is a versatile vendor with a consistently reliable product line. However, I think there are a few disadvantages to choosing ManageEngine.
If you're interested in finding a suitable ManageEngine alternative, there are options available. The products listed in this guide are viable ManageEngine replacements, each with their own unique merits directly compared with ManageEngine solutions. Many of these solutions are similar tools with similar features chosen because they may be more suitable to certain businesses than ManageEngine—they may, for example, be more user-friendly, cost-efficient, or flexible.
In this guide, I'll explain some fundamental features I consider essential in service desk, network monitoring, and asset management solutions, I'll review popular ManageEngine products, and explain why I believe SolarWinds® Network Performance Monitor ranks highest as a ManageEngine OpManager alternative, while SolarWinds Service Desk comes out as one of the best ManageEngine Service Desk Plus alternatives and, for some features, a ManageEngine Desktop Central alternative.
What to Know About Service Desk Solutions
What Is a Service Desk?
Benefits of a Service Desk
ManageEngine Service Desk Plus Review
What to Know About Network Performance Monitoring Solutions
What Is Network Monitoring?
Benefits of Using a Network Monitoring Solution
ManageEngine OpManager Review
What to Know About Asset Management Solutions
ManageEngine Desktop Central Review
ManageEngine Alternatives List
Choosing the Right ManageEngine Alternative
What to Know About Service Desk Solutions
What Is a Service Desk?
Before comparing ManageEngine competitors and tools like Service Desk Plus, it's key you understand what a service desk is. Let's consider the necessary features of a service desk and how a service desk can benefit your business.
The IT service desk functions as the primary point of engagement and contact between an organization and its users. It's used for monitoring and owning incidents, addressing user questions and requests, and providing a communication channel between the user community and service management functions. According to ITIL, a service desk serves as a single point of contact between the service provider and users for day-to-day activities. A standard service desk will manage incidents and service requests, in addition to managing user communications for instances of outages or planned changes to services. Service desks play a pivotal role in facilitating the integration of business processes with the broader service management infrastructure and technology ecosystem.
In addition to its core function as the primary point of contact for users, an IT service desk also plays an active role in capturing change requests, managing software licenses, assisting with problem management, and maintaining third-party support contracts.
In many companies, the service desk is integrated with other business functions. These often include employee onboarding, data access management, acquisition integration, supplier and partner onboarding, reporting and metrics management, infrastructure and service monitoring, and business continuity management.
Benefits of a Service Desk
If you're new to service desks, then you might be wondering why you should consider either ManageDesk Service Desk Plus or any ManageEngine competitors. While some businesses choose not to use a service desk solution, there are some notable benefits.
Cost Savings and Scalability
An IT service desk properly staffed and appropriately managed can take pressure off your IT department, by handling much of the routine work on its behalf. This is a low-cost option for transferring simple tasks from expensive engineering teams to a solution requiring minimal maintenance or manual input. Many service desks can provide automated reading recommendations to users, directing them to information to help solve simple problems on their own. This saves IT teams a significant amount of time. With a service desk, growing your client base is a more economical process, often helping eliminate the need to hire new staff by optimizing customer service operations.
Insight Into Your Users
A service desk is the main point of contact for users and serves as the primary interface between your customers, business process, and IT services. By monitoring interactions, you can gain valuable insight into user insight and satisfaction. This helps you address any issues otherwise unnoticed.
Early Warning of Potential Issues
Because of the volume of requests and problems routed through the service desk, the platform can be used as a monitoring solution to help your business identify and respond to service issues preemptively. The service desk acts as an early warning system, enabling proactive problem management, preventative maintenance, and service changes without impacting the user experience.
ManageEngine Service Desk Plus Review
ManageEngine Service Desk Plus helps IT teams optimize their customer service offerings. It provides visibility and centralized control. Key features include best practice ITSM workflows, powerful integrations with IT management applications, smart automation, extensive reporting capabilities, codeless customizations, the ability to deploy on-premises or on the cloud, and much more. Service Desk Plus also provides a range of ITIL-based features, such as incident management, change management, problem management, IT project management, and asset management utilities.
In short, ManageEngine Service Desk Plus is a versatile tool. Although scalable, I don't believe Service Desk Plus is especially suited to beginners.
What to Know About Network Performance Monitoring Solutions
What Is Network Monitoring?
Network monitoring is a system designed to monitor your internal IT infrastructure to identify any potential issues. Network monitoring solutions can identify a significant number of problems potentially impacting the overall performance of your network infrastructure. When issues are discovered, a network monitoring system will notify your system administrator, providing them with access to utilities designed to help them rectify the issue quickly and efficiently.
A network monitoring solution is able to oversee the functions of almost any type of network, including a Virtual Private Network (VPN), Local Area Network (LAN), and Wide Area Network (WAN).
Benefits of Using a Network Monitoring Solution
If you're still not entirely convinced about adopting a network monitoring solution, consider these benefits.
Achieving Full Network Visibility
Without full network visibility, understanding network performance is a real challenge. Your business must be able to observe the traffic passing through your network, monitor connected devices, and analyze common performance metrics. This data helps you maintain and optimize your network performance. A robust network monitoring tool will give you access to comprehensive monitoring capabilities, giving you complete visibility.
Identifying Security Risks
Network monitoring solutions are primarily designed for performance monitoring purposes, but they're also useful for identifying security threats lurking in your infrastructure. Certain malware and viruses are designed to hide in your network long after they've gained access. Other malicious entities may be performing almost undetectable activities a network monitoring solution would be able to root out. By alerting you to any unusual or suspicious network traffic, network monitoring tools can significantly improve your network security.
Preventing Downtime
100% service uptime is anything but a guarantee. Although outages may still occur, a successful network monitoring solution can massively reduce the chances of downtime occurring. Network monitoring tools observe traffic, identifying instances to indicate when the network or a certain device is about to fail. This allows your company to take preemptive action to correct any unexpected downtime, maximizing service availability.
Testing Network and Device Changes
When you make a change to your network or to a device, you'll need to test it to ensure it performs as expected. Adding or reconfiguring a device can impact the rest of your network when implemented incorrectly. Network monitoring tools let you test new or updated hardware or connections, giving you insight into how they might affect your network.
Generating Performance Reports
Network monitoring solutions continuously track performance data and display it via a dashboard. A monitoring tool should be able to generate reports your business can use to review network performance. These reports can usually be scheduled and are a useful way of keeping key stakeholders informed.
ManageEngine OpManager Review
ManageEngine OpManager is a network monitoring solution designed to monitor your network devices, including your switches, routers, firewalls, wireless LAN controllers, servers, load balancers, VMs, printers, storage devices, and anything with an IP connected to the network. OpManager delivers continuous monitoring, providing in-depth visibility and control over your network. When an issue occurs, OpManager lets you drill down to the root cause and eliminate it before operations are impacted.
OpManager offers real-time network monitoring, with more than 2,000 built-in network performance monitors. These monitors cover health and critical metrics, including speed, latency, packet loss, errors, and discards, allowing you to analyze performance bottlenecks. OpManager also provides monitoring for physical and virtual servers, monitoring memory, CPU, and disk use for both Linux and Windows. This tool can monitor the performance of Hosts and VMs of VMware, Xen, Hyper-V, and Nutanix server virtualization platforms.
Other OpManager features include customizable dashboards, WAN link monitoring, and more. While I believe ManageEngine is a popular provider of network monitoring solutions, there may be viable ManageEngine OpManager alternatives better suited to your company's individual requirements.
What to Know About Asset Management Solutions
IT asset management, sometimes referred to as IT inventory management, involves gathering detailed hardware and software inventory information. This information is then used to inform decisions about purchases and asset use. With an accurate IT asset inventory, companies can use their assets more effectively and help avoid unnecessary asset purchases. IT asset management helps organizations lower the risks associated with unknowingly building new IT products on outdated infrastructure foundations.
Informed Purchasing Decisions
Asset management helps you understand what assets you have and their uses. When consistently maintained, IT asset management data can help a business evaluate past purchasing and deployment decisions, guiding future decisions.
Business Continuity
When disasters and outages occur, IT asset and configuration information can help your team identify the impacts of certain events. It can also inform the decisions you make to restore services to users.
License and Subscription Compliance
Tracking software licenses and cloud subscriptions is a challenge, especially for large businesses.
ManageEngine Desktop Central Review
Desktop Central IT asset management capabilities allow you to manage both hardware and software assets via a single console. With the Desktop Central mobile application, you can manage the assets in your network from anywhere, at any time. Desktop Central includes the following IT asset management features:
Periodic asset scans
Hardware warranty management
Software and hardware inventory
File scanning
Real-time inventory alerts
Software metering
Software license management
ManageEngine Alternatives List
Finding tools like ManageEngine Service Desk Plus, OpManager, and Desktop Central isn't a challenge. In fact, there are plenty of tools on the market today—but why might you need or want to consider a ManageEngine alternative?
While ManageEngine solutions are popular and viable options for businesses, I still believe there are some disadvantages to choosing ManageEngine as your IT software provider. I think the premium offers and expensive products from ManageEngine may not make them particularly well suited to smaller businesses on a budget. Moreover, some users have complained ManageEngine products can be difficult to configure and the user interfaces have a confusing layout, making the products less user-friendly than they could be.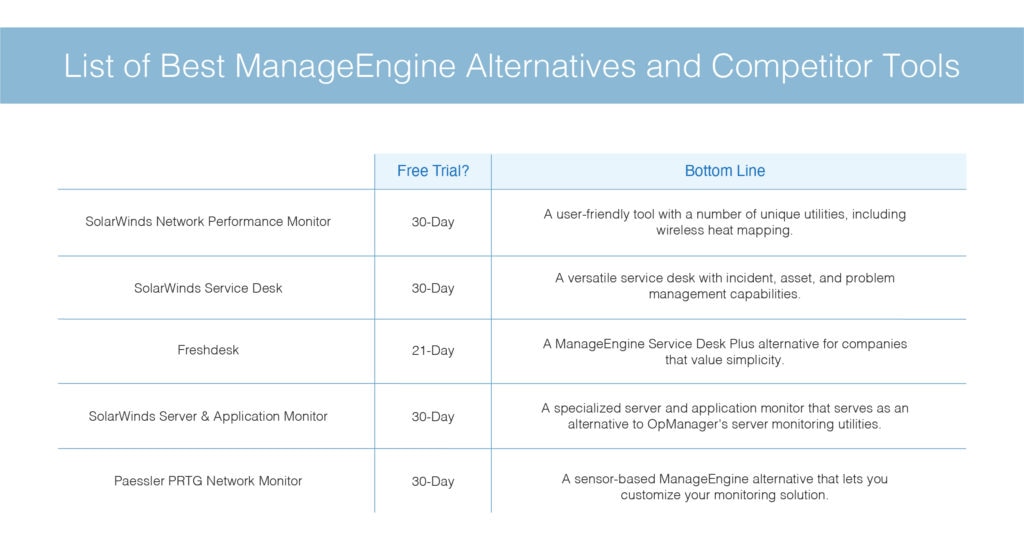 If you're interested in finding a ManageEngine OpManager alternative, ManageEngine Service Desk Plus alternative, or ManageEngine Desktop Central alternative, then consider this list I compiled of solutions I consider top ManageEngine competitors.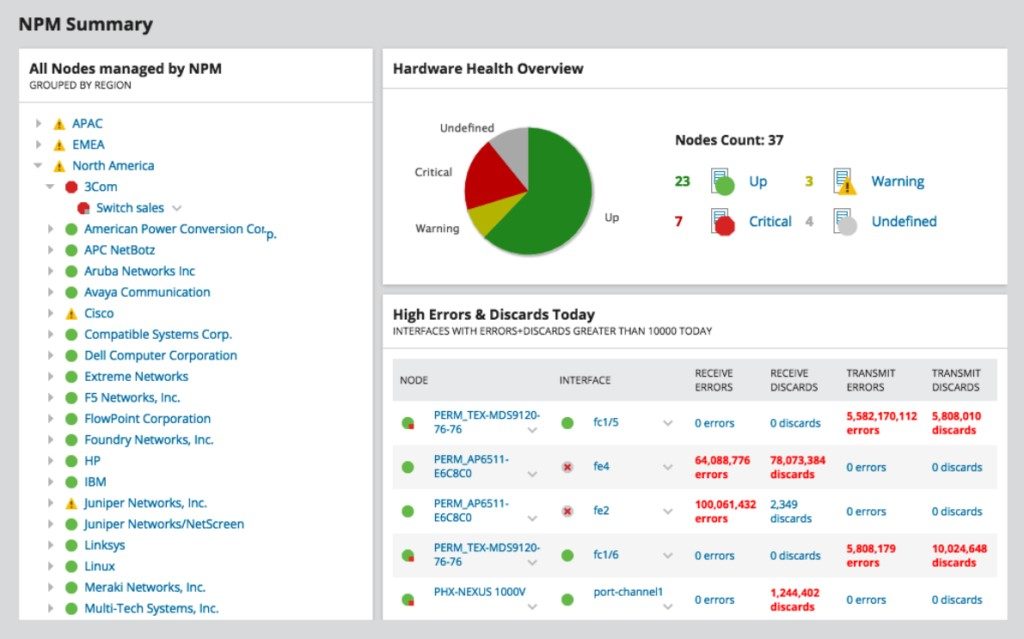 SolarWinds NPM is a ManageEngine OpManager alternative delivering high-quality network performance monitoring capabilities. This is a top-of-the-line tool well known among IT professionals because it combines advanced capabilities with a highly user-friendly user experience. NPM is a multi-vendor network monitoring solution able to scale and expand with the needs of your network, making it a good option for small and large businesses alike.
Like OpManager, which features a custom network map tool to help you consolidate critical devices and connections into a single view, NPM offers a network mapping utility allowing you to easily create custom maps, wireless heatmaps, and visual packet paths. One of the reasons SolarWinds NPM is popular among IT professionals is because it maintains a real focus on representing data graphically and dynamic, making it possible for users to interpret information at a glance. The network mapping tool is clear and uncluttered.
Network mapping can also be fully automated with intelligent Orion® Maps. This is part of the Network Atlas map feature, which allows you to easily view the automatically updated physical and logical links between network devices like routers, switches, and servers.
While NPM and OpManager offer many similar features, such as the network mapping tool, the difference is in the delivery. NPM utilities are generally considered to be more user-friendly, easier to interpret, more dynamic, and more extensive. For example, while NPM offers wireless heat mapping, OpManager does not. NPM also offers several other utilities not provided by OpManager, including a Wi-Fi Packet Sniffer tool.
Both OpManager and NPM provide a range of network availability monitoring capabilities. OpManager includes Device Availability Monitoring, Interface Availability Monitoring, Service Availability Monitoring, Website Availability Monitoring, and more. Although OpManager offers a wide array of availability monitoring utilities, it doesn't provide the same level of convenience as NPM. NPM automatically detects, alerts, and generates network availability reports, helping you reduce network downtime with minimal effort. It also allows you to troubleshoot challenging and intermittent availability problems by giving you access to historical network performance tracking.
Both OpManager and NPM have their merits, offering an enterprise-grade and scalable solution to network performance monitoring, so your final decision should be informed by which is most suited to your company's individual needs. A 30-day free trial of NPM is available.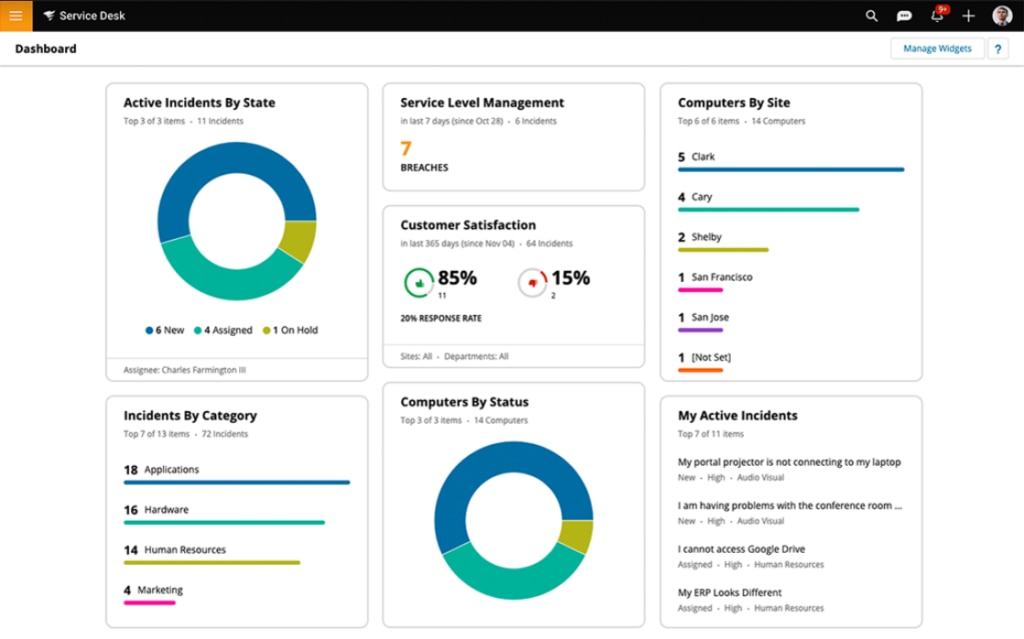 If you're looking for a service desk solution, then SolarWinds Service Desk is a powerful ManageEngine alternative. This tool provides incident management, problem management, a comprehensive knowledge base, and much more. Both ManageEngine Service Desk Plus and SolarWinds Service Desk offer a comprehensive approach to providing a service desk solution. There are several similarities between these two tools. Both provide incident management, asset management, and problem management capabilities.
To compare the differences between these two products, I'll use incident management as an example. SolarWinds Service Desk incident management solutions help you simplify your ticketing system, allowing you to easily manage tickets submitted via email, phone calls, service portal, mobile application, chat, or even face to face. SolarWinds emphasis is on increased collaboration from one service provider to the next, giving your employees added flexibility. SolarWinds Service Desk is an impressive tool featuring automated incident tracking, so you can focus on what matters to your business.
ManageEngine Service Desk Plus also allows tickets to be submitted and converted via multiple channels, including email, phone calls, and a web-based self-service portal. However, the options provided aren't as extensive as those provided by SolarWinds Service Desk. The ManageEngine tool also automates the ticket workflow, saving you time and resources. The key difference between these tools is SolarWinds seems to put a greater emphasis on simplicity and productivity, making your team's day-to-day activities easier and more efficient.
SolarWinds Service Desk also offers asset management features, making it a suitable ManageEngine Desktop Central alternative. Service Desk helps you consolidate your assets with a unified IT asset management dashboard. With Service Desk API technology, you can manage your assets, help desk tickets, and software license updates easily. You can visualize the full asset lifecycle, helping you identify areas where you can reduce asset costs. Service Desk asset management capabilities are highly automated, letting you automate asset discovery and risk detection. You can access a 30-day free trial of SolarWinds Service Desk here.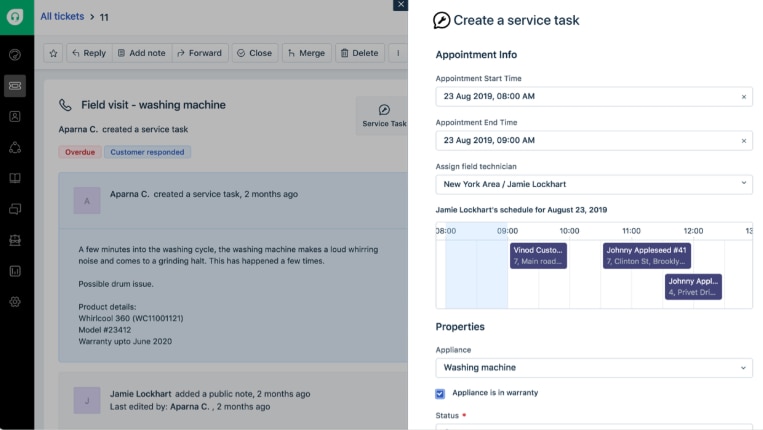 Freshdesk is another popular service desk provider and may be an option for smaller businesses looking for a ManageEngine alternative. Freshdesk takes a less IT-oriented approach to its service desk solution, which means the tool offers less advanced utilities. This may be suited to companies looking for simplicity, rather than a range of capabilities.
Like ManageEngine Service Desk Plus, Freshdesk has omnichannel capabilities, allowing you to stay on top of conversations from email, phone call, chat, web, and social media, all via a single platform. You're also able to automate every step of your workflow, improving agent productivity, and customer satisfaction.
Freshdesk is a dynamic and colorful ManageEngine alternative providing a clean and user-friendly experience. It's a good choice for companies who want access to key service desk capabilities, like automated workflow, without the added bells and whistles. If simplicity is what you're looking for, Freshdesk is worth considering. A 21-day free trial is available.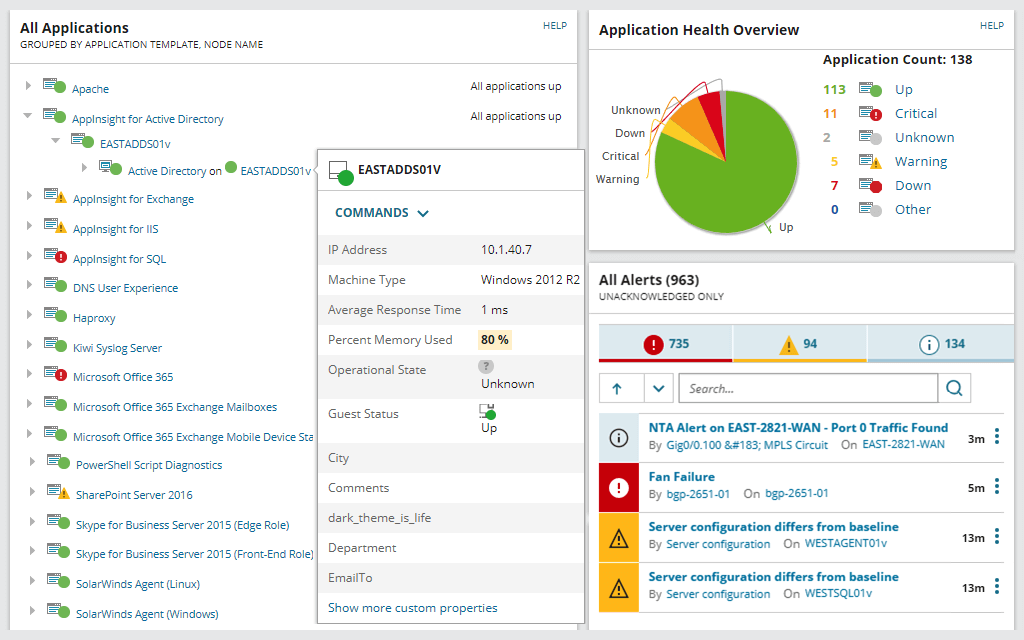 In addition to network monitoring capabilities, ManageEngine OpManager also provides server monitoring features. OpManager offers multi-vendor support to monitor servers and critical applications continuously. It periodically monitors servers via WMI and SMNP protocols to ensure they're performing as expected. While these utilities offer added value to the OpManager network monitoring solution, they aren't as comprehensive as some users might like.
SolarWinds SAM provides a specialist server and a versatile and sophisticated application monitoring solution. As a server monitoring solution, SAM is an excellent ManageEngine alternative, affording users a greater range of server monitoring features. A 30-day free trial of SAM is available.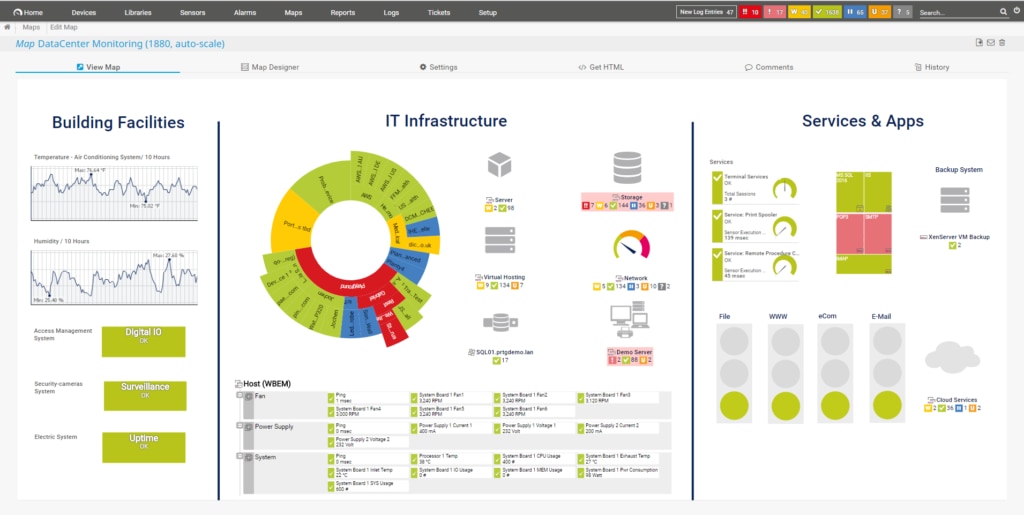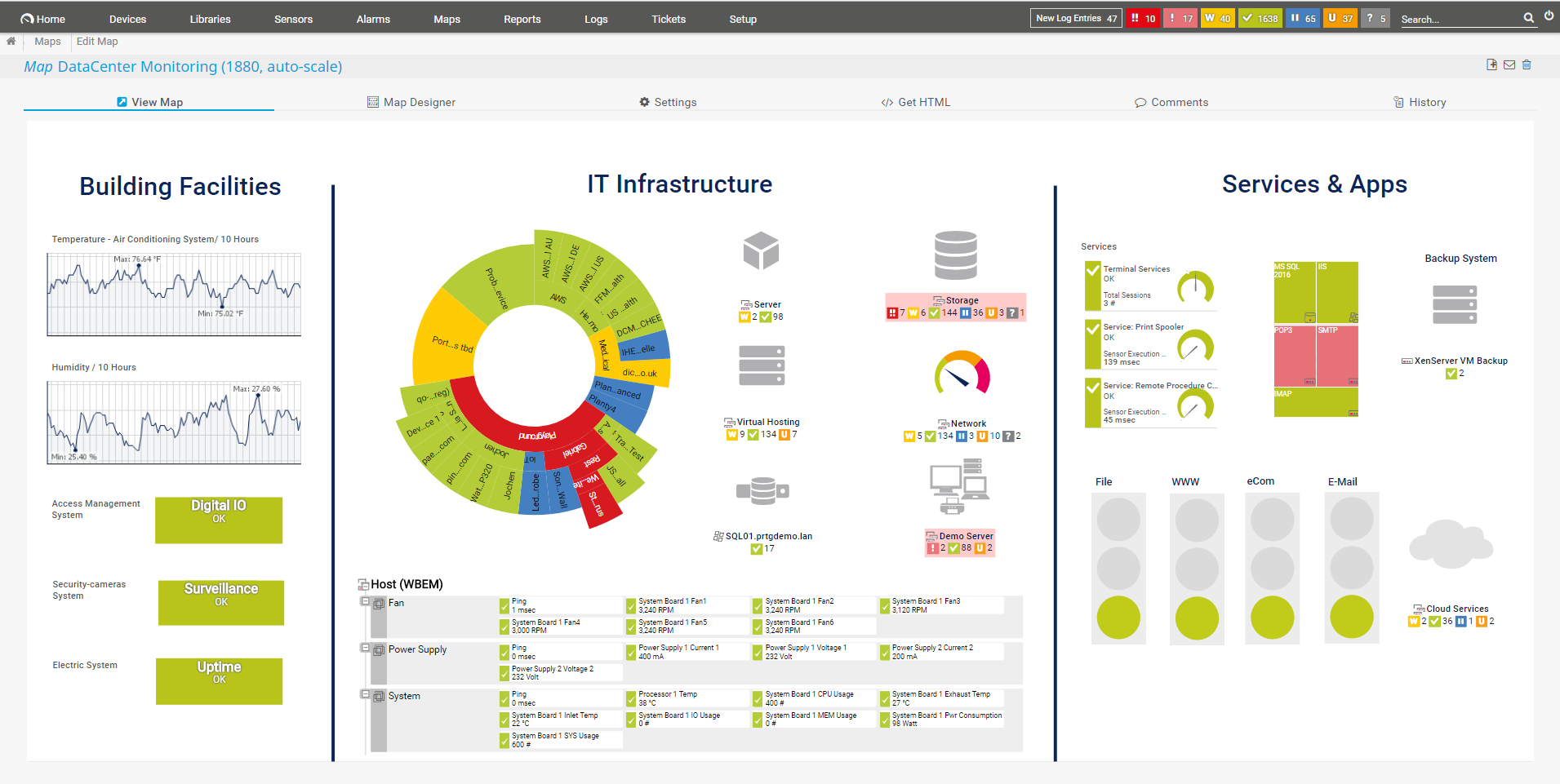 Paessler PRTG Network Monitor is another ManageEngine OpManager alternative. PRTG differs from the vast majority of network monitoring tools on the market because it's a sensor-based solution. The benefit of this approach is the solution is what you make of it, allowing you to choose whichever sensors your company requires. The fallback is the package giving you access to unlimited sensors is expensive and the pricing model may not be cost-efficient for smaller companies.
PRTG is a good alternative to OpManager if you value maximum flexibility and customizability. With this tool, you can make the most of every utility available to you and simply deactivate the sensors you no longer need. PRTG offers a sensor for almost every component imaginable, allowing you to monitor the systems, devices, traffic, and applications in your IT infrastructure through a single interface. You can access a free 30-day trial of PRTG unlimited edition here.
Choosing the Right ManageEngine Alternative
Although ManageEngine provides a range of powerful and impressive tools, they aren't suited to all businesses. If your company is looking for a ManageEngine alternative more cost-efficient, user-friendly, or customizable, then there are plenty of options to consider. Overall, SolarWinds NPM tops the ranks as the best ManageEngine OpManager alternative, while SolarWinds Service Desk offers the best alternative to ManageEngine Service Desk Plus and ManageEngine Desktop Central. You can access a free trial of NPM here and a free trial of Service Desk here.
*As of June 29, 2020