This guide will help you understand VMware server virtualization and the benefits it can bring to your business. VMware is a well-known product option for server virtualization. Choosing a VMware product—and a compatible tool for in-depth virtualization management—allows businesses to enjoy the common benefits of virtualization VMware can offer, including efficiency and cost-reduction.
In addition to outlining the benefits of virtualization VMware for businesses, this guide will also review some of the best virtual machine monitoring and management tools compatible with VMware virtualization. Of these, SolarWinds® Virtualization Manager (VMAN) ranks highest as the easiest to use, most scalable, and most versatile solution.
With a VMware virtualization software, you can:
Take advantage of VMware virtualization more efficiently without increasing the cost of hardware and virtualization services
Have a complete overview of your VMware virtualization utilization with forecasts of available resources for virtualization
Get up-to-date status reports and quick alerts on events in your virtualized servers
Get convenient and effective tips on how to improve monitored virtual servers in VMware, with the possibility to integrate this data with the software for monitoring the entire IT environment of your organization
In my opinion, a proven solution for your organization would be the SolarWinds VMAN product. A 30-day free trial of VMAN is available for download.
What Is VMware Server Virtualization?
Many businesses deploy multiple servers for their IT needs, but in many cases these servers aren't used at their full capacity, which leads to bloated operating costs and inefficiencies. One answer to this problem is server virtualization.
Server virtualization refers to the creation of software-based versions of the physical server. The process of virtualizing a server involves dividing one physical server into several isolated and unique virtual servers. The resulting multiple server instances operate in parallel, separated in terms of function but relying on the same underlying hardware.
Server virtualization provides businesses and IT professionals with an effective way to boost agility and productivity within an organization, while in many cases reducing IT hardware expenses by reducing the need for additional physical servers. Companies may also leverage server virtualization to mask resources on a server from users of the server. These masked resources might include the identity and number of processors, VM operating systems, and certain physical servers.
How Does VMware and Virtualization Work?
Now that you understand server virtualization, you may be wondering what the relationship is between VMware and virtualization. VMware provides virtualization software and is a popular choice among companies looking to leverage the benefits of server virtualization.
VMware server virtualization software offers a straightforward way to simulate hardware and establish a virtual computing system. Using a VMware server virtualization tool makes it easier for businesses to establish and manage a virtualized environment, as described below.
Virtual environments are made up of virtual machines (VMs). In IT infrastructures, a virtual computer system is referred to as a virtual machine—an isolated software container with an application and operating system inside of it. Every self-contained virtual machine will work independently. Having multiple virtual machines on one device allows several applications and operating systems to run on a single physical server. Virtual machines are separated from the host by a software layer called the hypervisor, which allocates resources to the VMs.
Using VMware virtualization technology allows businesses to more easily create and handle this kind of virtual environment. As a result, VMware server virtualization can allow businesses to maximize server resources and minimize the amount of hardware necessary for key operations. This consolidates the server, typically improving productivity and minimizing costs.
There are three types of server virtualization, which are outlined below.
1. Full Virtualization
Full virtualization utilizes a hypervisor, a type of software that communicates directly with the physical server's CPU and disk space. The hypervisor tracks the physical server resources and ensures every virtual server is kept independent and unaware of other VMs. Hypervisors also relay resources to the appropriate virtual server from a physical server, as applications are being run. The key limitation of full virtualization is hypervisors have their own processing requirements, which can cause a lag in application and server performance.
2. Para-Virtualization
Para-virtualization entails the complete network operating as a single unit, which is different from how full virtualization functions. In para-virtualization, all virtual server operating systems are aware of each other, which means the hypervisor doesn't need to consume as much power while processing and managing operating systems.
3. OS-Level Virtualization
OS-level virtualization, which stands for operating system-level virtualization, doesn't use a hypervisor at all. Rather, OS-level virtualization uses its virtualization capability (a part of the operating system on the physical server) to perform the hypervisor tasks and responsibilities. For this to work, however, all virtual servers have to run the same OS.
Benefits of VMware Virtualization Technology
This guide has already touched on a few of the benefits of VMware virtualization technology, but there are many more worth mentioning:
Quicker workload deployment
Improved performance
Increased server ability and reduced or eliminated downtime
Increased responsiveness and IT productivity
Increasingly automated operations, simplifying IT management processes and driving costs down
Ability to provision resources and applications faster
Simpler disaster recovery and business continuity
Simplified management of the data center
Establishes a software-defined data center
Lower operating costs
Mitigated server complexity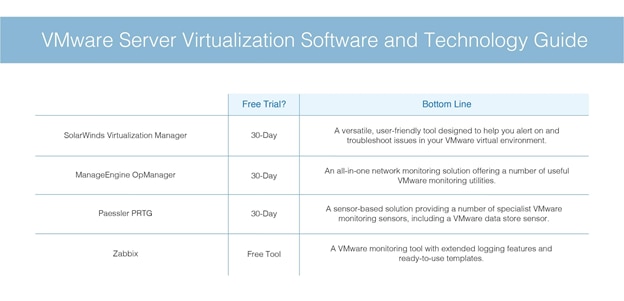 Best VMware Virtualization Management Software
As this guide has demonstrated, the benefits of virtualization VMware technology are significant. But unfortunately, implementing VMware server virtualization isn't entirely straightforward. To make the most of server virtualization and ensure its ongoing success, it's important for companies to use the right VMware virtualization software for monitoring and managing their deployments.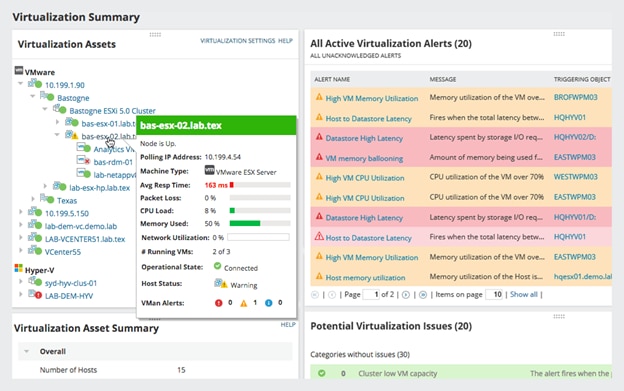 SolarWinds Virtualization Manager (VMAN) is a user-friendly, enterprise-grade virtualization management solution for monitoring and managing VMware, Hyper-V, and Nutanix machines. This highly versatile tool was purpose-built to accelerate troubleshooting by providing detailed insight into performance metrics across your virtualized environments. With VMAN's virtual machine management utilities, you can track thousands of metrics and counters using a single user interface.
This tool features built-in dashboards, powerful reporting, and a sophisticated alerts system to keep you informed of important changes in your virtualized environments, enabling you to take steps to resolve issues proactively. I found plenty of customization options available in VMAN to tune this program to suit your unique virtualization management requirements.
In our test, VMAN's virtual machine management utilities allowed us to efficiently analyze storage I/O performance. This solution can be used to monitor multiple storage vendors, configurations, and models, giving IT administrators invaluable insight. You can also use VMAN to improve VM performance problems by rapidly deactivating virtual machines and reallocating resources to free up latency and IOPs for additional VMs sharing a storage resource. Even with the free trial version, I found these SolarWinds features to be helpful in daily VMware optimization.
You can watch a VMAN overview in the video below:
For companies anticipating growth, VMAN capacity planning tools are especially useful. This utility let me use trends and data from a virtualized environment to predict future resource needs and growth. With the easy-to-use capacity planning wizard, you also can run modeling scenarios to predict what might happen if hardware failure were to occur or if additional VMs were added.
While I was testing this VMware virtualization software, I found it ideal for businesses of all sizes, providing an intuitive and centralized solution to your virtualization management needs. If you want to try it in your organization a 30-day free trial is available on their official webpage. License for VMAN starts at US$1,716.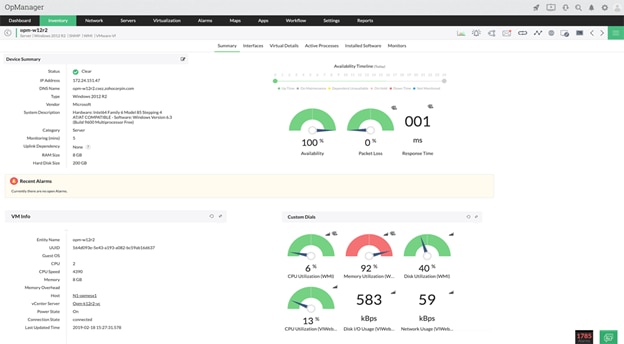 ManageEngine OpManager is a highly versatile and popular network performance monitoring tool with several virtualization management utilities, including a dedicated VMware Monitor. The VMware Monitor tool enables you to launch VMware server monitoring in a matter of minutes, with no initial configuration required. The process for getting started with this tool is easy—simply provide the host name for the VMware server host and the HTTPS credentials. This will allow OpManager to discover, monitor, and map the virtual machines in that host.
OpManager VMware Monitor offers the ability to generate virtual machine insights, help with troubleshooting, support for capacity planning and resource planning, the ability to manage both physical servers and virtual machines, and more. As an all-in-one solution covering network monitoring, storage management, and much more, ManageEngine OpManager may not be well-suited to businesses looking for a more specialist virtualization management solution. You can access a 30-day free trial of ManageEngine OpManager here. Standard edition for 100 devices and two users starts at US$1,995.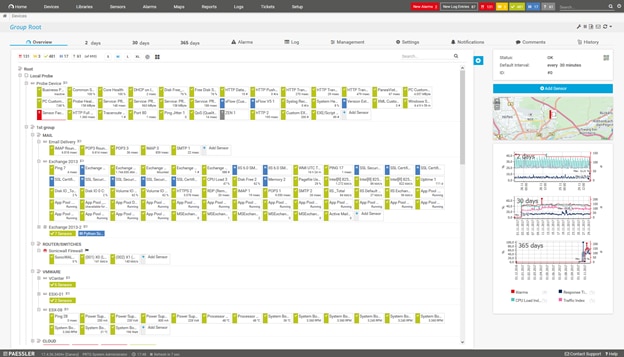 Paessler PRTG is another all-in-one network monitoring solution with some notable VMware monitoring and management capabilities. PRTG can be used to monitor every aspect of your virtual environments and is pre-configured to monitor your complete VMware installation. Paessler PRTG partners with VMware technology, which means its VMware monitoring and management capabilities are highly VMware-compatible.
PRTG is a sensor-based solution, allowing you to make it your own and only pay for what you use. Its VMware monitoring sensors include VMware Virtual Machine Sensor, VMware Host Hardware Status Sensor, VMware Data Store Sensor, VMware Host Hardware Sensor (WBEM), and VMware Host Performance Sensor. You can leverage these sensors to create a comprehensive VMware monitoring solution. Subscription of PRTG Enterprise Monitor starts with 500 sensors at US$1,750. A 30-day free trial of PRTG is available here.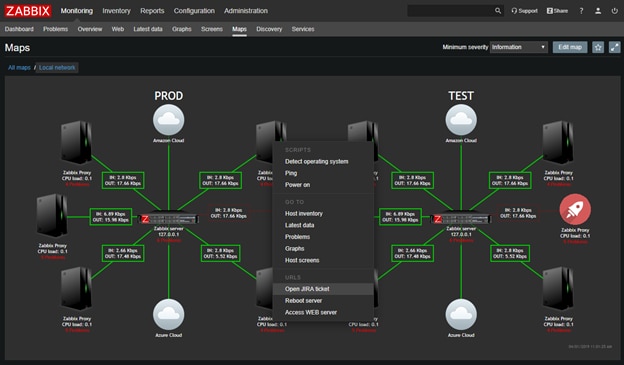 Zabbix is a simple but effective tool for monitoring and managing your virtual machine environment. This lightweight tool is accessible via a user-friendly web-based interface, making it easy to access and navigate. Its most notable VMware monitoring features include extended logging, VM host monitoring, VM resource monitoring, and ready-to-use templates
Another benefit of Zabbix is its vast community of loyal users, where you can access advice on how to make the most of the program. You can download Zabbix here.
Getting Started With VMware Server Virtualization
If you're new to VMware and virtualization and looking for VMware virtualization software that's easy to use but comprehensive, SolarWinds Virtualization Manager comes highly recommended. VMAN is scalable and highly specialist, providing you with everything necessary to monitor your virtualized environments affordably and efficiently. A 30-day free trial is available for download.
*Prices as of 1st of April 2021