To successfully manage virtual machines (VMs), organizations have relied on virtualization technology, or hypervisors. Virtualization allows IT professionals to set up multiple virtual machines on the same hardware. These tools allow users to create self-contained virtual environments designed to mimic a discrete piece of hardware, often a server. By doing so, users can operate multiple VMs on a single server, which more efficiently distributes available compute resources across various applications and operating systems.
As with any digital task, the success of your virtualization efforts will hinge on the tools you use to support your VMs. From open-source tools to heavy-duty, enterprise-grade software, I'll walk you through some of the best server virtualization software on the market. Additionally, I'll discuss my preferred tool for managing these server virtualization software platforms—an essential consideration for businesses running dozens of virtual machines.
Benefits of Server Virtualization
Businesses thinking about setting up virtualized servers stand to benefit from these tools. In addition to better using server capacity, virtualization can make it easier to get new virtualized servers up and running compared to their physical counterparts. Rather than wasting time on purchase orders, installation, and setup, VMs make it possible to provision new servers in a matter of minutes. This means organizations can deploy server resources strategically and quickly meet their evolving needs without added hardware costs.
The best server virtualization can also significantly cut energy costs. Instead of operating multiple physical servers for a set number of tasks, VMs make it possible to consolidate organizational activities on fewer machines. Cutting down the amount of hardware, which consumes power, can keep energy bills down and help businesses meet sustainability goals.
How to Manage Server Virtualization
As organizations consider which platform best fits their server virtualization plan, their industry, and their budget, it's important to think about how they'll manage virtual servers after they've been created. Many hypervisors come with baseline tools to keep VMs running properly, but increasingly complex IT infrastructures with dozens or hundreds of virtualized assets call for independent management tools uniquely suited to these machines.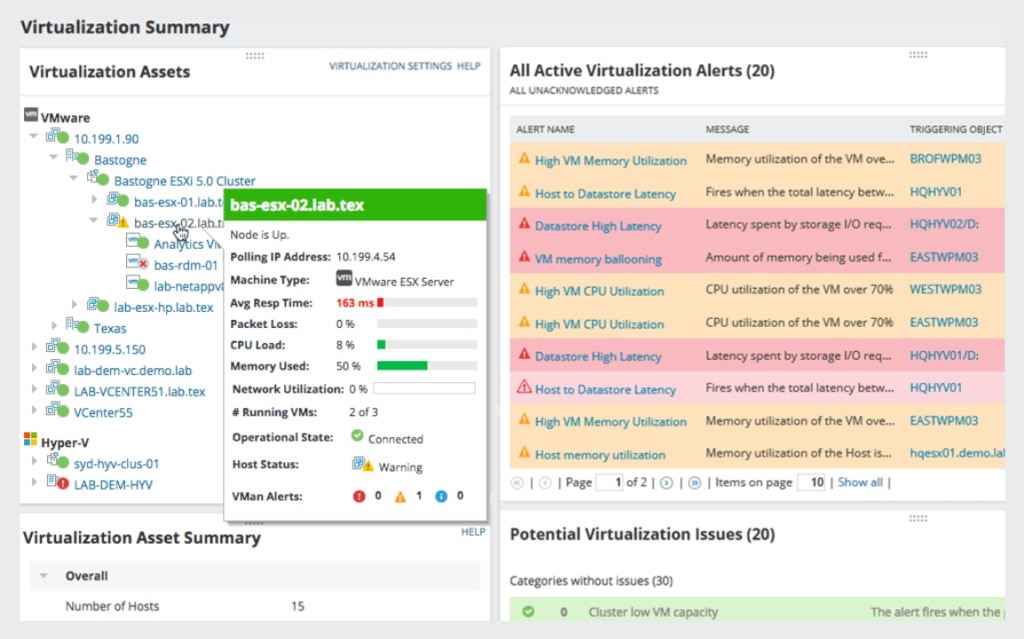 SolarWinds® Virtualization Manager (VMAN) can play a critical role in your virtualization operation by offering centralized oversight and control for servers and other VMs across on-premises, hybrid, and cloud environments. It's not a server virtualization tool in the same sense as the other products on this list—it's more than that. Rather than dig into various VMs one by one, you can use VMAN to gain an instant overview of your virtualized servers, including information about storage, CPU power, and projected capacity.
VMAN also integrates smoothly with server virtualization tools like VMware vSphere and Microsoft Hyper-V, so you can monitor and manage virtual assets from multiple vendors simultaneously. For creating virtual servers, look at the list of the best virtualization server products below. But to ensure those servers work as intended well into the future, don't forget to invest in a monitoring and management tool like VMAN.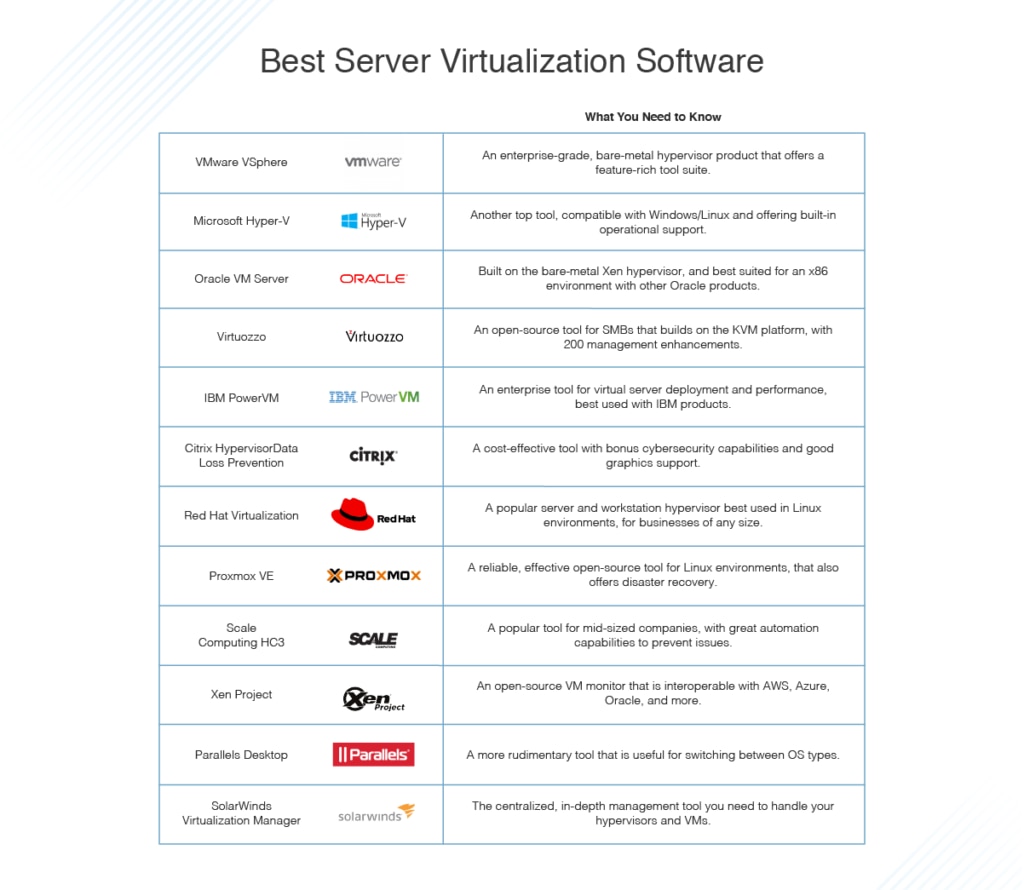 Best Server Virtualization Software List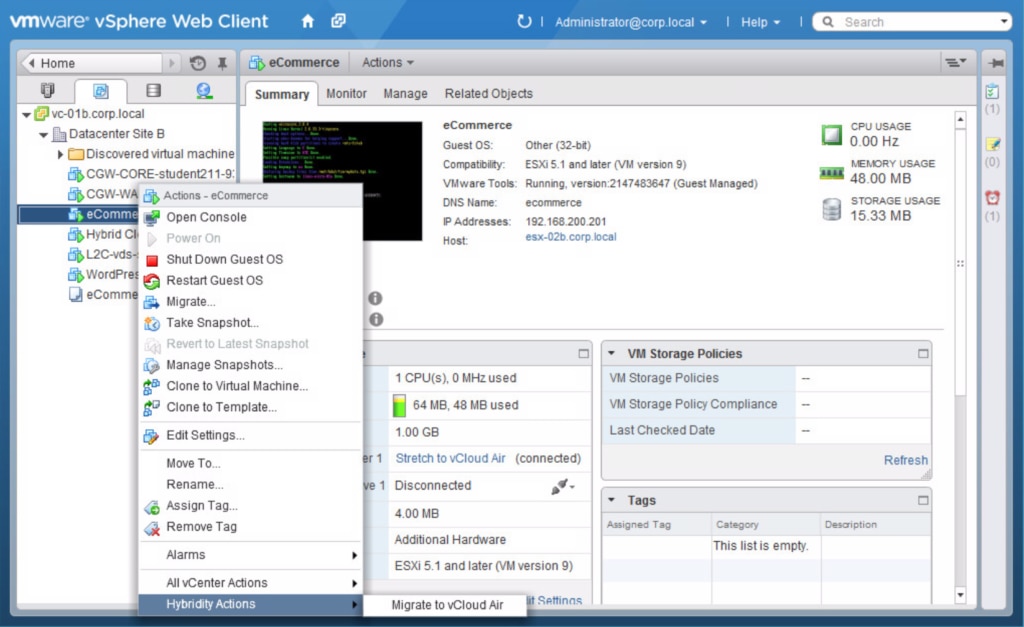 A top choice on the hypervisor market, VMware vSphere is a suite of comprehensive server virtualization software tools for enterprise-grade needs and enterprise-grade IT budgets. Though it may get a little complicated for small and midsized business owners who are relatively new to the world of virtualization, this bare-metal hypervisor is a fan favorite for IT departments needing muscle to set up complex virtual environments.
The wide range of capabilities vSphere offers has made it popular for a long time. For instance, the signature tool in VMware is compatible with the hybrid cloud, enables big data virtualization across multiple hosts, and makes it easy to migrate legacy Unix infrastructures to virtual Linux machines. The many tools within vSphere provide support for load balancing and live migration as well as a range of other helpful functions. Though it's not the cheapest tool out there, it gives virtualization specialists almost everything on their wish list.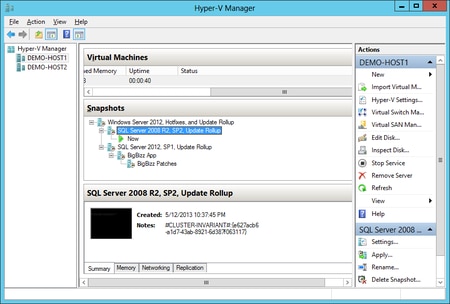 The server virtualization software capabilities Microsoft Hyper-V delivers are tightly integrated with the wider Windows suite of products. This tool gets high marks from most users and provides plenty of critical virtualization tools at a lower cost than VMware vSphere. Users can also take advantage of its Linux support, although Hyper-V is more popular with IT professionals who lean into other Microsoft products.
With this bare-metal hypervisor, organizations can take advantage of the Windows Admin Center, Advanced Threat Protection, and support for software-defined networking. Hyper-V is also designed with the hybrid cloud in mind, and the Server Core App Compatibility Feature on Demand improves virtual server performance for end users.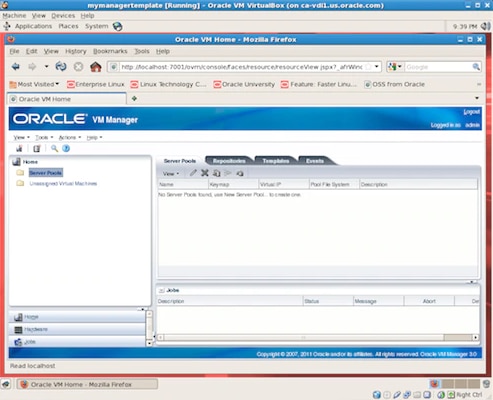 Organizations already relying on Oracle applications should consider Oracle VM Server. Oracle VM is built on the Xen hypervisor, a lightweight bare-metal hypervisor. Specifically suited for an x86 environment, this tool is known for provisioning Oracle virtual servers faster than any competitor because Oracle VM Server comes prepared with Oracle certification and built-in integrations.
With Oracle VM Server, users get a virtualization solution suited to enterprise-grade needs. For example, the product offers comprehensive enterprise management tools across physical hardware and cloud technology and supports rapid application development and deployment with Oracle VM Templates. Additionally, Oracle VM Server allows teams working with other Oracle products to tap into fully integrated tech support across their digital environment.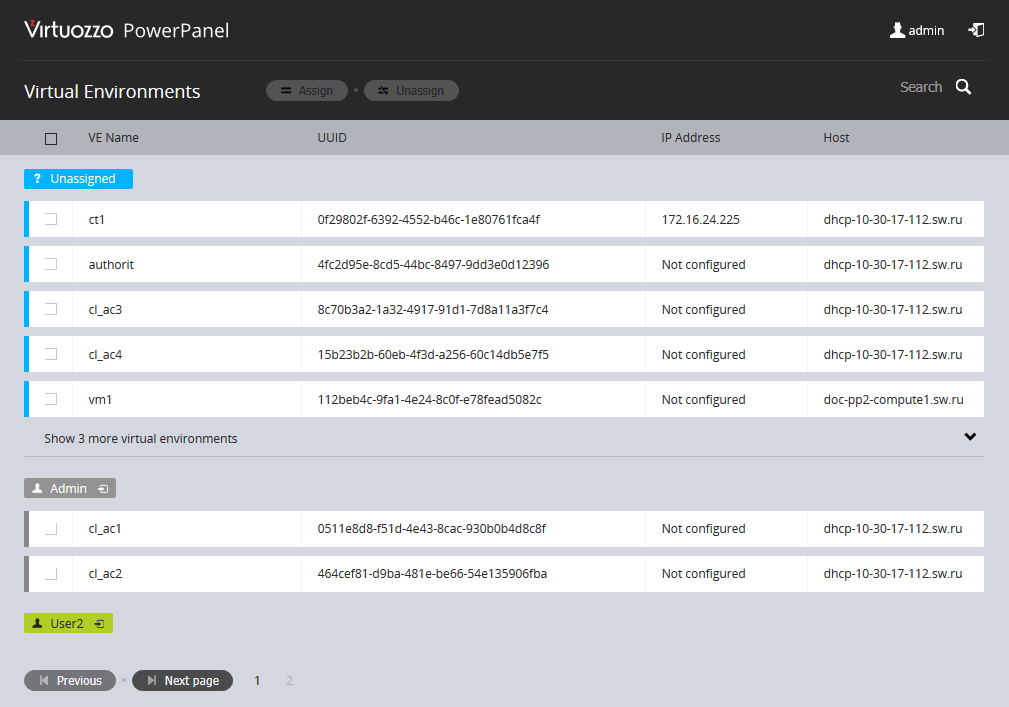 Originally designed to support KVM—a popular open-source virtualization platform and hypervisor—Virtuozzo provides its users with advanced functionality over KVM's basic offerings. Virtuozzo comes with 200 enhancements, making it easier to manage the sometimes complicated KVM environment.
With Virtuozzo, organizations can leverage server virtualization capabilities with other critical features such as storage and containerization. Though it may not be the best option for enterprises managing sprawling virtualized infrastructure, Virtuozzo is still a strong choice for small and midsized businesses looking for a cost-effective virtualization product to help make management easier.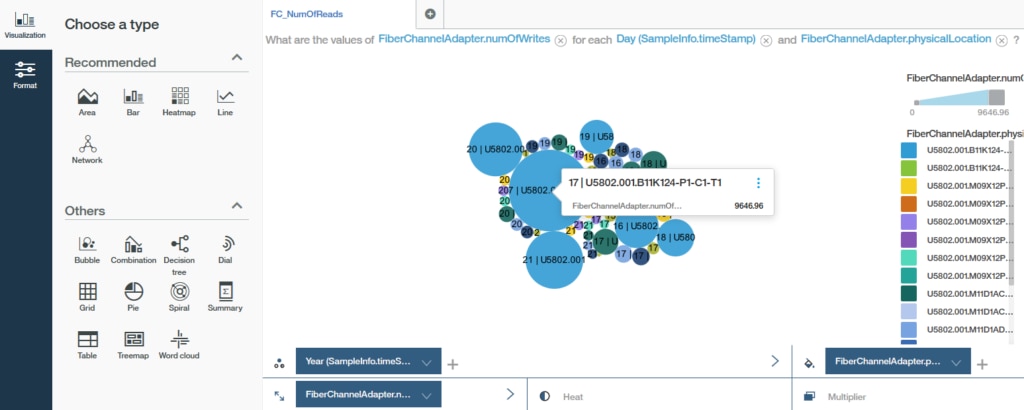 For larger organizations with complex digital environments, IBM PowerVM is a strong choice. As you might expect, PowerVM works particularly well for IBM applications and gets good marks from users for AIX and Linux clients. However, this offering requires skilled IT experts if businesses are going to add value to their virtualization operations beyond the cost of the product. Accordingly, it may not be the best option for small and midsized businesses.
IBM PowerVM provides users with tools to easily scale their server virtualization deployments and meet evolving enterprise needs without hurting their overall performance. The solution also comes with impressive cybersecurity functions, ensuring applications running on virtual machines and other information handled on them are protected against the full range of digital threats.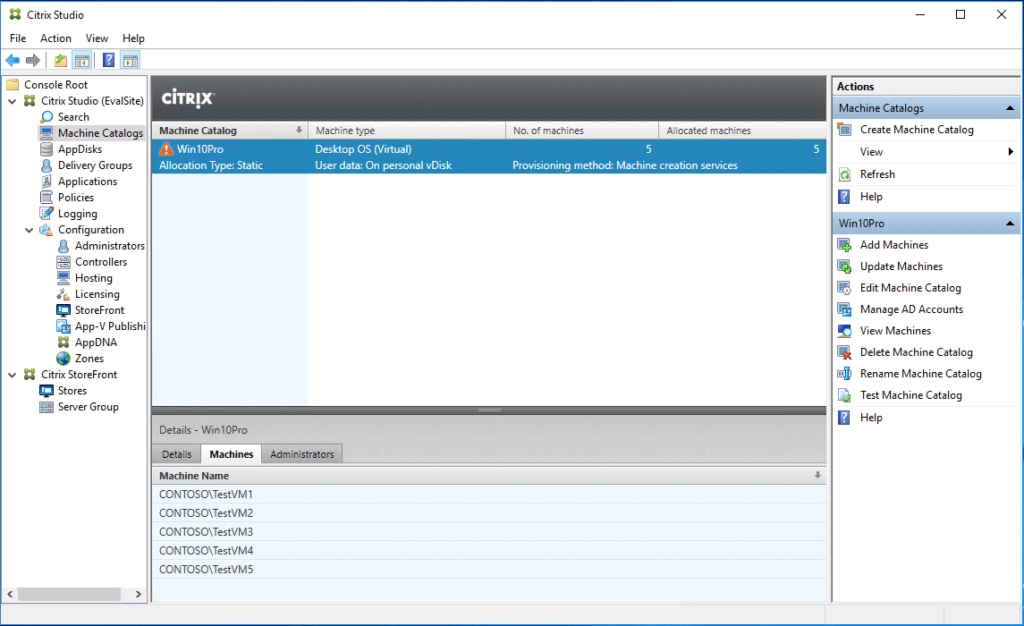 Citrix Hypervisor can support enterprise workloads without being too complicated for new entrants in the virtualization space. It also comes at a lower cost than enterprise competitors such as VMware vSphere, and it consistently ranks in the same tier of user reviews. This makes it a solid investment for organizations of various sizes and industries.
With Citrix Hypervisor, organizations get industry-leading graphics support with NVIDIA and Intel and additional cybersecurity capabilities through Direct Inspect APIs. Like similar proprietary virtualization tools, Hypervisor works particularly well with Citrix Virtual Apps and Desktops deployments, though it's a powerful virtual server consolidation tool for most Windows and Linux workloads.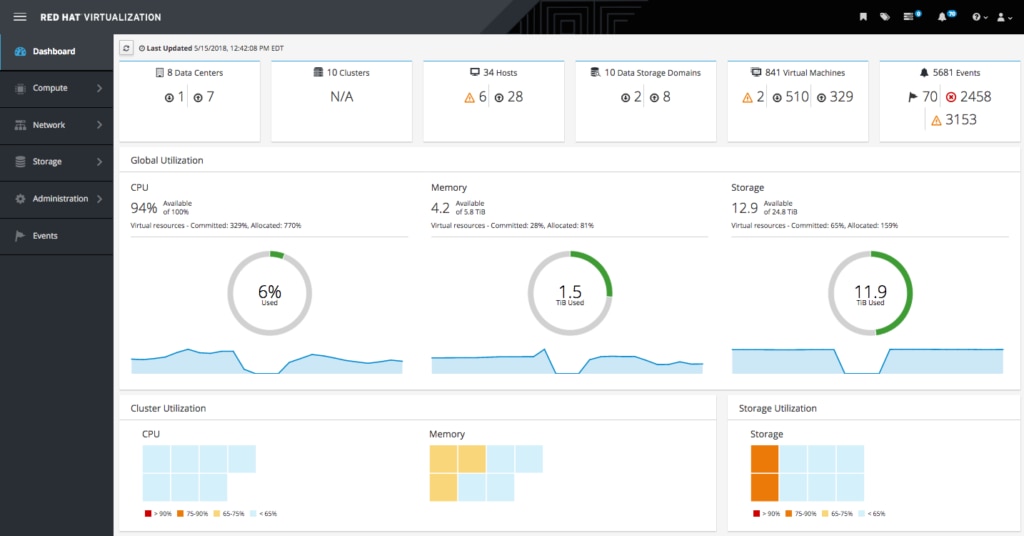 Red Hat is another major name in the server virtualization software space. An open, software-defined platform known for its success in Linux environments—though it works well handling Windows workloads as well—this x86 virtualization tool is a good option for small, midsized, and large organizations serious about their VM deployments.
Red Hat is known for offering impressive virtualization capabilities at a lower price than enterprise competitors such as VMware vSphere. Red Hat is still relatively easy to manage and provides a strong foundation for cloud-native and containerized infrastructures. To get the most out of it, however, it calls for IT professionals well versed in Linux.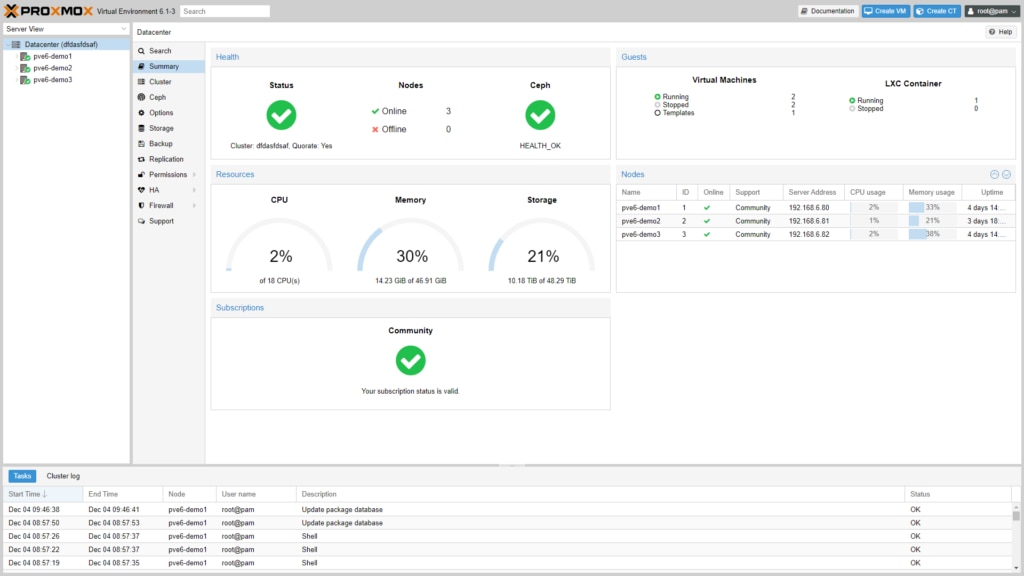 Like Red Hat, Proxmox VE has earned a reputation as a reliable and effective virtualization tool for Linux workloads and environments. Proxmox is known for bringing server virtualization, containerization, and software-defined storage capabilities to a single, open-source product, making it a direct competitor to Virtuozzo.
Proxmox is also known for its disaster recovery tools, web management interface, and management capacity for high-availability clusters. With Proxmox, organizations get powerful virtualization tools as they scale their infrastructure up and out, including network and storage capabilities.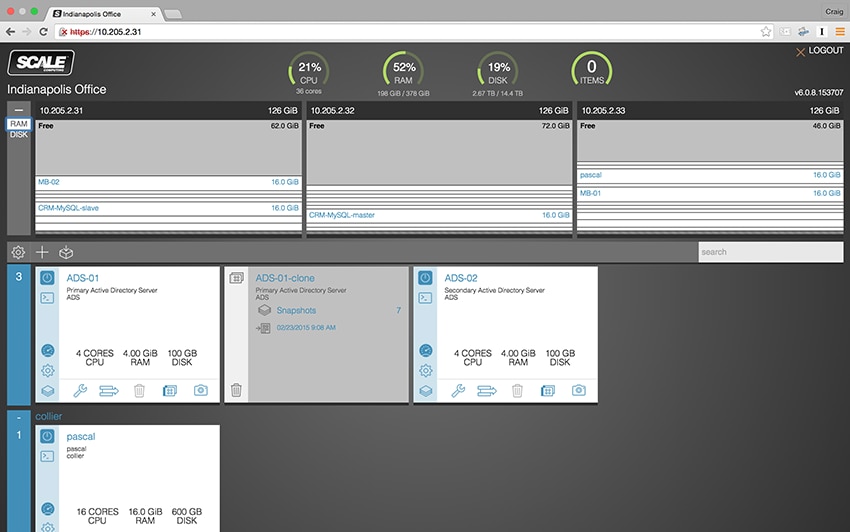 HC3 from Scale Computing is one of the best server virtualization platforms and has become popular with midsized companies. The product folds server virtualization into an overall server, storage, and virtualization tool. By doing so, HC3 gets points for combining disparate functions in one product, helping companies save money and consolidate their tech stack.
HC3 also gets high marks for its automation capabilities. The platform can identify potential problems across virtual infrastructures and resolve them before they cause wider issues. Additionally, HC3 doesn't require users to pay additional software license fees or mandate they purchase external storage capacity.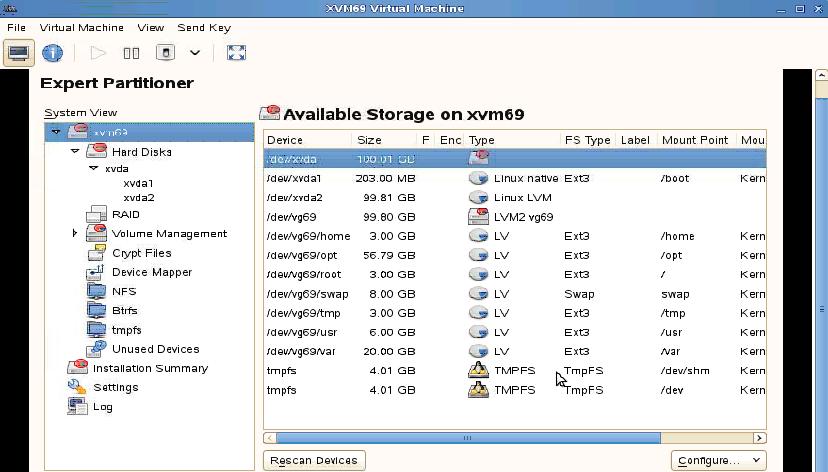 A free, open-source virtual machine monitor (VMM), Xen Project was initially designed by a team at Cambridge University. The team later created their own company centered around Xen Project, which was purchased by Citrix. Since then, Xen Project has partnered with The Linux Foundation as part of its work to drive collaborative tools.
As far as its virtualization specifics, Xen Project is suited for hyperscale cloud environments and is interoperable with AWS, Azure, Oracle, and more. The Xen Project delivers key virtualization functionality for open-source and commercial ecosystems while emphasizing cybersecurity through lean architecture.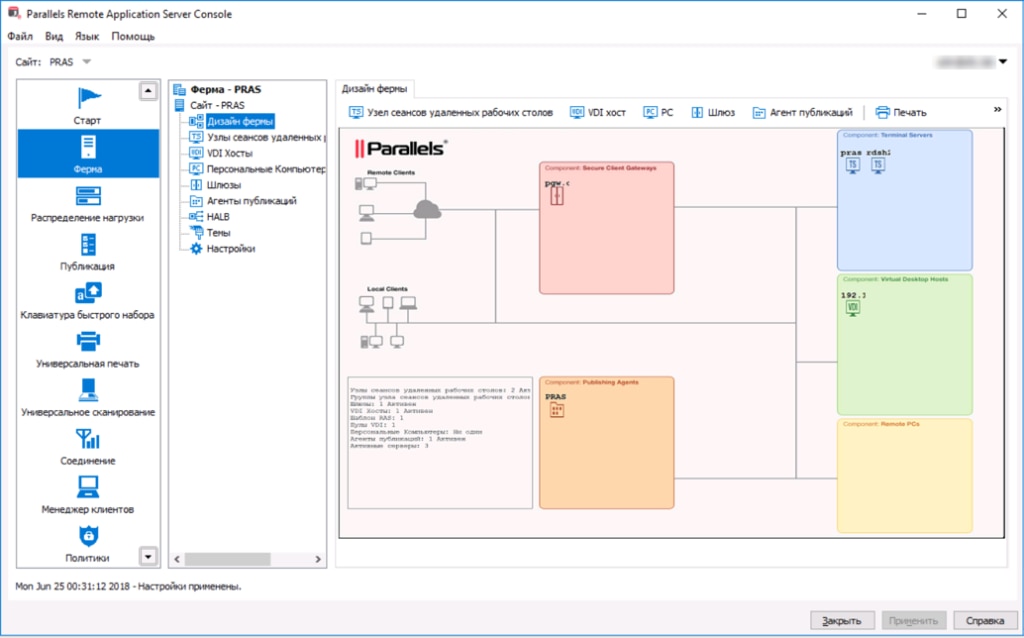 While it's on the rudimentary side of things and differs from the more powerful server virtualization tools on this list, Parallels Desktop is still a reliable virtualization tool for desktop users. This product allows users to operate Windows OS in addition to their native OS—typically a macOS alternative. This is helpful for smaller businesses needing to regularly use software unavailable on their primary platform because they don't have to invest in a completely different tech stack.
Parallels can also help with other environments. Many users may be familiar with its Windows support, but it can also be a solid choice for Linux, Chrome, and older versions of Mac. Parallels comes at an affordable entry-level rate in addition to versions more suited to business needs.
How to Choose the Best Virtualization Software
Today's organizations recognize the importance of investing in their IT infrastructure. For more and more organizations, this means investing in virtualization—especially for servers—as this tech can offer organizations efficiency and cost savings. Still, every IT team needs to make sure they are investing in the right server virtualization software and management solution to successfully use their virtual machines.
With Virtualization Manager from SolarWinds, IT professionals get a full suite of tools to help handle the specifics of virtualized environments. For example, VMAN delivers advanced monitoring capabilities designed to allow IT professionals to keep tabs on important virtualization performance metrics and ensure VMs are running as intended. This tool even offers recommendations for optimal VM size and placement, so you aren't left guessing how to fix performance issues. VMAN comes with dashboards, notifications, and ready-made reports to ensure stakeholders have the information they need to act fast and prevent unplanned outages. The best part? You can try it risk-free during a free 30-day trial to see how SolarWinds VMAN can support your ability to more effectivity and easily manage virtual machines.