In recent years, virtual machines (VMs), including those that use VMware, have become an increasingly popular option for administrators looking to consolidate their systems while also keeping up with the rapidly changing digital landscape.
To ensure your virtual environments function optimally, I recommend you have effective virtualization management processes in place to help prevent slowdowns and outages, avoid VM sprawl, and aid in the overall troubleshooting process. While it's possible to engage in manual virtualization management, any organization looking to make the most of their VMware utilities—including servers, operating systems, storage, and more—needs to invest in a robust VMware management tool.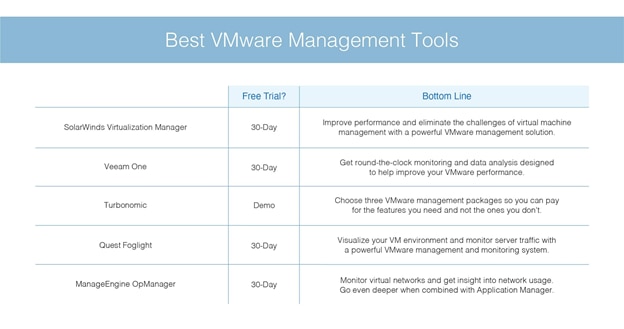 In this guide, I go over some of the basics of VMware management tools, their importance, and offer my list of the top VMware SysAdmin tools currently on the market. At the top of my list is SolarWinds® Virtualization Manager (VMAN), which is an advanced, easy-to-use option for VMware management.
My special attention was focused on features related to resolving the issues of a wide virtual machine environment. In my opinion, VMAN can be very useful for large organizations looking for this type of solution:
Capacity planning for environment units
Pre-configured VMware counters for better monitoring VMs performance
Advanced alerting functions designed to warn you about virtualization issues from virtual machines in your network
To learn about other important features of this software,  visit this page: VMware Application Performance Monitoring Tools
What Are VMware Management Tools?
VMware management tools help admins monitor, manage, and optimize their virtual environments. Just like any regular server or computer, virtual machines need to be monitored to help avoid problems that interrupt productivity and performance. Unfortunately, some of what makes virtual machines a great resource for organizations—including their speed, agility, and scalability—make them more difficult to manage. In particular, because VMs are typically spread out across a system, manual troubleshooting can be a nearly impossible task, which is a real problem when you're trying to get a machine up and running in the middle of a slowdown.
Quality VMware SysAdmin tools can eliminate those issues by offering comprehensive monitoring and alerting to help you manage your virtual environment. In addition to letting you set custom alerts to help ensure you don't miss an issue, VMware management tools can offer you critical visibility into hypervisors including vSphere, Hyper-V, hybrid, on-premises, and cloud environments in addition to VMware.
Why Are VMware Management Tools Important?
VMware management tools are important because all your computing services and hypervisors need to be continually monitored and managed to help ensure optimal performance. When your VMware utilities are experiencing problems—whether resources aren't being distributed properly or slowdowns are occurring—admins need visibility into their systems to find the root cause of the problem. With a VMware management tool, they can get help drilling down into performance issues and accelerate troubleshooting by automating some of the most time-consuming elements of VMware management.
VMware utilities and virtual environments more broadly require a different, specialized approach from what's used to manage and monitor a standard infrastructure. VMware management tools are designed to use those approaches to help minimize downtime and improve overall performance.
Best VMware Management Tools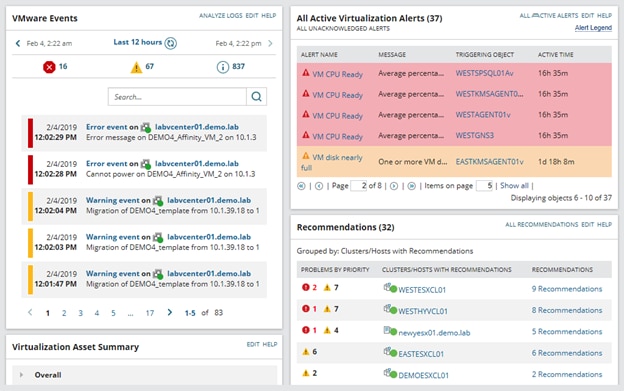 SolarWinds Virtualization Manager (VMAN) is an enterprise-grade VMware management tool designed to help eliminate the challenges that come with managing a virtual environment. VMAN combines virtual machine capacity planning, monitoring, performance management, and optimization to help admins resolve problems faster.
When it comes to VMware management, there are a few questions you need to consider, including questions about where your storage is being used and whether your disks are over-provisioned. VMAN helps you answer these questions, even helping you plan for future workloads with the help of synthetic model capacity planning scenarios to give you an overview of your possible options.
One of the main benefits of Virtualization Manager is the advanced monitoring capability included in the tool. Because VMware uses thousands of counters and metrics to analyze virtual machine performance, it's difficult to read or prioritize the collected data without a tool that makes sense of it. VMAN comes preconfigured with key VMware counters and thresholds you can start monitoring the second you start using the tool.
VMAN also comes with built-in, advanced alerting capabilities. These alerts are divided into potential alerts and active alerts, making it easier to engage in proactive troubleshooting as necessary. These alerts also give you the information you need to target those troubleshooting efforts thanks to Virtualization Manager's VMware events log monitoring and analysis capabilities. The alerts include details of the trigger condition and history as well as remediation advice, all of which can help solve the current problem and help you predict and prepare for future events. Between that and VMAN's complete views of your silos and shared storage, which can help you rethink the ways you use your storage, Virtualization Manager is a great tool for anyone looking to make the most of their VMware.
For anyone looking for a quality all-in-one VMware and virtualization management solution, I recommend SolarWinds Virtualization Manager. You can try the tool free for 30 days before deciding if it's right for you.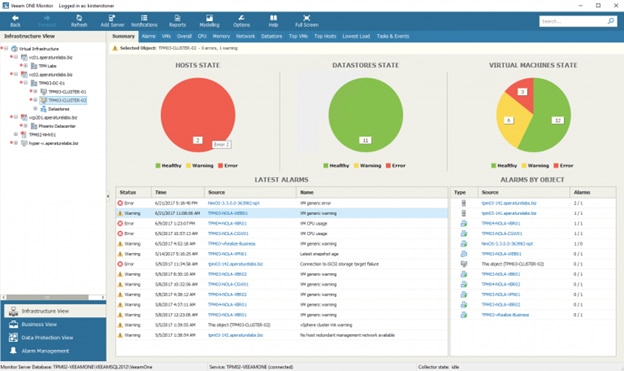 Veeam One is another great option for a VMware management solution. The tool monitors your virtual network resources, including VMware vSphere and Hyper-V virtualization implementations. It can also extend its monitoring to cloud-based services.
Effective VMware management depends on high-quality monitoring, and Veeam One offers round-the-clock, real-time monitoring. The tool's monitors constantly check on its 200 preset sensors and alerts you when any of them detect a potential problem. With Veeam One you can also add your own alert rules and customized monitoring conditions, so you can stay in the loop on the measures and conditions most important to your network and environment. The tool's capacity module offers insight into your ongoing resource utilization and uses historical data to bring you trend analysis you can use to navigate your capacity planning.
One of the best parts of Veeam One, like other VMware management solutions, is the analysis and insight offered by the tool. However, those interpretations aren't for everyone and if you're interested in accessing and interpreting the raw data yourself, the tool lets you build your own custom reports and set alerts based on the actual collected data.
Try Veeam One before you buy with a 30-day free trial.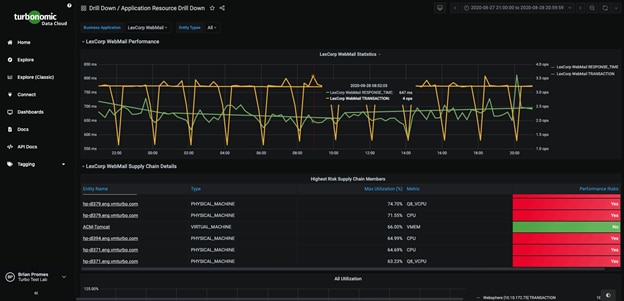 The Turbonomic VMware management solution reflects the virtual environment world's recent shift toward more cloud-based services and away from on-site resources. Even now, most VM products prioritize on-site resources and only occasionally deal with cloud-based services. Turbonomic does the opposite, headlining itself as a tool to monitor cloud resources that can also monitor on-site virtual machines and hybrid implementations.
In short, Turbonomic is a comprehensive virtual machine monitoring and management solution. It comes in three different packages—Essentials, Advance, and Premier—each building on the features offered by the previous edition. In particular, the different packages have different workload capacities. Essentials has a 750 workload capacity while the Advance and Premier editions have unlimited capacities.
The packages also differ in the level of automation they offer, with higher-level tools offering more automation capabilities. However, all include capacity planning help and artificial intelligence (AI) as part of their action recommendation process. The AI can show you where you have over-provisioned, so you can reallocate resources, scale back on services, and cut costs.
One of the biggest advantages of Turbonomic and its different packages is that you can more easily get a solution suited to your needs without overpaying for more coverage than you need. While there's no free trial of Turbonomic, you can get a free demo of the product to see how it works before making an investment.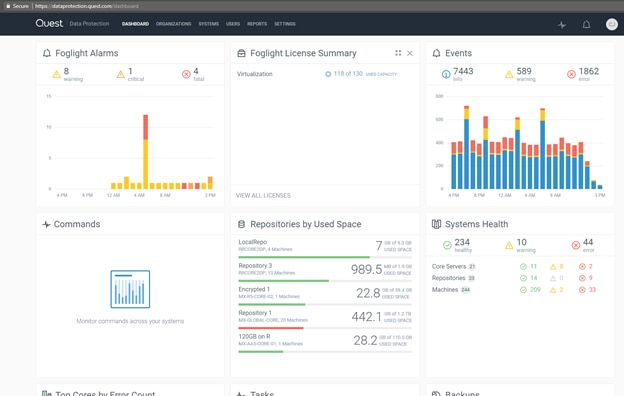 Quest Foglight is a general monitoring solution with multiple versions, including one for virtual machine environment management that works with VMware and Hyper-V. The tool combines physical performance data gathered from the server with information collected at the vSwitch.
The Quest Foglight system has an automated discovery function where it identifies all your servers and their client virtual machines. The system then examines the traffic moving between the two to understand network performance, including using packet-level data to determine exactly which virtual machines and applications are generating the most traffic.
In addition to these monitoring functionalities, Quest Foglight is an effective VMware management tool. You can set the system to adjust resource allocation for each virtual machine and application to account for over-capacity or underutilization in the various areas of your network. Another useful element of Quest Foglight is the visibility the system offers by mapping the topology of your virtual environment. It lets you better visualize the locations of your virtual machines, and you can more easily monitor the flow of physical traffic between your virtual machines and servers.
You can try Quest Foglight for free before committing to the system.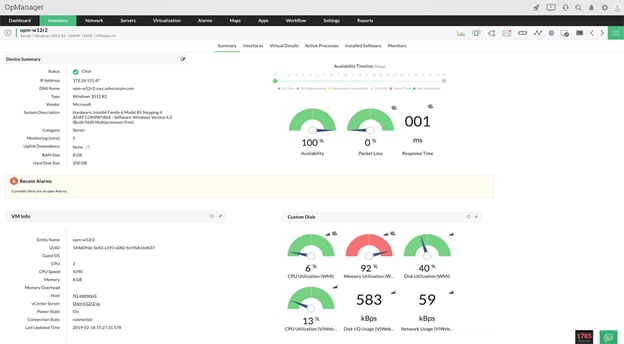 Another great solution for people looking to get their VMware management tools from an all-around top-performing software company is ManageEngine OpManager. OpManager offers top-quality network monitoring capabilities, including resource monitoring supporting virtualization. In addition to VMware ESX servers, OpManager can help with managing Citrix XenServer and Microsoft Hyper-V environments. In addition to VMware monitoring, OpManager offers high-quality backup configuration and alerting systems.
The main reason OpManager isn't higher up this list is ManageEngine has its virtualization management capabilities split across two tools: OpManager and Applications Manager, which monitors VMware ESX/ESXi and VMware Horizon View in addition to other virtual machine software solutions.
If you choose to only invest in OpManager, you'll still get a quality virtualization monitoring and management solution with insight into virtualization network usage. However, if you invest in Applications Manager in addition to OpManager, you'll get more layers of insight and information for your virtual environment, plus details of system activities you won't get with OpManager alone. You can also see line graphs and maps of applications with information from both tools to help you dive deeper into your virtual machines and environment.
You can both try OpManager and Application Manager free for 30 days.
Picking the Right VMware Management Tool
Choosing the right VMware management tool for your needs is an important decision. You need a solution that will help ensure your resources are properly allocated, saving you money and preventing downtime. You also need a solution designed to engage in round-the-clock monitoring, alert you when any thresholds are met, and help you get to the root cause quickly when issues inevitably arise.
While there are a lot of good options on the market, I think the all-around best VMware management solution is SolarWinds Virtualization Manager. The tool offers user-friendly virtualization management, consolidates your most important information in one place, and keeps you abreast of any changes in need of your attention. The tool's smart recommendations help make changes to resource allocation to save money and optimize performance without forcing you to analyze raw data yourself. I'm sure it could be helpful for every VMware user. With VMAN, you get a powerful VMware management solution in an affordable and powerful package.
*As of March 2021