Keeping track of a network's devices, data, and other details is crucial to maintaining your network's productivity and organization. However, there's a lot to do when it comes to network management—trying to record important information, organize physical and logical equipment, and troubleshoot performance issues can be overwhelming.
My advice is to invest in remote network monitoring software, like SolarWinds® ipMonitor®, to help you arrange and manage your network's mechanisms. SolarWinds ipMonitor is designed to continuously observe your network in real time, helping ensure you get an accurate and complete picture of your network's activity. SolarWinds Network Performance Monitor (NPM) offers even more in-depth remote network management tools, supporting automated network diagram creation and report generation for your network's software and hardware. Both programs offer free trials—you can download a 14-day free trial of ipMonitor and a 30-day free trial of NPM to get started.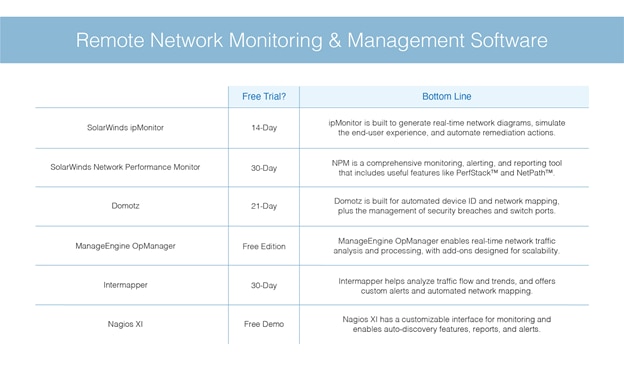 What Is Remote Network Monitoring?
Remote network monitoring is the process of remotely overseeing, managing, and regulating devices on your network. Use remote network monitoring to collect your network's traffic data, and then use the information to track trends and supervise your network's performance. Remote network monitoring can also help you detect problems like network traffic congestion, collisions, and dropped packets. With this information, you can improve remote network management and troubleshooting. In a single sentence, remote network monitoring helps ensure your networking is running as it should.
You can install remote network monitoring software directly to your network, and these systems will monitor your network no matter where they, or you, are located. This means you can do the work you need from the right places, without compromising your network's safety. Remote network monitoring keeps a watchful eye on your network while saving you time, energy, and resources.
How Do I Start Remote Network Monitoring?
To bring remote network monitoring into your IT environment, you first must enable a remote network monitoring probe or agent, often abbreviated as RMON agent or RMON probe (RMON stands for remote network monitoring). An RMON probe is a device devoted to the task of remote network management. Here are the main ways to bring an RMON agent into your network's environment:
Dedicated RMON probe: Permanently or temporarily install a standalone device focused on remote network monitoring
Embedded RMON probe: Plant an RMON probe into the circuitry of an existing network device
Software RMON probe: Operating systems sometimes include devices that act as remote network monitoring agents
There are two main categories of remote network monitoring.
Remote Network Monitoring 1 (RMON1)
RMON1 addresses the first two levels of a network—the physical layer (first level) and link layer (second level, which includes the MAC layer). RMON1 can provide data on nine entities commonly known as the nine RMON1 groups.
Remote Network Monitoring 1 (RMON2)
RMON2 extends to the seven higher protocol layers of an IT system, gathering traffic statistics by specifying protocols and applications. This knowledge is crucial to understanding your network's environment, as well as predicting and troubleshooting network issues.
Basically, RMON1 offers a segmented network view while RMON2 brings a more global perspective of a network. Using both kinds of remote network monitoring can give you the most in-depth understanding of your network.
Why Do I Need Remote Networking Monitoring Software?
There are many benefits to using remote network monitoring tools, ranging from incredible features for network protection to protecting your own peace of mind. Let's go into more detail about how a remote network monitoring system can aid a network's longevity and success.
Access Information From Anywhere
A remote network monitoring software is designed to supervise your network's devices from afar, so if a device goes down, you can troubleshoot from anywhere. Not only can this lower your risk of outages, but remote access is a necessity in today's virtual work world.
Real-Time Surveillance
Many remote network monitoring systems offer real-time monitoring, keeping everyone on the same page regardless of physical location. Updated network maps and metrics help ensure you get a complete, accurate picture of your network environment.
Organize Your Network's Information
A remote network monitoring tool can help you assemble a network's devices by size, location, and purpose. Remote network monitoring software could also automatically group different elements of your network together, saving you time and brainpower.
Automatized Alerts
Remote network monitoring tools often enable the creation of specific alerts, alarms, and notifications for certain issues. Some remote network monitoring software can even support follow-up tasks that automatically act when specific issues occur.
Customize User Access
Nearly all remote network monitoring software uses encrypted authentication, which helps ensure every user logs in the same way, to help protect your network from uninvited visitors. Many remote network monitoring tools can also allow for user-level options and administrators.
Easily Retrieve Your Devices
You can access all critical devices using a remote network monitor, as long as you have direct access to the network. However and wherever you connect to your network, you'll be able to gain entry for all your remote network management needs.
Best Tools for Remote Network Monitoring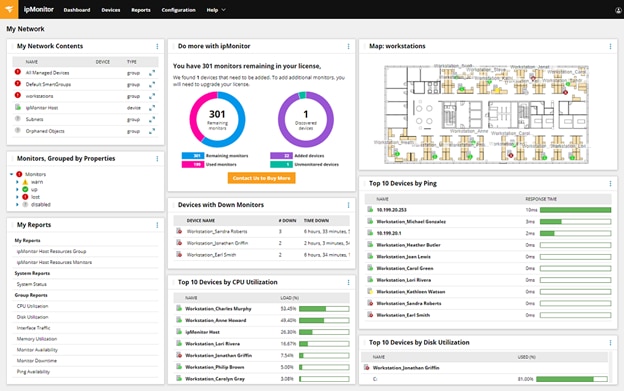 SolarWinds ipMonitor is remote network monitoring software designed to quickly scan and discover your network's infrastructure to create network maps that update in real-time. Its easy-to-use interface includes an embedded web server and database, yielding an integrated platform and allowing for a simple installation process. ipMonitor enables you to simulate end-user experience, customize alerts with options for recovery actions, and collect tons of network data using SmartMonitor. There's a SolarWinds ipMonitor 14-day free trial available for download.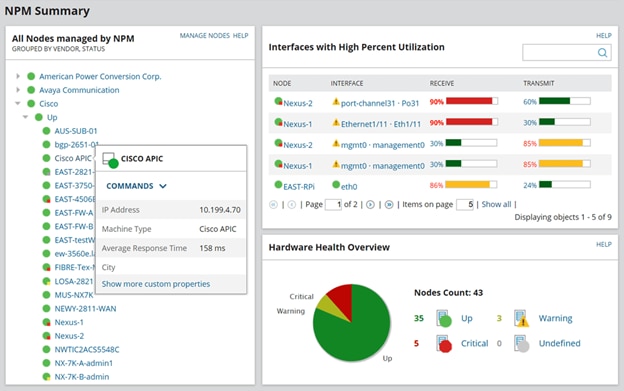 SolarWinds Network Performance Monitor (NPM) is a comprehensive remote network monitoring tool designed to help you troubleshoot issues such as outages and delays. NPM offers insight into your network's software and helps monitor your hardware's temperature and fan speed, power supply, and other health aspects. NPM allows you to automatically discover devices and track a range of key metrics, and NPM is designed to generate custom network performance reports using one of over 100 templates. You can also gain access to other great tools like the PerfStack™ dashboard, where you can compare and correlate different data types, or the NetPath™ feature for hop-by-hop analysis. You can try these features with a 30-day free trial of NPM.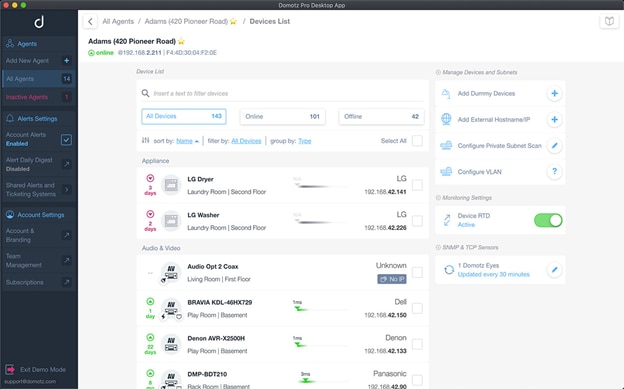 Domotz offers handy remote network monitoring features such as bandwidth analysis, SNMP and TCP monitoring, and customizable alerts. These alerts, as well as other reports and maps, can be shared via the Domotz desktop and mobile app designed to allow for in-house collaboration. Automated device ID and network mapping can enable you to create topology maps, manage switch ports, and check for security breaches. There's no limit to the number of devices you can monitor, and they offer a 21-day free trial.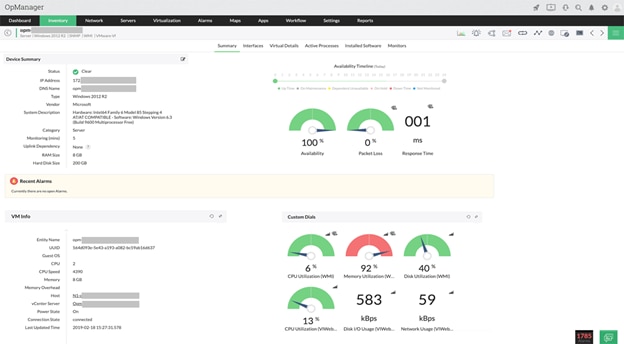 ManageEngine OpManager is another option for remote networking monitoring, as it enables real-time network traffic analysis, network configuration management, and SNMP trap processing. Scalability is the main focus of ManageEngine OpManager, and its architecture comes with add-on abilities (some of which need a special license). There are three paid options—Essential, OpManager Plus, and Enterprise—as well as a free edition, which offers limited functionality for up to 10 devices.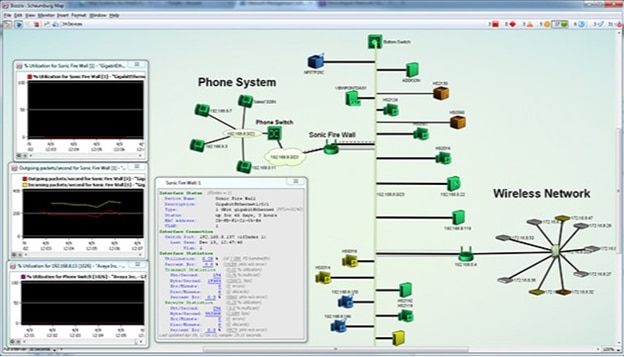 Intermapper is a remote network monitoring system designed to allow you to analyze traffic flow, trends, and interfaces across your network. You can make and receive custom alerts, as well as map your network quickly with auto-discover features. Intermapper can run on Windows, Linux, or Mac, and you can try it free for 30 days for up to 500 devices.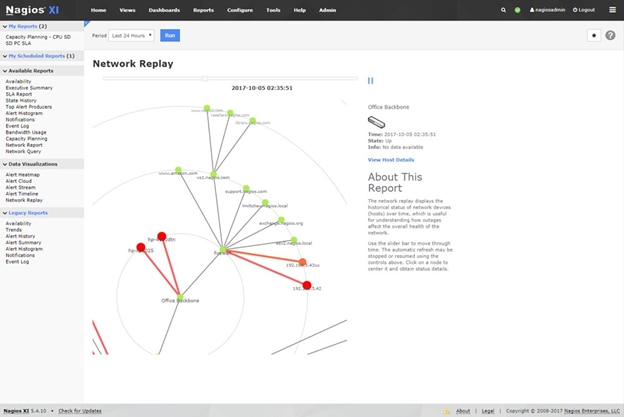 Nagios XI is a standard remote network monitoring tool with auto-discovery features for network monitoring and management. Nagios XI is designed to send graphs, reports, and alerts via SMS or email, helping you keep track of your network's needs. The built-in configuration wizard could help you easily install Nagios XI and use its customization options. Nagios XI comes with three license levels, as well as an online demo.
Final Thoughts on Remote Network Monitoring
Remote network monitoring is an essential part of maintaining your network's speed and safety, while also keeping your network's information organized to help avoid future issues. A remote network monitoring tool can enable you to easily check on your network's devices and data in real time from anywhere in the world, plus receive crucial alerts and updates on your network's performance. SolarWinds Network Performance Monitor is my top pick for a network monitoring and management tool.
*As of March 2021