As organizations increasingly offer work-from-home (WFH) or hybrid work solutions, finding reliable remote desktop control software has never been more crucial. The best remote desktop software for Windows not only offers end users the ability to easily and securely connect with IT professionals but also allows IT teams to monitor devices and update systems without interrupting the workflow of the end user.
This guide reviews what we think are good choices for remote desktop software for Windows, taking into consideration suitability for business use, cost-effectiveness, user-friendliness of the interface, and other key factors. TeamViewer is a common choice, and we review it below, but there are alternatives you should consider. Overall, we believe SolarWinds® Dameware® is an excellent remote desktop software for Windows, regardless of network size.
Why You Need Remote Desktop Control Software
Top Remote Desktop Software List for Windows
Choosing the Right Remote Desktop Software for Windows in 2022
Why You Need Remote Desktop Control Software
For enterprises with multiple locations, IT needs to be able to access and troubleshoot workstations remotely when needed. What's more, many offices have moved to WFH or hybrid work models. For IT professionals adjusting to increasingly off-premises computers and other devices, WFH and hybrid work can mean headaches around troubleshooting problems and updating devices quickly and securely. Adopting a top remote desktop solution allows for easy file sharing, screenshot capture, communication, updates, and troubleshooting by allowing users to access screens remotely from anywhere, anytime.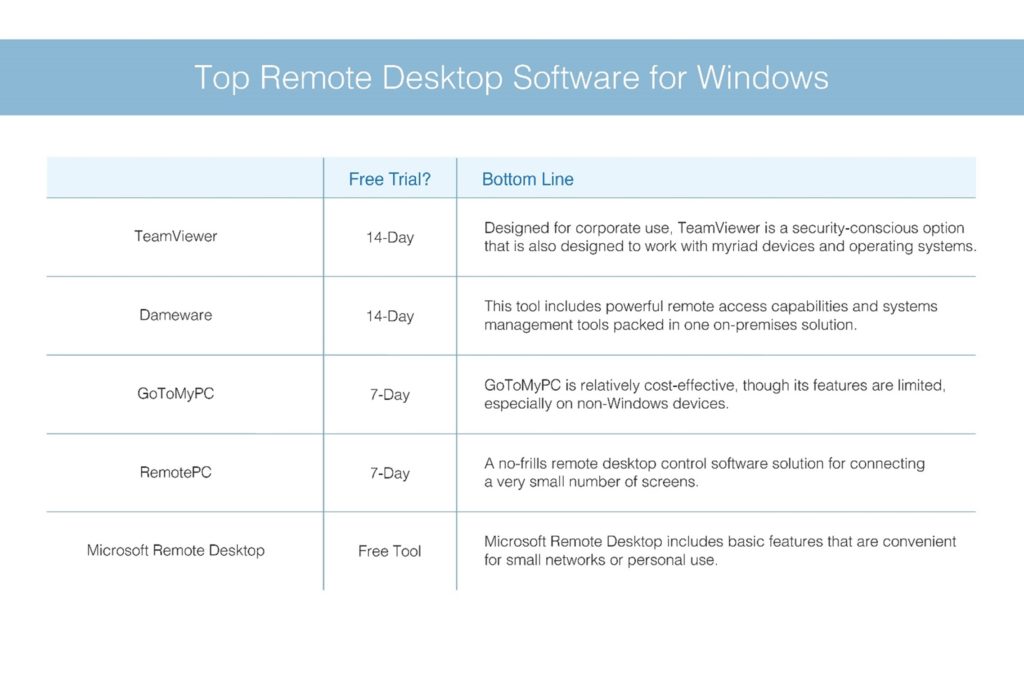 Top Remote Desktop Software List for Windows
The best remote desktop software should include the features IT professionals and end users need to effectively and securely troubleshoot problems while staying within budget and providing support for various OSes—mainly Windows, for the purpose of this guide. Keeping these criteria in mind, here's the top remote desktop software list for Windows in 2022.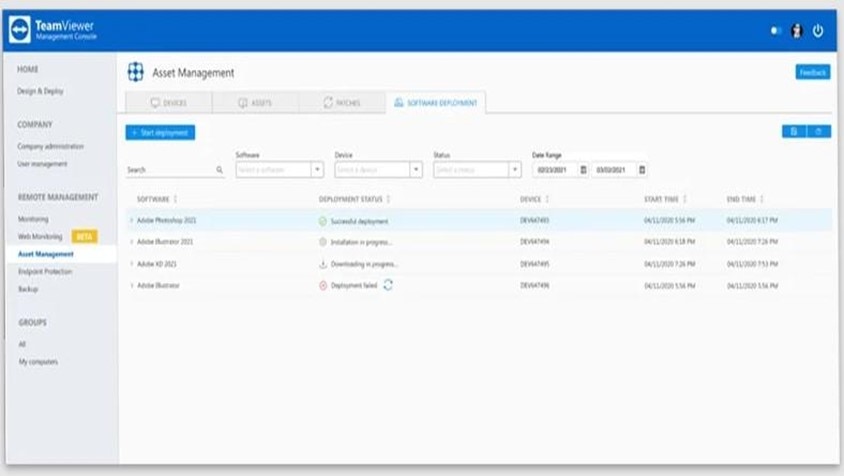 TeamViewer is widely regarded as a feature-packed solution providing remote access and screen sharing for corporate use. TeamViewer runs on Windows, macOS, Android, and iOS, as well as Chrome. TeamViewer has also been lauded for its stylish interface and up-to-date capabilities. While TeamViewer does offer a more straightforward, free option intended for non-commercial remote access, the remote desktop control software is usually regarded as an enterprise solution, though it does boast particularly good tools for low-bandwidth environments.
For smaller networks or personal use, you might want a low-cost, pared-down tool. GoToMyPC is relatively cost-effective, though its features are limited, especially on non-Windows devices. GoToMyPC is frequently recognized for its straightforward interface, which primarily runs directly from the browser and offers desktop icons for remote computers. Additionally, GoToMyPC allows for drag-and-drop file transfers and easy multi-monitor support, making it suitable for direct connections either within a network or across the internet. However, one frequently cited drawback of GoToMyPC remote desktop control software, particularly for users whose networks include many different devices, is that its features are reduced for Mac and Linux remote desktop.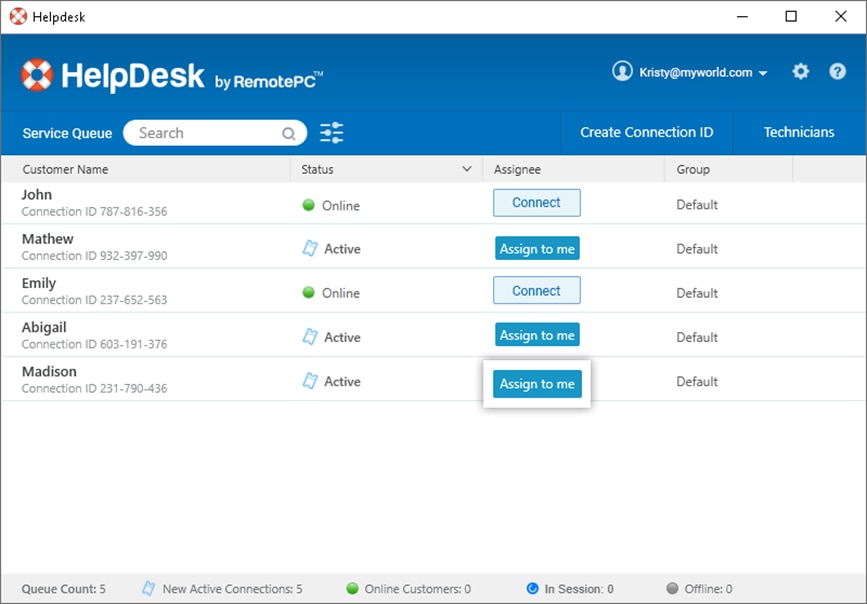 For a no-frills remote desktop control software solution connecting a minimal number of screens, consider RemotePC. For those simply looking to reduce the hassle of remote desktop control software while paying a small monthly fee, RemotePC offers practical solutions allowing for quick and easy file transfers across local and remote desktops, and it supports PCs and Macs equally along with iOS and Android. But for experienced or enterprise users looking for whiteboard functions, toolbars listing extensive functionalities, or the ability to display more than one remote monitor in the same window, RemotePC is probably not ideal, as it doesn't offer any of these features.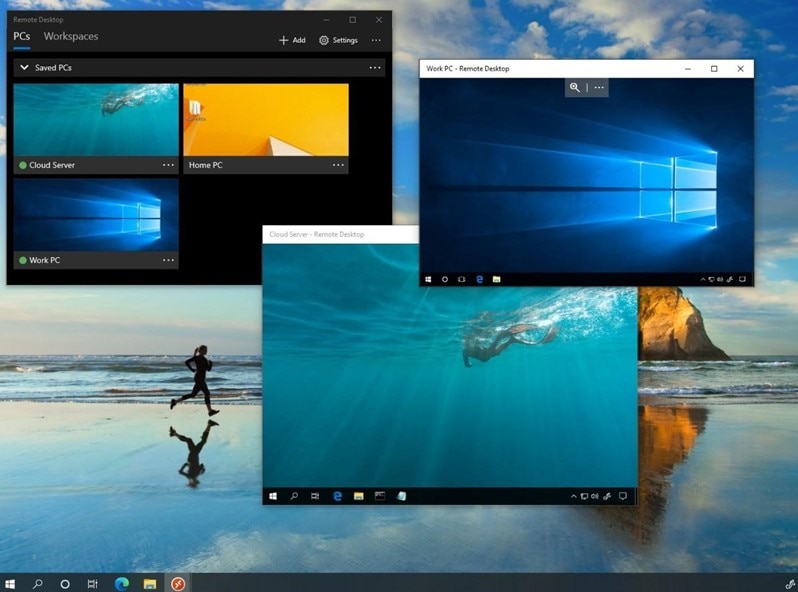 For those looking for free remote desktop software for Windows, Microsoft Remote Desktop includes basic features convenient for minimal networks or personal use. But a major drawback of this free remote desktop software is (like many free remote desktop software solutions) it comes with a host of limitations. With this free remote desktop software, you can remotely access Windows PCs from other Windows computers, mobile devices, and Macs, but it doesn't support file sharing or offer many of the IT assistance features, which are standard with other more sophisticated options. Additionally, while it's convenient Microsoft Remote Desktop doesn't require passwords to access users' PCs, users cannot access a Mac from a Windows PC.
Choosing the Right Remote Desktop Software for Windows in 2022
Looking over the remote desktop software list above, you do have choices. While TeamViewer remains a popular choice among enterprise remote desktop software management solutions, it may not be suitable for all businesses or personal use. Whether looking for alternatives to TeamViewer for budget purposes or more capabilities for securely connecting teams globally, you have options for quick, easy communication to boost productivity and save time. For a user-friendly, enterprise-grade, versatile TeamViewer alternative, consider SolarWinds Dameware solutions.