To effectively assess and review system operation, you must first establish baseline performance metrics, which is where performance monitoring comes in. However, when it comes to data center monitoring systems, monitoring can be challenging when there's a large number of interdependent components to monitor in a data center. This can also make it unclear as to how components interact and which performance metrics should be considered a priority.
Data center monitoring systems are designed to cover every component of operations. They should be able to manage, measure, and control energy consumption, IT equipment (such as storage, network switches, and servers), facility infrastructure (such as cooling and power distribution), and other data center operations. A data center monitoring system can be provided as software, software as a service (SaaS), or as hardware/software appliances, providing insight into operations with rack-level granularity. Since effective data center management requires you to monitor such vast and multi-component infrastructure, choosing the right data center monitoring systems is crucial.
To help your business make the right choice, this guide outlines the basics of data center remote monitoring and provides a list of what I think are the best data monitoring tools available on the market today. Overall, I believe SolarWinds® Server & Application Monitor (SAM) delivers the most comprehensive range of data center remote monitoring capabilities, accessible via a user-friendly and intuitive interface. A 30-day free trial of Server & Application Monitor is available.
The Basics of Data Center Monitoring Systems
Data center remote monitoring tools allow you to manage your data center devices centrally and remotely. With these tools, you can connect with, collect from, and configure devices via HTTP, SNMP, and alternative IP-based network protocols. Data center monitoring systems can perform many functions and with so many data monitoring tools to choose from, it's important to know which functions you should be prioritizing in your search. Here's a brief overview of functions I consider to be essential or highly valuable in a data center remote monitoring tool.
Real-Time Monitoring
If your data center experiences downtime, this can be disastrously expensive and may have a serious impact on your company's reputation and customer retention. For this reason, being able to track real-time performance is a crucial capability. To ensure critical systems and services remain online, you need to be tracking your data center operations and systems in the physical computer room in addition to monitoring network devices to ensure the network infrastructure is healthy and remains running. You'll also need to manage your infrastructure, mechanical equipment, and power systems, so the data center can stay operational. Support for real-time monitoring allows you to achieve this without skipping a beat or wasting a single minute of time.
Analytics and Reporting
With so much data flowing through your network, it can become difficult to track manually and overwhelmingly time-consuming to try to interpret and analyze every metric. Data monitoring tools with analytics and reporting tools can assist with this, enabling you to examine data quickly and triggering alerts when anything unusual occurs. Analytics utilities can also graph performance data, making it easier to interpret.
Workflow
When you add new servers or hardware to your data center, it's a multi-step process that can impact various data center components. A data center monitoring system should be able to coordinate the process of installing the server, ensuring the necessary steps are taken and completed before any new software or hardware comes online.
Change Management and Asset Configuration
Monitoring changes to assets in your data center can feel like a daunting task. After all, if one of your servers goes down, it's crucial to quickly identify root cause. This means you'll need to locate the problem and gain insight into its configuration as quickly as possible, which asset configuration capabilities can enable you to do. Change management utilities are also important in a data center monitoring system, because they can enable you to monitor infrastructure additions, configuration alterations, and track systems potentially impacting network performance.
Capacity Forecasting
One of the many benefits of using data center monitoring systems is they can allow you to conduct capacity planning. By giving you access to historical data and proactively analyzing patterns, data monitoring tools can enable you maximize resource usage, like cooling and power, and help you make more informed decisions around expanding resources for the data center.
Integrations
If you're using a data center monitoring system, then it's likely you'll be using other enterprise-grade IT solutions. Due to this, it's important you choose a data center monitoring system to easily integrate with a range of other tools. These integrations can include modeling tools, asset management tools, change management tools, and other third-party solutions to help you more easily account for a wide range of issues.
The Best Data Center Monitoring Systems
The right data monitoring tools for your company will depend on your individual requirements. To help you choose the best tools to support your data center remote monitoring strategy, I identified a diverse range of solutions that can help facilitate data center monitoring.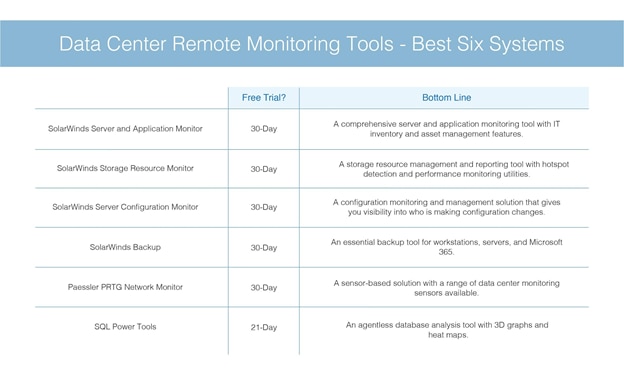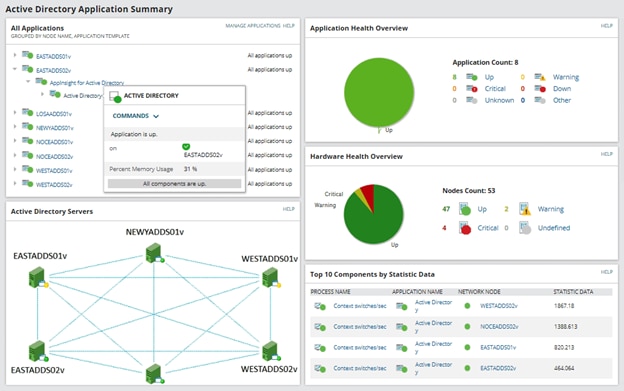 SolarWinds SAM is a versatile server and application monitoring solution that allows you to monitor server performance with more than 1,200 templates. You can monitor public, private, and hybrid cloud environments.
Here are some of the most notable features of SolarWinds SAM:
Continuous server monitoring with cross-stack correlation for hybrid data
Ability to monitor your custom applications
Custom monitoring with REST API, WMI, SNMP, and PowerShell scripts
Customizable server monitoring
Infrastructure dependency mapping
File monitoring for servers
Server availability monitoring
The above list are a few of the many monitoring and management capabilities in SAM built to give users access to a huge range of data that can be leveraged to improve performance and preserve continuity. If you'd like to try SAM, a 30-day free trial is available.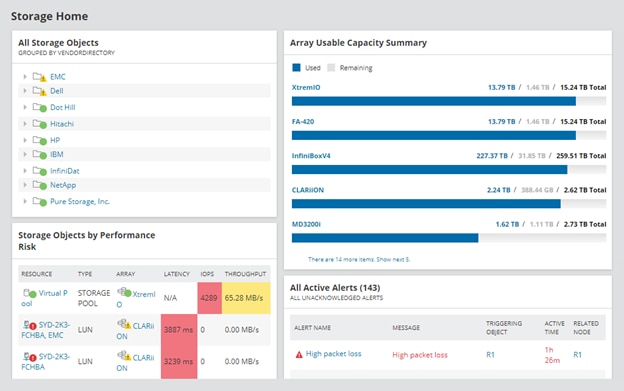 SolarWinds SRM provides storage resource reporting and management for performance, health, and capacity. With SRM's storage management utilities, you can centralize the monitoring and control activities for storage systems and devices from numerous vendors. This assists users with identifying and resolving performance bottlenecks, in addition to effectively allocating resources.
Here are some of the most notable features of SolarWinds SRM:
Support for multi-vendor devices and systems
Hotspot detection
Storage performance monitoring capabilities
Automated capacity planning for storage
Cross-stack data correlation
Support for integration with SolarWinds SAM and SolarWinds Virtualization Manager
Integration with SolarWinds SAM and Virtualization Manager is especially useful, because it enables users to seamlessly extend functionality without decentralizing data center monitoring activities. A fully functional 30-day free trial is available.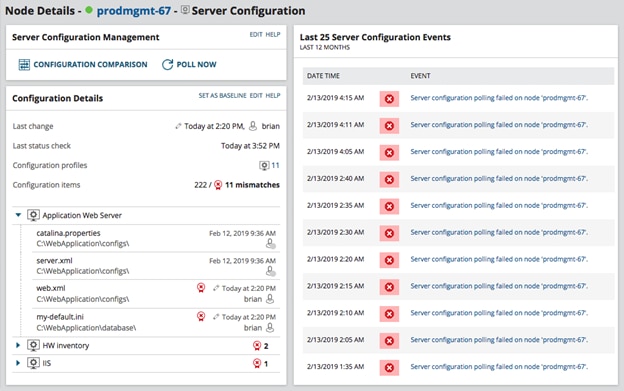 I think SCM is another valuable SolarWinds product that can support your data center monitoring operations. This tool is purpose-built to compare and detect configuration changes made to your databases and servers. With this tool, I also feel you can improve team accountability and visibility into configuration changes, helping ensure unauthorized or unexpected modifications don't compromise your infrastructure. SCM can also assist with monitoring server compliance.
Here are some of the most notable features of SolarWinds SCM:
Ability to integrate with other SolarWinds products
Baseline application and server configurations for Linux and Windows
Notifications when metrics deviate from baseline in almost real time
Visibility into who is making configuration alterations
Ability to compare past configurations to current ones
Track software inventory and server hardware
This tool is affordable, easy to use, and integrated. I believe it's a good option for inexperienced users. You can access a 30-day free trial here.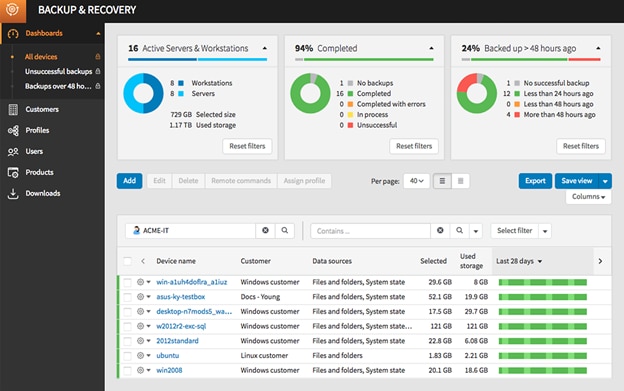 Having access to enterprise-grade backup software is an essential part of successful data center monitoring and management. I feel SolarWinds Backup is the ideal solution, helping you streamline and automate data protection by providing unified management for workstations, Microsoft 365, and server backups.
Key features:
Includes cloud storage, with 30 global data centers
Rapid backup and recovery
Several recovery options
Support for automated recovery tests
Hosted, SaaS solution
A 30-day free trial is available.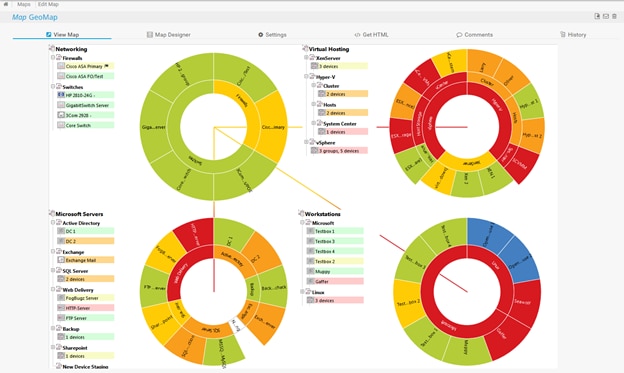 I believe Paessler PRTG Network Monitor is an extremely versatile, sensor-based monitoring and management tool that gives users the choice of thousands of sensors. This means you can essentially create your own tool from scratch by implementing only the sensors your company needs. With this tool, you can monitor devices, traffic, systems, and applications across your complete IT infrastructure.
Here are some notable features of PRTG for data center monitoring:
Start monitoring in a couple of minutes
Autodiscovery system
Ability to create customized maps
Customizable alerting system
Notifications via SMS or email
Powerful API allowing you to write custom notification scripts
Monitor multiple databases, including MySQL, Microsoft SQ, PostgreSQL, and Oracle
With PRTG, the first 100 sensors you implement are free. If you use more than 100 sensors, you should keep in mind this tool can get expensive quickly. If you want to try the unlimited edition, a 30-day free trial is available.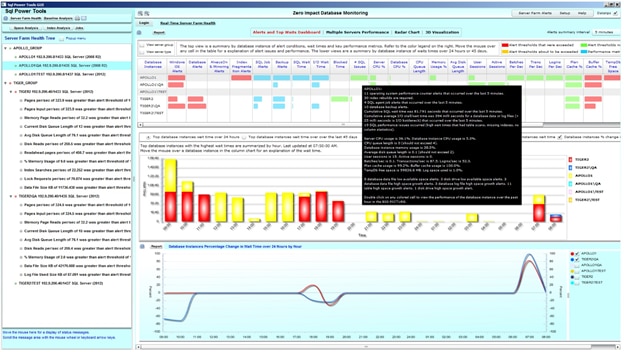 SQL Power Tools is a database performance analyzer that provides an agentless approach, resulting in low server impact.
Key features:
Heat maps showing server performance
View dashboard from mobile device or browser
Generates baseline analysis daily for performance counters, job run times, and SQL wait times
Non-intrusive approach to network sniffing
3D graphs
Automatic identification of inefficient SQL plans
You can request a three-week product evaluation here.
Choosing the Right Data Center Monitoring Systems
No one tool will be able to provide for all your business' IT monitoring and management needs, which is why choosing a tool that is able to integrate with other solutions is so important. For maximum functionality and flexibility, we recommend choosing a SolarWinds product like Server & Application Monitor. I feel the ability to integrate this solution with other SolarWinds products makes it scalable and extendable, allowing you to account for every possible data center monitoring requirement or task. You can access a 30-day free trial here.