Email is the backbone of business communication for most organizations, and being an indispensable communication medium, it is highly vulnerable to cyberattacks. Today, email security challenges have become increasingly sophisticated and threatening to businesses. The drastically rising number of phishing and ransomware attacks pose challenges that can severely dent an organization's brand image and reputation. With a massive shift to remote work recently, email security is now more critical than ever (and potentially more complex). A secure email gateway is imperative to protect businesses from email-borne threats, including malware, ransomware, and phishing links while helping ensure safe and secure information transmission.
What is a secure email gateway?
A secure email gateway monitors inbound and outbound emails to filter and block malicious content and prevent email-based threats from reaching a mail server. It helps protect the business email environment against phishing attacks, malware, spam, and ransomware—to prevent the loss of confidential data and business-critical information.
Employing a secure email gateway helps managed services providers (MSPs) and IT teams safeguard businesses from malicious email attacks. Additionally, enterprises leverage various benefits by implementing a robust secure email gateway solution, such as:
Improved regulatory compliance: A secure email gateway provides encryption and email archiving capabilities to help ensure data security and drive adherence to compliance.
Business continuity: A comprehensive, secure email gateway with a web-based console allows continuous email operations, even when the primary email server is down, to avoid operational disruption.
Better employee security: Employees are vulnerable to email security threats, like spam and phishing attacks. A fortified email gateway provides employees with frontline defense and protects them against business email compromise and account takeovers.
Now that we understand the importance of a secure email gateway for organizations (of all sizes across industries) to protect their business against spam, hackers, and viruses, let's look at the list of top secure email gateways.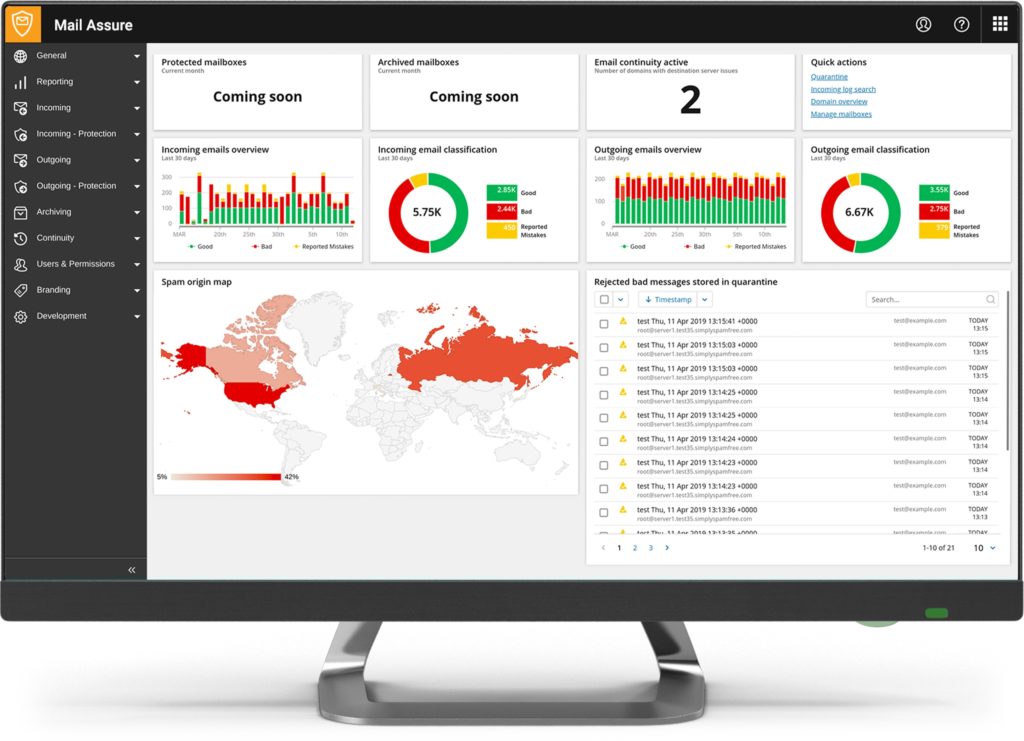 N-able® Mail Assure is cloud-based software built to monitor email for security and protect businesses against unauthorized network access, credential theft, or email account compromise. Its Intelligent Protection & Filtering Engine offers advanced threat protection for incoming and outgoing emails in near real time and provides near 100% filtering accuracy. Mail Assure leverages real-time pattern threat recognition and machine learning technology to accelerate threat detection, and it uses advanced analytics to process email data from over two million domains, and more than 23 million mailboxes, to shield businesses from existing and emerging vulnerabilities.
With its encrypted email archiving capabilities, Mail Assure allows businesses to seamlessly meet data security requirements by encrypting and storing emails with an unlimited retention period. Additionally, Mail Assure empowers businesses with built-in email continuity to help ensure 24/7 email access, even when the primary server goes offline. A web interface and customizable features make it a comprehensive solution for MSPs to support their clients' varied requirements—all in a unified way.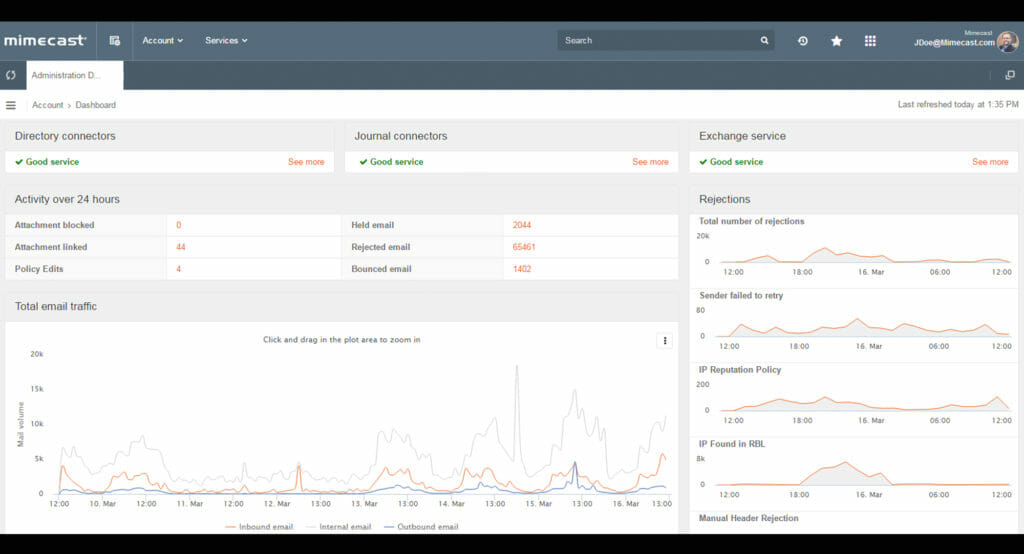 Mimecast Secure Email Gateway employs multiple detection engines, innovative policies, and threat intelligence to protect businesses from targeted and sophisticated email attacks. It is a cloud-based, secure email gateway that helps protect employees and business data against social engineering attacks, such as impersonation attacks and phishing attacks. Its extensive threat database works to help protect against the latest email-borne threats. Mimecast automatically blocks malicious URLs, redirecting to malware or phishing sites, and prohibits the delivery of malicious attachments.
Mimecast provides a comprehensive email security analysis through its threat intelligence dashboard representing data, trends, and insights clearly for a quick understanding and easy monitoring. Furthermore, its threat intelligence API allows enterprises to use data for benchmarking against other companies in their region to gain a better understanding of the threat landscape.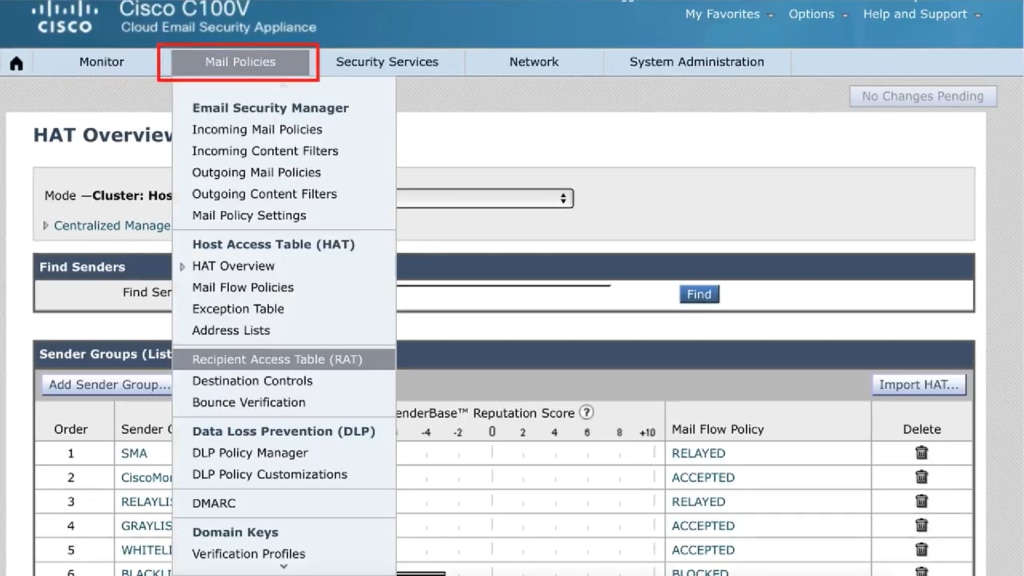 Cisco Secure Email is a secure email gateway that defends businesses against malware, ransomware, and malicious links in email attachments that may lead to business email compromise and confidential data loss. Cisco Secure Email malware defense functionality tracks risky files and proactively responds if they become malicious. Cisco Secure Email uses advanced threat intelligence to combat known and emerging threats. Its content-encryption capability safeguards outbound email messages and helps prevent data theft or loss while adhering to regulatory requirements and industry security standards.
Cisco Secure Email allows seamless integration with other Cisco security services to provide comprehensive multilayered email security. Integration with Cisco SecureX® gives businesses better visibility across the security infrastructure by providing a unified view for effective threat monitoring. This integration accelerates operations and improves efficiency by automating security workflows.
Deployable as a cloud service or on-premises, Proofpoint Email Protection helps ensure multilayered threat detection and protection against malware, impostor email, ransomware, phishing attacks, and business email compromise (BEC). Its intelligent threat detection framework continuously learns threat patterns and derives useful insights by analyzing billions of emails and millions of cloud accounts. With features such as dynamic content filtering, strong URL defense, robust encryption, and customized filtering, Proofpoint offers a robust email security solution. Proofpoint Email Protection uses seven unique email classification categories to monitor and detect unwanted emails with granularity.
Along with its built-in business continuity capability to help ensure continuous email communication, Proofpoint also provides close control over the business email network with an array of detailed and customizable reports. Comprehensive threat reporting helps ensure granular monitoring of the threat landscape for better protection.
With a 99.99% spam catch rate and a 0.003% false-positive rate, SpamTitan is an advanced spam blocker and provides multilayered threat protection for inbound and outbound email transmission. It leverages predictive technology for dynamic threat detection to ensure protection against zero-day attacks. SpamTitan also helps ensure advanced phishing protection by scanning all incoming emails in real-time to prevent spear phishing and whaling. It's designed to support Microsoft 365™ email security to strengthen threat protection and enhance in-depth reporting for Microsoft 365 users.
SpamTitan allows users to set up data leak prevention rules and configure customized threat protection policies for combating outbound email data loss. Besides, its extensive quarantine reports allow MSPs to centrally manage the security landscape for their customers easily and promptly.
Conclusion
As the email threat landscape expands and becomes more complex, organizations must raise their guard and equip themselves with robust security solutions to thwart such threats. Choosing the best email gateway for your business—with real-time protection against email-borne threats—is empowering. N-able Mail Assure offers significant benefits for MSPs and their customers. It's a comprehensive platform that combines advanced threat protection for inbound and outbound email transmission, features to help drive compliance, and business continuity capabilities to help IT providers address security concerns from varied customer bases.
Mail Assure helps MSPs offer flexibility and customization to their customers while maintaining email security. With tailored filtering rules and customizable preference settings, Mail Assure offers intelligent enterprise email protection for businesses across industries. Get hands-on experience in email security with Mail Assure—start your free trial today to safeguard your business email landscape.