In IT, we're always seeking new ways to optimize networks while spending as little money and time as possible. However, this challenge is compounded by the influx of continually emerging technologies. From cloud services and wireless applications to remote workers using VPN and IoT tools, these technologies doing their part to make network infrastructure better—and often more difficult to monitor.
Picking the best monitoring solution can be a hassle. From open-source tools to paid platforms, it's important to understand the wide array of networking monitoring solutions with significant differences between them. When choosing a network monitoring software, many IT teams will face the question of whether it's better to invest in closed-source or use open-source network monitoring tools—but what exactly are the reasons to choose open-source vs. paid?
In this article, I'll describe the advantages and disadvantages of using open-source tools compared to investing in a paid platform. Check out our open-source tool comparison guide. I'll also dive deeper into what to look for in open-source vs. other network monitoring tools. Following that, I'll review the best open-source network monitoring tools available on the market compared to what I found to be the best closed-source option.
What Is Open-Source in Network Monitoring?
Open-source network monitoring refers to using typically free or low-cost software built to monitor common network problems to understand the root cause of network errors. But the software isn't just free—open-source monitoring software is circulated under a licensing agreement, so its code can be viewed, shared, and modified by users and organizations alike. For an open-source platform, functionalities are only limited to the supporting source code.
Since contributions to open-source software can be made from a wide array of developers around the world, the built-in community support allows many open-source monitoring tools to evolve. Open-source solutions have the potential to improve their features and offerings over time as more and more people begin using them. While many open-source tools are free, some are supported by donation, many have crucial add-on features behind a paywall, and others are limited versions of more robust paid solutions. Open-source tools include both cloud computing platforms and downloaded applications.
Open-Source vs. Closed-Source Network Monitoring Software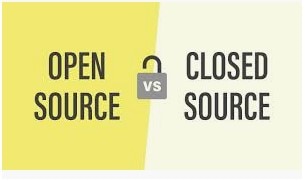 When it comes to deciding whether to use open – or closed-sourced network monitoring software, it's important to consider both the advantages and drawbacks to each. At first, it may seem like open source is the better option based on cost alone, but this view often fails to consider other key components.
Advantages and Disadvantages of Open-Source Software
Performance and Reliability
The performance of open-source tools for network monitoring often depends on community input or your own ability to customize and improve the source code to meet your needs. Open-source software often requires users to constantly be updating, patching, and improving the tool.
Support
Open-source solutions usually only offer support in the form of online forums and articles. If the community is especially robust, end users may get the support they need. But the level of response from these support resources can be unreliable, both in terms of speed of reply and quality of advice.
Customization
Open-source software gives end users access to the source code, which allows them to modify the software to their specific needs. However, this can be a downside as well, since it requires a fair bit of additional work for administrators to implement and integrate into existing systems. Open source can be beneficial for IT teams who can support the coding needed to customize, maintain, or improve the tools, but this can be a huge undertaking. Only with the right configurations can open-source monitoring tools help IT teams gain valuable insights into the health, performance, and capacity of various network components.
Price
Since many open-source platforms provide the code free of charge, open-source monitoring tools can also provide some cost-saving benefits to organizations because they don't require monetary investment upfront. However, there are times when an open-source monitoring solution will require users to pay for extra features and added functionalities.
Also, make sure to check any relevant legal issues and compliance regulations—do they allow the use of open-source software? What about open-source software for commercial use? With either of these violations, using open-source software could result in hefty fines.
Advantages and Disadvantages of Closed-Source Software
Performance and Reliability
Closed-source software often has significantly more benefits than open-source solutions. For one, it has a proven functionality and can be easily upgraded as new improvements are developed. Paid software companies often have teams devoted to constantly improving and updating the functions and security of their network monitoring solutions. You also don't need to be concerned about choosing between using several different open-source tools to cover a range of network monitoring needs—with closed-source solutions, your suite comes with everything built in. Once you purchase it, it can be rolled out and implemented into existing systems with ease.
Additionally, these programs tend to be easier to use than open-source software. This makes them appealing to enterprises where not all employees might be tech-savvy or have the time to constantly monitor whether the open-source tools are functioning as expected. Without constantly needing to fine tune your open-source software solutions, you can save your IT teams some much-needed time.
Support
It's important for IT teams to make informed decisions about their monitoring solutions based on the quality of support offered. Compared to open source, closed-source software has superior technical support.
When you pay for a robust closed-source software solution, it generally includes the option to contact support agents who are ready to help you at almost all hours of the day. Companies can rest assured they never experience lingering issues with their solutions due to internal source code changes that cannot be easily resolved.
Additionally, closed-source monitoring software companies tend to offer thorough documentation of their solutions to help enterprises roll out and maintain the purchased suite. Many closed-source software platforms will also have associated forums where users can share tips, like the community support provided by open-source programs.
Customization
If open-source software is beneficial for allowing users more autonomy over source code augmentation, closed-source software's primary downside is not allowing users to change anything in the code. This can take away some much-needed flexibility. Closed-source monitoring software isn't open for the public to view or modify—t's all proprietary and protected, since companies with enterprise-grade solutions want to keep their IP private.
Knowing customization is a requirement for many IT teams, I do see a trend of paid network monitoring tools becoming more and more customizable. However, if you're looking for a non-negotiable customization feature in a paid network monitoring tool, make sure you check whether the platform natively supports the feature, offers a workaround, or can be customized to do what you need it to do.
Price
Most closed-sourced software vendors allow users a free trial period to test the solutions to make sure it's the right purchase. After a free trial, most paid network monitoring tools will offer different levels or tiers of payments, typically based on the number of interfaces, nodes, or disk volumes to be monitored.
IT Pro Tip: How to Get the Best Price on Network Monitoring Tools
With many companies moving towards an e-commerce experience, always do a quick internet search for any applicable promo codes you can use. This is especially true towards the end of each quarter when software companies are typically looking to meet their sales goals.
Is Open-Source Software Safe?
There are ongoing debates about the security of open- and closed-source software, which makes it hard to say if one is generally safer than the other.
Although open-source software has exposed coding, some proponents consider it safer than most closed source software. It sounds counterintuitive, but open-source software generally has less malware written for it. Additionally, supporters of open-source software argue they have less exploits because their codes get patched more frequently and because many developers are constantly contributing to the project's security.
However, most experts agree closed-source software is more secure, because it's developed in a controlled environment by a trusted vendor. Even if a security risk arises, reliable vendors are always working to develop and provide patches and solutions to help their customers stay ahead of threats. Open-source resources simply can't compete with the security effort put into closed-source solutions. Additionally, open-source code can be risky in and of itself—hackers have been known to practice attacks using these freely available open-source programs.
Best Open-Source Network Monitoring Tools
There is a wide range of monitoring solutions on the market, but not all are created equal. If your budget allows, consider a closed-source tool, which will offer serious advantages regarding comprehensiveness and support. For companies seeking free solutions, here's my open-source network monitoring software comparison list: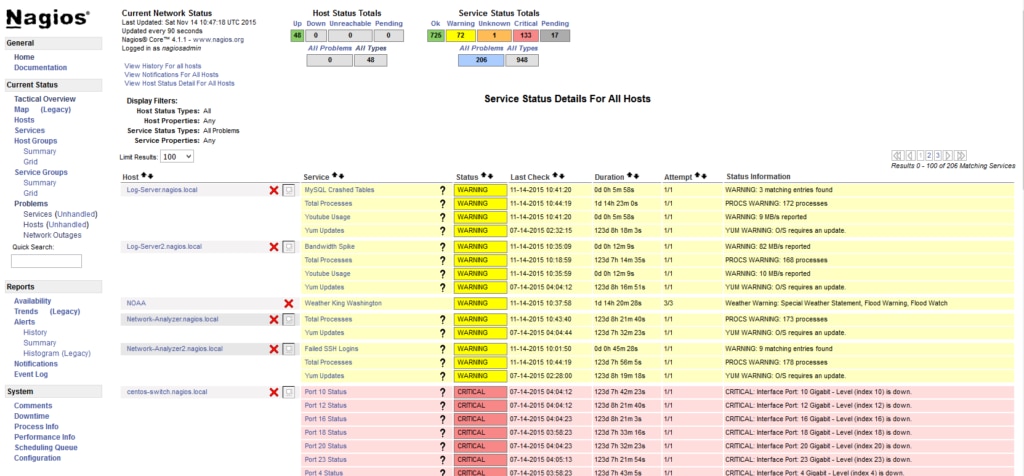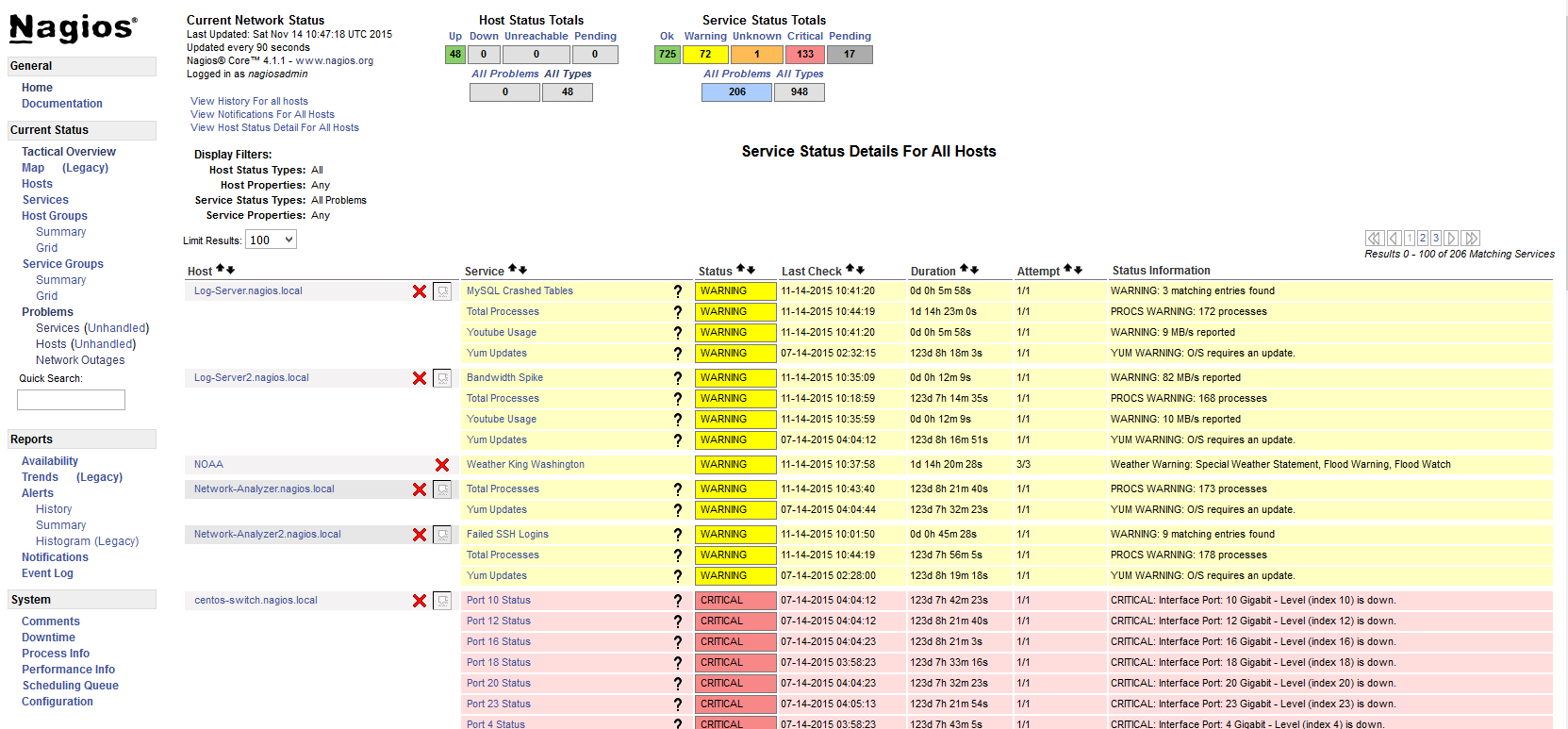 Nagios is one of the oldest and most established network monitoring systems on the market. Its free, open-source version, Nagios Core, can serve as a great resource for any organization.
Nagios Core allows users to gain real-time visibility into the status of each host and service belonging to a network. It also offers several types of alerts to help admins solve issues more quickly and is highly customizable. Unfortunately, the service can be limiting; its text-box configuration and outdated web interface can be frustrating to manage. However, since it's been in use for so long, you'll likely find community support online for any issues you encounter.
SolarWinds® Network Performance Monitor (NPM) is designed for businesses in need of robust monitoring. NPM is built to scale and expand with your network monitoring needs, which in today's device-heavy climate can fluctuate by the week.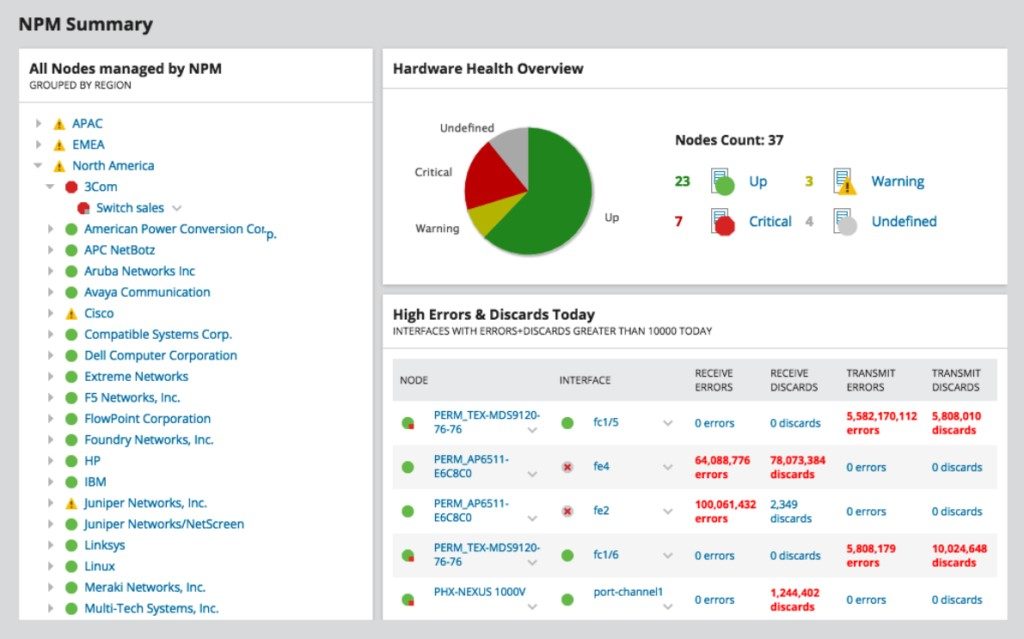 A premier feature in NPM is NetPath™, which uses advanced probing to detect network paths from a source server to destination service. This affords better visibility into critical network paths regardless of whether your infrastructure is built on the cloud or on-premises. In addition, NPM helps users accelerate their root cause analysis through the PerfStack™ feature. With PerfStack, admins can compare disparate data types side by side, correlate multiple entities on a common timeline, and share data from an entire IT stack across teams to improve workload transparency.
Icinga is the brainchild of developers at Nagios who wanted to add more functionality to the Nagios Core suite. Since its fork from the parent company, it has established itself as a powerful monitoring tool with a range of desirable features. It's easy to install, and its basic monitoring functions are easy to configure.
Sadly, the web install is a bit more complicated than the core install. Icinga utilizes text-based configuration files, and considering its robust core, there tends to be a steep learning curve. In addition, it can be difficult to access adequate support, as users implement the solution for different operating systems.
SolarWinds Network Bandwidth Analyzer Pack (BAP) is an excellent closed-source alternative for enterprises. With this combination pack, you get not only the full capabilities of Network Performance Monitor (as described above), but the additional and complementary features of NetFlow Traffic Analyzer (NTA). This full-feature network bandwidth analysis and performance monitoring tool is designed to help IT teams develop a better understanding of their networks from top to bottom.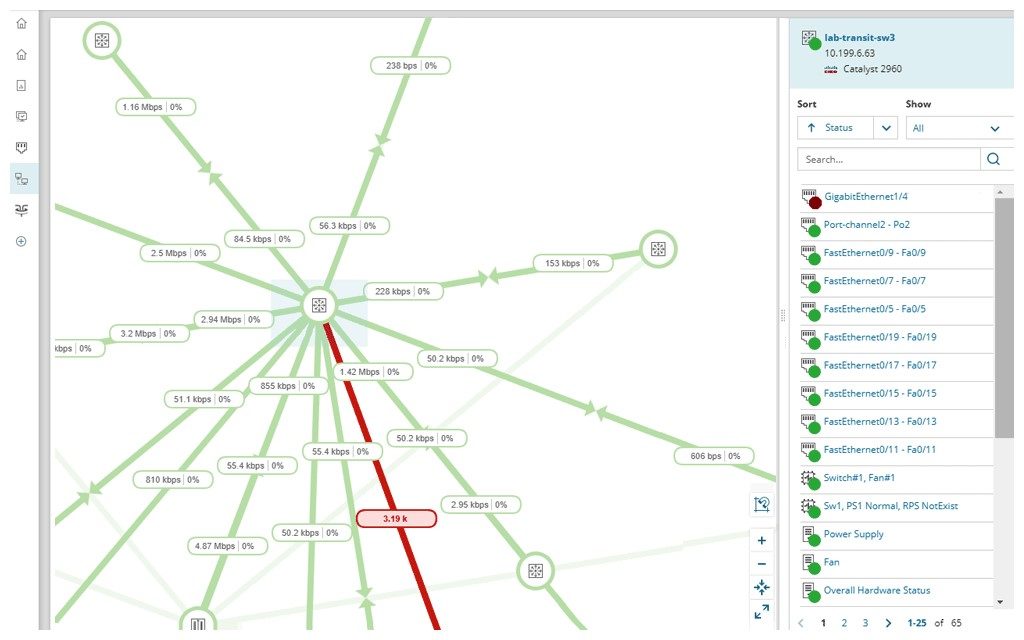 BAP helps IT teams manage their network bandwidth performance and offers advanced traffic pattern monitoring. With better insights into network traffic, IT teams can more easily identify which applications, servers, or devices are slowing down their networks by eating up too much bandwidth. The additional benefits of NetFlow Traffic Analyzer mean admins get some crucial features beyond NPM alone. NTA supports bandwidth monitoring, in-depth network traffic analysis, and even useful features like class-based QoS policy optimization. With this full pack, you can even generate custom network traffic reports. I think of NPM and NTA together as the full enterprise network monitoring solution. It's not open source, but if you'd like to invest in a professional closed-source solution, this would be my pick.
One of the best features in BAP is its hop-by-hop analytics tool. With this feature, IT teams can monitor their key applications and systems whether they're on-premises or in the cloud. It also includes the SolarWinds NetPath tool, so IT teams can obtain a more holistic view of their network paths. When applications encounter performance issues, IT teams are empowered to drill down into the issue with side-by-side views of related network paths. They can even use historical views to proactively monitor their networks and prevent future issues from ever occurring.
Additionally, BAP offers advanced alerting, so users never have to deal with floods of excessive network alerts. Instead, BAP allows users to customize their notifications, so they're only alerted to events they care most about. Users can even generate custom alerts based on specific network topologies or nested trigger conditions. All in all, I would urge businesses of all sizes to take a look at Network Bandwidth Analyzer Pack for their network monitoring needs.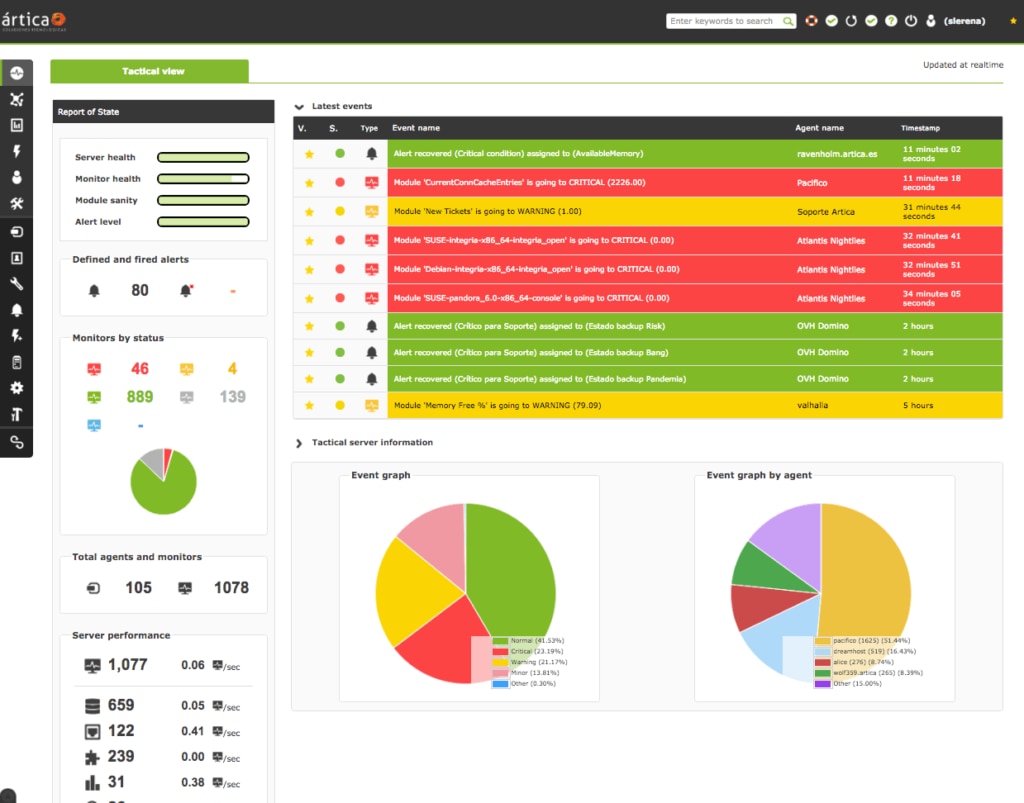 Pandora FMS is an open-source monitoring tool for IT infrastructure management. It stands out as one of the more flexible monitoring solutions on the market, mostly ideal for medium-sized and large environments (100 devices or more).
With Pandora FMS, users can monitor any device, infrastructure, application, or IT and business process or service. And because the software is centralized and easy to navigate, it's a useful tool for organizations to share their monitoring reports with non-tech-savvy workers. However, it tends to become buggy, and although its enterprise-grade solution support team runs patches quickly, open-source bugs can take a while to resolve.
Best Open-Source Network Monitoring Software Alternative: PRTG Network Monitor
PRTG is a reliable and robust network monitoring solution offering enterprises of all types of custom reporting, a user-friendly interface, and a best-in-class monitoring engine. PRTG is great because it can monitor an entire IT ecosystem, even for the largest of enterprises. From IoT devices and routers to cloud services and IP packets, PRTG will monitor practically every network component imaginable.
Additionally, PRTG has tons of built-in tools: packet sniffing software, jFlow/sFlow monitoring, firewall and IP monitoring, and even a network discovery and diagnostic tool to automatically locate network devices and optimize their troubleshooting.
The only notable drawback is the custom report generation is not intuitive. I imagine many users might struggle to leverage some of the customizable executive options.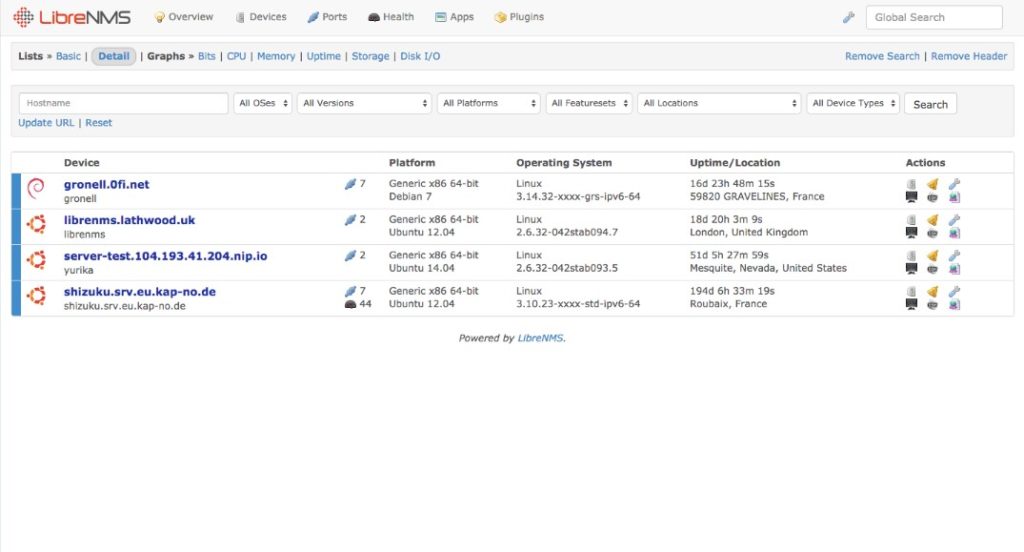 LibreNMS uses Simple Network Management Protocol (SNMP), which means the devices it monitors must have SNMP agents installed or enabled. It supports a broad range of operating systems, including Linux and FreeBSD, as well as network devices including Cisco, Juniper, Brocade, Foundry, and Hewlett-Packard, making it among the best open-source SNMP monitoring software available.
Its best features are its auto-discovery system and customized alerting, which offer users plenty of autonomy over their monitoring practices. It also boasts a mobile-friendly web user interface with customizable dashboards, making it easy for users to access on the go.
Unfortunately, LibreNMS can take a big toll on local memory without built-in cloud integration. And because there's no paid option, it can be almost impossible to get support when issues arise.
I know I've already listed NPM as the best alternative, but Network Performance Monitor from SolarWinds really is one of the most flexible options on the market for enterprises. It offers users the ability to monitor hardware and software in an à la carte fashion, including monitoring SNMP, Windows management instrumentation, and even Internet Control Message Protocol (ICMP) with ease.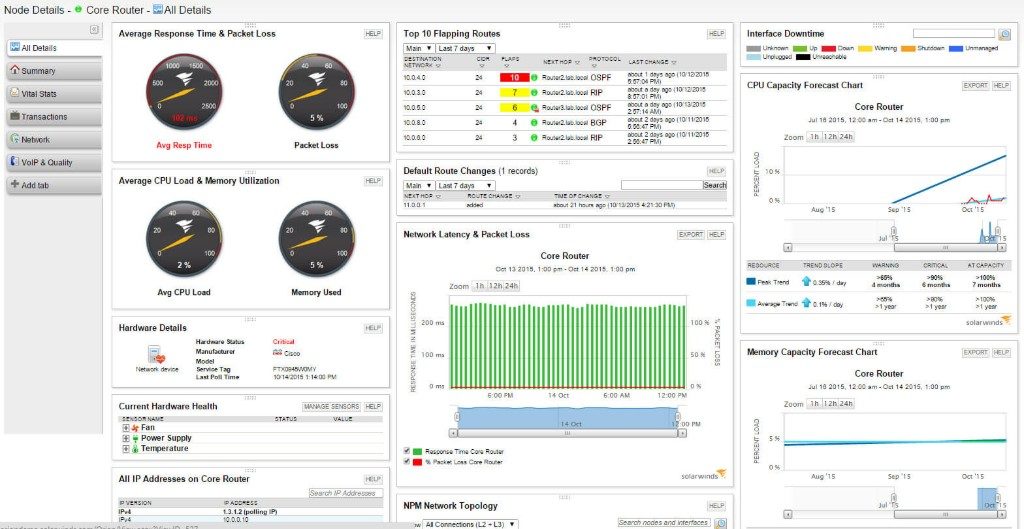 NPM offers quick and full visibility into the health of network devices and servers, providing IT admins with the constant real-time insights they need to keep their networks running at peak performance. The tool can monitor everything from servers and switches to routers and connected vending machines. It also offers network troubleshooting for on-premises, hybrid, and cloud services. Additionally, NPM allows you to customize automated network alerts, reports, and names for everything being monitored, so you don't get lost in a sea of devices and applications.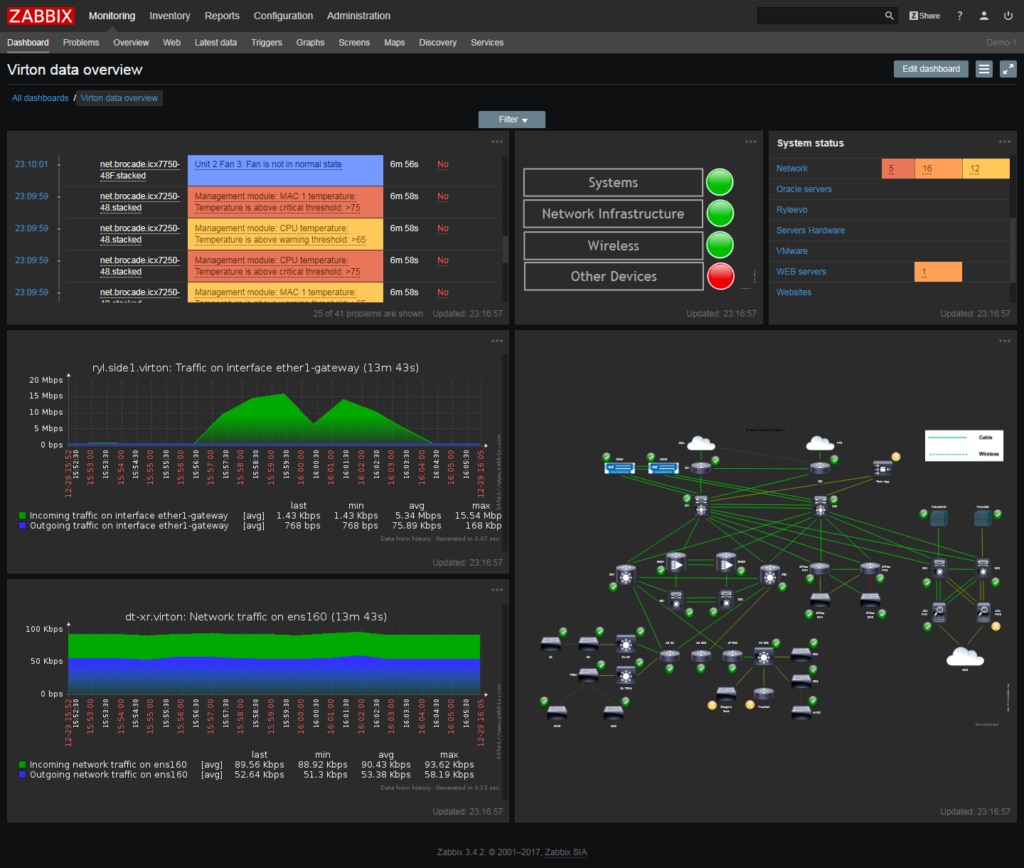 Like Nagios, Zabbix has been around for a long time. Some find this open-source network monitoring tool easier to manage than other open-source tools, since it provides many out-of-the-box features, meaning users don't have to deal with a glut of plugins.
Although Zabbix is a mature enterprise-level platform capable of offering real-time monitoring of metrics across large-scale networks, its problem detection and metric collection displays aren't easily configurable. And although it's scalable—which makes it a good fit for complex networks—it's a little harder to roll out than other solutions.
Best Open-Source Network Monitoring Software Alternative: ManageEngine OpManager
OpManager is a closed-source, end-to-end network management software for enterprise IT networks. OpManager is built to scale, which makes it an excellent solution for distributed IT ecosystems. Its primary selling point is it's built to make even the most complex networks as fast as possible. With OpManager, users get tons of out-of-the-box tools: virtual and physical server monitors, flow-based bandwidth analysis, firewall logging, and even switch port management.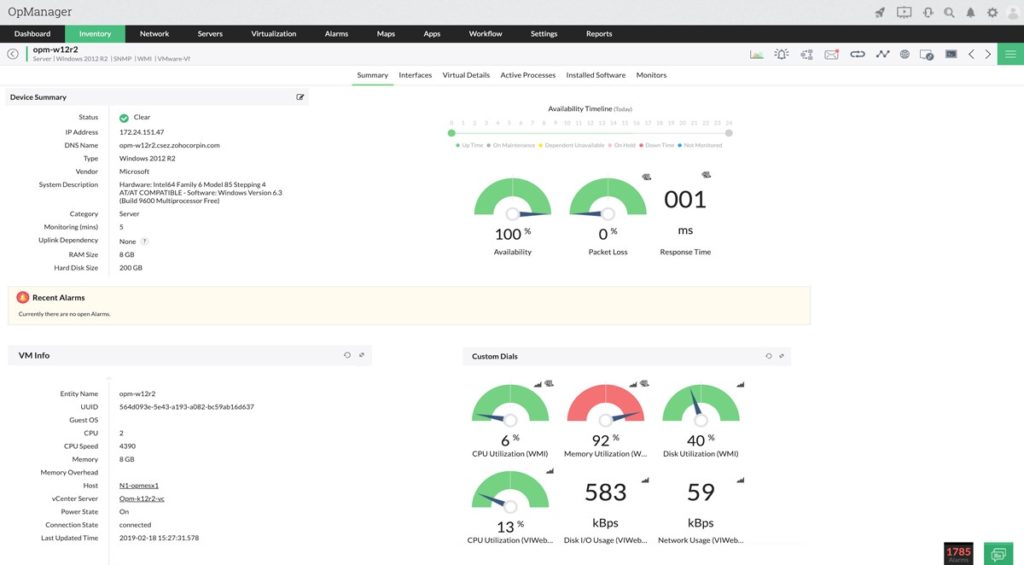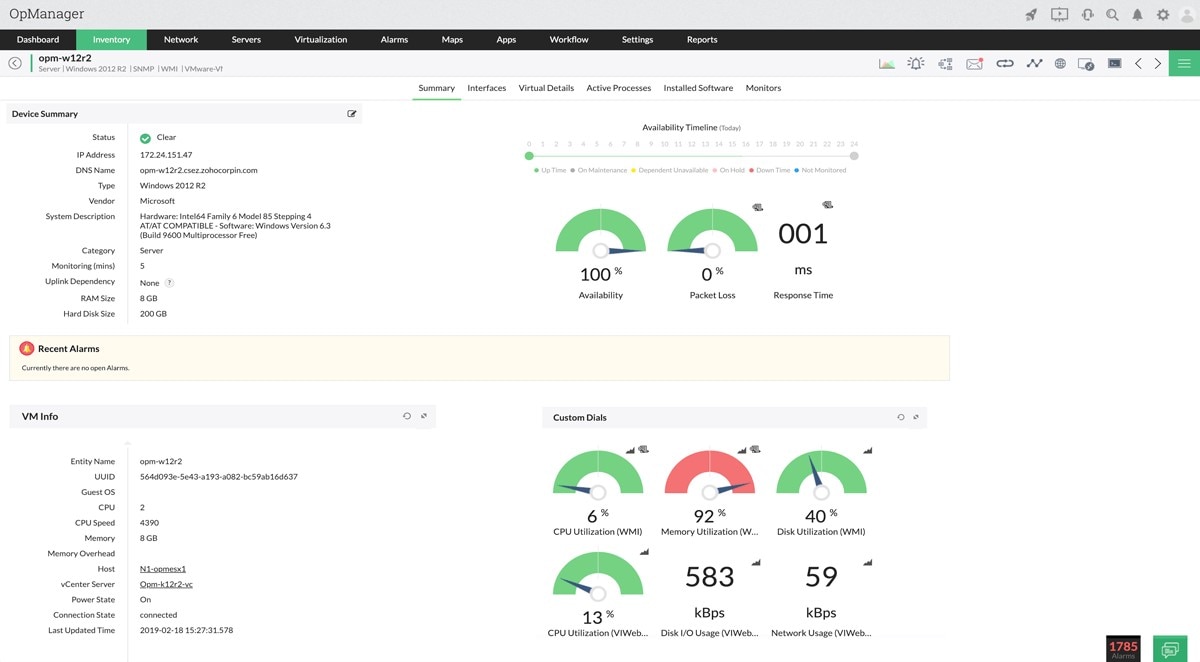 Although it can be an expensive option, OpManager is easy to install and roll out. It also can integrate well with most network systems, making it a reliable choice for many large enterprises.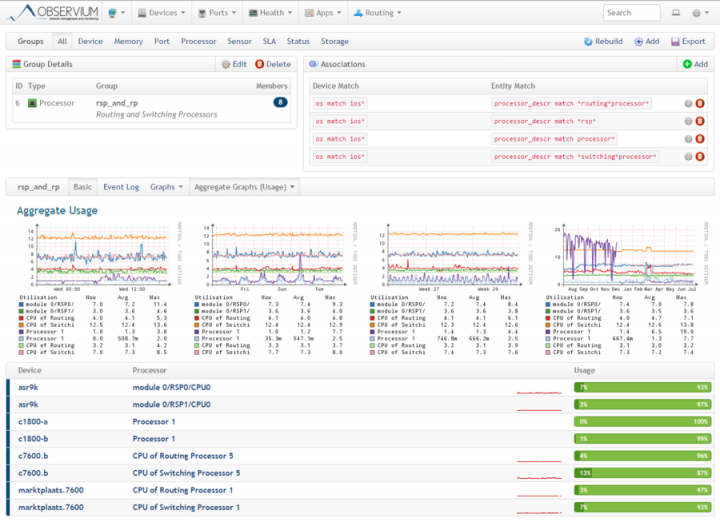 In terms of open-source tools with auto-discovery capabilities, Observium is one of the more low-maintenance network monitoring solutions. It supports a wide range of device types, platforms, and operating systems, including Cisco, Windows, Linux, HP, Juniper, Dell, FreeBSD, Brocade, NetScaler, and NetApp.
Observium focuses on offering a simple and intuitive interface before all else. This is helpful for smaller organizations seeking to glean insights into the health and status of their networks. It also has a cohesive web interface, meaning users can easily access controls and view network status and statistics from anywhere. However, Observium is not scalable in its free version, and the support from ground control is severely lacking.
Best Open-Source Network Monitoring Software Alternative: ipMonitor
SolarWinds ipMonitor® is designed to provide critical and affordable IT monitoring for your organization's network devices, servers, and applications. It operates from a single console, which allows IT admins to glean insights into the status of devices, CPU, memory, and disk usage, and any performance issues with your critical processes. Additionally, ipMonitor automates remediation access, so admins can minimize downtime if issues arise.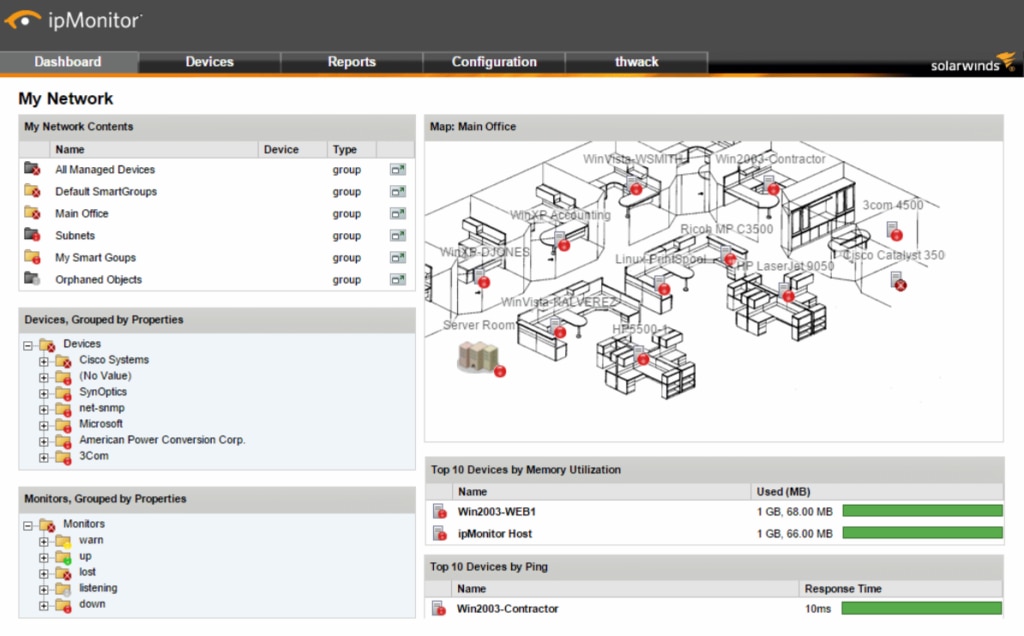 SolarWinds ipMonitor has a couple of special features to make it flexible for users. Built-in reports and dashboards enable IT admins to monitor their networks around the clock and in real time. What's more, these interfaces and reports are customizable, allowing users to prioritize which components to monitor.
ipMonitor is lightweight and can be installed and integrated into your organization's networks in a matter of minutes. And since it's a self-contained solution, you won't need to invest in additional, potentially expensive components. Its ease of configuration combined with its low price tag makes it ideal for smaller companies looking to get the most possible mileage out of their network monitoring solution.
Are Open-Source Network Monitoring Tools Better?
It may seem like both open- and closed-source software solutions are equally qualified solutions because both boast benefits and drawbacks. But at the end of the day, I'd be hard pressed to ever truly recommend open-source software if you have a closed-source alternative. Although open-source network monitoring is generally free of cost and promises innovation, it simply can't compete with the overwhelming benefits of closed-source software.
At the end of the day, it's wise for IT admins and organizations to invest in proprietary solutions for network monitoring. When it comes to service and support, there's simply no comparison between free open-source tools and the best-in-class paid solutions. If you can put some spend into your software, I recommend trying out a free 30-day trial of SolarWinds Network. Performance Monitor or even the powerhouse Network Bandwidth Analyzer Pack to see if its comprehensive capabilities at an overall great value fit your network monitoring needs.
Further Reading
Best Network Monitoring Software
An overview of the many common network monitoring pain points along with a thoughtfully curated list of the best tools to solve each issue.
Ultimate Guide to Network Monitoring
A comprehensive overview of network monitoring, covering fundamentals, design philosophy, common pitfalls, and best practices for network management.