Although Dynatrace is a popular application performance monitoring tool, it may not be the best choice for every company. I wrote this guide to help you identify a Dynatrace alternative potentially better suited to your price point and requirements.
Various application performance monitoring (APM) vendors offer enterprise-grade support for cloud infrastructure, business journeys, and digital experience. Vendors are also expanding their ability to predict how application performance is likely to impact digital business. When selecting similar tools to Dynatrace, you should weigh these functionalities against overall ease of use and the level of automation offered.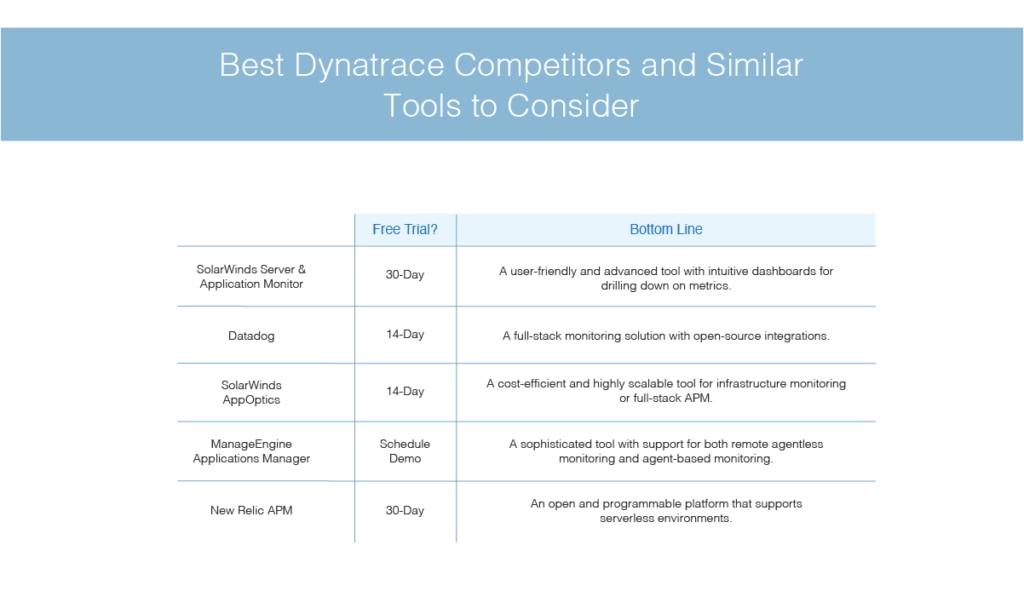 As I'll explain, I believe SolarWinds® Server & Application Monitor (SAM) is a leading Dynatrace competitor on the market today due to its reputation for delivering high-quality, advanced, and user-friendly tools.
What Is APM?
Why Is APM Important?
Dynatrace Software Competitors
What Is APM?
In its simplest terms, APM refers to a range of practices used by IT professionals to ensure the consistent availability, performance, and response times of applications. Business applications, mobile apps, and websites are all typical use cases for monitoring. However, as the world becomes increasingly digital, monitoring use cases are expanding to include networks, logs, hosts, processes, services, and the end users accessing these applications.
In terms of what APM stands for, there are several commonly used variations, including application performance monitoring, application performance management, performance monitoring, application monitoring, and application performance. If you conduct further research into APM, you're likely to encounter most—if not all—of these terms. To save confusion, these terms generally refer to the same scope of practices and functionalities.
APM software is designed to meet the following three main functional dimensions:
Front-End Monitoring
This refers to an availability and performance monitoring discipline that plays a key role in digital experience monitoring (DEM). This also includes real user monitoring (RUM) and synthetic transaction monitoring for mobile and web-based users. DEM contains a larger array of technologies than those utilized in APM activities.
ADTD
ADTD stands for application discovery, tracing, and diagnostics, which entails the automated discovery of microservices, application servers, application frameworks, platforms (i.e., service mesh, orchestration mechanisms, and containers), and web servers. ADTD is responsible for determining the relationships between each of these components by observing an application's HTTP/S transaction behavior. This is facilitated by bytecode instrumentation (BCI) and/or distributed tracing.
Analytics
An effective APM solution must be able to provide domain-centric artificial intelligence (AI) for key IT operations functions using AI or machine learning. APM solutions should employ event correlation, root cause analysis, and anomaly detection.
Why Is APM Important?
Every day, most of us access applications to stream TV and film, connect to our social media accounts, manage our fitness, shop online, manage finances, and much more. When an application crashes or lags, it can be extremely frustrating, and it's likely to damage our perception of the provider. This is one of the many ways businesses lose customer loyalty.
There are numerous variables capable of impacting application performance, such as coding errors and software bugs, database slowdowns, network and hosting issues, and problems with operating system and device type support. Websites, mobile applications, and business applications are designed to deliver a user-friendly experience, but the underlying infrastructure of these applications is highly complex. Hundreds of interconnected digital services and millions of lines of code go into making these applications work for the end user, which is why APM tools are so important.
APM tools help you understand and troubleshoot the many variables capable of contributing to poor performance. Without the appropriate monitoring capabilities at your disposal, IT teams would struggle to solve issues in a timely manner, impacting customer satisfaction and retention. If your company is relying on slow, unavailable, or unreliable applications or ones offering a poor user experience, it can result in damage to your reputation, lost revenue, and—in the case of internal business applications—reduced productivity.
Dynatrace Software Competitors
Let's look at some of the best Dynatrace competitors and replacement tools. There are plenty of tools like Dynatrace available on the market, which can make choosing between them feel like a challenge. This review will consider how similar tools measure up to Dynatrace by looking at user-friendliness, range and sophistication of features, suitability for business use, and other key contributing factors.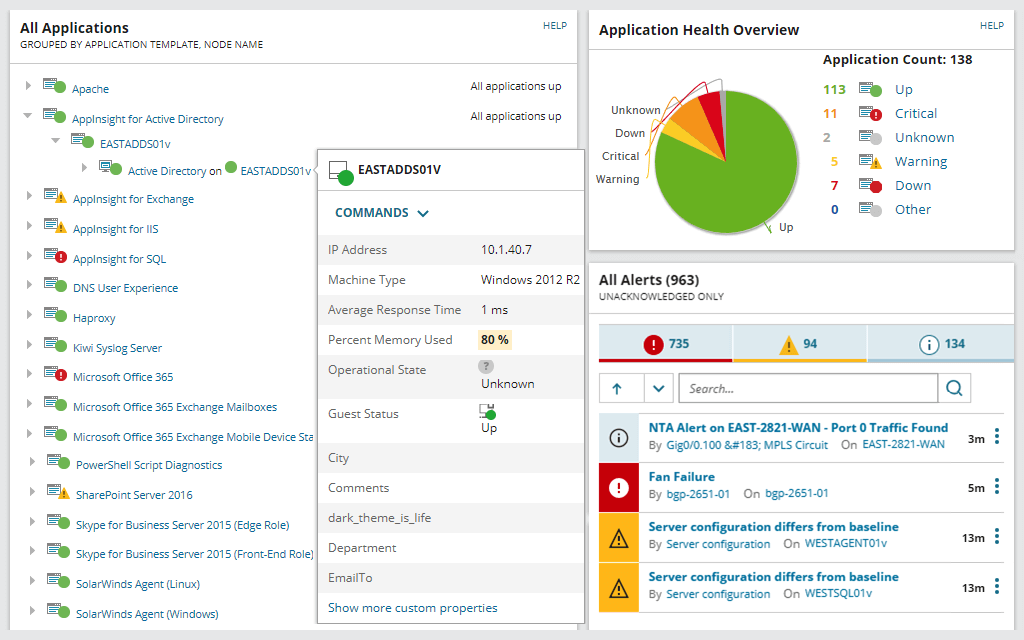 SolarWinds SAM, like Dynatrace, provides infrastructure software designed to cover application, network, and infrastructure monitoring. There are some notable similarities between these tools. Server & Application Monitor and Dynatrace are both highly versatile tools with numerous automated capabilities, including auto-discovery.
In terms of user-friendliness, this tool can be launched in typically just a few minutes, allowing you to start your application performance monitoring in no time at all. SolarWinds is well-known for delivering an intuitive and dynamic user experience across its tools, providing users with visual representations of data wherever possible and color-coded dashboards you can customize to reflect your company's priorities.
This Dynatrace alternative gives you access to an in-depth view of your applications environment, helping you identify and troubleshoot performance problems before they impact your end users. SAM features an intelligent alert system designed to eliminate false positives and notify you when health indicators reach a certain threshold or deviate from performance baselines. Dynatrace also includes intelligent alerts in its software package and custom alerting capabilities so you can configure thresholds to suit your needs.
One of the most notable benefits of SAM is it gives you access to a significant number of out-of-the-box monitoring templates for critical applications. This includes Active Directory, Java, Apache, Exchange, IIS, Citrix, Oracle, and over 100 others.
Like Dynatrace, SAM offers a range of automated monitoring features designed to help you simplify application performance management activities. This saves you time otherwise spent on manual administration processes. Both Dynatrace and SAM feature auto-discovery, which automatically detects servers and applications in your environment. SAM also allows you to define monitoring profiles and automatically configure what needs to be monitored on discovered nodes. It dynamically and intelligently calculates baseline thresholds for performance alerting purposes with zero manual intervention, and it can schedule the automatic delivery of performance reports. SAM can even automatically map your applications infrastructure, allowing you to visualize dependencies within the underlying infrastructure.
SAM is an especially adept tool for monitoring the end-user experience for business transactions. SAM features a web performance monitoring tool capable of proactively identifying whether changes made to webpages or to the web application have an impact on end users. Synthetic transaction monitoring allows you to analyze the impact of code changes. You can also test your websites in the preproduction stage, allowing you to detect potential performance problems ahead of time. Similarly, Dynatrace offers three types of synthetic monitoring: browser click paths, single-URL browser monitors, and HTTP monitors.
Both Dynatrace and SAM offer server monitoring capabilities, but I believe SAM is generally more comprehensive. SAM helps you forecast resource capacity requirements for workload management purposes by monitoring the resource utilization of your virtual and physical environment over time. This means the tool can identify capacity needs so you can optimize resource procurement and manage workloads more efficiently. SAM helps you identify server problems capable of affecting application performance by monitoring event logs, processes, services, and hardware health. To streamline resource management, SAM also maintains a centralized inventory of server hardware and software assets across your entire organization.
Overall, SAM and Dynatrace both offer an advanced range of features with an emphasis on automation. I believe SAM, however, is generally considered to be more user-friendly. Server & Application Monitor is a highly scalable tool suitable for small and large businesses alike. A 30-day free trial is available.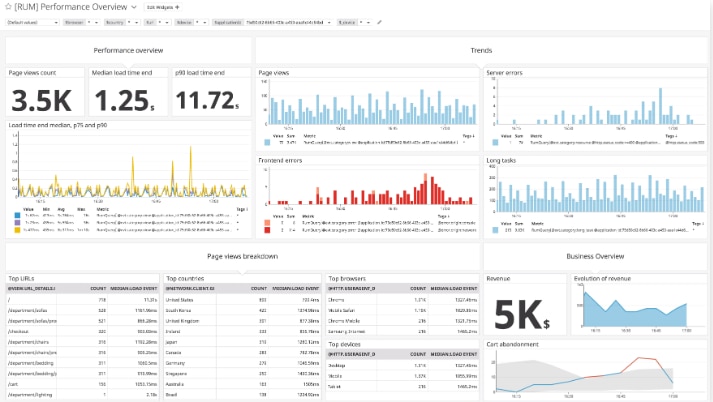 The software as a service (SaaS) product from Datadog initially focused on cloud infrastructure monitoring. Recently, however, Datadog has expanded its offering to deliver a full-stack monitoring solution inclusive of APM. Like Dynatrace, Datadog includes core APM, network monitoring elements, log analytics, infrastructure monitoring, DEM, and AIOps. And like Dynatrace, its DEM capabilities include support for RUM and synthetic monitoring.
The Datadog solution is founded on a common data model enabling artificial intelligence and machine learning analytics. This includes anomaly detection, event correlation, and root cause analysis across all supported data sources and stacks. Unlike most vendors—including Dynatrace—Datadog is one of only a few vendors to offer a single-agent architecture for traces, metrics, and events. This is an advantageous feature because it makes the tool easy to deploy. Additionally, Datadog supports open-source integrations, including OpenTracing and OpenMetrics. Dynatrace supports some open-source plug-ins as well.
The log analytics solution in Datadog collects logs via the unified Datadog agent and directly from the HTTPS API (Dynatrace also includes log monitoring and analytics). This Dynatrace software competitor supports server-side and client-side filtering. It's widely deployed for hybrid cloud infrastructure monitoring, for which it's a firm favorite among IT professionals. However, its popularity as an APM solution is still limited.
Datadog supports always-on profiling with AIOps, security analytics, mobile monitoring, end-to-end tracing from the browser, and much more. Like SAM and Dynatrace, it also includes synthetic monitoring. Unfortunately, the Datadog APM solution is less mature than those offered by its competition, and the tool's granularity of call stack tracing is still developing. Although Datadog remains a viable Dynatrace competitor, it's better suited for organizations with advanced cloud infrastructure monitoring requirements. A 14-day free trial is available.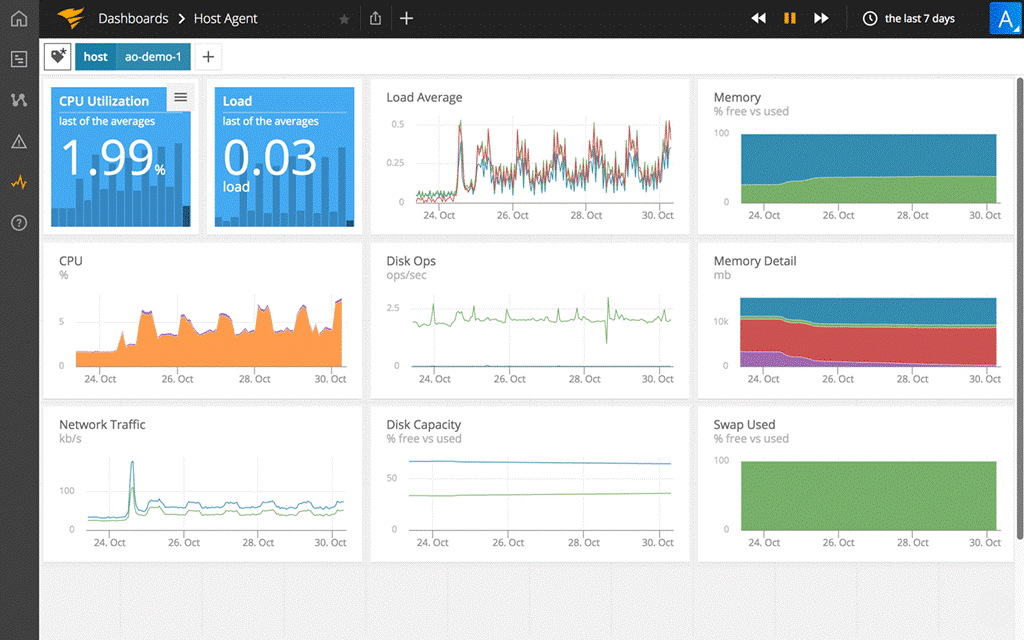 SolarWinds AppOptics™ is another popular Dynatrace competitor. AppOptics is a low-cost, high-functioning APM capable of augmenting Dynatrace monitoring in several ways. First, AppOptics allows you to cover the business-critical applications you may not be able to afford to monitor with Dynatrace. AppOptics is a powerful and comprehensive APM solution. It's also simple and cost-efficient, with monitoring packages paid on a per-host basis. As with Dynatrace, you can choose between full-stack monitoring and infrastructure monitoring. This tool is easy to install and—like Dynatrace—can be used for your cloud, hybrid, and on-premises systems.
Another notable AppOptics feature is automated application root cause analysis. This functionality pinpoints the root cause of your application performance problems, often in a matter of seconds. Dynatrace offers a similar utility.
Like Dynatrace, the AppOptics full-stack infrastructure and application monitoring solution gives you continuous visibility into hosts, containers, and your serverless environments. This provides you with instant insight into issues, so you can minimize the mean time to resolution (MTTR) as much as possible. You can rapidly drill down from a high-level visual of your complete infrastructure into the details of a specific resource on a host or container in a few clicks. This tool also provides more than 150 out-of-the-box integrations, dashboards, and metrics and the ability to customize additional integrations, which results in capabilities similar to Dynatrace.
With this highly comprehensive tool, you can troubleshoot distributed tracing, live code profiling, and exception tracking. You can even drill all the way down into a single line of code to investigate poor performance. One-click drill down into logs is another benefit of AppOptics, helping reduce the time it takes to get to the root cause of an issue. Dynatrace also offers logging analytics and includes a PurePath technology feature for code-level context.
To conclude, SolarWinds AppOptics is a cost-effective and high-functioning Dynatrace competitor with many advanced features. It's easy to use and can be bought on a per-host basis, which makes it scalable in the long term. A 14-day free trial is available.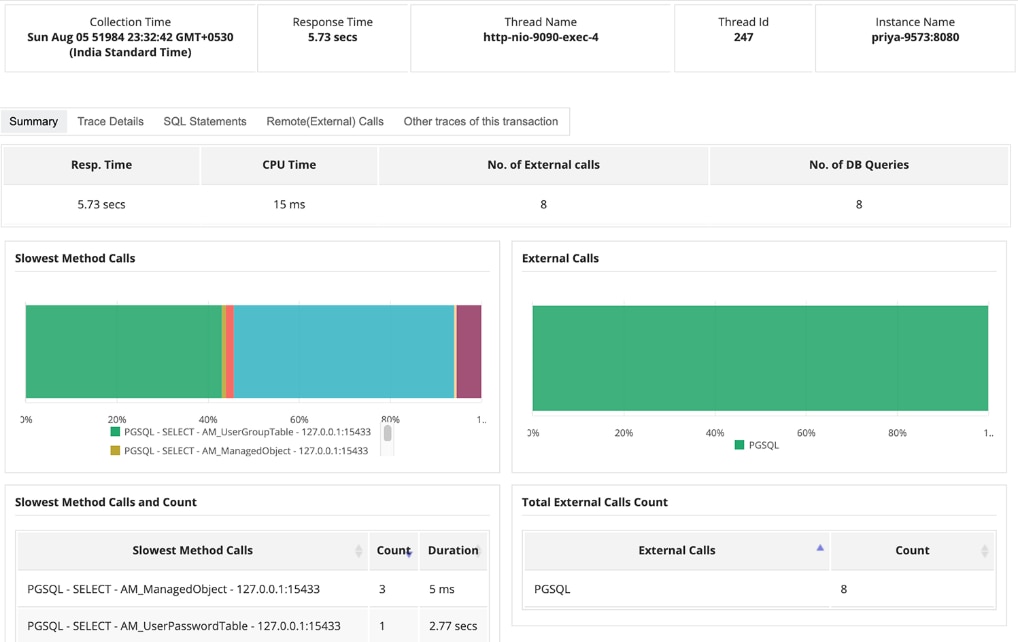 ManageEngine is behind two flagship products: Applications Manager and Site24x7. Site24x7 is the SaaS option, which is offered via a separately branded site, and Applications Manager is the on-premises offering (Dynatrace also offers on-premises and SaaS versions). ManageEngine is another big name in the IT software market, delivering a range of IT operations management (ITOM) products. This includes network performance monitoring and diagnostics, ITOM, and security solutions.
ManageEngine Applications Manager focuses on providing remote agentless monitoring, but it also supports agent-based monitoring through synthetic monitoring capabilities and bytecode instrumentation. Dynatrace allows for agent-based or agentless monitoring as well. Site24x7, on the other hand, provides agent-based performance monitoring through bytecode instrumentation as well as support for real user monitoring, which is also possible in Dynatrace.
Like Dynatrace, Applications Manager features auto-discovery of containers and orchestration. This tool also facilitates log collection and performance monitoring for endpoint devices and the network, and it offers additional support for commercial off-the-shelf (COTS) applications.
Unfortunately, Applications Manager doesn't scale as well as other Dynatrace competitors. Moreover, it focuses most of its efforts on the SMB market, which means organizations with complex architectures and requirements might find its capabilities limited.
ManageEngine Applications Manager is a decent Dynatrace competitor. It's easy to use, it covers a broad range of infrastructure for both cloud and legacy, and it's available in SaaS and on-premises versions. It supports COTS applications and hyperconverged infrastructure, which sets it apart from competitors, including Dynatrace. This tool is easy to deploy, cost-efficient, and a good option for SBB data center environments. You can schedule a demo of Applications Manager here. If you'd prefer a SaaS solution instead, you can access a 30-day free trial of Site24x7 here.
New Relic APM

© 2008-20 New Relic, Inc. All rights reserved
New Relic APM is a solution delivering DEM, logs, metrics, infrastructure, and analytics capabilities. The New Relic One platform, which launched last year, combines these capabilities into a single user interface. This tool provides users with context across technologies and products.
With New Relic One, you can ingest data from any source, including competing solutions, extending the capabilities beyond data captured by proprietary agent technologies. This solution allows users to create their own custom applications, combining data and creating views of client environments across numerous domains. At the beginning of last year, New Relic extended its AIOps functionalities, so the tool can now support serverless environments. These features make New Relic comparable to Dynatrace in its powerful capabilities.
New Relic APM includes support for public cloud, microservers, and Kubernetes as well as open-source technologies like Prometheus, Zipkin, Istio, and OpenTelemetry. New Relic regularly rolls out new features and plans to expand its cloud and IT service management integrations as well as its DevOps utilities for its developer ecosystem.
New Relic is a programmable platform, which differentiates it from Dynatrace and many other Dynatrace competitors. Unfortunately, the New Relic architecture uses multiple agents, depending on the environment and language being monitored. I believe the tool is more complex than other Dynatrace alternatives with single-agent architecture models. You can access a 30-day free trial here.
Choosing the Right Dynatrace Competitor
Hopefully this guide has given you some insight into how the best Dynatrace alternatives currently on the market measure up to Dynatrace as an application performance monitoring solution. SolarWinds Server & Application Monitor tops the list by offering a combination of versatility, user-friendliness, and advanced utilities ahead of the market curve. The features in SAM are automated wherever possible, significantly helping reduce the need for manual intervention. Most activities and functions can be performed in just a few clicks, and the tool is quick and easy to install.
Although SolarWinds SAM offers many of the same features as Dynatrace—including auto-discovery—it's designed for ease of use. SAM is also extremely well supported and gives you 24/7 access to support technicians for one year with a license or active maintenance. If you have questions you'd prefer to ask other users, you can reach out to an avid community of SolarWinds SAM users via the THWACK® forum.
If you still aren't sure which of these APM tools to choose, take advantage of the free trials mentioned throughout this guide. You can access the SolarWinds SAM free trial here.
* As of June 12, 2020