Since it came on the scene in 2013, Slack has taken the business world by storm, especially for SysAdmins looking for a better way to monitor dozens of software programs at once. It's a full-package instant messaging system, offering organizations the ease of direct messaging, private channels, the ability to share files, and cross-platform compatibility for desktops, tablets, and smartphones. But it also offers the ability to integrate a myriad of other applications and send instant push alerts. With Slack, businesses can centralize all of their important notifications on a single platform.
If you're a SysAdmin, you're likely responsible for installing and maintaining an array of systems and servers. Integrating your most critical solutions into Slack can make your job faster, more effective, and yes, even cooler. I've tested a wide array of commonly used SysAdmins programs and have developed a list of recommendations for those offering particular useful Slack integrations.
Website Monitoring Alerts: Pingdom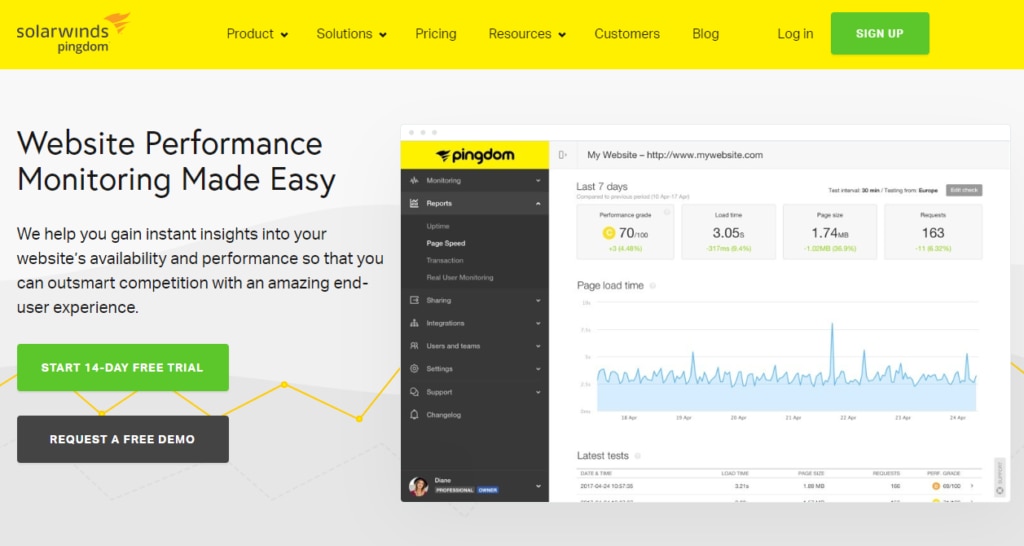 One of the most important jobs of SysAdmins is ensuring your company's websites are performing as they should. That's why SysAdmins need an industry-grade website monitoring solution.
SysAdmins can't go wrong with the SolarWinds® Pingdom® website monitoring solution. With this tool, uptime checks can be generated from over 100 polling locations around the world. Additionally, Pingdom helps users discover the root cause behind a site's downtime. It can even generate in-depth reports to help SysAdmins prevent incidents from reoccurring.
The comprehensive alerting systems in Pingdom make it a useful Slack integration, allowing SysAdmins to receive notifications in any channel they elect. SysAdmins can even configure Pingdom alert policies to send notifications only for critical changes, preventing bombardment with unnecessary pings. The starter tool is $11.95 a month with an annual subscription.
Application Performance Alerts: AppOptics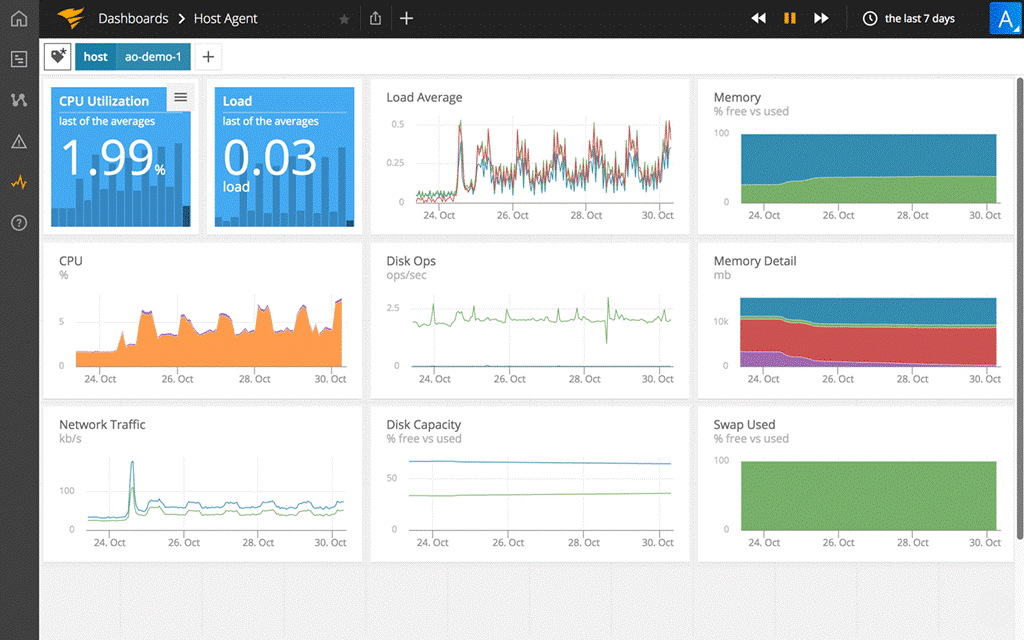 As software applications have become more complex and dynamic, SysAdmins have had their hands full. This is why it's important to have a robust application performance monitor—look no further than SolarWinds AppOptics™.
AppOptics is an easy-to-use application performance monitoring (APM) solution. It has over 150 options for integrations and customizable metrics, each of which filters into the same dashboard for in-depth analytics and alerting. This makes it the perfect APM alerting solution for a SysAdmin.
What's more, AppOptics is even more useful when integrated into Slack. With this pairing, SysAdmins can receive on-the-go application alerts and easily send application chart snapshots to share key metrics with fellow team members. AppOptics Metrics Packs are $599 annually.
Log Monitoring Alerts: Loggly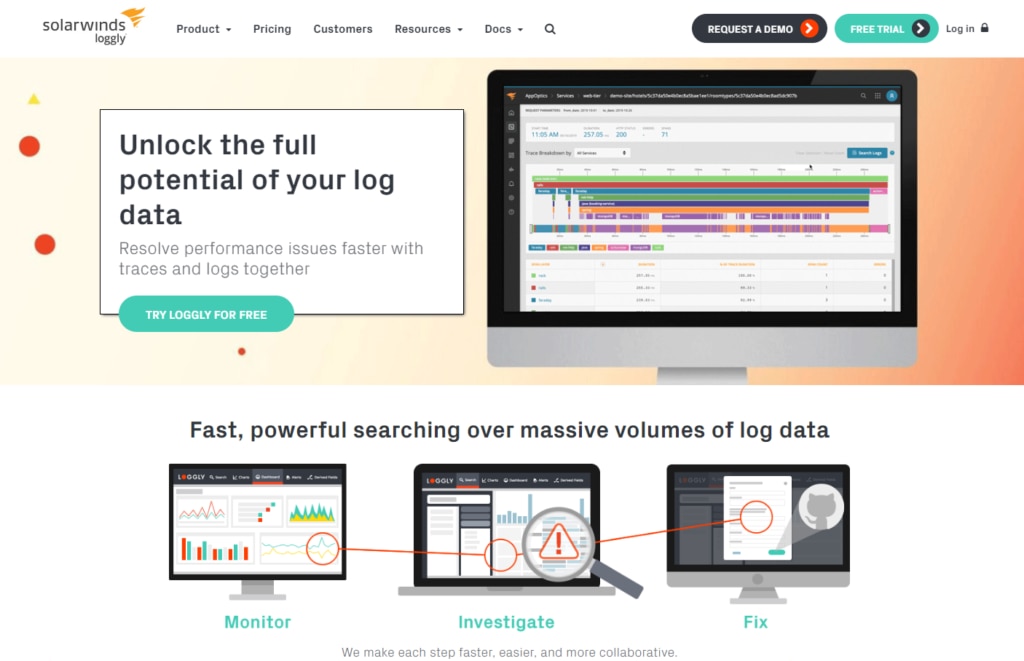 SolarWinds Loggly® is a flexible, cloud-based log monitoring and log analysis platform. With Loggly, you can monitor critical events and metrics from an array of different software and applications.
Loggly operates in real time; there's no wasted time between when an incident occurs and the moment you're alerted to it. With the Loggly live tail viewing feature, SysAdmins are able to analyze the latest log files from all their distributed systems.
Additionally, Loggly has a robust and flexible alerting system that allows SysAdmins to create custom alerts based on search patterns, specific metrics, or any other condition. Alerts can even include other contexts like sample events, or might include direct links to the events in the Loggly UI.
The combination of flexible alerts with real-time log analysis makes Loggly one of my most recommended Slack integrations for SysAdmins. Loggly supports Slack integration via a webhook—an easy way for users to post messages from external sources right into their Slack channels. Users only need to add an incoming webhook to a Slack channel, create a Slack alert endpoint, and synch the endpoint to Loggly alerts. There's a free, limited version of Loggly, and the next tier up is $79 per month.
Log Monitoring Alerts: Papertrail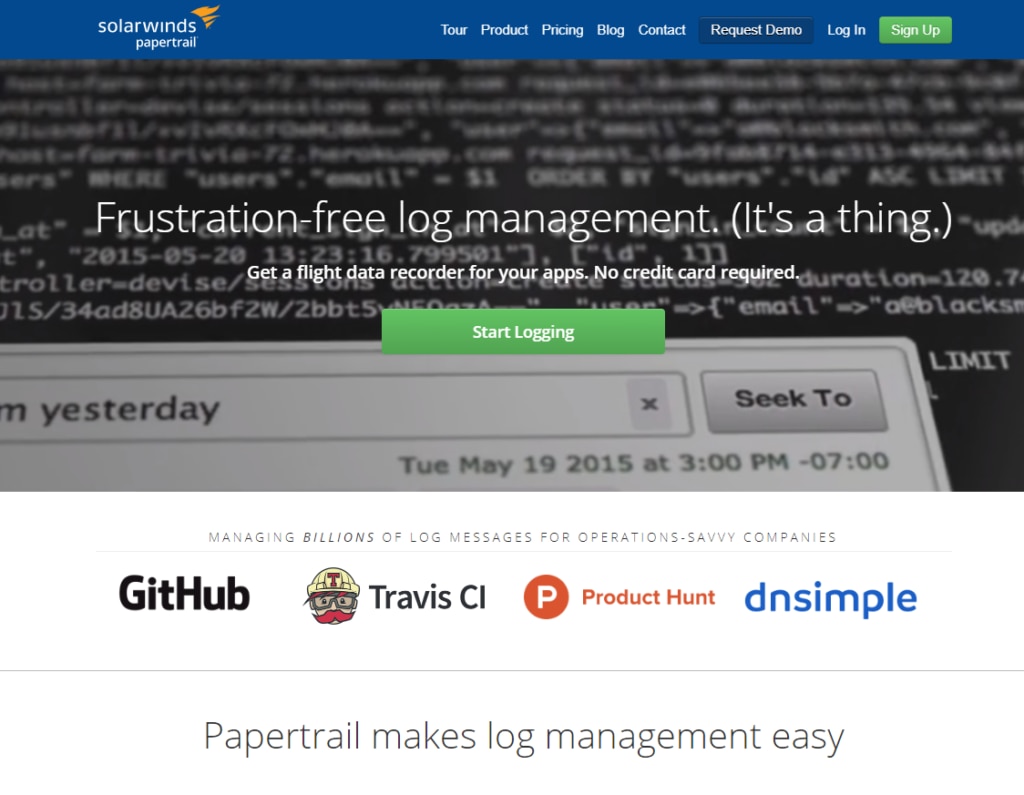 Another excellent option for log management is SolarWinds Papertrail™. Like Loggly, Papertrail is a cloud-hosted log management tool. It's known for lightning-fast troubleshooting speed, even in the most complex of network infrastructures. Papertrail also lets users consolidate logs from across all applications and programs to a central location, making it easy to keep an eye on any kind of network event.
And of course, Papertrail offers real-time log analysis and monitoring in addition to customized alerting. This means SysAdmins can get a lot off-the-shelf when they integrate the platform into Slack.
And when it comes to integrating into Slack, Papertrail shows you important system and application log messages through an easy-to-interpret web-based log viewer that posts alerts in any selected Slack channel. You can integrate charts and analytics, long-term archives, and other logging tools into Slack, making it easy to proactively monitor your logs.
Help Desk Alerts: Halp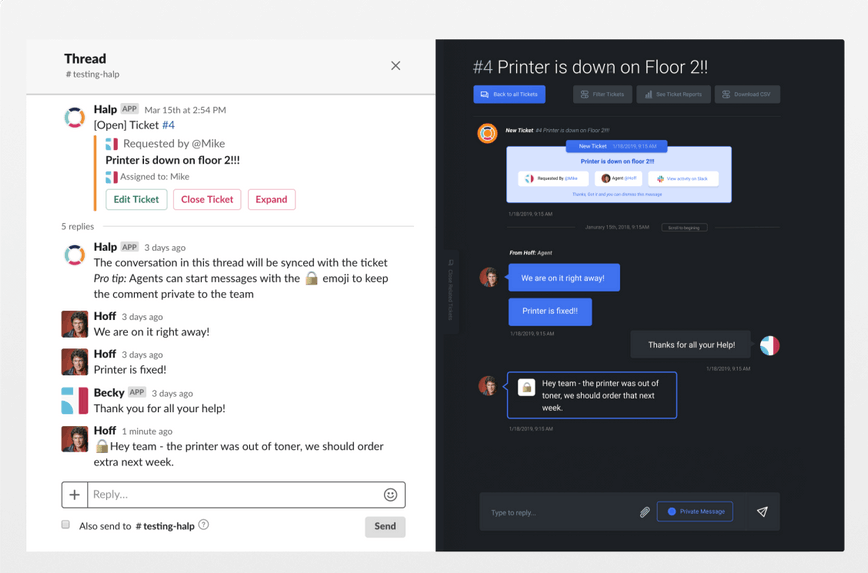 Managing a slew of IT tickets on a daily basis is perhaps one of the most important tasks SysAdmins are responsible for. That's why we recommend Halp, the first-ever Slack ticketing solution for SysAdmins. Halp is the first instant message platform designed specifically for internal ticketing, meaning it's focused on employees as opposed to customers.
Halp costs $25 per agent per month. We recommend it to any SysAdmin currently facing issues with their traditional ticketing systems. With Halp, users can create tickets right in Slack using a slash command with customizable forms. You can also respond to tickets within Slack threads and channels. If you're looking for a fully Slack-integrated help desk tool, Halp is a good choice.
Virtual Appliance: OpBot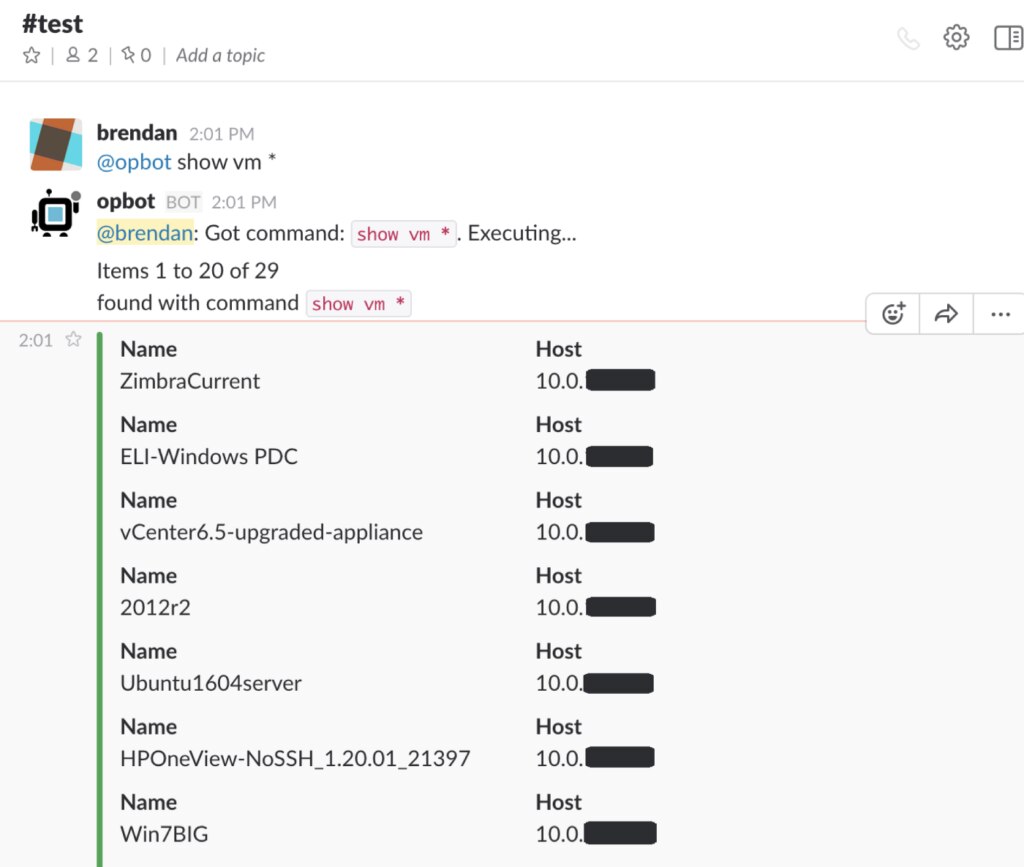 Managing virtual machines (VMs) on a network can be time-consuming. Without a professional tool, simply checking the VM's CPU usage can feel like you're exerting tons of energy on the smallest of tasks. Luckily, there are solutions providing easy visibility into VM environments—right from the Slack interface.
OpBot is a powerful tool enabling you to receive inventory and load information about virtual machines. It helps techs optimize their entity search and configuration load details. IT teams can leverage audit logs and Async commands to improve security and performance for virtualized resources.
By leveraging the chatbot feature in Slack, SysAdmins can connect opbot right to the Slack API, allowing users to share important information about their VMware environments via private messages and channels. IT can also use VMware vSphere's preconfigured commands right from the Slack chat, eliminating the need for a VPN, RDP, or even a mobile hotspot. It doesn't matter if you're using a desktop or a handheld device—you only need access to Slack to get the most out of OpBot.
Crash Reporting: Crashlytics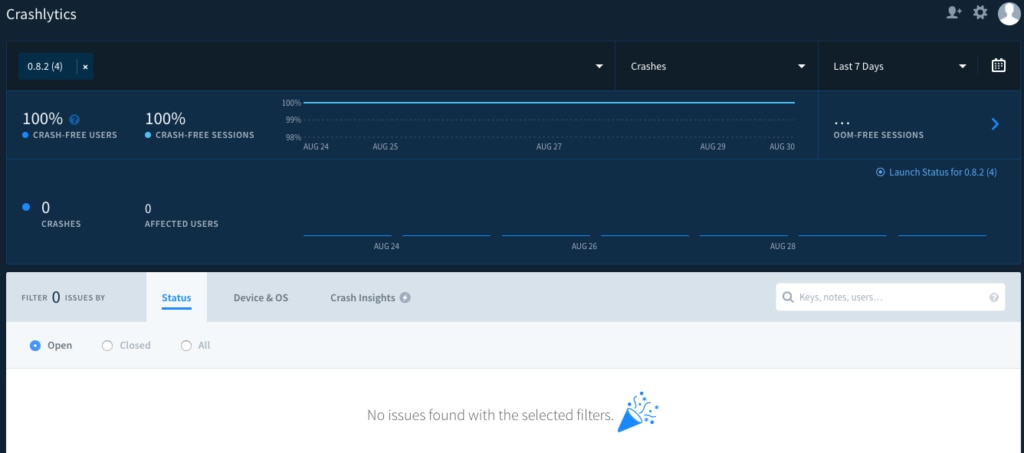 Crashlytics is a reliable and lightweight crash reporting system that integrates with Slack for greater visibility. The idea of the Crashlytics software is to save you time; with potentially faster time to resolution for crash troubleshooting, development teams can focus on working on the applications most important to the organization. SysAdmins can work within the tool itself to set up monitoring preferences, generate in-depth reports, and configure real-time alerts.
However, by adding Crashlytics to Slack, you can streamline your troubleshooting workflow even further. When integrated into Slack's API, crash summaries and alerts can be sent to the channel of your choice. Currently, Crashlytics allows SysAdmins to connect three different alerts to Slack: new issues for new crashes, regressed issues for when an app undergoes a previously "closed" crash, or an increasing velocity crash issue, which affects only a specific section of an application.