Data loss can happen in many ways—natural disasters, human error, security threats and cyber-attacks, and physical damage to name a few. The impact from data loss can be equally varied—revenue decline, customer churn, reputation damage, and more. Being able to quickly restore business-critical information is more crucial for businesses than ever before but it requires resources, time, and efficiency. That is where data backup software greatly helps.
How does data backup software help businesses?
Data backup software protects business-critical information by creating multiple copies of applications, documents, files, and folders, typically storing the copies in a different location than the original. Additionally, some backup software also provides features such as long-term archiving, security-focused storage, bare-metal recovery, multiple recovery options, single console management, and more.
Outlined below are a few data backup software and services that help businesses safeguard applications, infrastructure, and more.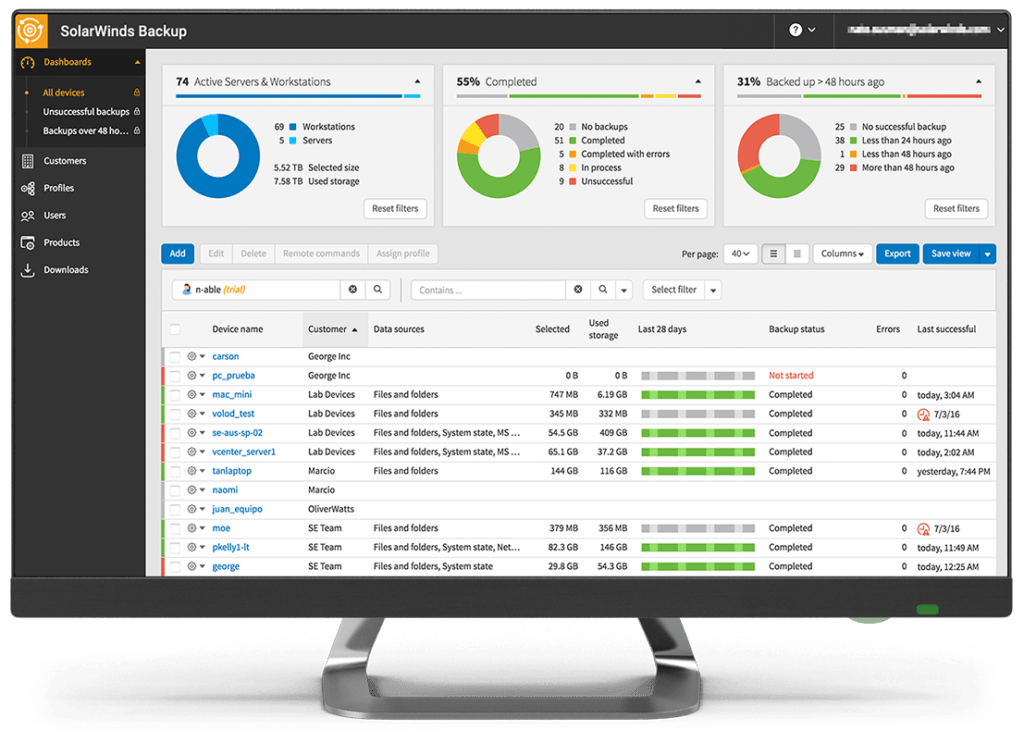 N-able™ Backup is an all-in-one web-based backup solution with highly scalable features. The solution is designed to protect critical applications, workstations, and physical and virtual servers from a single console. Backups can be automated and scheduled and data recovery can be self-service. Specialized backup tools for documents require no extra effort or configuration—it is automatically deployed allowing users to recover an unlimited number of documents.
Proprietary TrueDelta™ technology adds advanced features like deduplication, compression, block-level change detection, WAN optimization, and more. Native VMWare integration speeds VM recovery, and LocalSpeedVault allows you to restore from local storage, reducing recovery times even further. Backup software from N-able provides fast and efficient protection of critical information.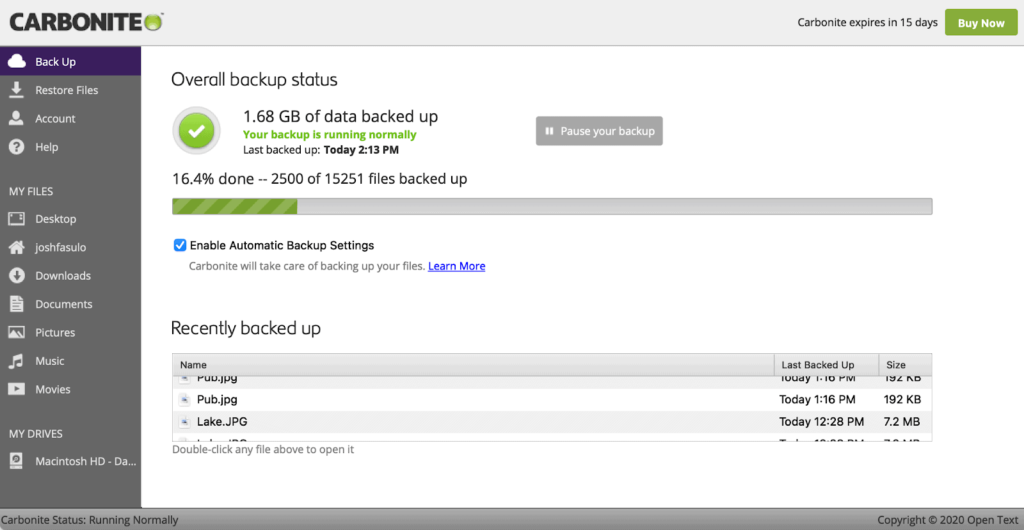 Carbonite® server backup can help to protect an organization's data from breaches, natural disasters, and system failures. A single click and recover a file or an entire system. The solution also offers a hybrid backup that utilizes local storage.
It is also capable of backing up and restoring Exchange™ emails, user data, and calendars. Admins can manage groups, roles, responsibilities, and policies with this solution. Carbonite also features scheduling and management and dedicated support.
Idrive® can protect your Windows® PCs, Mac®, iOS®, and Android® devices, and external hard drives. IDrive allows teams to add users, and dashboards help manage backups for all the endpoints and more. Additionally, the service provides data backup and advanced recovery features such as fast backup, thin client software, ransomware protection, mass deployment, compliance and security, disaster recovery, and more.
OneDrive® cloud storage is a reliable backup solution that can save files, media, and documents. It allows users to access the saved data from any time on any device, and enables real-time collaboration and sharing of documents with other team members. The key features of the solution include seamless integration with Microsoft 365™, files on demand, document scanning, and personal vault.
Acronis® provides a reliable and flexible backup solution best for enterprises and businesses. It offers active protection against ransomware and crypto-jacking, full-stack anti-malware protection, as well as vulnerability assessments and patch management. The key features of the tool include remote assistance, hard drive health monitoring, and backup of mobile devices, endpoints, virtual and physical servers, and multi-platform protection.
Acronis offers flexible backup options such as hybrid backup that includes local and cloud, full image backup, instant restore, customizable dashboards, advanced reporting, and more. Acronis data backup and recovery solution delivers platform flexibility, integrated anti-ransomware, end-to-end encryption, and fast, reliable recovery.
Zoolz is a cloud-based data backup solution designed specifically for small and medium-sized businesses. It offers intelligent cloud backup with AI and eDiscovery. It protects data stored on the cloud, mobile devices, desktop, and more.
The solution provides military-grade AES-256 encryption that meets the strictest security requirements. Partnered with the AWS advanced technologies of Amazon®, Zoolz offers reliable storage, multi-faceted backup, efficient duplication, and redundancy to ensure on-demand data availability.
SpiderOak® One Backup is a secure and reliable backup solution that protects an organization's critical assets such as files, documents, and information. It provides access to all the historical versions, including deleted files, while managing privacy of the data. Along with enterprise protection, SpiderOak enables scheduled backup and sharing of files. The key features of the tool include:
Point-in-time recovery
End-to-end encryption
File sharing support
Cross-platform availability
pCloud® provides backup of the files and folders stored on physical systems. It can recover an older version of up to one year. With the real-time backup of information, the tool offers key features such as data security, client-side encryption, file sharing, file history backup, project collaboration, multiple file-sharing options, file management access, and synchronization. It supports devices running Windows, Linux®, iOS, macOS®, and more.
Dropbox® Business helps organizations in securing critical information safely and securely. It allows sharing, storing, and collaborating on files quickly. The administrator can manage teams' workflows, users, and Dropbox business accounts. Dropbox offers encryption, extended storage, file access, free storage, security, and instant availability of business-critical data.
BackBlaze® is a cloud storage solution to help store and safeguard critical files. The solution offers Veeam backup, server backup, NAS backup, and computer backup. Its features include real-time synchronization to update the backup files, storage capacity to store large amounts of files, and remote backup to provide remote access. It allows businesses to encrypt sensitive data in transit.
Conclusion
The data backup solutions highlighted above are all advanced, robust, business-grade tools that offer high storage options, multi-cloud backups, and full-stack recovery features. All the solutions are highly scalable, flexible, reliable, and they offer free trials to help customers make an informed choice and ensure all their backup needs are met.
Would you like to find out more? Check these articles: