The bring your own device (BYOD) trend has given rise to a number of new opportunities. However, it comes with a few critical challenges—including data security, employee privacy, vulnerability to threats, and compliance and regulation. To ensure better and effective management of BYOD devices, MSPs should deploy advanced mobile device management (MDM) solutions.
What are MDM solutions?
MDM solutions are software applications designed to help businesses manage mobile endpoints and BYOD devices used within an enterprise environment. These applications are crucial for protecting and controlling the mobile data and configuration settings of mobile devices connected to an enterprise network.
MDM solutions not only help keep the devices and network secure for business-critical transactions, but they also provide a bird's eye view of device security policy, application management, and network inventory. The typical features of MDM solutions include:
Device location tracking
Remote wiping
Device security
Access controls
Outlined below are the best MDM software solutions MSPs can use to automate mobile device management.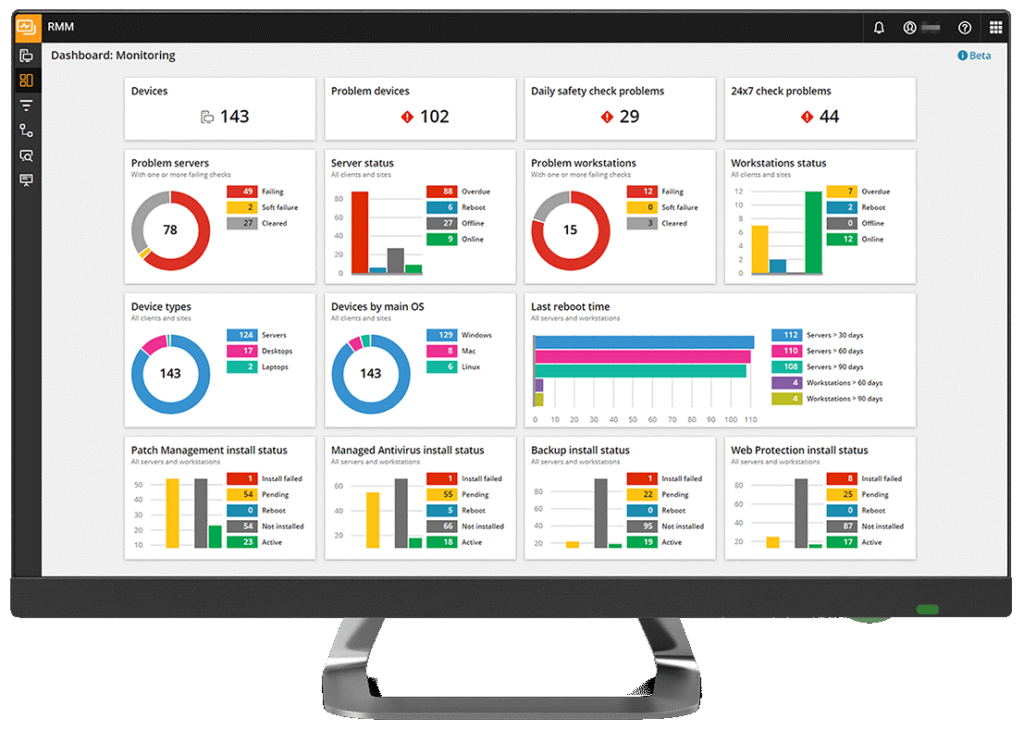 N-able® RMM is an all-in-one platform specifically designed for MSPs to deliver faster IT services. RMM offers a comprehensive set of tools for mobile device management to improve, manage, and maintain clients' IT devices. With its scalable features and easy setup, RMM allows MSPs to track multiple mobile devices from a single web-based console.
RMM offers unique features, such as tracking for stolen or lost mobile devices, data usage monitoring, remote locking, and support for multiple device types. Additionally, the MDM portion of RMM is only one feature—the full solution combines a wide range of other utilities, including network device monitoring, patch management, antivirus management, and backup and recovery, to improve clients' overall experience. Moreover, N-able MSP offers a free trial of its RMM tool to discover and evaluate its functionalities.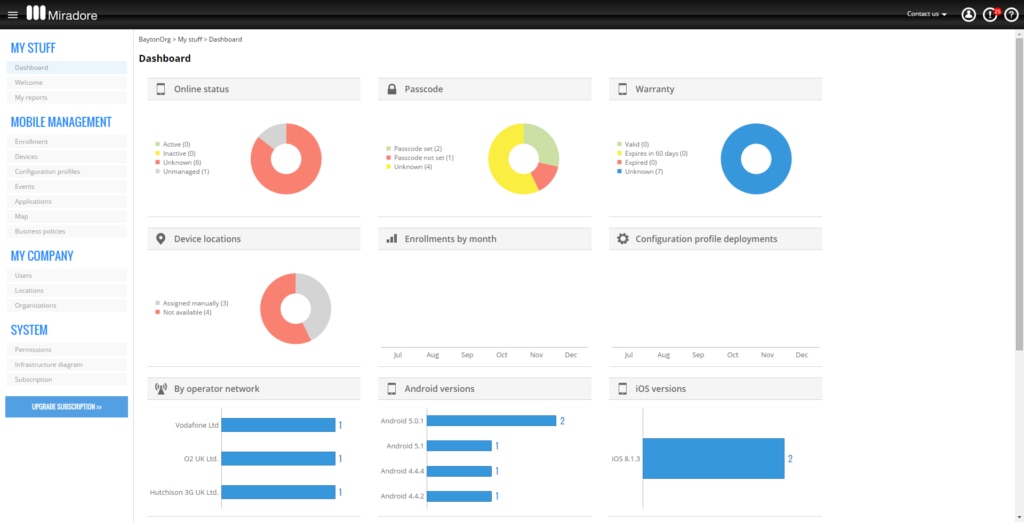 Miradore® is a reliable mobile device management solution that offers scalable features to help MSPs manage clients' mobile devices. The tool supports major operating systems such as Windows®, Android®, and iOS® and offers a comprehensive view of all the business' devices in a single dashboard.
Miradore encryption capabilities use Bitlocker and FileVault to secure crucial data and business devices. MSPs can automate manual tasks and reduce human errors to ensure compliance and smooth workflow. This also allows teams to work more efficiently.
Miradore gives complete access to ready-made reports and device-specific inventories to help service providers manage devices efficiently and proactively.
Headwind MDM is an open-source Android device management platform specifically designed for corporates. It is automatically configured on mobile devices as soon as the administrator scans the QR code. It keeps the corporate apps up-to-date, allows the development of plugins, and enables efficient tracking of corporate mobile devices.
With Headwind MDM, MSPs can optimize corporate Android devices and save up to four to six user hours. Moreover, the software can run on-premises without an internet connection. The data is transferred through the HTTPS protocol, which makes it a highly secure platform for businesses.
As Apple® devices continue gaining market share, it becomes important to manage devices using a reliable solution to automate device deployment and ongoing management.
Jamf Pro is a dedicated Apple device management solution that delivers the best and most secure end-user experience. It helps MSPs manage the entire lifecycle of Apple devices in an organization right from device deployment—and offers app management and security features.
Scalefusion is a mobile device and endpoint management solution that provides visibility across all business devices. It enables chat and VolP calls to provide seamless communication with remote teams. It readily blocks nonbusiness apps and websites to help secure Android, iOS, Windows, and macOS® devices from malware attacks.
The solution offers various enrollment methods, each with a unique set of functionalities, such as Android zero-touch enrollment, G Suite™ enrollment, Apple DEP enrollment, and email-based enrollment. MSPs can choose the enrollment based on the client's specific requirements.
Moreover, Scalefusion follows standard policies and strict protocols, such as SafetyNet attestation, factory reset, Kiosk mode, and compliance violation detection to safeguard devices and business-critical data.
Fleetsmith is a cloud-based mobile device management solution that automates device setup and allows MSPs to focus on businesses' device security. The tool is specifically designed for the management of Apple devices. It puts all the common devices on autopilot for faster deployment. This allows IT teams to focus more on impactful and business-critical tasks.
Fleetsmith provides full fleet visibility with its intuitive dashboards to help MSPs tackle issues efficiently. Some unique features of the tool include endpoint management, zero-touch deployment, local user account, and automated patch management.
Meraki is a cloud-based mobile device management solution that monitors and secures all endpoints and constantly changing devices within an organization. Using this MDM solution, MSPs can easily track and locate mobile devices, irrespective of location. It provides real-time visibility into the health of business-critical devices, software, hardware, and inventory.
Moreover, MSPs can use its encryption enforcement policies and access control rights to help ensure the security of the organization as well as the devices. Meraki integrates well with the system manager to provide seamless device onboarding. It also offers some additional flexibility for users and devices to deliver an enhanced end-user experience.
Esper is more than just a mobile device management solution. It is one of the best DevOps platforms for management, deployment, monitoring, and development of Android devices. The tool focuses on delivering exceptional end-user services with a toolkit designed for providing collaboration, control, and visibility.
It helps improve fleet productivity and performance through its advanced DevOps pipelines. Esper's advanced Android management features include seamless and no-touch provisioning, remote control and remote view, secure kiosk mode, and more.
Conclusion
Although all the MDM solutions highlighted above offer robust and highly scalable features, organizations must choose a comprehensive all-in-one solution that can provide additional features to improve the performance of IT devices. N-able RMM is a robust remote monitoring and management tool that includes exceptional MDM features for checking the health of IT devices. Additionally, it offers features, such as patch management and managed antivirus software, for laptops, desktops, and servers to deliver valuable IT services.
Find out more: