As businesses rely on data to serve all facets of their operations, it has become crucial to safeguard business-critical information from data breaches, hardware or software failures, and system crashes. Although modern computing environments often use virtual machines to ensure application provisioning, better availability, high performance, and server security, even a small breach or malicious activity can disrupt virtual and physical servers—potentially leading to huge amounts of data loss.
What is a server backup?
A server backup enables businesses to create copies of important files, data, applications, and databases located on servers (rather than on personal computers or devices, although these options are also available). It combines hardware and software capabilities to provide backup storage and retrieval services.
With a backup and restore solution in place, organizations can stay operational and achieve business continuity during or after an outage. Teams can keep critical workloads safe and available at any time, and they can help fulfill compliance-driven business requirements. To meet physical and online security standards, organizations need to have a grounded strategy and a reliable server backup solution.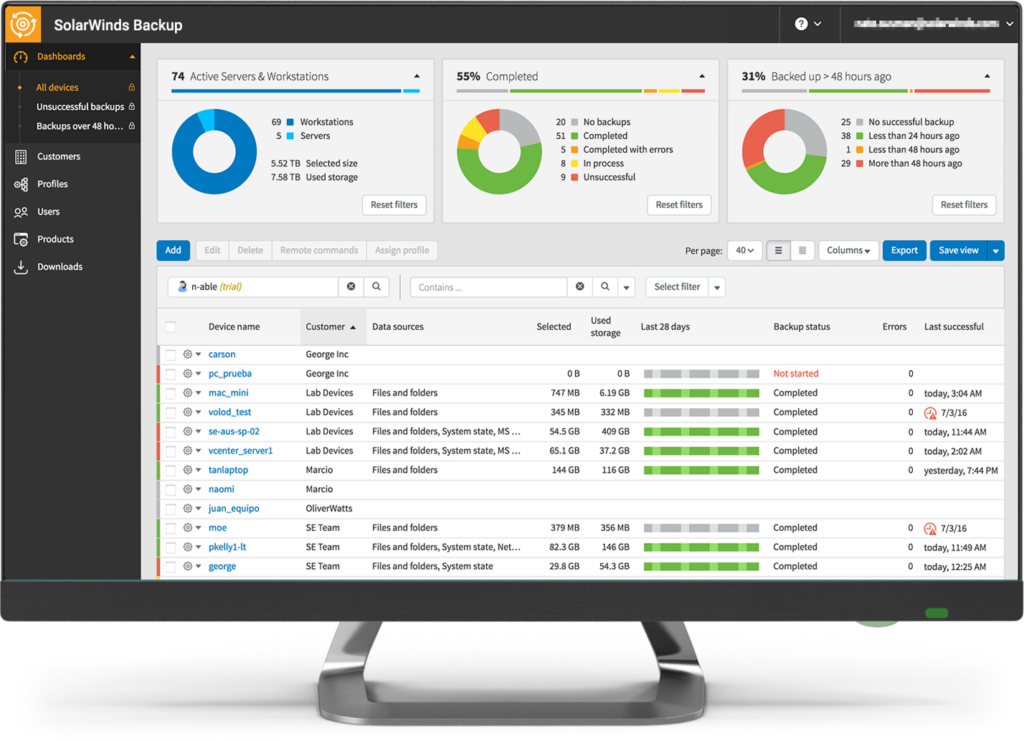 N-able® Backup is a cloud-first backup solution that provides data protection and unified management of backups for business documents, physical and virtual servers, workstations, and Microsoft 365, all from a single console.
With its unique architecture, online server backup detects changes from inside the disk and creates small, successive copies of backup files. This allows for more frequent backups, as those after the original backup are smaller and therefore take less time to transfer to the cloud.
It also includes an optional LocalSpeedVault to create an additional local copy of the server to recover crucial files and folders. This can help enhance recovery speed without the need to restore the entire server. Besides running regular backups, administrators can view color-coded charts to provide instant visibility into the backup status of system data, applications, and boot files. Its TrueDelta technology helps track and save the changes instantly.
The N-able Backup solution is ISO-compliant and uses AES 256-bit encryption to safeguard business-critical data. With 30 data centers worldwide, it provides additional cloud storage for faster backup and offers comprehensive platform support to help ensure backup of the entire network.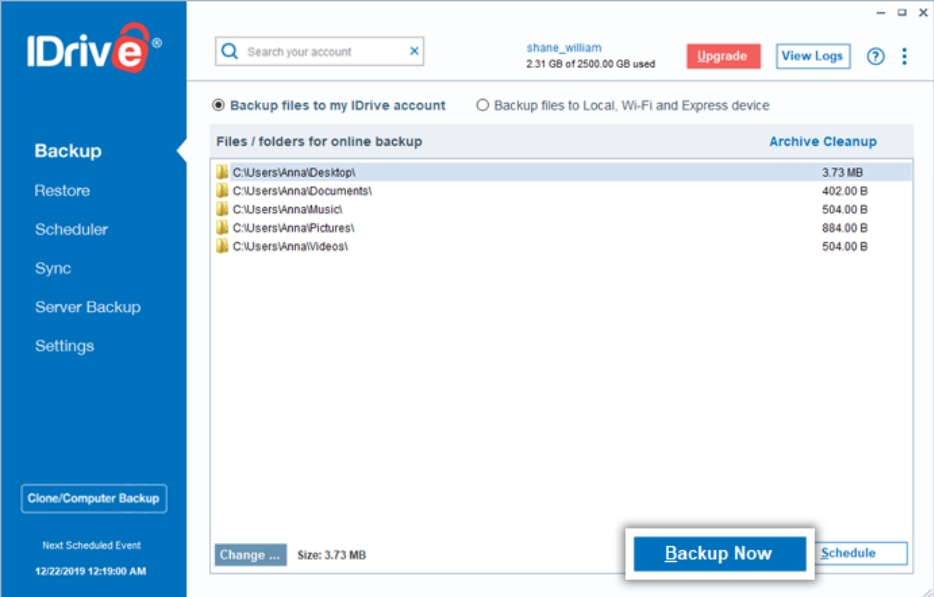 IDrive is a one-stop solution for backup and disaster recovery that provides enterprise-grade data protection for all the business devices, including computers, mobiles, and servers. With its centralized dashboards, teams can back up remote computers, databases, and enterprise endpoints.
Admins can also generate a backup activity report that includes detailed information about device statuses and user backups. Additionally, the tool offers features like multiple device backups, online file syncs, IDrive Express for quick backup and data retrieval, and true archiving.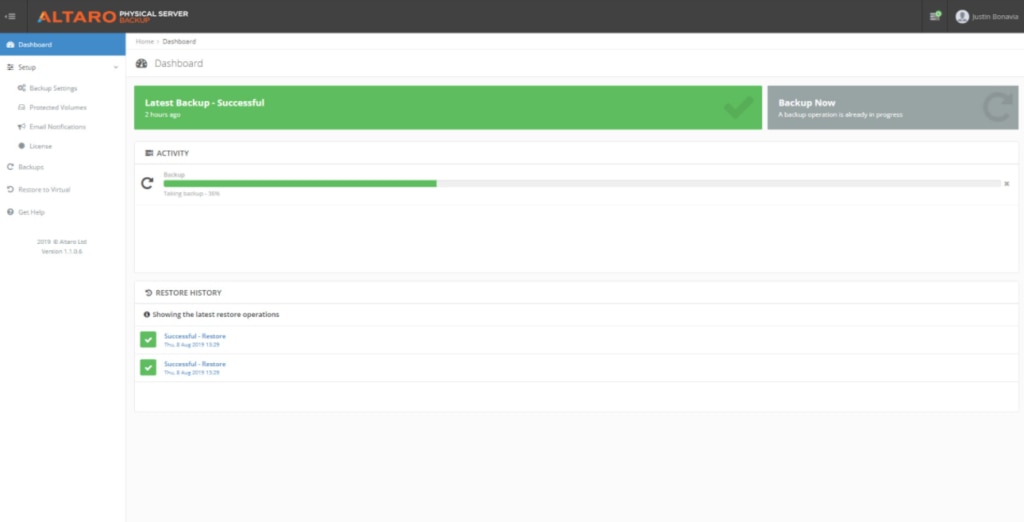 Altaro offers the backup of physical servers through a physical-to-virtual (P2V) solution. This helps in restoring the business information securely in a virtual format. It allows teams to set up the backup schedule of servers running Windows Server OS to a network path, or a removable or local disk.
As Altaro is a Disk2VHD solution, it is easier to restore the backed-up servers on a Hyper-V host. The tool offers encryption and retention policies to define the backup retention time of the physical servers that requires protection.
Additionally, the tool provides fast and efficient backup with its change block tracking, eliminating the need to scan changes every time. Its inline deduplication creates small backup files to ensure less space is required, with faster restore speed.
Acronis is an all-in-one cyberprotection platform that offers backup services, disaster recovery solutions, and secure data access providers to small, medium, and large enterprises.
With its hybrid deployment options, Acronis enables organizations to become more efficient in managing backup and cybersecurity. Acronis provides robust data protection to organizations by delivering integrated components for malware detection and backup and recovery.
Druva is a SaaS-based platform designed for data protection and secure backup across data centers, endpoints, and applications. It offers fast, secure cloud backup via unified management of physical and virtual cloud environments.
With consolidated global backup, it simplifies disaster recovery, search, and compliance. Teams can replicate backup copies of an organization's crucial data and send it to multiple AWS zones to ensure security and demonstrate compliance.
Druva also offers extensive cloud backup features, such as backups for VMware, Hyper-V, Oracle, Microsoft SQL for remote employees, and smart devices. Additionally, it creates violation reports and performs data indexing to simplify tasks, like file search and audits.
Both N-able RMM and N-central® help teams map, monitor, and manage devices remotely—and both include integrated backup.
RMM offers a comprehensive set of tools, such as remote access features, monitoring templates, patch management, and web protection, to manage and maintain an organization's IT infrastructure. It also offers backup and recovery features to help ensure crucial business data remains safe. With detailed and transparent reporting features, teams can identify the backup status of different devices.
N-central provides a backup manager to help protect servers, data centers, and devices. It includes bare metal recovery, virtual machine support, and data archiving.
Conclusion
Data breaches have become one of the major concerns of organizations today. With the increasing amount of breaches and ransomware attacks, it is crucial to include data recovery and server backup solutions in your security stack. The highlighted tools above can help MSPs safeguard business-sensitive information of clients to ensure seamless business operations. N-able Backup is a robust software that offers compression, cloning, and deduplication capabilities. Start with a free trial to safeguard critical business information today.
Get More on Server Backup Software
Looking to learn more? Be sure to read about Server Management, Virtual Machine Backup and also about How to Backup Linux Server.