With an accelerated need for digital transformation, businesses are increasingly relying on data for decision making, and thus the value of data and the need to protect it have grown exponentially. Today, data backup is crucial for ensuring business continuity and security against the increasing pace of breaches and cyberattacks. A proactive approach to backup helps enterprises and IT professionals to ensure that critical data and files are not lost or corrupted due to an unexpected event or security breach. Read on to explore our selection of software specifically tailored for use cases focused on Linux®.
Linux backup solutions to explore

Many enterprises and IT service providers rely on Linux-based servers and other devices for their daily operations due to its open source nature, flexibility, cost efficiency, and more. Understandably, there are plenty of solutions specifically targeting the needs of businesses keeping their data in a Linux environment. Here is the best backup software we've found.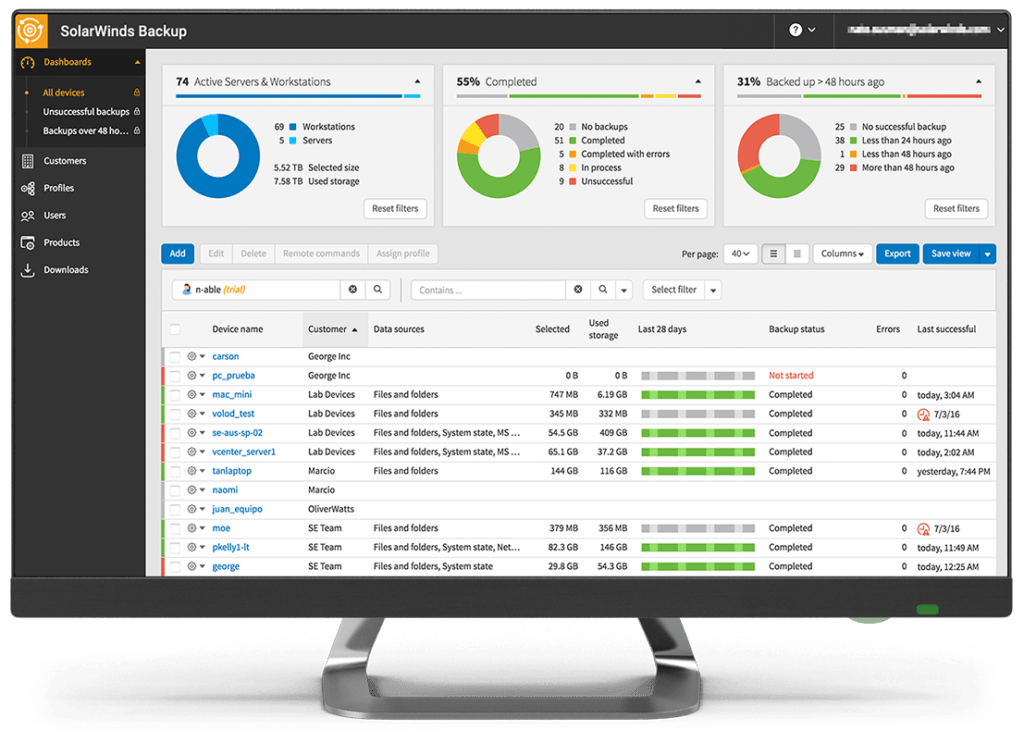 With N-able™ Backup, businesses and IT service providers can protect their Linux servers and devices securely and reliably. Its easy-to-use, centralized web interface is designed to provide better visibility across the environment, including servers and workstations. Enterprises can leverage Backup to monitor physical and virtual servers, workstations, and even specific data types, such as documents. The multi-tenant hosted console helps MSPs in comprehensive monitoring by tracking backup statuses, scheduling backup jobs, and recovering data quickly via a single console.
Backup software from N-able is cloud-based and offers multiple benefits, including convenience, cost efficiency, and quick data transfers. It reduces hardware costs, minimizing maintenance expense and effort. Additionally, it supports a range of recovery options. It is an effective linux backup solution in multiple recovery scenarios, ranging from a ransomware attack to a natural disaster.
Bacula® is an enterprise-ready, native Linux-based backup system. It's an agile solution to help enterprises backup and restore data quickly. Bacula, an open-source Linux backup software, is secure, customizable, and supports various scenarios, including physical to virtual to cloud backup. It is accessible via a graphic user interface (GUI), command line, or web interface. Enterprises and IT professionals can leverage Bacula for further storage flexibility by using its broad range of tools and capabilities to backup, secure, and restore a massive volume of Linux-based data. It also supports Windows® backup clients, UNIX®, and many professional backup devices and tape libraries.
Rsync is a command-line Linux backup solution. However, its GUI version, Grsync, also supports a graphical user interface to improve the user experience. Rsync requires minimal memory storage to perform all its functionalities efficiently. Enterprises and IT professionals can use Rsync for incremental backups, remote backups, and local backups. It also allows setting up file permissions and defining ownership rules to control data access.
Amanda® is also an open-source Linux backup solution that is compatible with Unix® and GNU systems as well. Therefore, enterprises using different operating system configurations alongside Linux can seamlessly use Amanda to back up their data from various sources to a single server. It provides a rapid installer to minimize installation time and an intelligent scheduler to automate backups. Amanda also offers database and application protection along with automated data retention in the event of transmission faults.
Timeshift® is another Linux solution that generates incremental system snapshots at regular intervals. It is similar to Time Capsule® for macOS® and System Restore for Windows and ensures Linux restoration to the last system restore point. Timeshift creates a backup of an operating system as a whole, including all the files and folders. It employs Rsync, hard links, or BTRFS to create filesystem snapshots. End users or administrators can predefine time intervals for scheduling automated system snapshots.

Conclusion
Data backup is critical. Therefore, it is essential to employ reliable Linux backup software to ensure business continuity and security. N-able Backup streamlines backup and data protection while minimizing cost and complexity. A centralized console and single dashboard ensure unified management across servers and workstations, increasing speed and reliability. It is an all-in-one backup and recovery solution that provides fast backup and prompt recovery. Start a free 30-day trial to protect your physical and virtual servers, data, workstations, and applications.
Want to read more? Check out these topics: