As companies scale and the volume of service requests increases, service desk software can significantly improve service operations and ensure customer satisfaction. Help desk software assists technicians by automating routine tasks such as ticket creation, assigning tickets to specific technicians, and tracking service tickets until closure.
In fact, adopting the right service desk software can enhance operations, drive IT desk improvements, and cut down costs—ensuring organizations are making the most of their technology and personnel.
But how do you know if an option is right for your business? In the following article, I make it easier by taking a close look at SolarWinds® Web Help Desk and Spiceworks Help Desk, two of the preferred help desk software options on the market.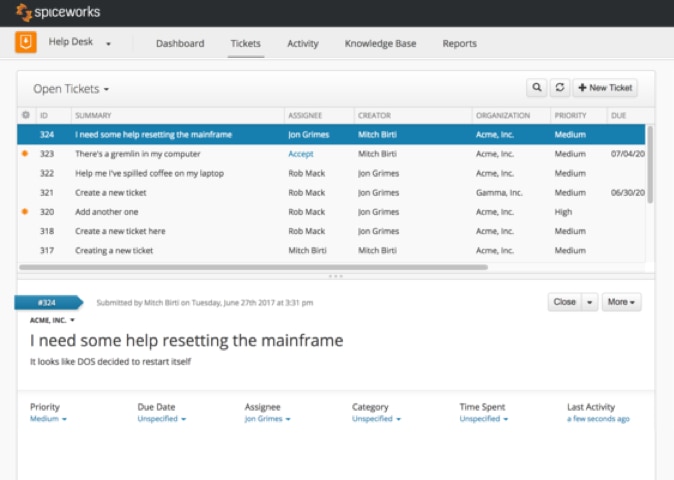 Spiceworks is a free tool (with built-in advertising) with some of the typical drawbacks of free tools. Generally, Spiceworks is a fit for small- to mid-sized businesses while Web Help Desk, a premium solution, excels for businesses of various sizes, including enterprise-level organizations and across multiple industries, including manufacturing, healthcare, and financial services.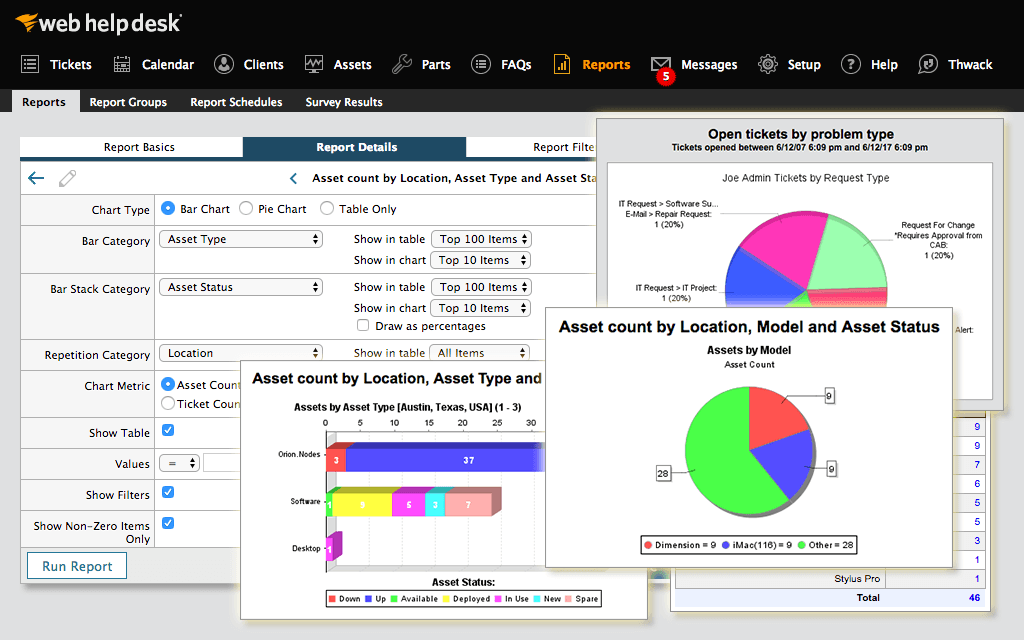 Below, I compare five key features from SolarWinds Web Help Desk and Spiceworks and evaluate the benefits of each.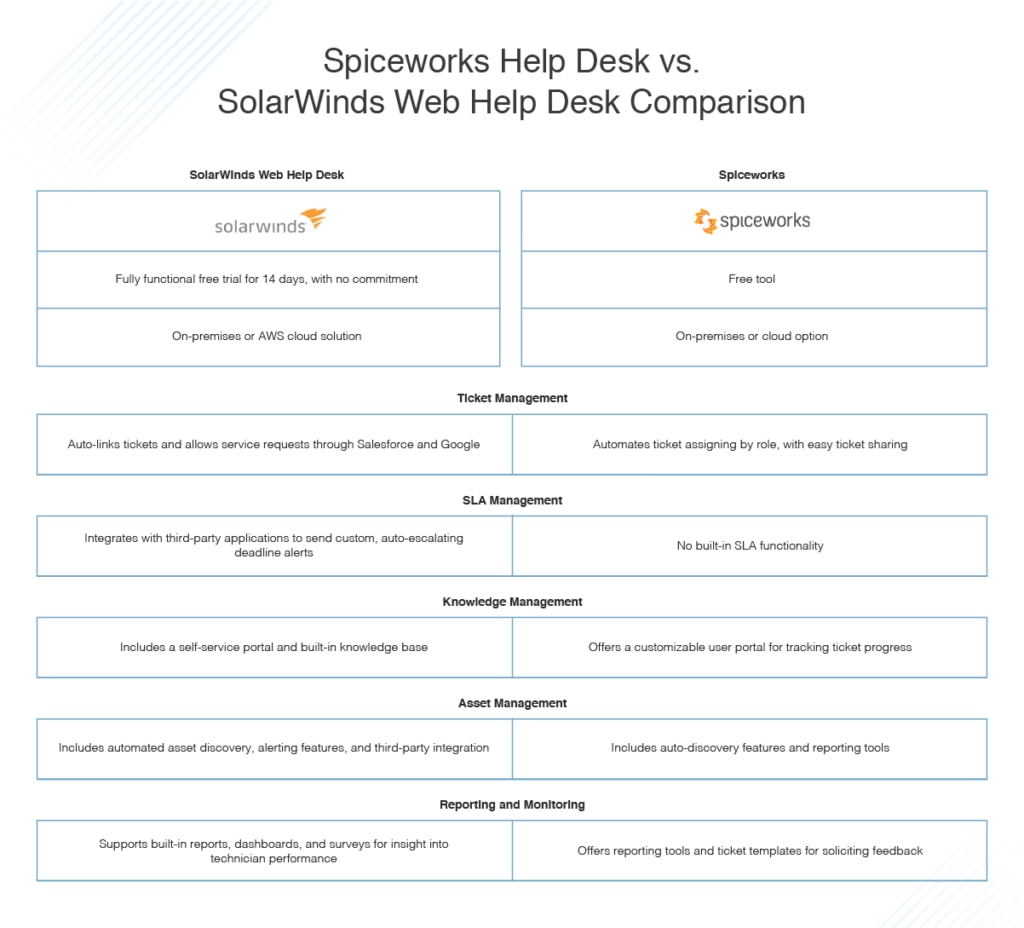 Automated Ticketing and Ticket Management
The core feature of any help desk software is the ticketing system. As service requests from customers begin flooding in, service desks without automation capabilities and a clear ticket management system will struggle to cope. Both Spiceworks and SolarWinds Web Help Desk streamline ticketing by automating ticket creation, assigning, and routing, and each offers a range of collaboration capabilities. Spiceworks auto-assigns tickets to agents based on role and enables ticket-sharing, so multiple technicians can work on difficult problems together.
One key feature for SolarWinds WHD is it lets you instantly link related tickets to a single problem for organized ticket management. You can automatically escalate tickets to the right technician as needed. For service requests, WHD integrates with apps including Salesforce and Google login, enabling users to submit requests through additional portals. WHD also offers remote support, enabling agents to remotely access help desk tickets and IT asset inventory to troubleshoot issues quickly and conveniently.
SLA Management
As part of the ticketing system, service level agreement (SLA) notification systems can send alerts when a ticket is in danger of breaching an SLA. SLA breaches can have a negative impact on any organization and management teams must take explicit action quickly.
SolarWinds WHD integrates with third-party applications, sending alerts through different channels to relevant personnel when SLAs are about to be broken. Keeping everyone informed helps reduce compliance risk. Alerts in WHD can also be customized to be sent via email and SMS. They automatically escalate in relation to the due date and are tiered based on priority. Whatever your needs, WHD monitors the life cycle of every service ticket and leverages the data to generate SLA reports and promote greater efficiency.
Spiceworks does not currently have an SLA function, but Spiceworks enables users to generate reports on first response times and check if technicians are resolving incidents quickly and efficiently.
Knowledge Management
When a ticket is resolved, documenting solutions in a shared database can preserve best practices and speed up ticket resolution. Relatedly, sharing support knowledge with clients can cut down on the volume of support tickets. An FAQ section or a database of common issues can empower customers to solve simple problems themselves.
Spiceworks encourages self-service with a customizable user portal where users can track ticket progress and access additional materials. SolarWinds WHD software maintains a built-in knowledge base to support ticket resolution. WHD also promotes end-user self-service by maintaining a database of support materials for customers to directly access.
Asset Management
Managing your IT assets is an important aspect of any operation. Spiceworks offers asset management capabilities with some configuration and monitoring capabilities. Spiceworks scans the network for devices upon installation. The system automatically compiles an inventory and continues to manage all discovered IT after the initial inventory process. When users need a report on devices, Spiceworks automatically generates reports on discovered IT components, to help you monitor performance.
SolarWinds WHD offers an easy-to-use inventory module. SolarWinds WHD scans the network for devices and obtains asset information to set up expiration and warranty alerts and monitor compliance issues. Additionally, SolarWinds WHD expands beyond device discovery and monitoring by offering live device monitoring capabilities. Help Desk also easily integrates with third-party solutions including JAMF Casper Suite, Absolute Manage, Microsoft SCCM, and SMS.
Reporting and Monitoring
Improving service desk performance involves clear insights into employee performance and customer satisfaction. Spiceworks enables users to run reports on ticket status based on customizable criteria, including number of tickets, where they are assigned, and response times. Spiceworks offers ticket templates for soliciting customizable feedback for the organization.
SolarWinds WHD offers built-in reports and dashboards to track the lifecycle of service tickets and technician performance. Gaining insights into support team performance can help managers set clear, practical standards and judge if the team is meeting end-user expectations. SolarWinds WHD automates the feedback process, automatically soliciting feedback from end-users after a ticket is resolved. Organizations can visualize customer appraisal on the Help Desk dashboard.
Is Web Help Desk or Spiceworks Better?
The above features are some of the critical criteria to consider while deciding on the best help desk or ITSM solution for your business. You might also consider while Spiceworks lists desktop as a prerequisite, SolarWinds is compatible with desktop, mobile, and cloud platforms. Both vendors will improve service desk performance and positively impact business operations, but check out their websites for more detailed information on particular features.
Spiceworks doesn't have an upfront licensing cost and can present an ideal option for certain smaller organizations with a limited budget. But through a point-by-point comparison, I highly recommend SolarWinds Web Help Desk for small- and medium-sized businesses and large enterprises. SolarWinds Web Help Desk has a larger range of capabilities to cut through unnecessary costs. It has wider compatibility and its user-friendly interface means a lower learning curve for your entire staff.