What is a Wi-Fi heat map? Put simply, a Wi-Fi heat map visually represents your wireless signal strength and coverage. It uses a color-coding approach to do this, with green typically representing strength and red representing weakness, with yellow and orange in between. These colors correspond to the rooms or areas in your building. To use a common example, if your office is green but your meeting rooms are red on the map, then the office gets the better signal.
So where do Wi-Fi heatmappers come in? Wireless heat map solutions usually allow you to import images and blueprints of the area you want to map out, so your Wi-Fi heat map is accurate and corresponds to your environment precisely. Below, I've listed my favorite Wi-Fi heatmappers, and I've chosen SolarWinds® Network Performance Monitor as the best of the best on the market today. This is because the tool is extremely feature-rich, boasting a comprehensive suite of network monitoring utilities. It features a Wi-Fi analyzer and has the capacity to quickly generate Wi-Fi heat maps. It is efficient, but also user-friendly. If you want to see some of my other favorite Wi-Fi heatmappers, check out the rest of my list.
What Is a Wi-Fi Heat Map?
A Wi-Fi heat map lets you view the coverage of your network and Wi-Fi access points. This can help you understand which specific areas lack coverage and which have strong and dependable signal strength available to them. Several factors can interfere with signal. This could be the presence of physical objects, like walls, or non-physical objects like wireless devices emitting frequencies on the same wavelength.
The most common issues interfering with your Wi-Fi signal strength include walls, doors, furniture, ceilings, drywall, wireless radios, microwaves, and neighboring Wi-Fi networks. Such interferences can cause speed problems, dropouts, and entire dead zones. A Wi-Fi heat map is a simple solution to this problem, giving you visibility of your wireless coverage, including where your signal is strongest and where it's weakest.
A Wi-Fi heat map can help you do the following:
Identify Wi-Fi dead zones
Eradicate slow Wi-Fi speeds
Take the guesswork out of setting up a wireless network
Give you access to reports and images which you can hand over to upper management
Automate Wi-Fi network evaluations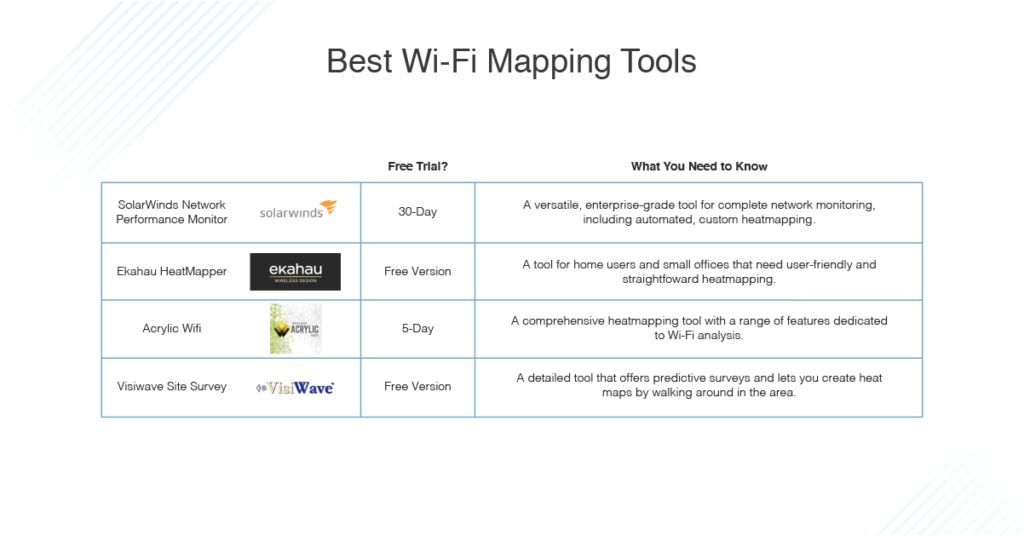 Best Wi-Fi Heat Mapping Software
Network Performance Monitor provides an extremely versatile suite of features. This program is suitable for enterprise-grade requirements, as it comes with a Wi-Fi analyzer component to serve as an effective Wi-Fi heat map tool. This program lets you create wireless heat maps quickly and easily.
Of course, it includes other intelligent and thoughtfully designed features for comprehensive network mapping and management. With NPM you can gain insight into wireless network performance, helping you safeguard network uptime. You can view external connectivity issues and get full visibility of key performance metrics. This includes autonomous access points, clients, and wireless controllers.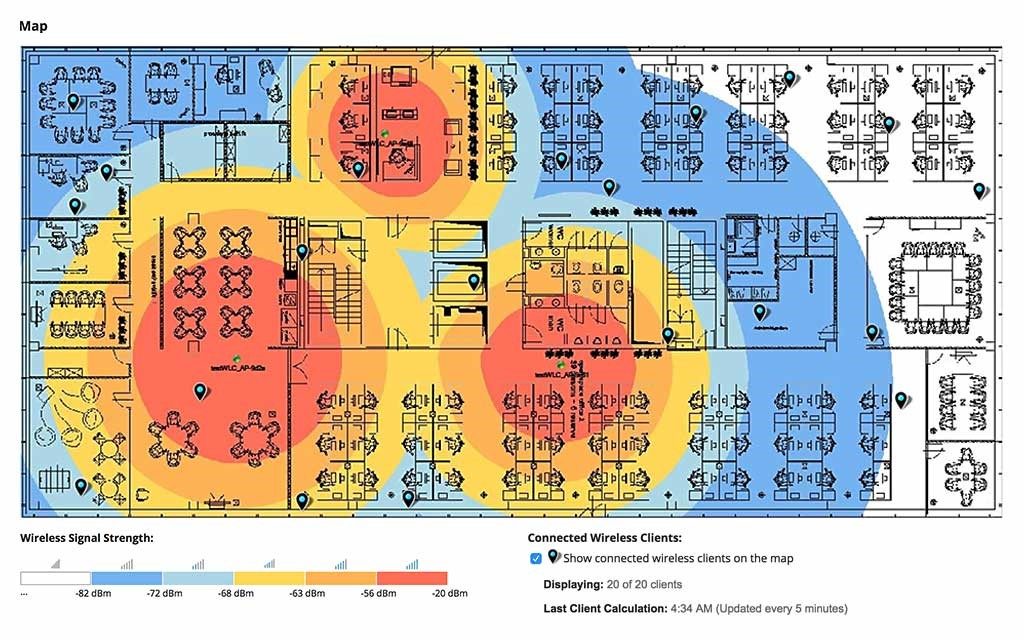 This tool also comes with performance, fault, and availability monitoring. You can conduct cross-stack network correlation and hop-by-hop network path analysis. The dashboard itself is customizable, so you can tweak it to suit your needs and preferences. What's more, the straightforward visual display makes it user-friendly.
Another great thing about this tool is it's highly automated, with auto-discovery for network devices. The heatmaps are also generated automatically, to ensure business-level signal strength. You can even create a library of wireless heat maps, giving you a color-coded and easy-to-interpret visual overview. Your visual Wi-Fi layout can be configured with color-coding, signal strength details, connected clients, and dead zones.
NPM also gives you insight into data associated with client connections to Wi-Fi access points, including MAC addresses and IP addresses. A fully functional 30-day free trial is available, if you want to give NPM a try.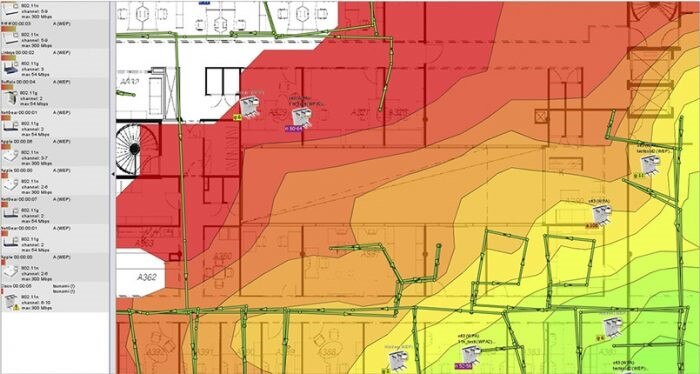 Ekahau HeatMapper is a great tool for home users and small offices. It's available for Windows 8, 7, Vista, and XP. The visualization and layout of the heat maps provided by Ekahau is impressive, with vibrant color-coding to make interpreting signal strength variations easy. This wireless heat map tool rapidly identifies available networks, locates access points, and detects security settings. One of the best things about this program is it only takes a minute to install, so you can get started pretty much instantly.
Ekahau HeatMapper is a very simple tool, which is both a benefit and a disadvantage, because some users may find it too simplistic. If you want sophisticated features, then you may want to consider an alternative tool. If you prioritize ease of use, however, then Ekahau may be for you. It doesn't have a massive range of functionalities, which is worth bearing in mind, but the utilities it offers are well-designed.
Generating a heat map couldn't be much easier. Just import a file representing your office or home layout, then walk around the space with the laptop Ekahau is installed on to survey the area. The tool will automatically generate the map, plotting signal strengths directly onto the map of your area.
This Wi-Fi heat map tool can be upgraded to Ekahau Pro, which is an enterprise Wi-Fi organization, planning, and site survey application. The requirements are fairly minimal. All you'll need is 1GB RAM, 2GB hard disk space, 1GHz processor, and a Wi-Fi (WLAN) adapter.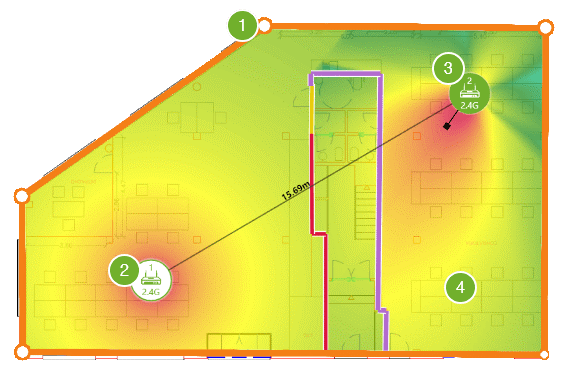 This tool specializes in giving you visibility of the access point or Wi-Fi router used by your home and neighbors. You can visualize Wi-Fi channels in 5Ghz and 2.4Ghzs, and view a range of access points, including smartphones, laptops, and APs. The free version of this program is Windows 10 compatible. If this version doesn't suit your needs, you can upgrade to the more versatile paid alternative.
The signal strength graphs and Wi-Fi heat maps provided by Acrylic Wifi are dynamic and easy to read. These Wi-Fi heatmapping utilities are functional and simple. If you upgrade, you also gain access to the following features:
Airpcap card holders
Unlimited inventory
Information about connected devices
Extra information on APs and clients
Technical support
Screen mode
Integration with Wireshark
Able to be used for professional purposes
Heat maps and reports can be generated in a range of common file formats, including PDF, Word, Excel, CSV, and KMZ. Heat map functionalities are flexible and can be based on online maps or user-imported maps, or both.
Acrylic Wifi can be used to build heat maps of both outdoor and indoor areas, giving you in-depth insight into coverage drops and inconsistencies. The tool comes with active and passive mode scanning, lets you view channel overlap, latency, bandwidth and packet loss, and offers heat map reports that can be produced in 3D. There are 15 types of heat map graphics and reports available.
If you want advanced features suitable for professionals, then you'll want to choose Acrylic Wifi pro. But if you want a Wi-Fi heat map tool for personal, home use, then the free tool should be suitable.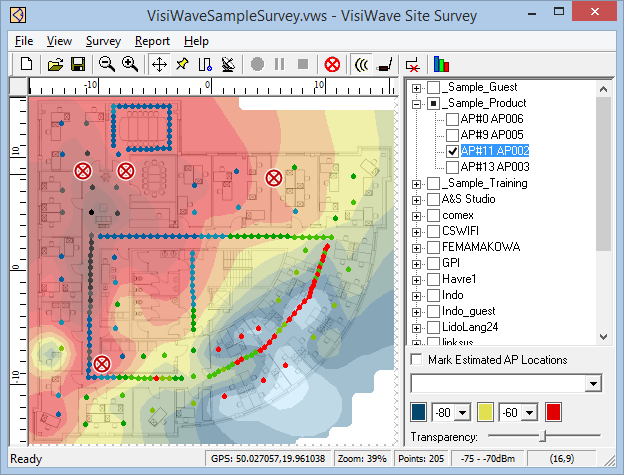 Site Survey, by VisiWave, is a fantastic tool for Wi-Fi infrastructure surveying. It functions on a granular level and is suitable to enterprise requirements. This program allows you to create coverage heat maps, view channel overlap and usage, and much more. It appreciates the importance of the finer details without overwhelming you with them.
It boasts advanced data collection, letting you drill down to gain greater insight, and its visualization features are highly dynamic. Site Survey is appropriate for 802.11 networks. The only issue is data isn't as easy-to-interpret as it is with other tools.
You can collect data with this program by using GPS, walking around the area with your device, or by capturing the data one point at a time. This flexibility is useful, as data captures are typically time-consuming and labor-intensive. Having the option of just walking around the area with your laptop is valuable. Data can even be mapped onto a Google Earth layout.
Custom report generation is another great Site Survey feature. Create from scratch or re-use report templates, which cover all the key metrics you'll need. For extra utilities, Site Survey Pro is a viable option. With this paid version of the program, you can perform predictive surveys, which involve describing the barriers in the survey area (i.e., walls, solid objects), location, and access point characteristics. Then a simulation is run of how radio waves would move through the area, resulting in a coverage heat map to predict signal strength. This is by far the most impressive Site Survey feature, but you have to upgrade to access it.
How to Start Wi-Fi Heat Mapping
Of all the wireless heat map tools I've included in this list, SolarWinds Network Performance Monitor comes out on top. While the other tools have their merits, NPM is the most appropriate tool for business use. It has the backing of a vast community of loyal users and SolarWinds support agents who are on hand to assist you 24/7. The tool combines sophisticated and wide-ranging functionalities with simplicity, making this an enterprise-grade heat mapping solution requiring minimal training and zero experience.