If you run a business, some of your, or your employees, time likely involves taking care of service requests. In many cases, they'll be issues users may be able to solve on their own. At least, if they have access to a knowledge base. Find out what knowledge base management software is, how it works, and what are the best tools of this type on the market that will improve the functioning of the entire organization! Read on! 
---
With knowledge base management software, you can create a database to help your team and your customers solve problems more efficiently. The better your documentation is, the less time and effort you'll hopefully need to spend on customer service. In this article, we'll dig deeper into the benefits of setting up a knowledge base for your business.
Then we'll introduce you to five top knowledge base software options you can use.
What Are the Benefits of Knowledge Base Software?
The goal of a knowledge base should be to make your work simpler. A great knowledge base should answer the most common questions your customers have. This includes how to troubleshoot errors, what features your services or products offer, how to get in touch with you, and more. In other words, if there's a question your support team deals with regularly, it should be a part of your knowledge base.
Since we're talking about a permanent online resource, it offers several advantages over other support channels:
It helps weed out simple queries. Some users might prefer to troubleshoot problems on their own, and a knowledge base helps them do so.
Your organic traffic could increase. Knowledge bases can help with search engine optimization (SEO) by providing you with additional opportunities to rank for queries related to your business.
It can lower your team's workload. Stressed out service reps might not be able to do the best job they can. By reducing the number of service requests they get, you can help them better manage their workload.
Perhaps the best aspect of a knowledge base is its perennial availability. Users can rely on it 24/7/365. By investing the time in creating an in-depth resource, you can improve the user experience (UX) for a significant part of your customers.
3 Best Knowledge Base Management Software Options
Knowledge base software often comes hand in hand with service desk functionality. After all, both areas are intricately connected. However, for the options below, we'll only be focusing on the included knowledge base capabilities.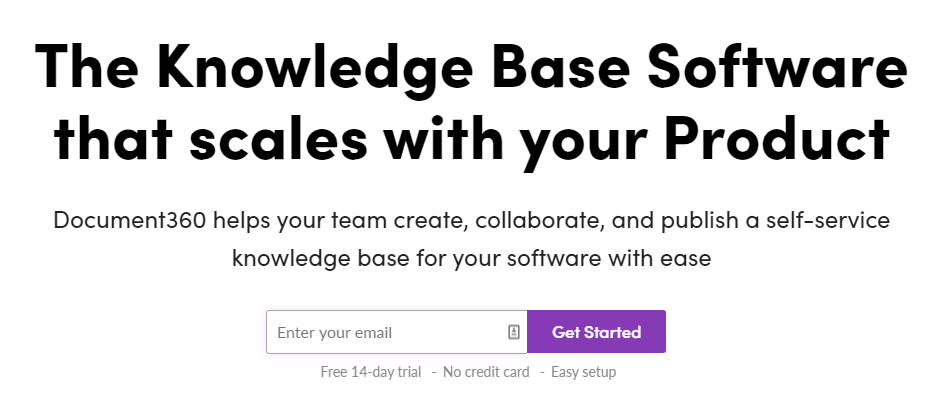 Document360 uses a Markdown editor to help you set up your knowledge base's content. For the uninitiated, Markdown is a simple markup language you can use to add formatting to plain text. Once you master Markdown, it enables you to create gorgeous and user-friendly content for your knowledge base.
With Document360, you can use the editor to set up internal and external knowledge bases. Document360 supports role customization, which lets you set different levels of access to your knowledge base's resources. Your team can comment on pages internally, mention each other, and access a full history of articles you upload.
Price: Document360 plans start at $59 per month per website with support for two collaborators, and it offers a free 14-day trial.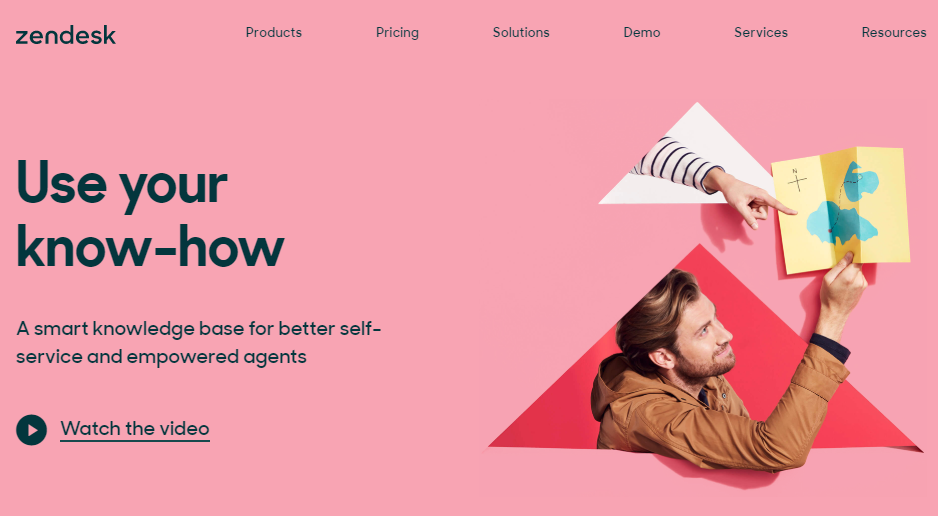 Zendesk Guide is a knowledge base management software tool that works alongside the company's support suite (Zendesk Support). Using Zendesk, you can create a knowledge base you can customize using an array of custom themes.
To help you create and upload content, Zendesk Guide gives your team access to a powerful text editor. Your team can use this to restore past versions of articles and see a full history of the changes each page has gone through.
Although Zendesk Guide doesn't let you create a separate internal knowledge base, it includes a feature to set pages as private. This way, you can limit access to members of your team or specific user roles (which the platform also lets you set up).
Price: The Zendesk Guide Professional plan costs $15 per agent per month but requires Zendesk Support to function. The Zendesk Support Team plan starts at $19 per month per agent.

SolarWinds® Service Desk offers a suite of tools designed to help you tackle support requests and set up both internal and external knowledge bases (also known as customer portals).
Using SolarWinds Service Desk, you can add new entries to your knowledge base using a straightforward text editor. The software enables you to link each entry to multiple search terms and incidents you've solved before. What's more, if you run into an issue you haven't previously dealt with, you can take the ticket and translate it into a new resource for your knowledge base.
To help customers find the information they need, Service Desk offers autocomplete functionality for the searches they make. This means the software suggests articles they might find useful as each user types a new query.
In my opinion, it is the most comprehensive knowledge base software, which provides a number of necessary functions given in a friendly, intuitive form.
Price: SolarWinds Service Desk Team plan starts at $19 per month per agent. For this tool, you can also take advantage of a 30-day free trial period, during which you can take a closer look at the tool!
Conclusion
Knowledge base software helps you tackle one of the hardest aspects of running an online business: providing thorough documentation for your customers. The more in-depth the documentation is, the easier it becomes for your users to solve problems on their own. Plus, the knowledge base can help answer doubts users have before they become paying customers.
If you're not sure what knowledge base management software your business should use, here are our top three suggestions:
SolarWinds Service Desk: My pick. The Team plan starts at $19 per month per agent.
Document360: Plans start at $59 per month for one project with up to two collaborators.
Zendesk Guide: The Professional plan costs $15 per month per user and requires a Zendesk Support subscription (Team plan costs $19 per agent per month).
* As of August 7, 2020. Pricing shown in USD.