Among the growing complexity, IT teams are constantly receiving numerous alerts, notifications and service requests or tickets from end users. This is when IT ticket management or service desk software can offer a huge improvement in such processes. Read about the most important features of such tools and check out this list of the best service request management software.
---
Software to Streamline The Work of IT Teams
In the last few decades, there's been explosive growth in the number of digital devices, services, and applications that have transformed business operations across all sectors. At the same time, the underlying IT infrastructure supporting this digital growth has also become complex. Amidst this rising complexity, the IT teams in most organizations constantly receive numerous alerts, notifications, and service requests or tickets from end users.
Prioritizing the work in such an environment can be a big challenge for organizations lacking proper tools for service request management. This is where IT ticketing management software or a service desk can offer a way forward. In this article, we discuss some of the most important features a service request management software should offer along with a list of the best service request management software on the market today.
What Are the Main Features of a Service Request Management Software?
A service request management software, as the name suggests, is a software that helps IT teams handle a wide range of customer or end-user requests. These can include requests for:
access to applications
a new software license or its renewal
hardware installation
software configuration
resetting of passwords, and more.
The service request management software should assist the service desk team in the management of the entire lifecycle of requests. It should also enable end users to easily raise a request, monitor its status, and get some idea about the time required for its resolution.
Additionally, the software should offer insights into the efficacy and performance of the entire service request management process. With various performance reports, decision-makers can get a bird's-eye view of their service desk teams' performance and allocate resources to different departments or regions based on workloads and business priorities. While service request management is important, there are some other closely related IT practices organizations have to follow for unhindered connectivity, productivity, and security, including:
Incident management—managing unplanned events or contingencies that disrupt or degrade routine business/user activities,
Problem management—managing processes that help in the resolution of underlying issues or problems to reduce the frequency of associated events or incidents,
Change management—managing all change requests (adding, modifying, or removing something) with proper authorization and compliance, and ensuring there aren't inadvertent disruptions due to these changes.
A modern service request management software should offer all the above features with a high degree of automation, deployment flexibility, and integration with the existing IT ecosystem in any organization.
Let's get a brief overview of the top 3 service request management software.
TOP 3 Service Request Management Software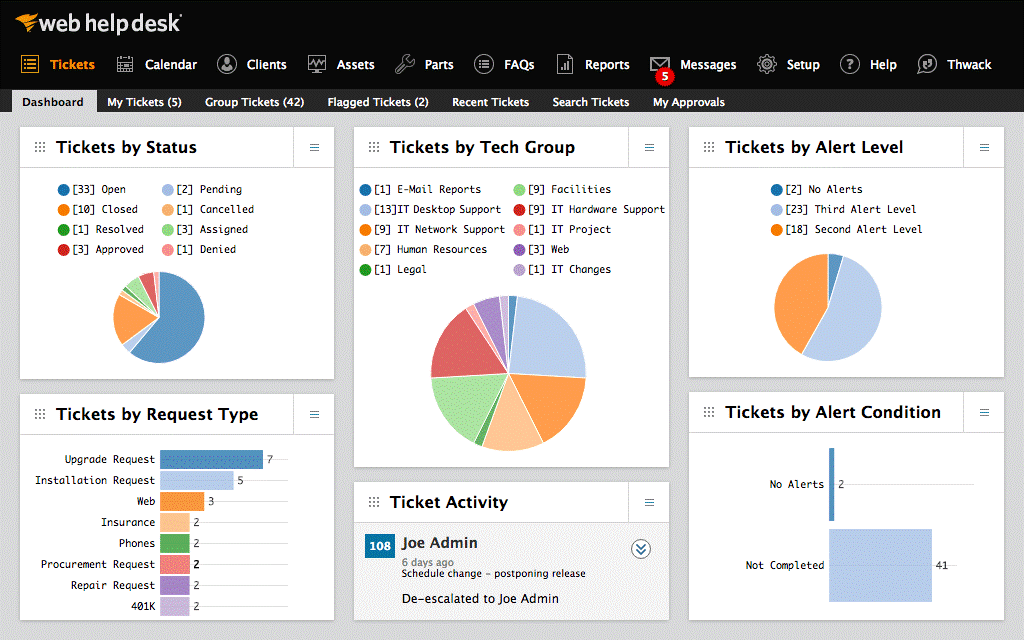 © 2020 SolarWinds Worldwide, LLC. All rights reserved.
SolarWinds Web Help Desk is a popular IT ticketing management software designed to help ITSM teams diagnose incidents effortlessly and automates ticket routing. It also integrates closely with knowledge base articles and enables easy management of service requests, known problems, and service level agreements.
While the entire list of features is exhaustive, the native integration with LDAP and Active Directory is a key feature, which makes the initial setup easier for organizations. To help gather critical data and information for ticket resolution, the software allows the creation of custom request forms dynamically with unlimited fields. Web Help Desk also offers business-based action rules to automate ticket assignment and ticket updates.
For effective change management, Web Help Desk allows organizations to track and automate their workflows with rule-based approval and voting features. It helps choose approvers and change advisory boards dynamically, based on the request's origin. The software also allows managers to track the performance of service desk teams in real time, using a built-in customizable reporting dashboard. The dashboard provides insights into the status of service requests, real-time billing data, major problem types with regions of their origin, and more.
To learn more about the software, you can visit the SolarWinds website or start your evaluation with a 14-day fully functional free trial.
It's an on-premises solution, and organizations looking for cloud deployment can explore SolarWinds Service Desk software. This tool is more advanced, designed for large enterprises.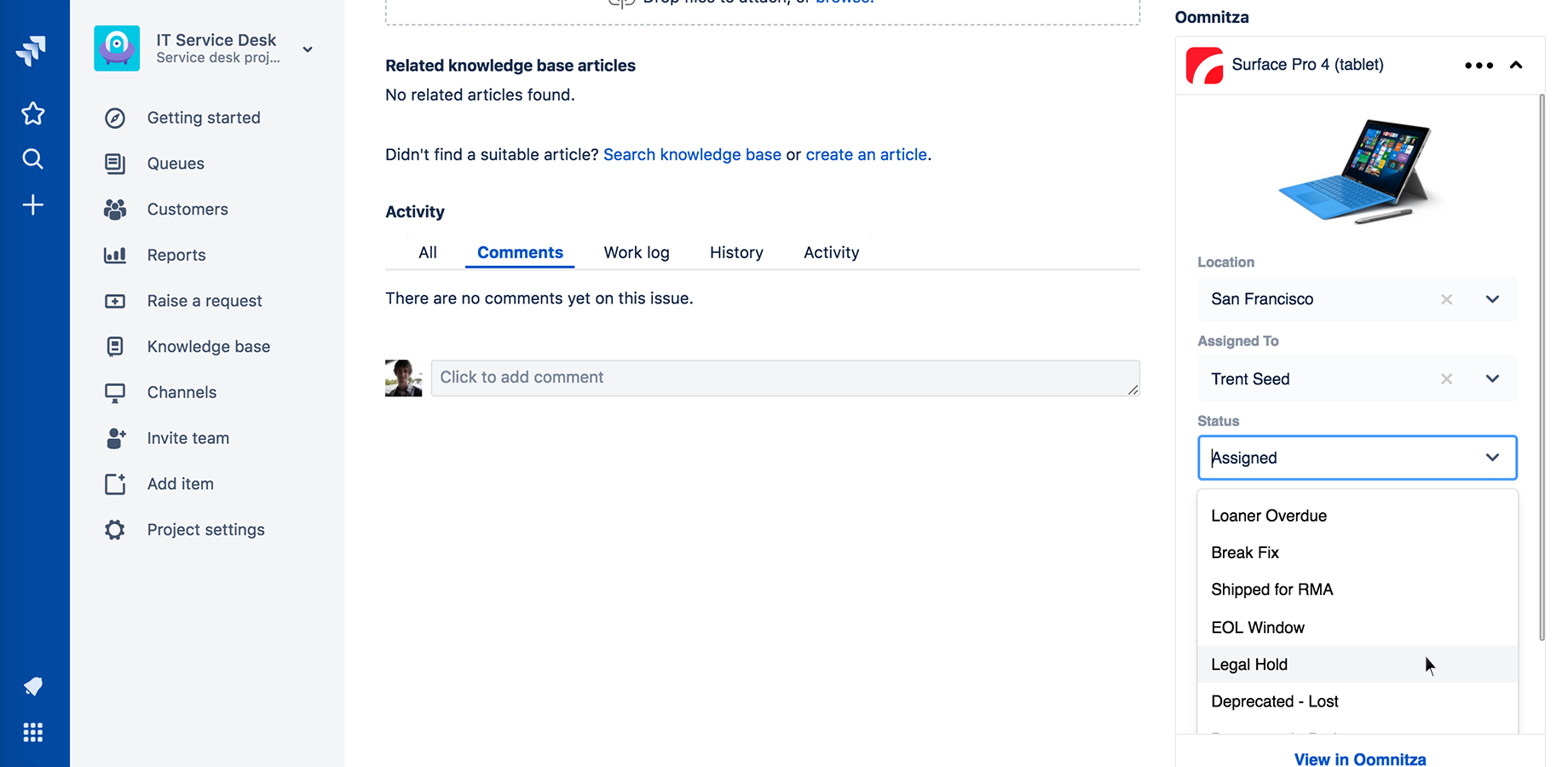 © 2020 Atlassian Corporation Plc. All rights reserved.
Jira Service Desk is another capable ITSM solution designed to simplify service request management. The solution offers a clean interface and is easy to set up without the need for lengthy coding or configuration. While it offers basic and advanced ITSM capabilities, organizations can configure it to meet specific IT service management needs with the marketplace of various integrations and apps.
Teams using Atlassian products like Confluence, Opsgenie, and Statuspage will find the solution suitable for collaboration and service delivery. The solution also offers a native mobile app to assist ITSM professionals in resolving service requests on the go.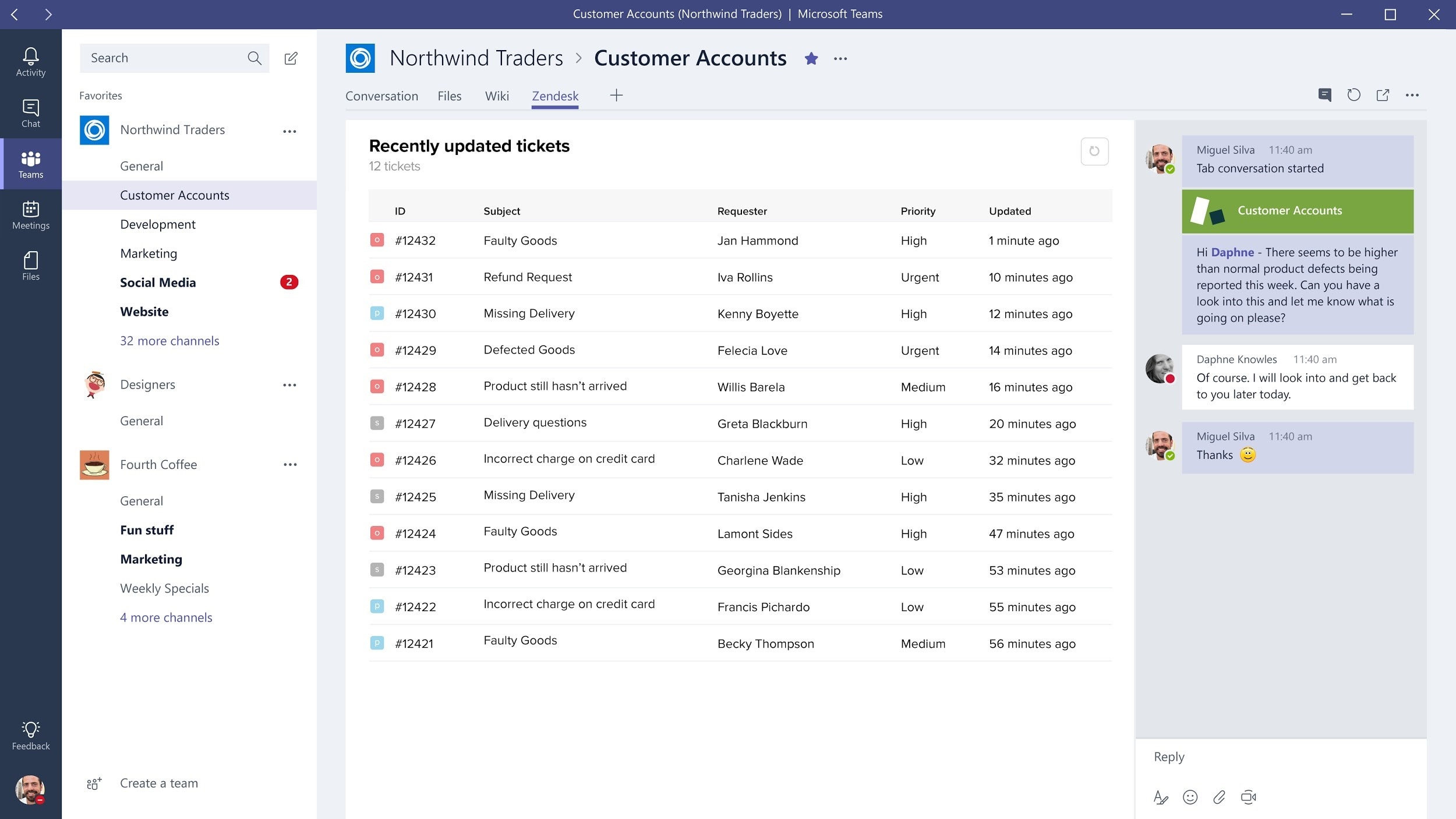 © 2020 Zendesk, Inc. All rights reserved.
Zendesk, which is known for its CRM products and solutions for support, sales, and customer engagement, also offers request management. The solution is part of its Support Suite and offers service request management across multiple channels, using what it calls an omnichannel ticket system.
Teams can manage the entire ticket lifecycle by implementing ITIL best practices for verifying, testing, and triaging of tickets, using key ticket fields to track issues, and communicating the status of tickets. It also offers a centralized hub, which allows decision-makers to track their support team's performance using various metrics, KPIs, and SLAs.
Conclusion – What is The Best Service Request Management Software? 
As discussed, IT service request management is a complex practice and requires dedicated tools and processes. We've covered the important features required for efficient service delivery in large organizations and listed what we think is the best service request management software in the market. While all these software options are equally capable, finding the best fit for your organization can be a bit complex.
For instance, certain organizations might prefer the on-premises deployment of Web Help Desk as it is FIPS 140-2 Compatible, while others might prefer the SaaS-based SolarWinds Service Desk, which is ITIL Pink Verify Certified. As all the above solutions offer free trials, organizations can evaluate them based on their integration with their existing IT tools, degree of automation, and ease of usage.
To get started, we recommend a free trial of SolarWinds Web Help Desk, an affordable and simple solution with basic and advanced features for IT service management.