Modern businesses rely more than ever on complex IT infrastructure. As your operation grows, so does the variety of IT issues you'll need to deal with. At some point, IT problem management software becomes a necessity if you want to keep operations running smoothly.
For the uninitiated, IT problem management software gives your team the tools they need to keep track of issues as they pop up. With the right software, you can collaborate to solve complex technical problems and document their solutions, which can help you save time and money down the line.
In this article, we'll talk about some of the features you should look out for in IT problem management software. Then we'll introduce you to some of our top picks for modern businesses.
Why Use IT Problem Management Software
As your business grows, you'll notice you spend a lot of time dealing with the same IT-related complaints. Whether it's a member of your team with hardware issues, software that doesn't work, or customer complaints, you need a system designed to help you keep track of these problems.
This is where IT problem management software comes in. With the right software, you can do the following:
Document internal and external IT problems
Process new complaints through various channels
Monitor the progress of each complaint
Collaborate with other members of your team to find solutions
Document solutions for common issues to streamline their resolution if they pop up again
In a nutshell, IT problem management software should offer a mix of service desk functionality and analysis and documentation tools. With the right software, you can tackle IT complaints more efficiently and monitor results. The more complex your IT stack becomes, the more essential IT problem management software is.
3 Best IT Problem Management Software Options
Considering how much modern businesses rely on technology, it's not surprising there are a lot of amazing options for IT problem management software. In this section, we'll introduce you to three of our top picks in no particular order.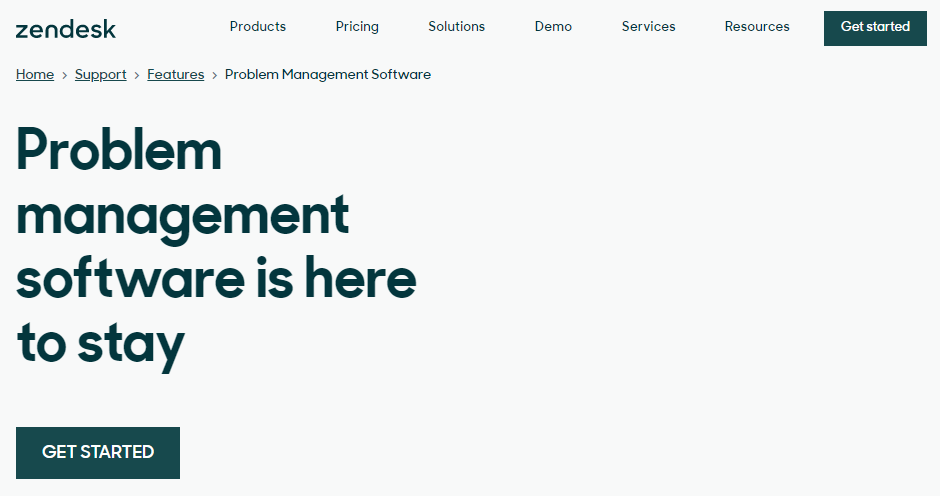 With Zendesk, you can process customer complaints through multiple channels, including email, chat, phone, and social media. This software gives each member of your team a private workspace where they can monitor incoming tickets assigned to them. You can even set rules to route complaints to the agents best suited to handle them.
You'll also find collaboration tools, which allow agents to help each other solve tough complaints. As your team grows in experience, you can put this knowledge into a public-facing knowledge base to help users troubleshoot technical issues on their own.
At any time, you can monitor agent performance through built-in analytics tools, which also help you keep an eye on other key metrics such as user satisfaction. Zendesk enables customers to leave ratings, and it includes a satisfaction "prediction" tool to help you avoid negative feedback.
Price: For the full suite of Zendesk IT problem management features, you'll want to opt for the Support Suite plan, which starts at $89 per month per agent (and comes with a free trial).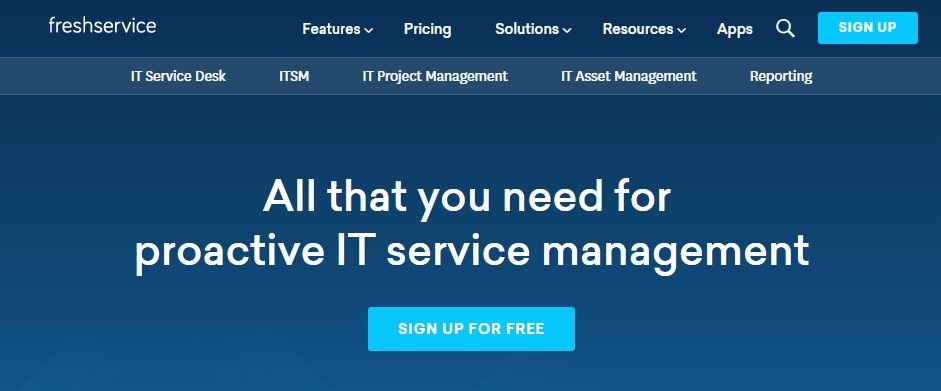 Freshservice offers a selection of software for IT and project management as well as support services. This combination of features makes it a viable solution for IT problem management.
With Freshservice, users can submit complaints and support requests through email, through a web portal, or via phone call. The software also gives your team the option to request internal services through a fully customizable catalog. This integrates with multiple third-party services, which is great if your team uses external software for their day-to-day tasks.
You can use Freshservice to create an in-depth self-service portal for your customers, which can help your team troubleshoot IT requests faster. If you run into IT problems you haven't seen before, your agents can transform these tickets into new entries for the knowledge base once they've found a solution.
As far as collaboration goes, your team can work together to resolve technical incidents by highlighting key information and tagging other agents. It's also possible to link incidents together if you think they share a root cause, which can help you identify problem areas in your business.
Price: The Freshservice State plan costs $79 per agent per month and includes all the tools we've talked about.


SolarWinds® Service Desk offers a broad range of features designed to help you manage external and internal support requests. As far as the former is concerned, you can process tickets through a service portal, email, live chat, and phone calls.
The goal of Service Desk is to provide you with a single platform for customers and every department in your business. You can set up rules to help you route tickets to the right agents and take care of basic support tasks.
SolarWinds Service Desk also helps your team resolve requests more efficiently by pointing them toward related articles from your knowledge base. If you can't find relevant information, your agents can always add new content to the portal once they take care of an issue.
To improve collaboration, Service Desk lets you keep multiple teams in the loop using status updates and customizable alerts for specific incidents. By doing so, you can quickly assess whether your team is meeting internal deadlines and productivity quotas.
Price: The SolarWinds Service Desk Enterprise plan costs $89 per agent per month and includes the full suite of tools you need for IT problem management.
Conclusion
IT problem management software should help you tackle internal and external complaints. With the right software, you'll have access to tools capable of helping you collaborate more efficiently, keep everyone updated on the progress of important issues, and more. By streamlining the way you process IT complaints, you can improve internal efficiency and help keep customers happy.
If you're in the market for IT problem management software, here are our top recommendations in no particular order:
Zendesk: The Support Suite plan starts at $89 per agent per month
Freshservice: The State plan costs $79 per agent per month
SolarWinds Service Desk: The Enterprise plan costs $89 per agent per month
 * As of August 25, 2020. All pricing is in USD.