Discover the transformative power of the best Workflow Management Software. Learn how this cutting-edge technology can optimize productivity, streamline operations, and enhance team collaboration. From startups to established enterprises, find invaluable insights on selecting the right software for your business. Revolutionize your workflow and boost productivity today – read the full article now!
---
What Does Workflow Management Software Do?
From lean businesses to growing enterprises, companies of all sizes should have reliable tools to make sure they communicate effectively, hit project deadlines, and put their best foot forward with clients. However, the way we now work—from home, on the go, and in branch offices around the world—makes it more difficult than ever for team members to stay on the same page.
Enter workflow management software, or WMS. These tools offer businesses a full suite of capabilities to track and facilitate workflows and streamline project management, from ideation to final delivery. However, not all WMS options are created equal, and teams need to make sure they're investing in the best workflow management tools available.
I've compiled this list of the top 10 workflow management solutions to help you find the best one for your team, making it easier for every member to perform to the best of their ability.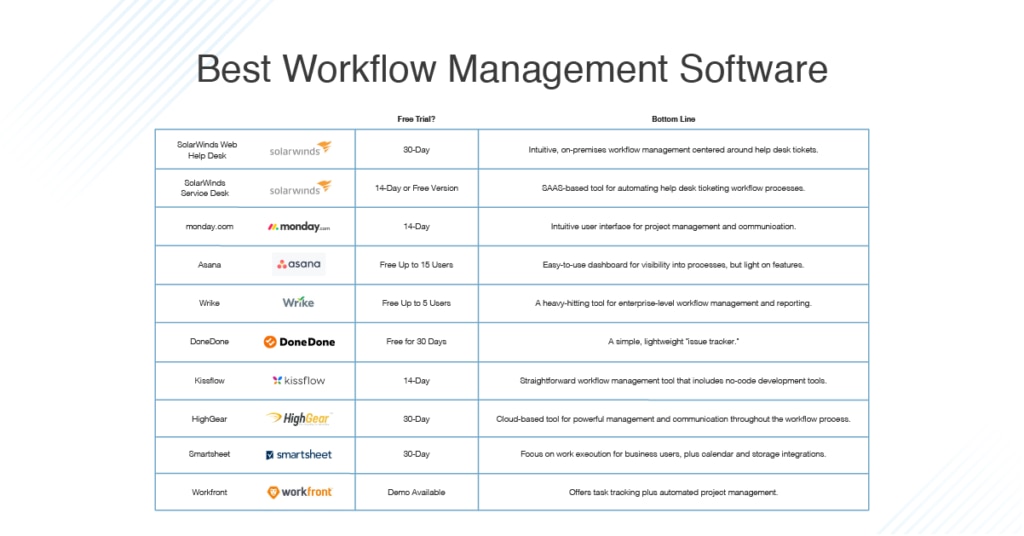 © 2023 SolarWinds Worldwide, LLC. All rights reserved.
Top 10 Workflow Management Tools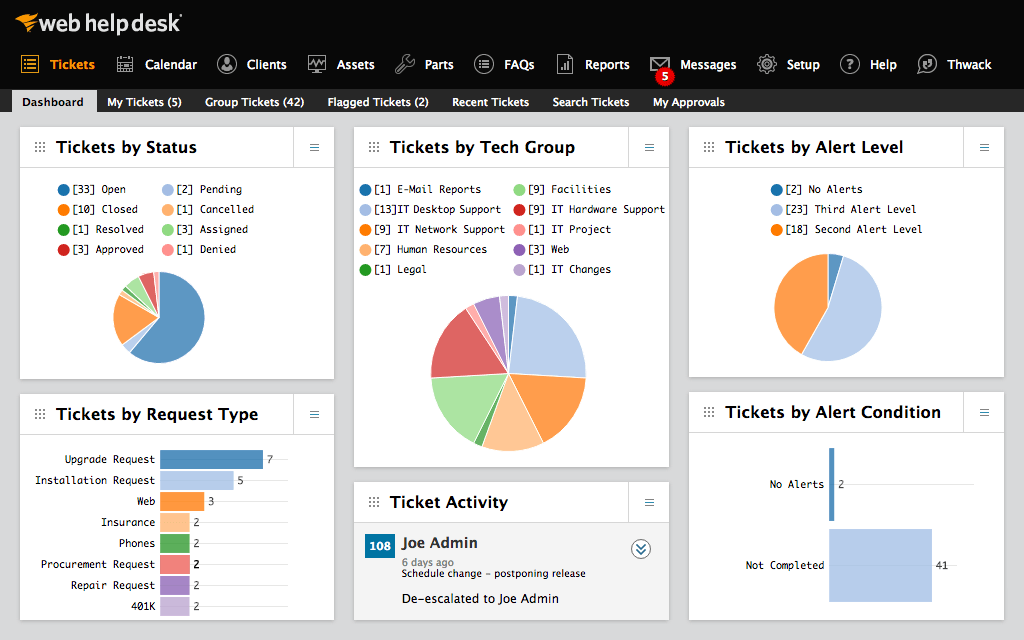 © 2023 SolarWinds Worldwide, LLC. All rights reserved.
SolarWinds Web Help Desk® (WHD) is an effective and intuitive piece of workflow management software. It streamlines the process of scheduling tasks, monitoring their progress, and integrating them with key tools across your tech stack. WHD includes functionalities particularly suited to IT admins and their teams.
For example, WHD automatically creates a help desk ticket every time a task runs. The program's task-based workflow manager streamlines the configuration process, allowing IT professionals to control the minutiae of each task with predetermined settings. And if a task falls under the domain of more than one team, WHD makes it possible to share the task and collaborate. SolarWinds offers a 14-day free trial of Web Help Desk.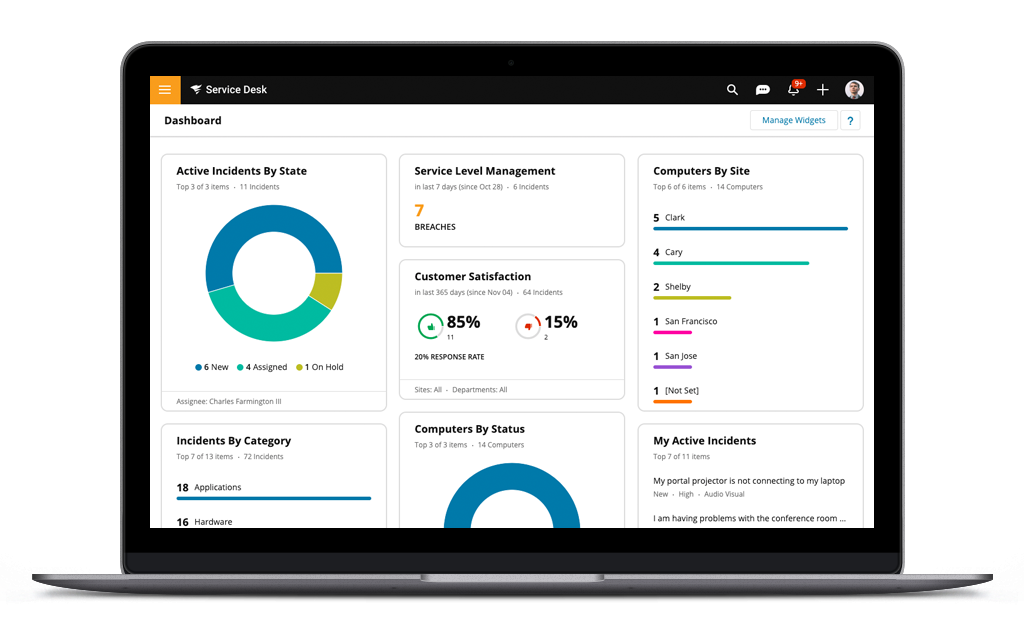 © 2023 SolarWinds Worldwide, LLC. All rights reserved.
Another choice tool from SolarWinds, Service Desk excels in the workflow management space thanks to its impressive automated functions. Service Desk empowers teams to automate key processes across workflows based on set rules. By doing so, it allows team members to focus on the work needing their undivided attention rather than carrying out the same repetitive tasks.
For instance, Service Desk offers advanced ticket routing, which helps direct tickets to teams who need to see them ASAP. Backed by artificial intelligence, this capability automatically chooses which team a ticket most likely applies to and helps get it there promptly. Additionally, SolarWinds Service Desk helps to automate each team's workflows by codifying chains of command and resolving bottlenecks before they occur. It can even flag critical events such as IT breaches based on preset criteria, so the right technicians can get to work. SolarWinds offers a 30-day free trial of Service Desk. You can also request a demo.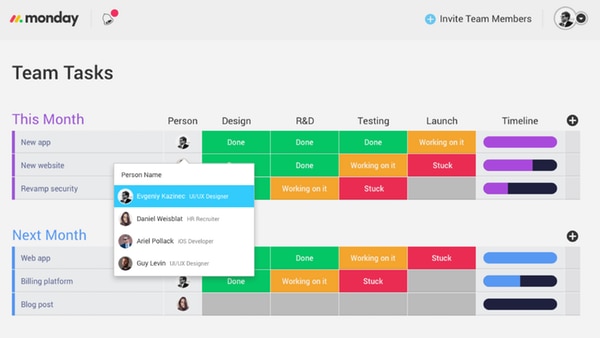 © All Rights Reserved monday.com
An increasingly popular option in the task management workflow software space, monday.com has a solid reputation for its intuitive user interface. The tool focuses on must-know information, such as when projects are due, who owns each task, the status of the task, and so on. It allows users to estimate timelines and enables streamlined in-platform communication. This software also offers file integrations directly from its spreadsheet-like dashboard, along with alerts, notifications, and automated processes as needed. Monday.com offers a free trial.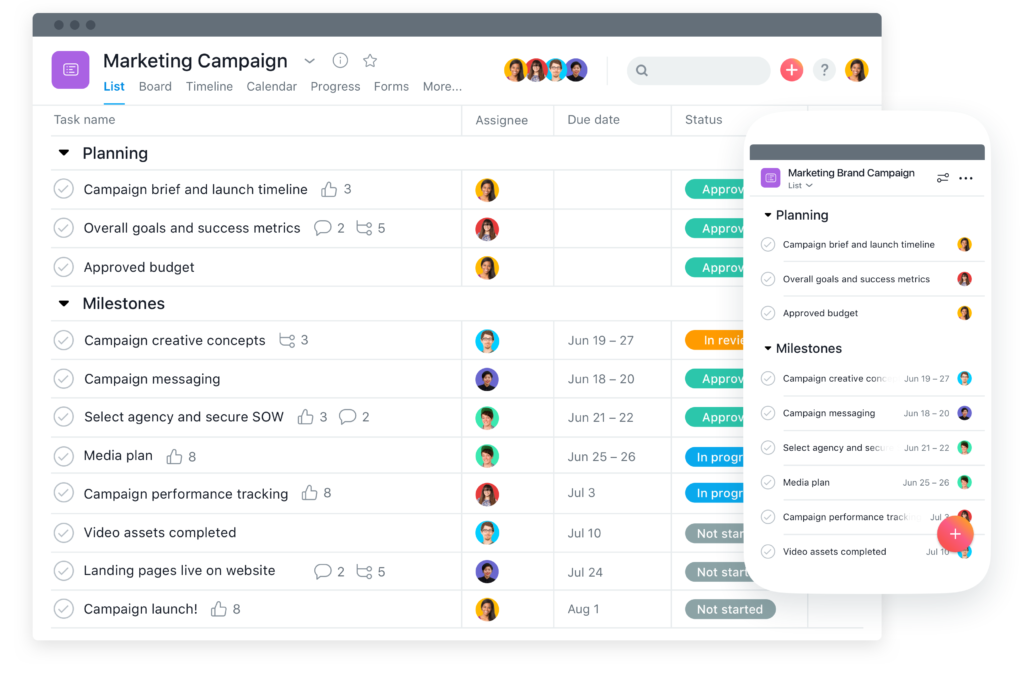 © 2023 Asana, Inc.
Like monday.com, the work management platform Asana has earned the thumbs-up from a lot of teams because of its simple, easy-to-use dashboard. With cards containing critical details for each task, members of small to medium-sized teams can be sure they're coordinating as needed on regular projects. Asana offers integrations to a wide range of applications; however, it's a little light on features as compared to the more heavyweight workflow management software on this list. Asana offers a free trial.

© 2006-2023 Wrike, Inc. All rights reserved. Patented
Compared with the more lightweight options on this list, as effective as they are, Wrike is one of the heavy hitters. It was designed with enterprise needs in mind, and it offers features like Gantt charts and budget tracking. This software has also made a name for itself with its easy reporting capabilities, which include templates and digital assistance to build reports to fit each team's specific needs. As far as integrations go, Wrike works with most CMS, file storage, and IT platforms. Wrike offers a free trial as well as a live demo.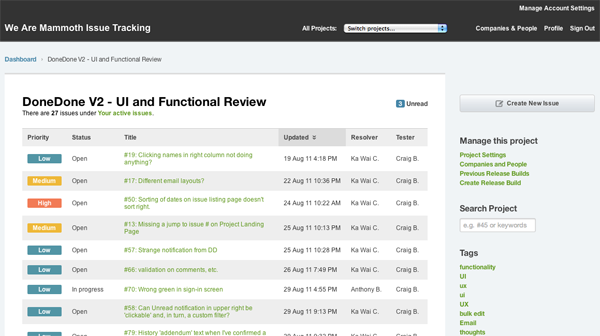 © 2023 DoneDone, LLC. All rights reserved.
DoneDone is a useful yet lightweight workflow management software and bills itself as a "simple issue tracker." Accordingly, DoneDone puts a premium on getting team members the information they need in the most accessible visual terms possible. While it's not as heavy-duty as some of the other options on this list, it offers useful integrations with Slack, Glip, and other applications, and its new customer support help desk features make it suitable for organizations in a broad set of industries. DoneDone offers a 30-day free trial.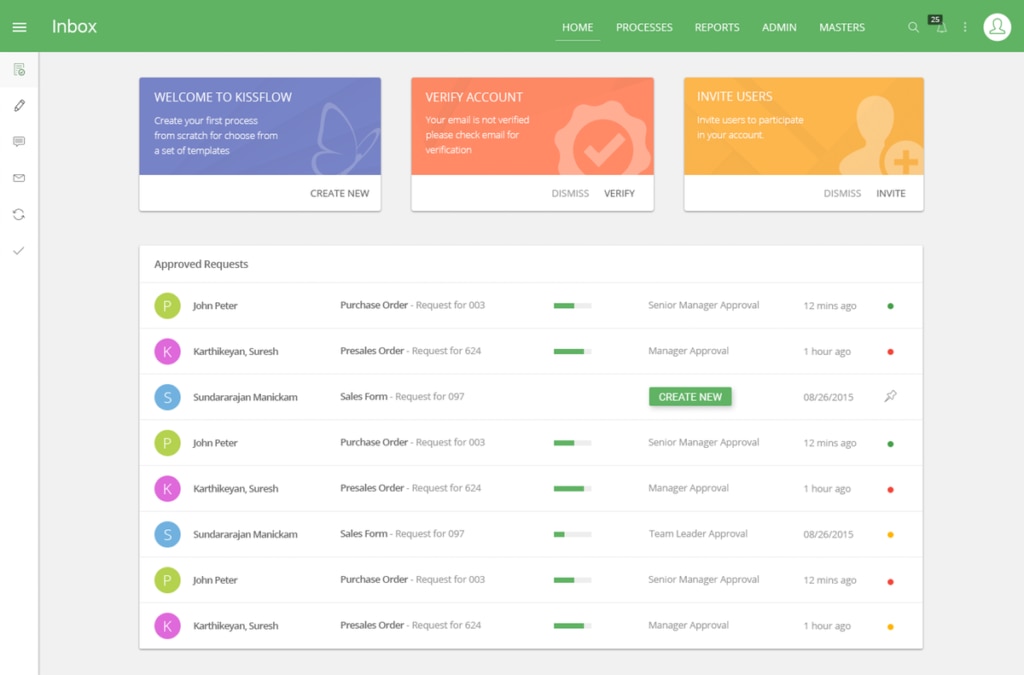 © 2023 Kissflow Inc. All Rights Reserved
With Kissflow, teams get a little bit of everything. In addition to typical workflow management solutions features such as task tracking and project management, it offers no-code business application development tools. This means users can put together the kind of apps they need based on firsthand knowledge. In addition to this application development functionality, Kissflow comes with key integrations, including with the G Suite of programs. Kissflow offers a free trial of each of its versions: Small Business, Growing Business, and Enterprise.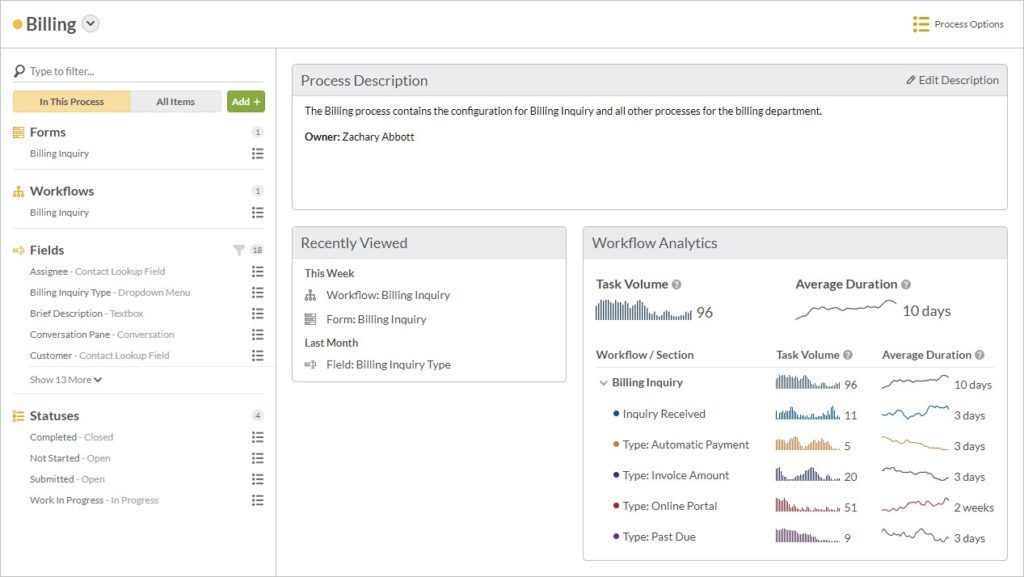 © HighGear Inc. All Rights Reserved.
HighGear is another heavy hitter when it comes to workflow management. This cloud-based software provides small businesses and larger companies with the tools they need to shepherd tasks and projects through established workflows and keep up communication with stakeholders throughout the process. HighGear also comes with a trove of other useful features, such as reporting and analytics, automation capabilities, and time tracking. HighGear offers a free demo.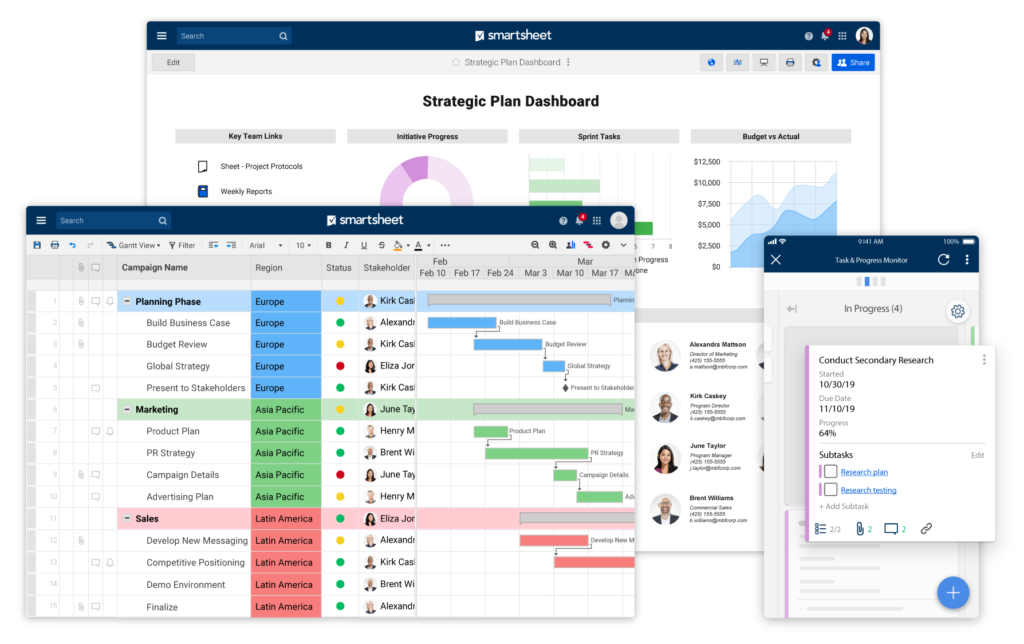 © 2023. All Rights Reserved Smartsheet Inc.
A user-friendly interface and a focus on work execution have made Smartsheet a favorite among business users looking to boost productivity. With Smartsheet, teams of all sizes benefit from an approachable interface prioritizing collaboration and capable of handling different kinds of work simultaneously. This includes integrations with calendars, file storage, and dashboards from any relevant devices. Smartsheet offers a free trial.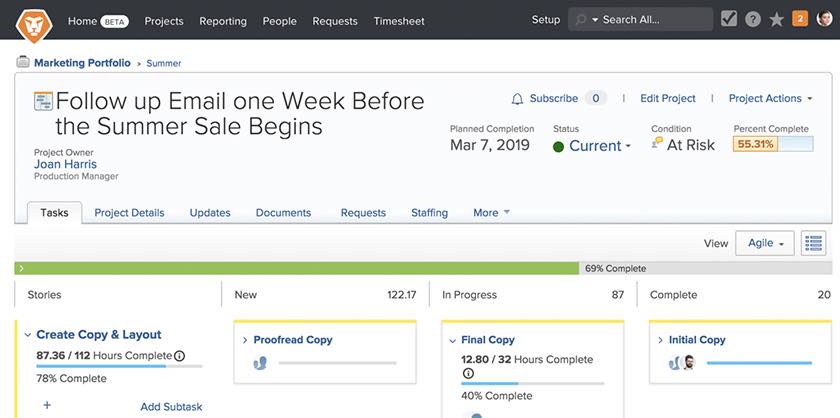 © 2023 Adobe. All rights reserved.
Workfront is something of a jack-of-all-trades in the workflow management software space. By bringing together typical task tracking and project management with automation tools and real-time collaboration, this software allows teams to get a better handle on what their projects will entail and how to plan accordingly. Workfront comes with useful features, including custom forms, automated routing, and project templates flexible enough to meet the needs of teams in a range of industries. Workfront offers a free demo upon request.
How to Choose the Best Workflow Management Solution
Whether you're looking for AI functionality to automatically generate tickets for real-time tasks or a user interface that makes it easy to grasp the status of key assignments at a glance, the right workflow management software can streamline what were once convoluted and unwieldy processes.
As a task moves from one team member to the next, I found SolarWinds Web Help Desk was the most effective in keeping things organized and also includes a comprehensive approval integration system. Combined with automated asset tasks, this software from SolarWinds handles the nitty-gritty aspects of IT support, allowing projects and tasks to move through the pipeline quickly. On the other hand, if your company is huge, and you feel that you need more features, in my opinion you should bet on SolarWinds Service Desk.