If you manage lots of servers or work in an IT environment for a large enterprise, having high-quality and comprehensive server hardware monitoring software is a must. Hardware monitoring software provides tools to help you ensure your devices don't overheat, malfunction, or shut down. Usually, monitoring software will keep tabs on your CPU, memory, hard drives, RAM, network adaptor, motherboard, and so on, to ensure each of these components in your server is functioning correctly.
Without hardware monitoring software, you could find yourself in a tricky situation. If your servers go down, your applications and services can go down with it. This can lead to huge problems with service delivery, loss of customer trust, and loss of reputation. If you have problems with your file servers, you could even lose important data. I'll go through some of my favorite server hardware monitoring software, so you can find a good-quality tool for you and your business.
Best Server Hardware Monitoring Tools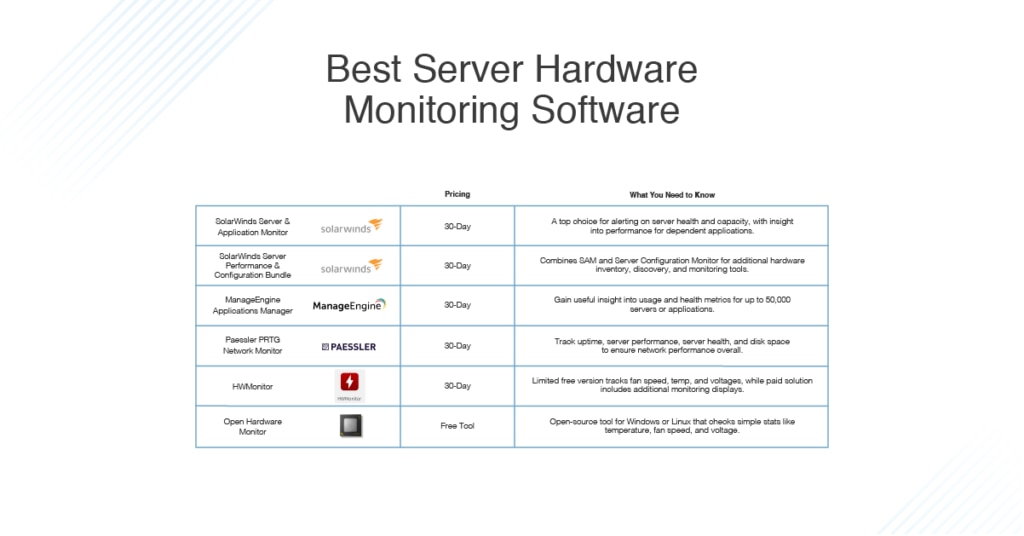 Hardware monitoring tools come in many different forms, but several key features cut across brand lines. However, for something as vital as a hardware performance monitor, you need to be sure the product you use provides everything you need in an easy-to-use and well-supported package. These are my favorite hardware health monitoring tools, all of which provide a good foundation for keeping your server hardware optimized and protected from problems.
SolarWinds® Server & Application Monitor (SAM) is my top choice for server hardware monitoring software, as it offers a wide range of tools for monitoring, optimizing, analyzing, and reporting on server and application performance.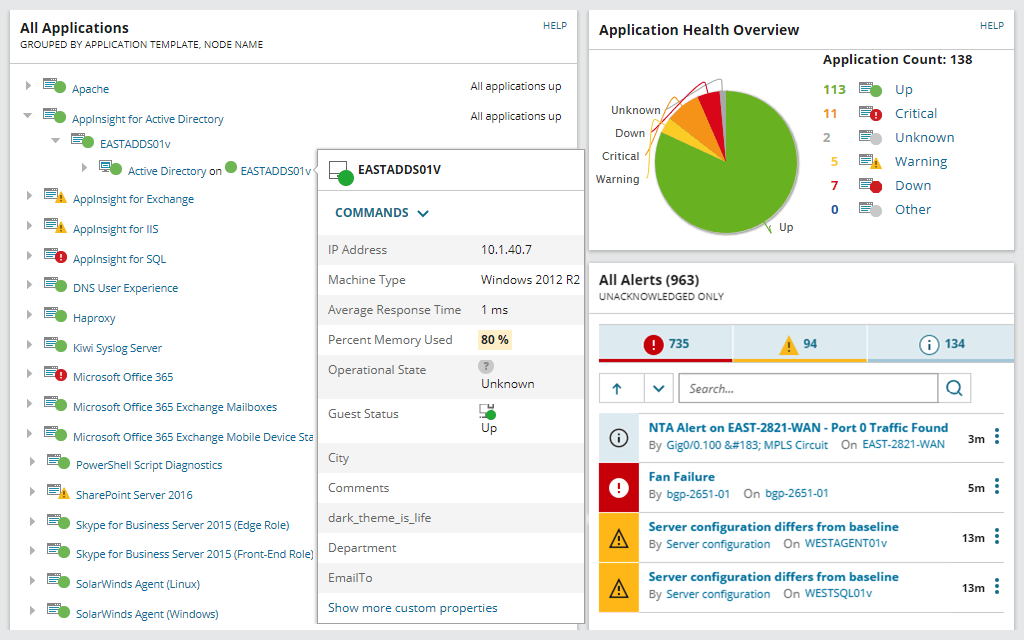 It's easy to set up and offers tools for monitoring server hardware, including server capacity planning and sizing tools. You can quickly see whether any server resources have reached capacity or are near capacity, and check metrics like server CPUs, memory, and disk space. It can also check on server response times as an indicator of server health and performance. It baselines performance and then looks for deviations in these metrics, alerting you to issues as soon as they arise.
If you have applications slowing down, SAM can check on the dependencies between your servers and applications, and see whether server load, processes, or hardware issues are causing problems. For these tools, SAM uses SNMP to ensure monitoring runs smoothly and doesn't add extra load to your systems.
These are just some of the features SAM includes—if you want to see more, you can try out a free trial of SAM for 30 days.
Server Performance & Configuration Bundle (SPCB) includes two SolarWinds tools: SAM and Server Configuration Monitor. The combination of these two tools allows you to expand your server hardware monitoring software capacity and complete a hardware health check from two different perspectives.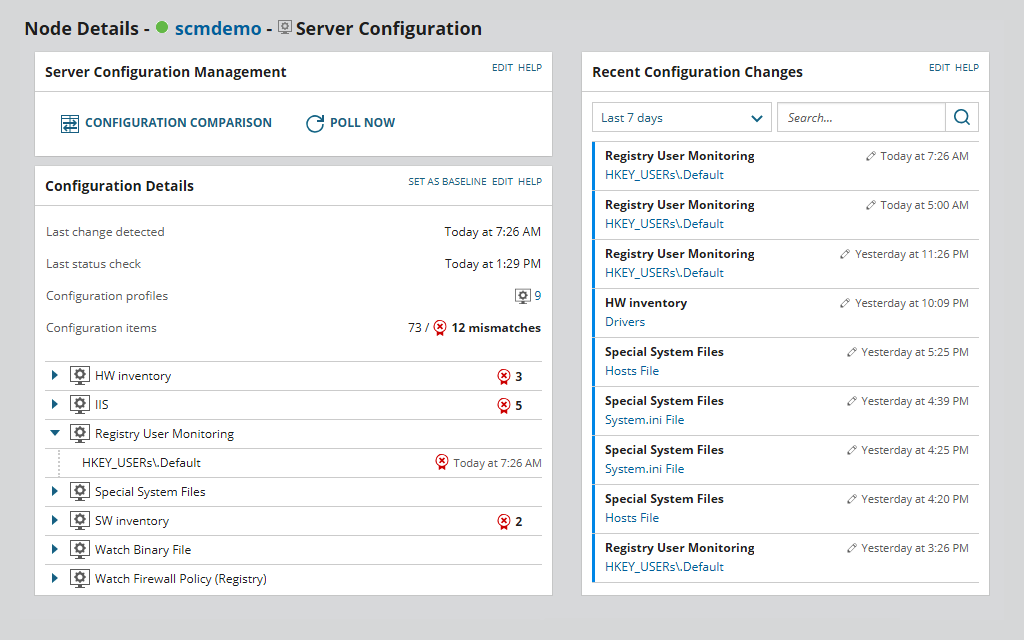 SPCB allows you to monitor and manage server capacity, health, and performance, by auto-discovering and mapping your infrastructure and applications. You get preset alerts and reports, along with the ability to customize your monitoring templates. These maps show you all your application dependencies and cross-server communication, so you can have a clearer understanding of how your infrastructure interacts.
This tool can also automatically create an inventory of all your hardware and software assets, so you can more easily keep track of your servers and applications, even if they're virtual or remote. Check out the free trial of Server Performance & Configuration Bundle on the SolarWinds website.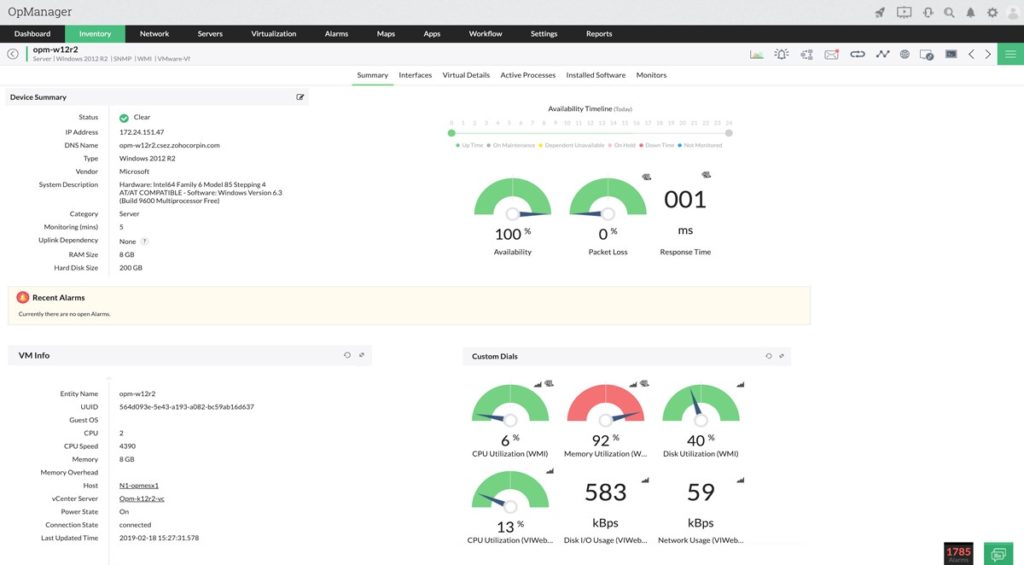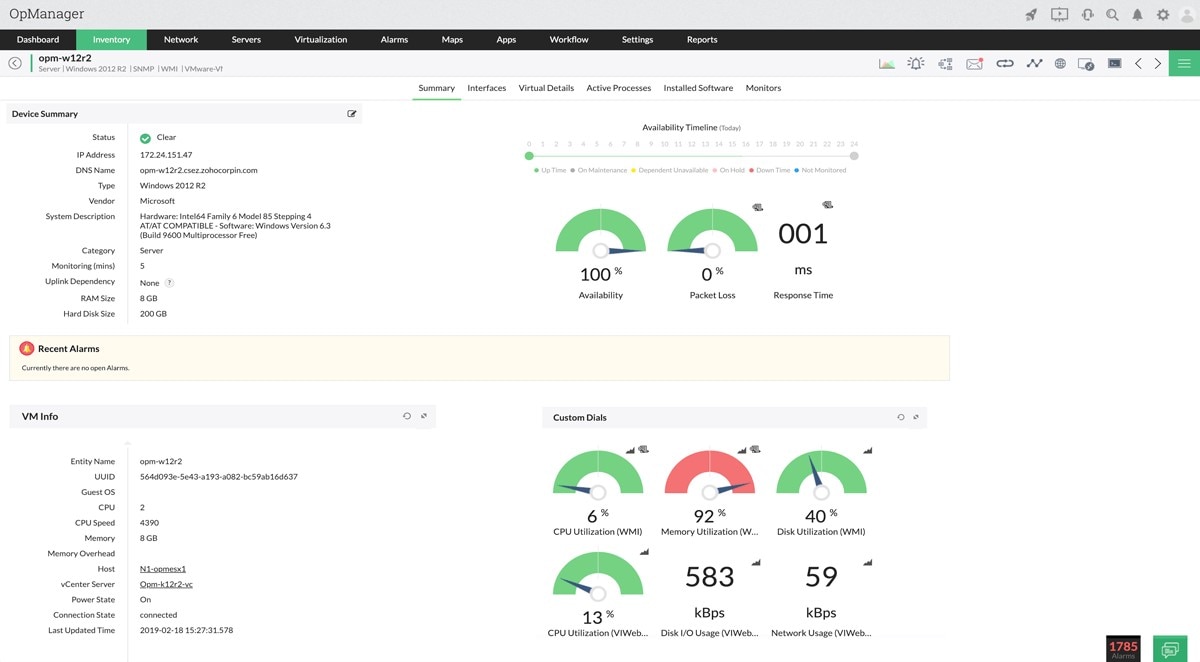 This great piece of hardware monitoring software provides server hardware and application monitoring. It has an integrated approach and includes monitoring for infrastructure component health to ensure your business-critical structures and applications run smoothly. ManageEngine has a few monitoring tools for server health, such as tools displaying server resource usage trends, including CPU and memory usage. This can help you with capacity planning and help you to keep track of overall server hardware health.
Like many other tools, it uses baselining and server performance history to alert you to an issue that has come up. The enterprise edition of ManageEngine Applications Manager can allow you to monitor up to 50,000 servers or applications. While useful for server hardware monitoring, note it can work with physical, virtual, cloud, or hybrid infrastructure.
ManageEngine Applications Manager also has a 30-day free trial available. After the free trial, your software will either revert to a free (limited feature) version, or you can purchase a license for a commercial version.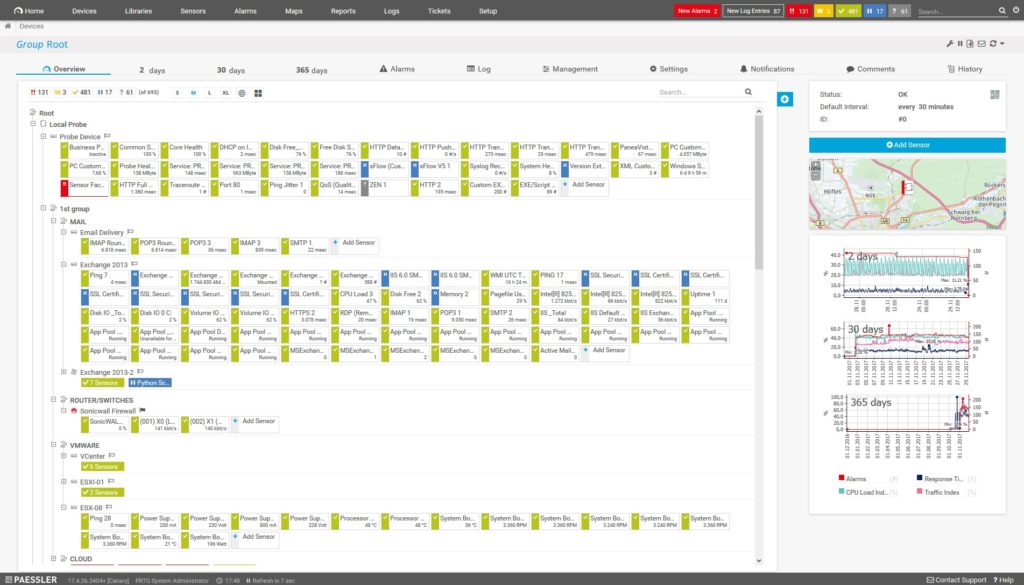 Another tool I like is PRTG Network Monitor. It has monitoring tools for different kinds of servers and tracks uptime, server performance, server health, and disk space. This allows you to easily prevent bandwidth hogs from using up all your server output and can prevent performance issues from taking down your services.
For mail, web, database, and file server monitoring, PRTG Network Monitor has a broad set of tools to monitor performance with sensors, checking on whether servers have availability in real time. These sensors are primarily based on SNMP, which doesn't add a large load to your network. You can also improve stability by seeing if your servers are regularly reaching or nearing capacity and upgrade your systems as necessary. PRTG also offers an unlimited version for 30 days, after which you can use a free version or upgrade to their paid license for enterprise solutions.
HWMonitor has two versions: a free, classic version, and the "Pro" version. The classic version only has a few tools, but it can read the primary sensors indicating health for a PC, including fan speed, temperature, and voltages. It works with most common sensor chips and can read CPUs thermal sensors from on-die cores. In addition, it reads the temperature of hard drives using S.M.A.R.T. and video card GPU temperature.
The Pro version includes these features as well as remote monitoring, a graph generator, and an improved interface. The remote monitoring feature of HWMonitor Pro allows you to watch Android or PC sensors remotely over a TCP/IP connection, so you can keep track of your server health on the go. Logging graphs can be generated as bitmap files, and you can see how your server health information changes over time to keep an eye on any major performance changes.
You can try HWMonitor Pro for 30 days for free and you can buy a license on their website for either one or two years.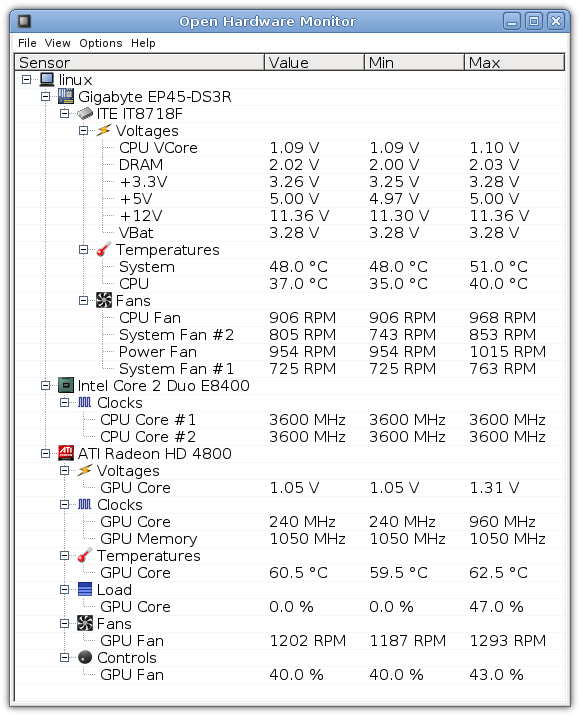 If you're looking for a completely free server hardware monitor, you could check out the Open Hardware Monitor. This open-source hardware monitoring tool can run on Windows XP, Vista, 7, 8, 8.1, 10, and any x86-based Linux operating system. It monitors temperature sensors and fan speeds, so you can see if anything is overheating, and checks on voltages, as well as load and clock speeds.
How to Choose the Best Hardware Monitoring Tool
If you're anything more than a home user or small business, using free software might not be suitable. For large enterprises, you want to have a large feature set for more in-depth monitoring. After all, if something in your server health slips because of faulty hardware, there could be major consequences for your end users.
My top choice is SolarWinds Server & Application Monitor, as it has a clear and easy-to-use interface, with a broad range of tools for high-quality and comprehensive monitoring. It also easily integrates with other SolarWinds products on the Orion® Platform, which allows you to expand your monitoring as your business needs scale. In addition, using premium software like this comes with extensive documentation, high-quality customer support, and easy-to-use dashboards and reporting. The best part? You can try before you buy with a free 30-day trial.