Here are the top eight free tools currently available that monitor server health and performance.
There are many popular, widely used systems and server monitoring tools. Deciding which tool suits you best depends on what kind of infrastructure you want to monitor, how much of the stack you want to monitor, and how much time and resources you have to invest in building, integrating, and customizing a free monitoring tool versus investing in a commercial product.
Open source tools are sometimes too basic to monitor a system on which a business relies. On the other hand, they can be useful toolkits that a development team can use to build exactly the type of monitoring tool they need. Of course, that team would have to have one or more members willing to manage and maintain the monitoring system they build.
Before spending a significant portion of your IT budget on application and server monitoring tools, consider these free tools for monitoring your IT needs and environment
AppOptics
AppOptics pulls double duty and is an application and infrastructure monitoring tool. Though there's a free 14-day free trial, the product isn't free. If you're looking for the most affordable, yet powerful, SaaS application monitoring tool, look no further. Beyond basic application and infrastructure monitoring, AppOptics provides instant visibility into your server while providing custom metrics and analytics. Integrate your existing tools with over 150 integrations and plugins.
Server & Application Monitor
It's not a free tool, but you can use a free trial of SolarWinds® Server & Application Monitor (SAM) for 30 days. It offers more than basic server monitoring. SAM delivers out-of-the-box monitoring for multi-vendor server hardware and deep application monitoring for 200+ applications, including Windows®, Linux®, Java™, IIS, Exchange™, Active Directory®, etc. It provides asset inventory, capacity planning, advanced alerts, user permissions, advanced baselines, reports, etc. More importantly, you can be up and running in about an hour. While the software is not free (the trial is free), in the long run it can be more cost effective than a free or open source tool. Learn More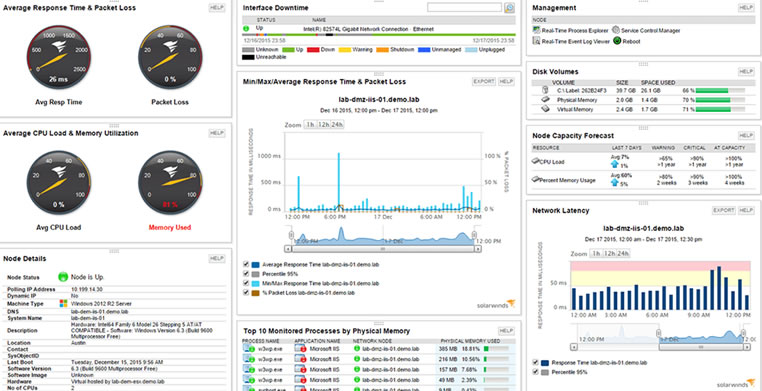 Nagios Core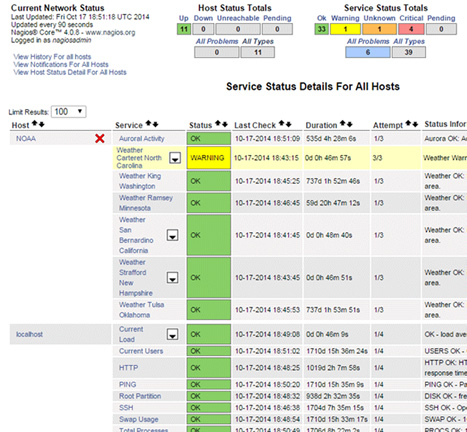 Nagios® is a widely used open source tool for monitoring server and network performance. Many IT pros consider Nagios to be cost-effective and customizable, and appreciate being able to seek support from its user community. However, one of the biggest obstacles is getting past the initial setup phase. Nagios can be complicated to install, set up, and configure. Once this is done, the tool offers metrics to monitor server performance, remediate services, and reporting. Nagios Core provides only limited monitoring capabilities, unlike Nagios XI, which is a commercial tool with added features. If you are comfortable setting up your own custom dashboards, or have time to learn and master everything Nagios has to offer, it can very well be the solution for you.
MONITOR.US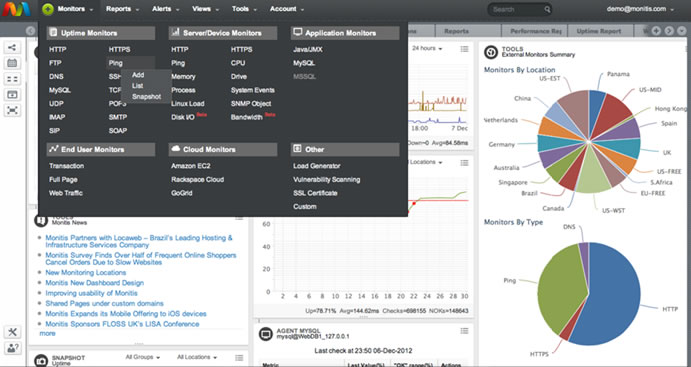 Monitor.Us is a cloud-based free server monitoring tool from TeamViewer. The tool provides capabilities to monitor services for Windows and Linux servers for free. It gives you a view of the health and availability of your workstations and servers, including CPU, memory, disk, and bandwidth. Because it is hosted in the cloud, you do not need to install, configure, maintain, or make updates. In addition to server monitoring, you also get to monitor networks and databases by building custom dashboards.
SolarWinds Server Health Monitor
This free monitoring tool from SolarWinds tracks the health, status, and availability of server hardware in minutes. Server Health Monitor lets you see the status and performance of critical server hardware components, such as fan speed, temperature, power supply, CPU, battery, and more. With it you can quickly identify server hardware issues impacting server and application performance. It lets you monitor the status and hardware health metrics of Dell® PowerEdge™, HP® ProLiant®, IBM® eServer xSeries servers, and VMware® ESX/ESXi hypervisor.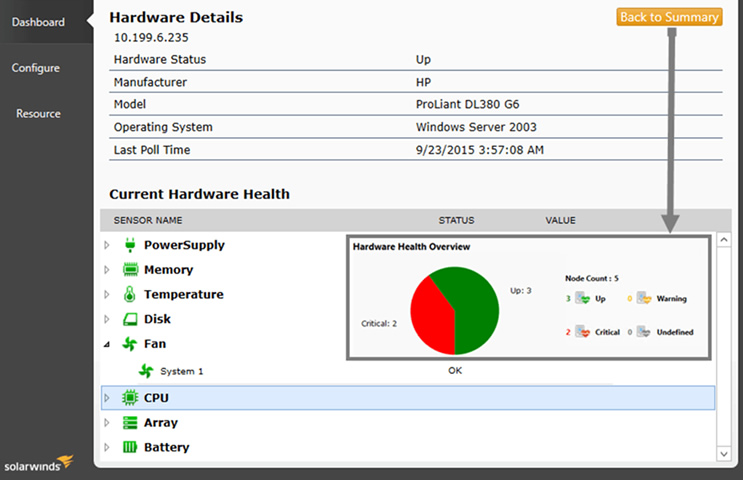 Ganglia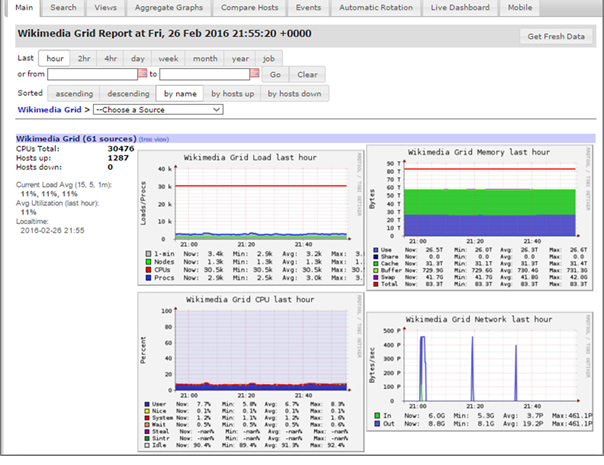 Ganglia is an open source (BSD license) monitoring system designed especially for high-performance computing systems, such as clusters and grids. It has a scalable and distributed architecture based on a hierarchical design targeted at federations of clusters. It leverages widely used technologies, such as XML for data representation and XDR for data transport. One of its goals is to engineer data structures and algorithms for maximum efficiency, resulting in overheads for each node.
It's a solid monitoring platform that supports many operating systems and processors. Large clusters around the world use the platform, especially in university settings. This is not surprising given the fact that Ganglia evolved out a project at the University of California in Berkeley, and was funded in part by the National Science Foundation. For more information, visit Ganglia.info.
CollectD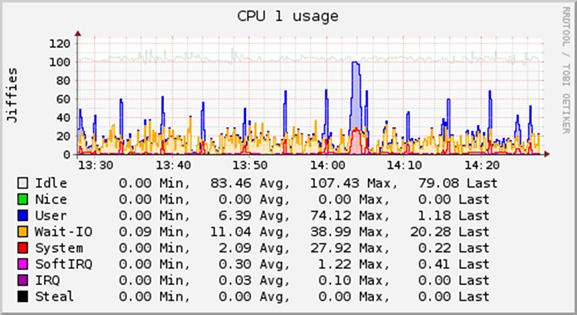 CollectD is a popular open source daemon, which collects basic system performance statistics over time and stores the data it collects in multiple formats, such as the RRD files that Cacti can use to graph the data.
CollectD is written in C++ and is available for multiple operating systems. There are a number of plug-ins for various systems that allow you to collect data beyond the essential system metrics, such as CPU and memory. CollectD is commonly used to find performance bottlenecks, monitor and predict system load over time, and create alerts.
CollectD is commonly used in DevOps projects as an industry-standard open source collection agent. It is usually integrated with a graphing tool, such as Graphite, Grafana, or Cacti.
Cacti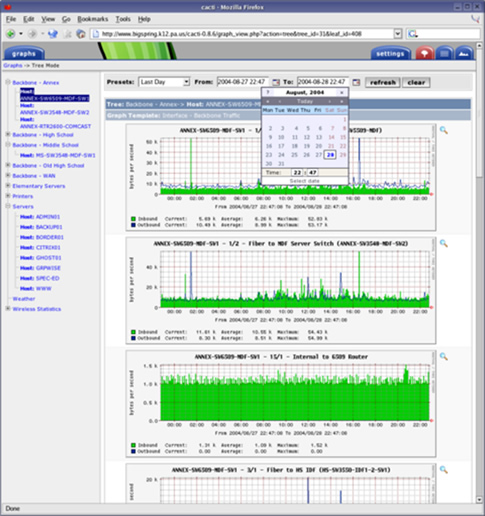 Cacti is mainly a front end graphing tool for system data, but it can also handle data collection. Data gathering happens in a cron job via an external script that feeds metrics which Cacti stores in a MySQL® database. With Cacti, you can create all kinds of graphs that can be displayed and organized in a number of different ways. Cacti works with user permissions, allowing certain users access to specific charts or graphs.
ipMonitor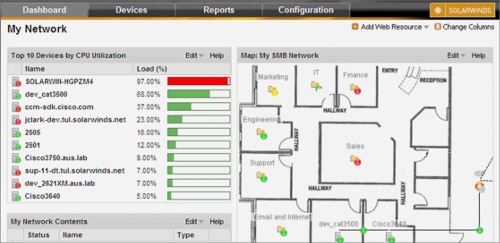 ipMonitor While also not a free tool, but as close to free as you can get for the functionality,
SolarWinds ® ipMonitor ® can offer essential monitoring for servers, applications, and network
devices. Available as a free, fully functional 14-day trial, it is designed to monitor the
availability, usage, and performance of your critical IT environment. ipMonitor is built to be
extremely fast to set up, doesn't require a third-party database or web server, and features
easy alerting and reporting, customizable dashboards, built-in remediation capabilities, and
even user experience monitoring. Learn More
Summary
For comprehensive server monitoring features, including server response time monitoring, CPU, memory, disk utilization and monitoring, capacity planning, processes and services monitoring, and IT asset inventory, try the fully functional free 30-day trial of Server & Application Monitor.
For basic system level metrics use Cacti. For Web-based monitoring use Monitor.us, and if you have the time and the inclination to build your own monitoring platform, you should start with CollectD and Graphite.