Microsoft System Center Configuration Manager, also known as SCCM, is a widely used systems management solution. While this solution has its benefits, it also has limitations that may lead certain organizations and IT professionals to search for viable alternatives for SCCM. Whether you're looking for something more user-friendly, more versatile, or simply a cheaper alternative to SCCM, there are plenty of SCCM alternative solutions on the market to suit all business needs.
This guide reviews the best alternatives for SCCM, considering suitability for business use, cost-effectiveness, the user-friendliness of the interface, and other key factors. Overall, SolarWinds® Network Performance Monitor and SolarWinds Patch Manager rank highest on our list. These enterprise-grade tools strike a balance between ease of use and range of features, while offering highly sophisticated capabilities.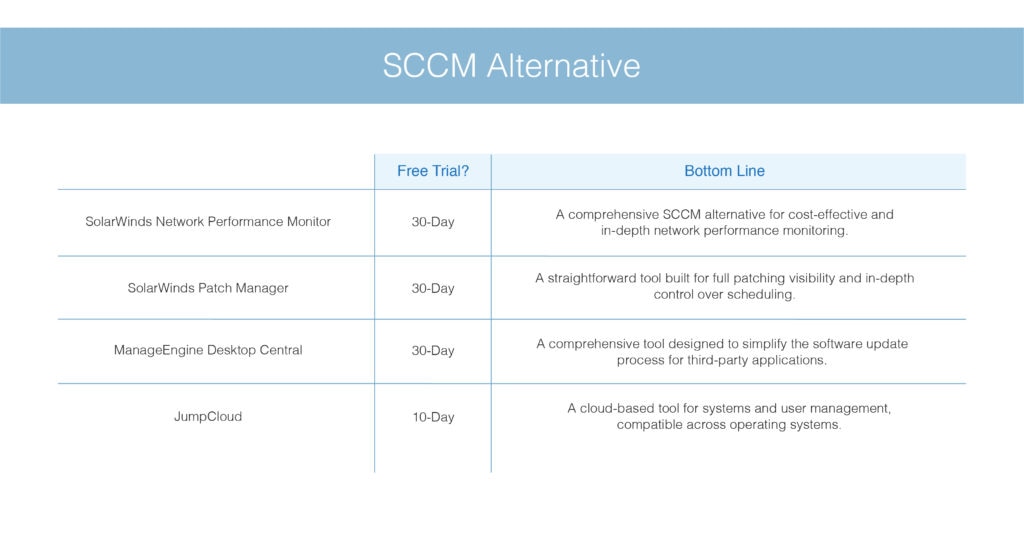 The Best SCCM Alternative
If you're looking for an affordable alternative to SCCM, a user-friendly alternative, or a more versatile alternative, the following solutions are reliable and come highly recommended.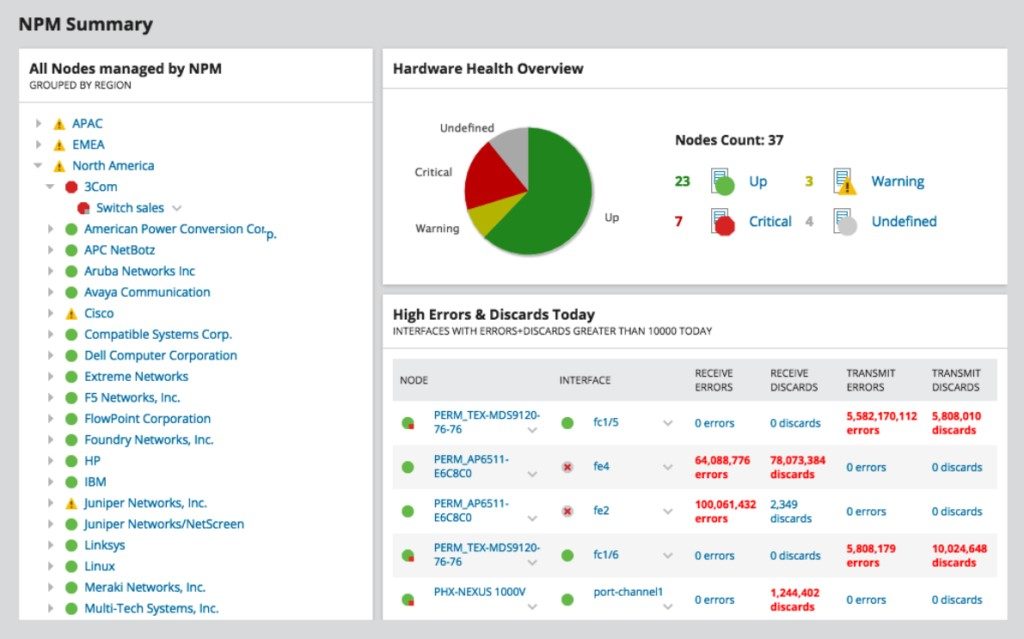 SolarWinds NPM is a comprehensive SCCM alternative solution designed to cover everything from network monitoring to link analysis and network latency testing. NPM is easy to use and requires no initial training or experience. It's cost-effective, and it can be deployed on both physical and virtual servers, in the cloud or on-premises. NPM can be used with all major platforms. It can even be deployed via Azure or AWS marketplaces.
SolarWinds NPM is designed to be a complete network monitoring solution, offering features beyond those included with SCCM. This includes excellent scalability, with the ability to scale up to 1 million elements per instance, depending on licensing. NPM provides fault, availability, and performance monitoring, allowing you to rapidly detect, troubleshoot, and fix network performance problems and minimize downtime. Other features include:
Hop-by-hop analysis along critical paths
Cross-stack network data correlation
Customizable topology
Dependency-aware and intelligent alerts
Automatic network discovery and mapping
Automated capacity forecasting, alerting, and reporting
Hardware health monitoring
And much more
NPM delivers both logical and physical network monitoring capabilities in a single tool, allowing you to monitor the logical components of the SDN environment. This includes tenants, APICs, application profiles, and endpoint groups.
This SCCM alternative is a good choice for companies anticipating growth and small organizations looking for a tool that can scale with them. As a user-friendly, multi-platform, cheaper alternative to SCCM, SolarWinds NPM can deliver reliable and efficient endpoint management suited to most businesses. A 30-day free trial is available.
SolarWinds Patch Manager helps eliminate the need for System Center Updates Publisher (SCUP)—which limits patching not conducted via Microsoft—and extends the functionality of SCCM to integrate with supported applications, including Java, Oracle, Adobe Reader, and much more. This tool allows you to monitor the accessibility of new patches and easily integrates them with your schedule. Patch Manager serves tested, prebuilt, and ready-to-deploy packages.
With Microsoft SCCM, you can conduct standard patch scheduling, but you can't be certain the targeted machine will be powered on and ready to receive the update. This SCCM alternative lets you push patches to accommodate and suit your business schedule, depending on the possible network impact associated with large updates, as well as time zones. This helps ensure your patches are received by even powered-off devices.
SCCM can only give users visibility into SCE environments using WSUS natively. It also requires the Microsoft Extended Inventory collection tool to accommodate additional inventory. Patch Manager, on the other hand, can improve upon SCCM capabilities by keeping track of Microsoft and third-party applications, in addition to disk space, hardware inventory, and other important metrics. With this SCCM alternative, you can stay on top of upcoming and scheduled updates by leveraging an automatic list of applications, each of which is tagged with labels like "critical," "third-party," and "security."
With this user-friendly and advanced SCCM alternative, you are better able to achieve enhanced patching control and extend patching capabilities. A 30-day free trial is available.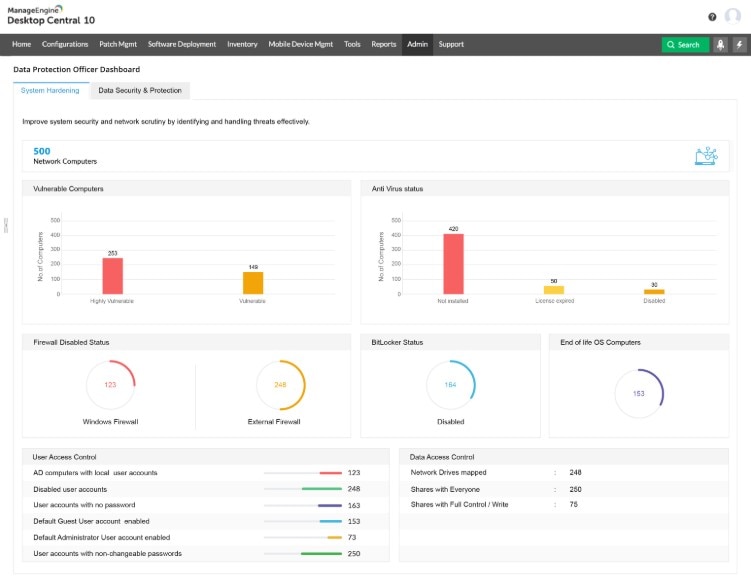 ManageEngine Desktop Central is another popular SCCM alternative. While I believe SCCM's client configuration process is fairly complicated, with a significant number of components to configure, the client settings in Desktop Central are comparatively simple, allowing for fast implementation.
In addition to making agent and client configuration easy, Desktop Central is also built to simplify software updates. With this tool, you can simply scan your computers, check updates, and update software as appropriate without any need for time-consuming configuration activities.
This versatile solution offers support for more than 250 third-party applications, helping you patch third-party apps quickly and efficiently, while helping ensure your network is updated and secure.
Other key features of Desktop Central include the ability to decline specific patches and automate prohibited software removal. The only notable disadvantage of Desktop Central is that I think the user interface isn't especially intuitive, and the user-friendliness could be improved upon. You can download Desktop Central here.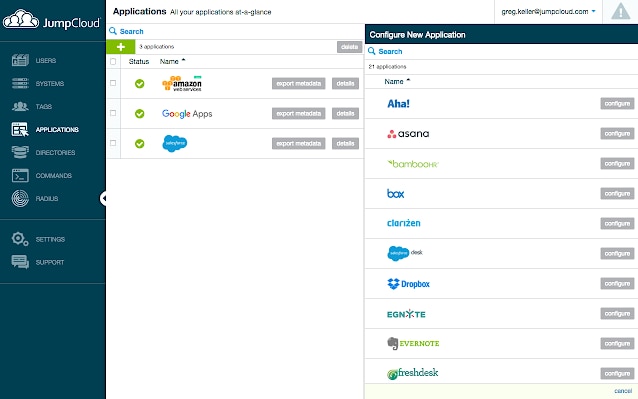 SCCM doesn't accommodate the need for system management in mixed-platform environments. JumpCloud provides a solution to this issue as an SCCM alternative that's cloud-based and works with all major systems, including macOS, Linux, and Windows machines.
This Directory-as-a-Service solution integrates system management and user management into a single platform, allowing IT administrators to establish control over both user and system management activities through a single pane of glass. IT administrators can use JumpCloud to enhance their security, leveraging JumpCloud policies and commands across Linux, macOS, and Windows. These policies include the ability to update the OS automatically, enable full disk encryption (FDE), and set up a timer for locking the screen.
As a user management tool, JumpCloud can quickly provision new users and deprovision user access when necessary, whether for Linux, Mac, and Windows machines. With this single tool, IT administrators can ensure their users are able to access the resources and data they need, while helping prevent individuals who don't require access from being able to acquire it. This protects valuable resources. JumpCloud leverages popular protocols—like SSH, SAML, LDAP, REST APIs, and RADIUS—to enable IT administrators to remotely connect users to almost any resource required.
Although JumpCloud is good at what it sets out to do, I feel it offers a less comprehensive solution than many other SCCM alternatives. You can sign up for a free JumpCloud account, which allows up to 10 users, by clicking here.
What Is SCCM?
SCCM is a systems management tool used to manage Windows computers. SCCM is also referred to as ConfigMgr and has been among the most popular endpoint management systems for several years. This tool offers a wide range of utilities and benefits, all of which are designed to assist you with the creation, management, and distribution of software and computer images. SCCM can make an IT administrator's day-to-day activities significantly easier, more productive, and more cost efficient.
SCCM is a reasonably versatile technology, which means it can be used to perform common IT activities. Most often, SCCM is used to manage many Windows computers or devices, and is responsible for deploying operating systems, patches, and software via remote control and access capabilities.
However, I think SCCM has a few limitations. SCCM is only compatible with Windows devices, which means it's not suitable for multi-platform use. SCCM can be challenging to use, and there's a significant initial learning curve. If you're unfamiliar with SCCM, you'll need to review a substantial amount of documentation prior to using it. This is likely to be time-consuming and can make training and onboarding new staff more challenging than it needs to be. SCCM can also be expensive, especially if you're a small organization. Like most Microsoft solutions, SCCM relies on Active Directory to achieve full functionality, which can also be limiting.
Choosing the Right SCCM Alternative
While SCCM remains a popular choice for systems management, it won't be suitable for all businesses. Whether you're looking for alternatives for SCCM to support multi-platform environments or extend patching capabilities, at least one of the SCCM alternatives on this list can meet your specific business requirements. For user-friendly, enterprise-grade, and versatile SCCM alternatives, I recommend giving SolarWinds NPM and SolarWinds Patch Manager a try. You can access a free trial of NPM here and a free trial of Patch Manager here.
*As of October 20, 2020