It can be hard to keep on top of all the software on your computer, especially if every time you open a program it tells you it needs updating. Luckily, you can install a software updater to manage this process for you. The importance of software updaters is twofold: first, they make sure you're using the best and most efficient version of your software; second, they're vital for installing important bug fixes and security measures to ensure your software isn't open to attack. 
After reviewing all the leading solutions out there, I chose SolarWinds® Patch Manager as my favorite program update checker. I found Patch Manager to be a simple, automated patching tool with a comprehensive suite of features, including pre-built patches, general system health measures, and a good-looking and easy-to-understand interface. It checked all the boxes I needed, and then some! In this guide, I'll also provide two definitions you need to know related to these types of tools that can help you better understand what you need to look for in a software update checker.
Best Software Update Checkers
What Is a Software Update Checker?
What Is a Software Patch?
Best Software Update Checkers
I know that choosing a software updater is no easy task, as the market is flooded with tools. When choosing a software update checker, look at the range of software it covers, and if you use Windows, make sure it integrates with Windows patches and updates rolled out through your operating system.
Paid tools generally provide higher-quality and broader patch coverage, but I'll also include a few of the free tools if you're looking for something for home use or your business doesn't have the budget to pay for professional software.
For a Windows software update checker, I recommend SolarWinds Patch Manager (PM) for several reasons. First, the process of checking for and installing updates is automated for both Windows and third-party applications. This takes out a big part of the process, so you can focus on your other IT tasks. PM also expands on the standard Microsoft Windows Server Update Services (WSUS) and System Center Configuration Manager (SCCM) to make sure nothing gets missed.
Updates from WSUS and SCCM can fail, for example, if the patch isn't installed correctly, which means your system will be suddenly vulnerable to security risks. PM uses PackageBoot technology to make sure there are no failed patches, and if any issues are discovered, you can roll out a new patch immediately. It also produces accurate and useful reports on its integration with WSUS and SCCM, so you have a clear understanding of what it's doing.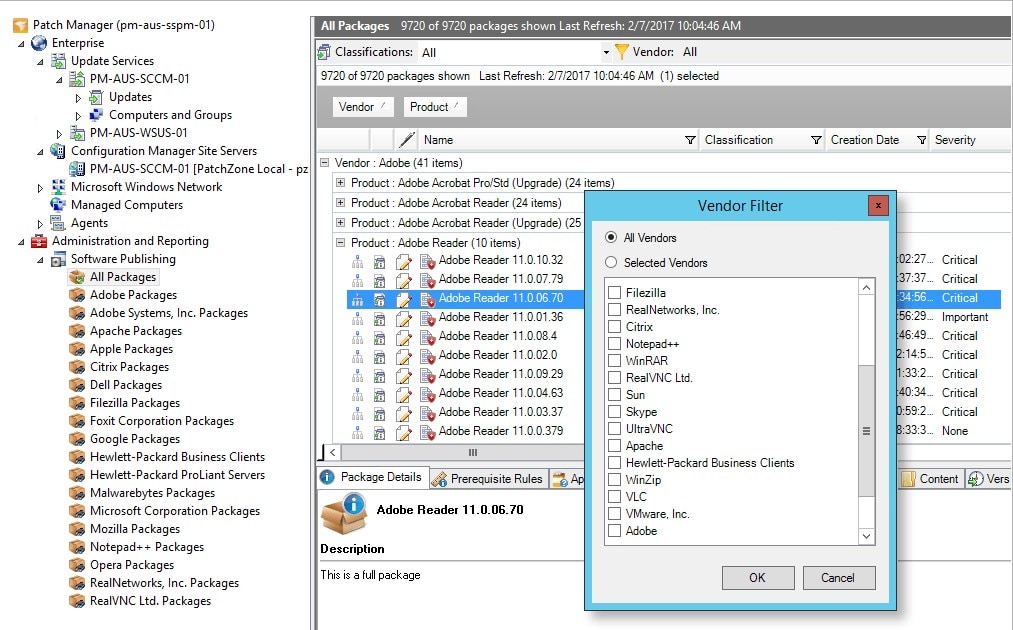 Benefits
                           Disadvantages

Expands WSUS and SCCM

Useful for patching third-party applications

Uses PackageBoot technology

Automates and schedules patch deployment

Produces accurate and useful reports to show compliance

Centralized dashboard

Very good for enterprises
SolarWinds PM also displays the available patches for your system in categories: security, critical, definition, third-party, and service pack updates. One of the main benefits is you can see all your patch management information in one centralized dashboard. This way, you can clearly see how urgent a patch is and elect to install patches in order of priority. You can also create patch reports, which allow you to show compliance for auditing or regulatory purposes.
You can even try out Patch Manager for free for up to 30 days.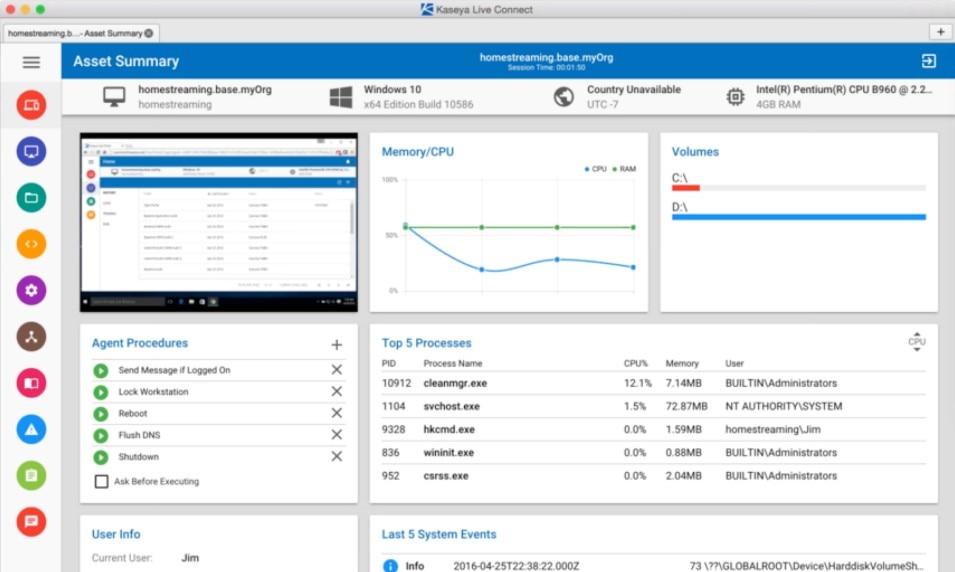 Benefits
                             Disadvantages

Real-time visibility shows you the patch status

Tracks which network devices are on or off

Chat feature unreliable
Views glitching
Outdated interface
Kaseya VSA is a total remote monitoring and management software solution with patch management and deployment capabilities. You can set up policies to automate your patching processes, including software deployment, patch management, and issue troubleshooting, freeing you up to invest in other areas of productivity.
VSA includes real-time visibility to show you the patch status of all the programs you're monitoring and keep track of which network devices are on or off. This is useful if you want to manage patches as part of a larger remote monitoring tool to make sure all your network devices are performing correctly, are being used by your staff appropriately, and have up-to-date software installed.
Unfortunately, there are a few problems with the Kaseya VSA dashboard and GUI—such as the chat not working, views glitching, and an out-of-date interface—and each time there is an upgrade to the software itself, there are issues with customizations resetting. Nevertheless, it has solid features and good centralized management tools. Check out the two-week free trial to see if you like it.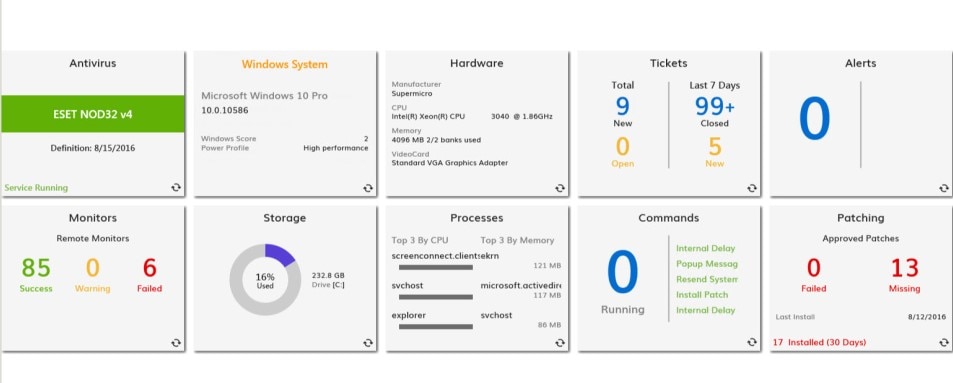 Benefits
                             Disadvantages

Audit, patch, document, and charge for updates
Gather a significant amount of data about the network
Easy to use
24/7 customer support

Runs slow
UI issues
Challenging setup
ConnectWise Automate is another remote monitoring and patch update tool. It lets you audit, patch, document, and in some cases even charge for third-party updates to your applications. Best practices are used for all third-party patch definitions, and daily downloads occur automatically to make sure the version you're patching is the latest one available.
ConnectWise has a few UI issues, and, at times, can run very slowly. It also takes time to set up in the first place. However, once you get it working, it gathers a significant amount of data about the network and is easy to use. It also offers great 24/7 customer support. You can check out a free demo of ConnectWise Automate, but for further pricing, you need to request a quote.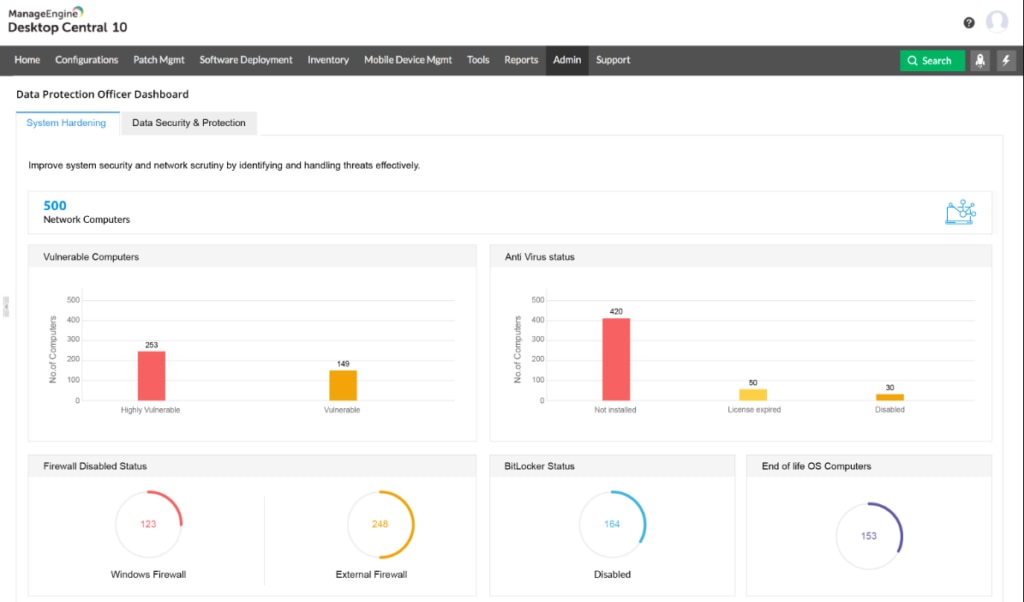 Benefits
                             Disadvantages

For Windows, Mac, Linux, and third-party applications
Health status function
Automated and scheduled patch deployment
Vulnerability database

Patches can fail without clear error messages
Can require manual patching approach
Desktop Central offers patch management capabilities for Windows, Mac, Linux, and third-party applications. It keeps tabs on newly released patches and vulnerabilities, which are verified and tested, then added to the Central Patch Repository. The software includes a vulnerability database synched daily with the Central Patch Repository or can be synched on demand. This way, vulnerabilities and patches are readily available, so you can stay on top of critical updates.
It also includes a health status function, which lets you choose the number of missing patches it takes to classify the system as "healthy," "vulnerable," or "highly vulnerable." You can then narrow down which parts of the system need immediate attention and which can be examined later. Desktop Central also includes patch testing tools, so you can test and install groups of patches at once.
Automated and scheduled patch deployment are also available, but in some cases these patches seem to fail without clear error messages as to why. The patching process requires a bit more of a manual approach than some competitors, and even with the automated options, it can take a while to set up. Overall, this is an easy-to-use, feature-rich software, but it has a few issues that need to be ironed out.
You can try out a demo of ManageEngine Desktop Central, but for pricing, you need to ask for a quote.
Benefits
                             Disadvantages

Free Windows software update checker
Neat and clean interface

Very basic software update requirements
FileHippo is an excellent choice for a free Windows software update checker, and it works for Windows 8 down through Windows 98. It requires you to have Microsoft .NET Framework 2.0 installed.
Its functionality is limited to certain programs, and it cannot install new patches or updates for you. Basically, it looks at your computer to see what software is installed, checks your current versions against versions online, and lets you know which software is out of date. It then provides you with a neat and clean interface from which you can download the new versions.
You can use this lightweight and simple tool for basic software update requirements but it's not sufficient for enterprise-level software patch management.
Benefits
                             Disadvantages

Free software update checker
Lightweight and simple tool

Limited patch management features
SUMo automatically detects whether there are any updates or patches for the software you have installed and can link in with the Drivers Update Monitor (DUMo), a free driver checker. You can also allow it to look at whether there are beta versions available to try out.
If you pay for the pro version of SUMo, it can be set to automatically update your software for you. The pro version comes with DUMo, plus other additional features and integrations. Even so, it's a lightweight tool and is not a full patch manager like some of the more enterprise-level products.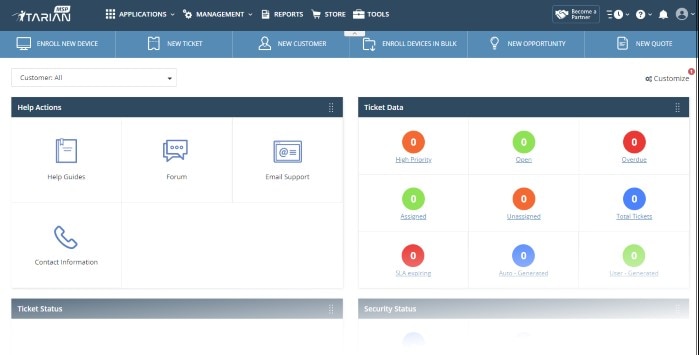 Benefits
                             Disadvantages

Updates both Windows and Linux operating systems
Identify vulnerabilities and patch them
This is intended for use by managed service providers, and the patch management tool is part of a larger piece of software. It allows you to deploy updates for both Windows and Linux operating systems, as well as third-party applications.
ITarian Patch Manager provides statistics and reports for all network endpoints and necessary updates, allowing service providers to identify vulnerabilities and patch them as quickly as possible. You can also set up policies and plans for which updates will be automatically applied and at what times to prevent network capacity issues. It keeps a record of the update history for each endpoint, and reports on endpoint statuses at various time intervals, so you can see which endpoints were vulnerable when.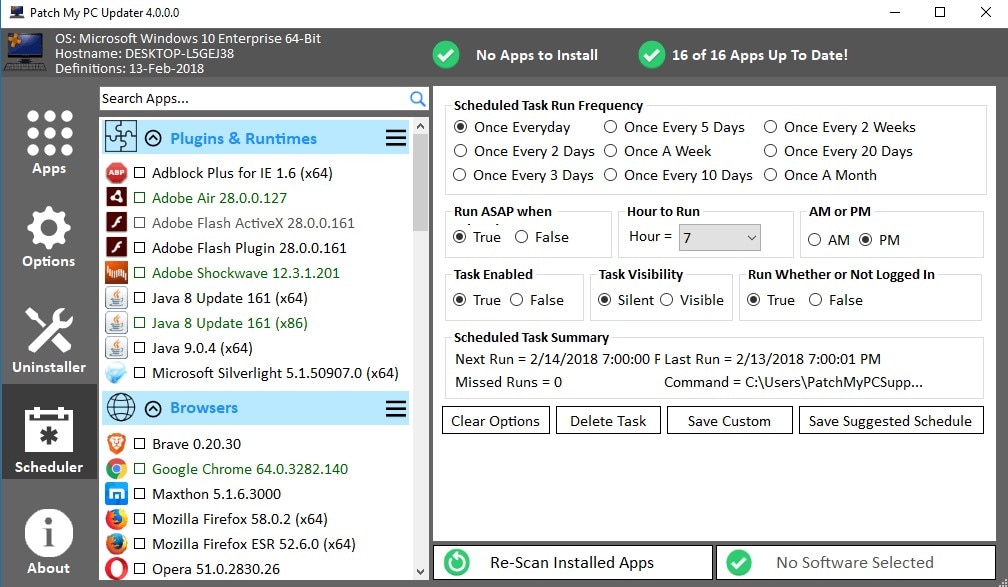 Benefits
                             Disadvantages

Free software update checker
Update around 300 common third-party applications on your computer
The Patch My PC Home Updater free tool has the functionality to update around 300 common third-party applications on your computer. You can also use it to install new applications, and you can run it on a schedule to check for updates as frequently as you like. It lets you create a baseline of applications to be installed automatically across multiple PCs as well.
Unfortunately, its functionality is a little limited, but it's a good choice for a simple and easy-to-use free updater.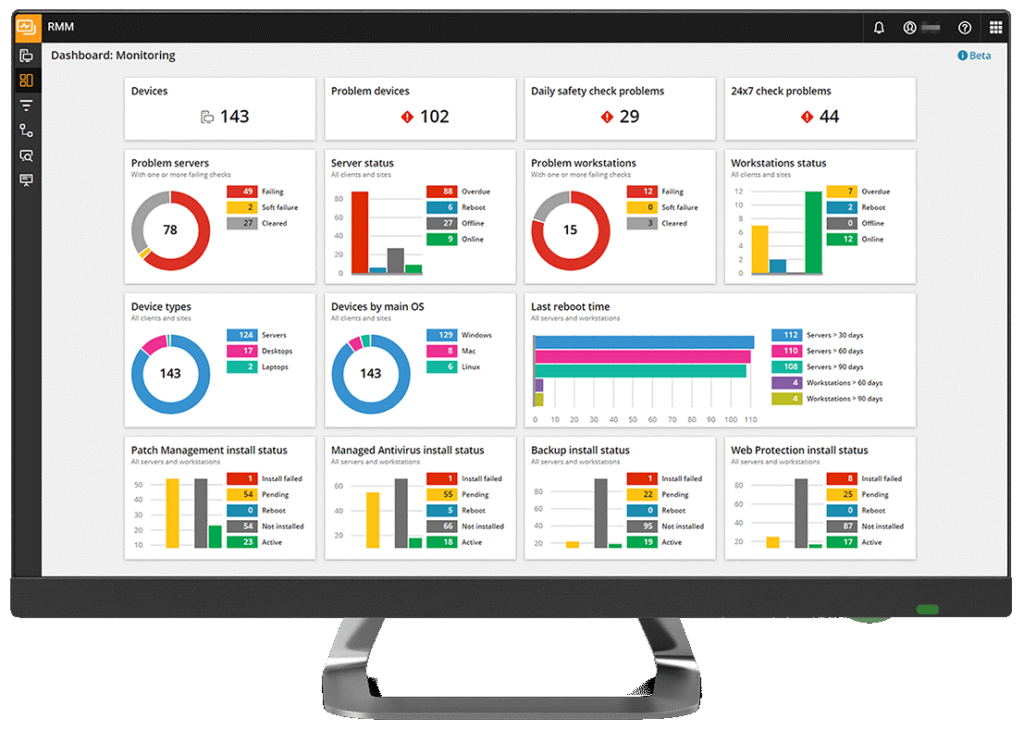 Much like ITarian Patch Manager, these tools are designed from the ground up to meet the needs of managed service providers. They offer a full-featured solution for managing updates on hundreds or thousands of client devices, while keeping the process as centralized and streamlined as possible.
Remote Monitoring & Management (RMM) and N-central Patch Manager provide you with a single console where you can approve and deny patches in a batch, set up auto-approval for specific patch types, access reporting functionality, and schedule patching windows. N-central Patch Manager does much the same but is also optimized specifically to manage Windows 10 updates with ease.
Benefits: built for managed service providers, manages updates on thousands of devices, includes automation and reporting functionality, provides a centralized dashboard.
Disadvantages: less appropriate for use on a single device or network.
What Is a Software Update Checker?
Keeping all your software up to date is important for general system health, and a software update checker manages this process for you. Generally, an update checker includes tools for automatically checking each of the programs installed on your device and determining whether any updates or patches are available. In some cases, the update checker will include functionality to automatically patch a program. It might also address compliance by generating reports to show auditors or other regulatory bodies your software is updated and secure.
What Is a Software Patch? Importance of Patch Management for Security
A patch is simply a temporary fix between full releases of a software package. In many cases, patches are used to fix security vulnerabilities or bugs. When software is not updated or patched when there is a problem, there may be security weaknesses you're not aware of. It's also possible for badly designed patches to create new problems in the software. For these reasons and others, the entire process needs to be carefully monitored and managed to make sure you're not leaving your systems open to attack.
Attackers generally target commonly used operating systems and programs, so they can build a tool capable of spreading widely and attacking lots of individual computers or systems at the same time. This means if you use popular software, it's more likely to be targeted. For example, Windows operating systems are more likely to get viruses than Linux operating systems: they're targeted more often.
Some attacks target outdated and unsupported software. A software updater will inform you if the software you're using isn't supported and is vulnerable to issues. There's also the possibility of a zero-day attack, which is when the vulnerability is discovered, and an attack occurs on the same day. Using a software updating tool can help you to roll out patches as fast as possible, to avoid something like this.
Conclusion
All of the above software update checkers are good quality, but SolarWinds Patch Manager is definitely my overall recommendation. It's not just an update checker, nor is it simply a part of another tool. Instead, it's a complete patch management software that works well, is easy to set up and use, and is continually reliable. PM can take over a large portion of the patch management and updating process, freeing you up to focus on other important jobs.