MIBs, short for Management Information Bases, are hierarchical databases of information pertaining to monitored devices. They can be accessed through MIB browsers, which retrieve data from SNMP-enabled devices like servers, routers, or switches.
There are several MIB browsers on the market, including professional options and free and open-source tools. All these are designed to help you manage SNMP devices and access information in MIBs in a usable and efficient way. I recommend SolarWinds® Engineer's Toolset™, which bundles MIB tools with a wide range of utilities to help you maintain your network as a whole.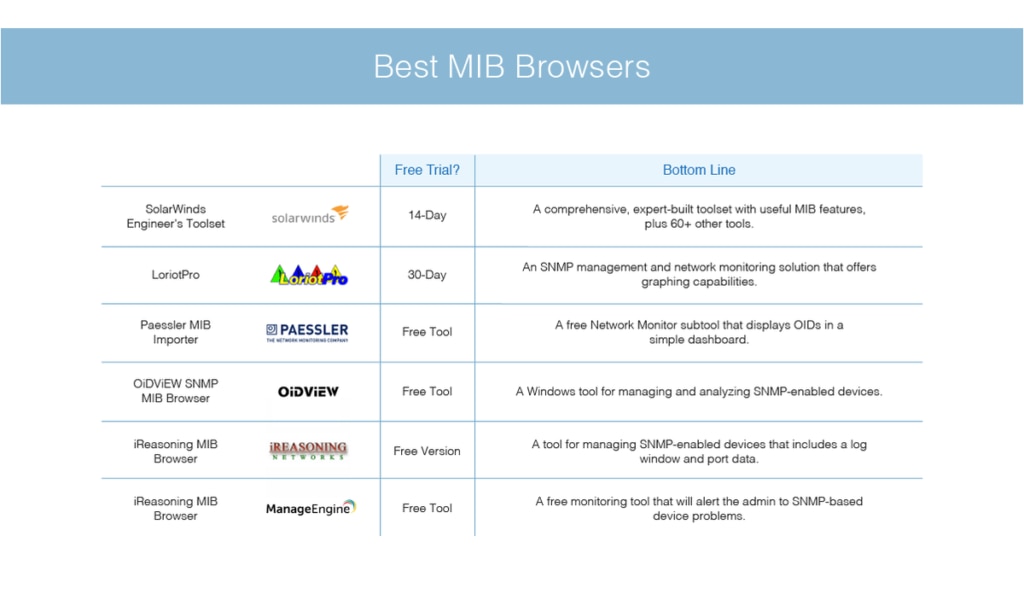 Understanding SNMP
Before we get into MIB browsers, a basic understanding of SNMP will be helpful. SNMP, or Simple Network Management Protocol, is used for collecting information about managed devices on IP networks. It can also be used to modify or organize information on those same devices, which include hosts, servers, printers, routers, and switches. SNMP-enabled managed devices can understand SNMP, which allows you to communicate with them from a networking perspective.
Understanding MIBs and MIB Browsers
A Management Information Base, or MIB, is a virtual database organized hierarchically. Essentially, a MIB is a collection of definitions for the "managed objects" within the device being managed.
Within the MIB hierarchy, OIDs, short for Object Identifiers, point to managed objects. An OID is usually an address matched to a particular device. You can use the OID associated with devices to check device information, performance, sensor data, and so on. Simply put, MIB translates the OID, enabling a management station to understand the device status and related information.
You can access MIBs using SNMP by connecting through a MIB browser—also known as an SNMP browser. For example, if you were monitoring a printer, you'd want to know the different printer cartridge states, how many files had been printed, traffic on the device, and whether there's any packet loss in the connection to the printer. The MIB browser allows you to pull out data from the printer in a format you can understand.
Best MIB Browsers
Although all MIB browsers assist you in understanding and working with your device data, their features and capabilities vary. Some MIB SNMP browsers are text-based, others resemble spreadsheets, and still others have a simple GUI showing MIB data in a list. In making your choice, you'll want to think about how much information you need from a browser.
Although I've included some free tools in this list, it's important to remember in a professional or enterprise environment, a free MIB browser may not be sufficient. In addition, network engineers and troubleshooting staff usually need a solution beyond a simple MIB tool, so the ideal MIB browser will come as part of a larger offering.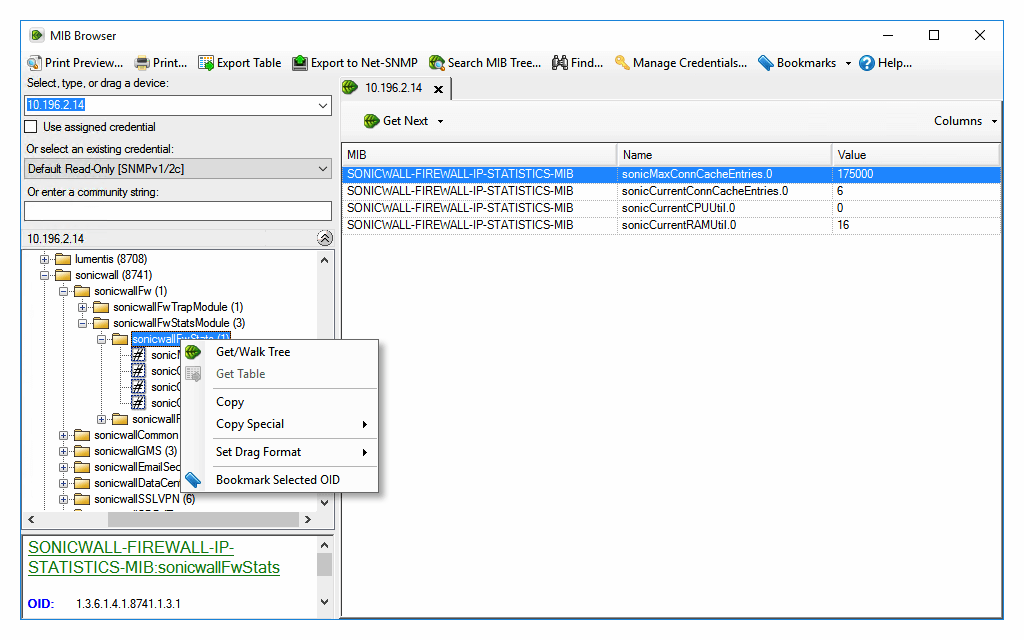 This is my top choice for a MIB SNMP browser. SolarWinds Engineer's Toolset (ETS) include MIB tools and numerous other network utilities and useful features to help you ensure the proper functioning of your entire IT environment.
In terms of MIB and SNMP, ETS includes the following tools:
The MIB Viewer allows you to quickly and easily retrieve MIBs you use frequently from the SolarWinds MIB database.
The MIB Walk tool helps you to create reports regarding which MIBs and OIDs a device can support, so you can configure your devices in the right way.
With the SNMP MIB Browser, you can query your SNMP-enabled devices for managed objects—i.e., the software and hardware configurations.
In addition to these MIB tools, ETS enables you to monitor device and network response times,  CPU loads, and other device health metrics. ETS includes network utilities such as traceroute and ping, plus DNS and log management tools.
The log management tools include the SNMP Trap Editor and SNMP Trap Receiver, which can help you modify SNMP trap templates and check and copy critical alerts to ensure your SNMP systems are working. You can also receive, log, and view all your SNMP traps and check trap configurations. Combining these tools with your MIB tools helps ensure every aspect of your SNMP devices and configurations is accurate and healthy.
Additionally, ETS encompasses ping sweep, MAC address discovery, network inventory tools, port mapping tools, and security tools, including those to protect from SNMP brute force attacks and SNMP dictionary attacks.
SolarWinds ETS MIB Browser is easy to use, and it comes integrated with an array of other tools and utilities to give you a clear and overarching view of your entire network, including how well your devices are functioning. A 14-day free trial is available.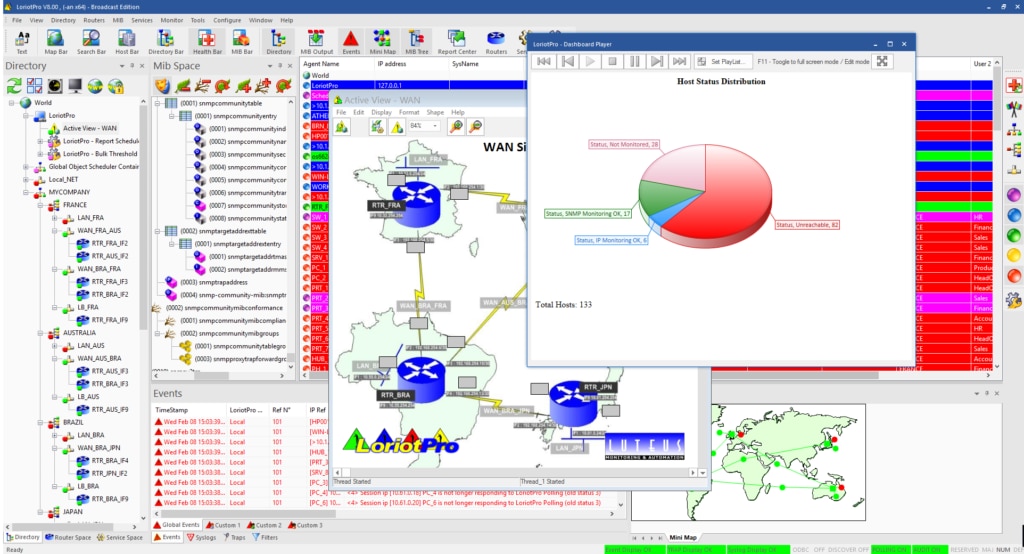 LoriotPro is an SNMP management tool and network monitoring solution. It includes numerous tools to help system administrators configure and maintain the network and various parts. LoriotPro allows you to send multiple successive SNMP requests to a switch, so you can retrieve a list of all active ports, for example, or gather a list of devices running the same operating system.
This is a hierarchical browser and management tool, which allows you to see all your resources in a tree form with relevant dependencies. It also contains a multitasking engine, and you can collect numerous SNMP performance indicators nearly instantly. LoriotPro includes a GUI displaying performance indicators in a list, refreshing every second. In addition to SNMP, the software works with protocols including ICMP and HTTP. Its alerting capabilities also make it useful for monitoring.
LoriotPro includes graphing capabilities to graph SNMP objects, including network interface traffic, CPU usage, email queue usage, web traffic, disk usage, printer queue usage, and so on. With discovery functions, you can use SNMP and ICMP to discover and map your entire network. Finally, you can create reports showing your system resources.
LoriotPro offers a freeware version, as well as Lite, Standard, and Extended editions for professional use.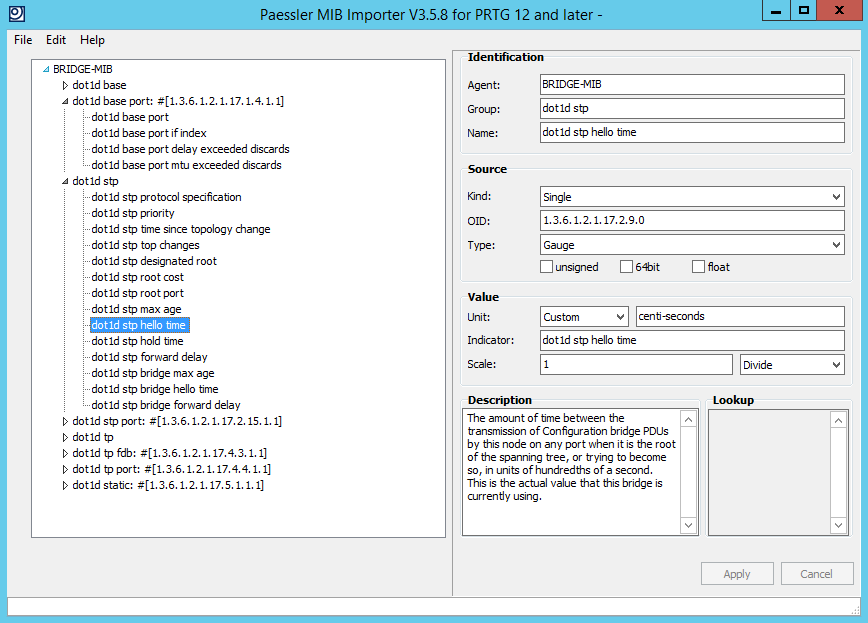 Paessler MIB Importer is a free SNMP MIB browser for use in combination with Paessler PRTG Network Monitor. It monitors SNMP devices using MIB data files supplied by the device vendor and converts the MIB data into an OID library, which PRTG then accesses to display monitoring and device health information.
MIB Importer has three main sections: the global header bar, which contains the main menu; a window on the left, which displays the OIDs in a tree once you have imported a MIB; and a window on the right, which displays the properties of the OID you have selected. You can import MIB files either with drag and drop, or manually.
Paessler MIB Importer is a free tool, but to integrate it with the PRTG monitoring solution, you either need to download the (limited) free version of PRTG or pay for the enterprise version.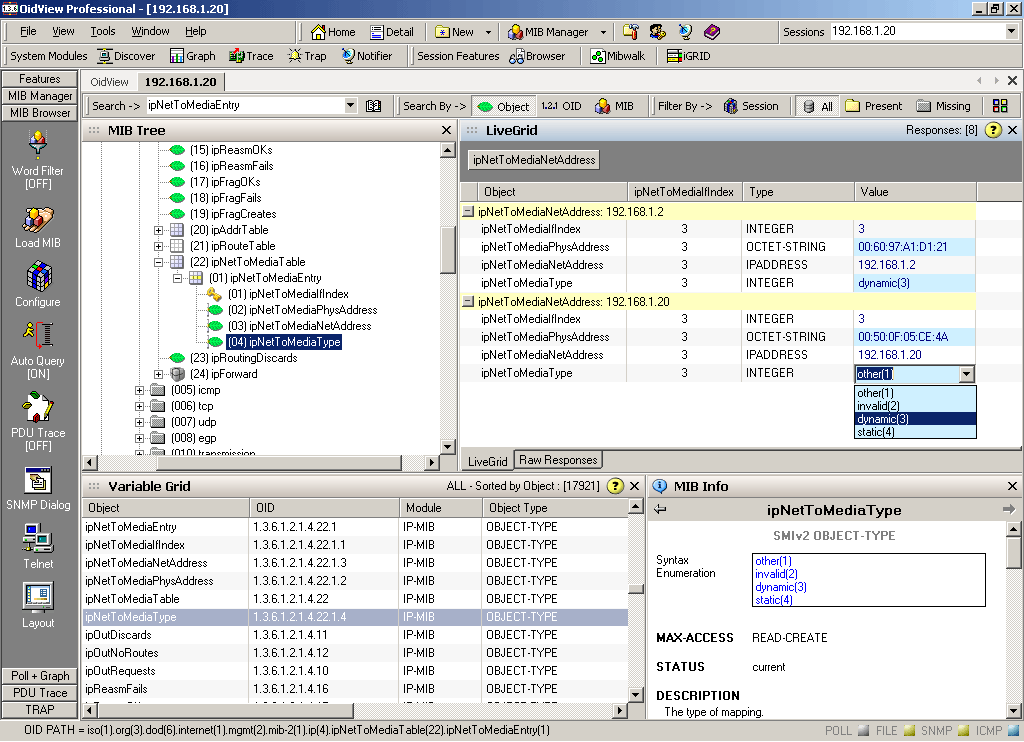 OiDViEW SNMP MIB Browser covers network management and network analysis. It uses SNMP communication to connect with devices on your network and will run on all Windows operating systems. It manages all SNMP-enabled devices on your network, including routers, switches, printers, and servers and probes.
You can use OiDViEW to load standard and proprietary MIB files and to view and edit data in the SNMP agents. In addition, it can analyze SNMP MIB walk files from numerous vendors.
The software uses two technologies that play a large role in how it functions: MIBSense and MIBAcquire. These allow you to determine the correct vendor for the SNMP agent on your device, and then download and install the relevant MIBs. OiDViEW can then load the necessary MIBs at will. This helps you speed up your device monitoring process and automates tasks that would otherwise take a significant amount of time.
In addition, you can view windows with MIB tree representation and agent OID/value responses, searchable MIB variable grids, and MIB variable definition details. If in a session you only query some MIB variables, or if some are missing, OiDViEW flags which of those have been examined and which have not. You can also store your sessions for later use.
OiDViEW SNMP MIB Browser is a free tool, available as part of OiDViEW Console, which comes in both a Professional and an Enterprise version. You can download a free trial of the more complete Console tool as well.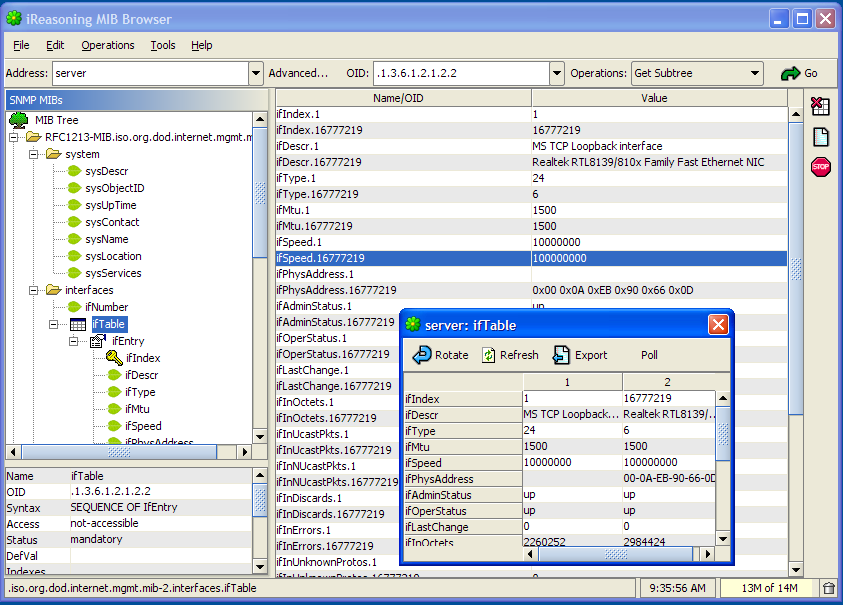 MIB Browser by iReasoning allows networking professionals to manage SNMP-enabled devices and applications; it also allows you to load standard and proprietary MIBs, even malformed MIBs. You can use iReasoning MIB Browser to issue SNMP requests for retrieving data from an agent, or to change the agent. You can also use the built-in SNMP trap receiver to process SNMP traps.
The software includes a log window, so you can see application logs and SNMP packet logs for packets exchanged between the MIB browser and the agent. It also includes a switch port mapper and allows you to view port data such as data on bandwidth utilization.
iReasoning enables you to graph your numerical OID values, which means you can monitor the performance of devices. It also includes basic ping and traceroute tools to support network troubleshooting.
You can download the Personal edition for free or access a free trial of the Enterprise or Professional edition for up to 30 days.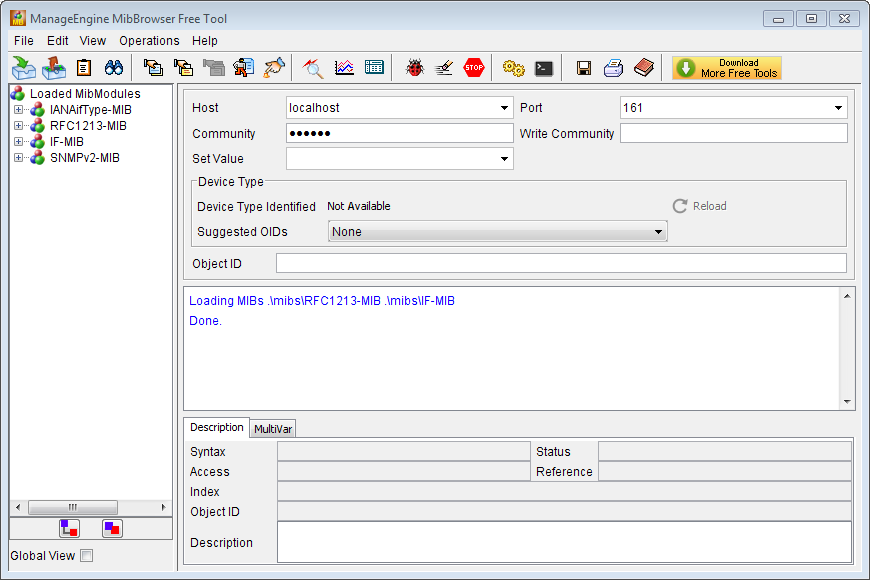 ManageEngine offers a free tool for monitoring SNMP-enabled devices and servers. You can use ManageEngine Free SNMP MIB Browser to load and view MIB modules and to view and configure SNMP traps. It will alert the administrator if there are any problems with device statuses and allows the admin to define specific actions related to particular traps or responses.
The three primary tools included in ManageEngine are the SNMP Trap Receiver, SNMP Trap Parsers, and SNMP Decoder. The Trap Receiver allows you to view the SNMP traps, and can listen to multiple ports at once. The Trap Parsers configure and parse trap events, translating trap information into something a human can understand. Finally, the Decoder decodes debug messages.
You can view all of your SNMP table data in a window where you can add rows to existing data, or as editable graphs and indexes.
This is a free tool, and you can use it alongside one of ManageEngine's paid offerings, such as OpManager.
Getting the Most Out of Your MIB Browser
MIB browsers equip you to keep tabs on your SNMP-enabled devices and to quickly troubleshoot issues before they affect your end users. Using an MIB browser to troubleshoot SNMP issues—for example, by querying SNMP variables on the devices you're using, assessing response times, or checking whether a variable has been implemented at all—can help ensure all of your SNMP-enabled devices are available and functioning well at all times.
There are several MIB browsers on the market. I recommend SolarWinds Engineer's Toolset, both for its capacity as an MIB browser and for its integration of a broad range of tools within a centralized interface. Regardless of the solution you choose for your business, you should be monitoring consistently, and performing regular audits to ensure your MIB software and associated devices are being measured and monitored in an appropriate and timely manner.