Network administrators often use network traffic analyzers to help with network traffic analysis. However, it can be difficult to determine which network traffic analysis software is best suited for your enterprise. This guide will provide a list of the best network traffic analysis tools and give an overview of each of their key features.
---
What Are Network Traffic Analyzers?
4 Key Features of Network Traffic Analysis Tools
5 Best Network Traffic Analyzers
1. SolarWinds NetFlow Traffic Analyzer (NTA) (Free Trial)
2. ManageEngine OpManager Plus
3. SolarWinds Network Performance Monitor (NPM)
For those who don't have time to read the full guide, SolarWinds® NetFlow Traffic Analyzer (NTA) ranks the highest. NTA is a versatile solution and offers a range of advanced features without compromising on the user-friendliness of the interface. A 30-day free trial is available.
What Are Network Traffic Analyzers?
Network traffic analysis is the process of intercepting, recording, and analyzing network traffic communication patterns with the aim of detecting and responding to security threats. Network traffic analysis may also be used to identify performance issues. Network traffic analyzers are simply tools designed to enhance, streamline, and simplify the network traffic analysis process.
Network traffic analysis tools help identify the applications and protocols currently running on the network, identifying bandwidth hogs (at the user, application, and device levels), monitoring client-to-server network traffic, and troubleshooting network and application performance problems.
Cybercriminals are constantly modifying their tactics to avoid detection. They often leverage legitimate credentials with trusted tools that have already been deployed in a network environment, making it difficult for businesses to identify critical security threats. Network traffic analysis tools were designed to combat the constant innovation of cybercrime; they help achieve this by giving companies a realistic way to thwart the attempts of even the most creative hackers.
Moreover, achieving consistent and comprehensive visibility of growing networks has become a big challenge for businesses. Fortunately, network traffic analyzers can serve as sources of reliable information and insight, helping businesses identify what's on their networks. This is because networks provide an objective perspective other data sources often struggle to achieve.
4 Key Features of Network Traffic Analysis Tools
When choosing network traffic analysis software for your company, we recommend prioritizing the following features:
1. Comprehensive Visibility
It's key for the network traffic analysis tools you choose to be able to monitor and analyze a broad range of communications in real time. This should cover traditional TCP/IP style packets, traffic from and within cloud workloads, virtual network traffic crossing from a virtual switch (vSwitch), serverless computing instances, and API calls to software as a service (SaaS) applications.
2. Entity Tracking
An effective network traffic analyzer should also allow you to track and profile all the entities on a network, including users, devices, destinations, applications, and more. Ideally, the network traffic analysis tools you choose will feature machine learning and analytics capabilities, which can help you correlate the behaviors and relationships between discovered entities. This will provide a much greater value contribution to your company than a static list of IP addresses.
3. Encrypted Traffic Analysis
More than 70% of web traffic is encrypted, which is why companies need an accessible and reliable method of decryption for their network traffic that doesn't disrupt data privacy. A dependable network traffic analyzer should be able to empower security professionals to uncover network risks and threats by analyzing the full payload without viewing the contents. This protects data privacy and integrity.
4. Comprehensive Baselines
To keep pace with modern IT environments—which are constantly innovating—network traffic analysis tools should be able to track behaviors unique to a specific entity (or a small number of entities) in comparison to most entities in the environment. The tool should then be able to use the underlying data to establish baselines, which evolve in real time as behaviors change. Network traffic analyzers with entity tracking abilities can create even more comprehensive baselines because they understand the source and destination entities as well as the traffic patterns. For example, what might be considered normal for a workstation won't be normal for an IP phone, camera, or server.
5 Best Network Traffic Analyzers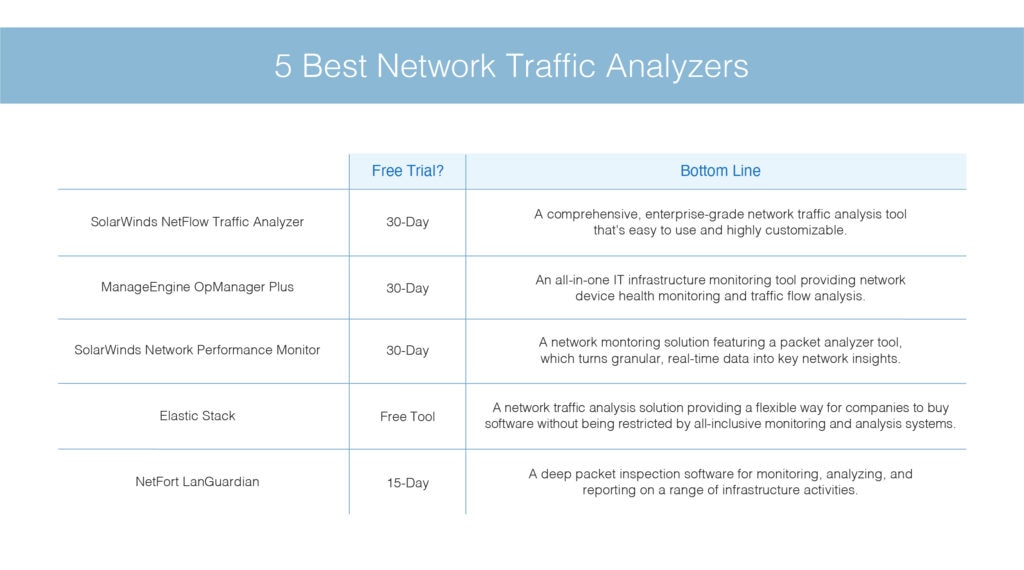 The following tools all come highly recommended, but some are likely to be better suited to your individual requirements than others. For each of these tools, we've included key features and advantages to help you choose the right one for your company.
SolarWinds NetFlow Traffic Analyzer (NTA) (Free Trial)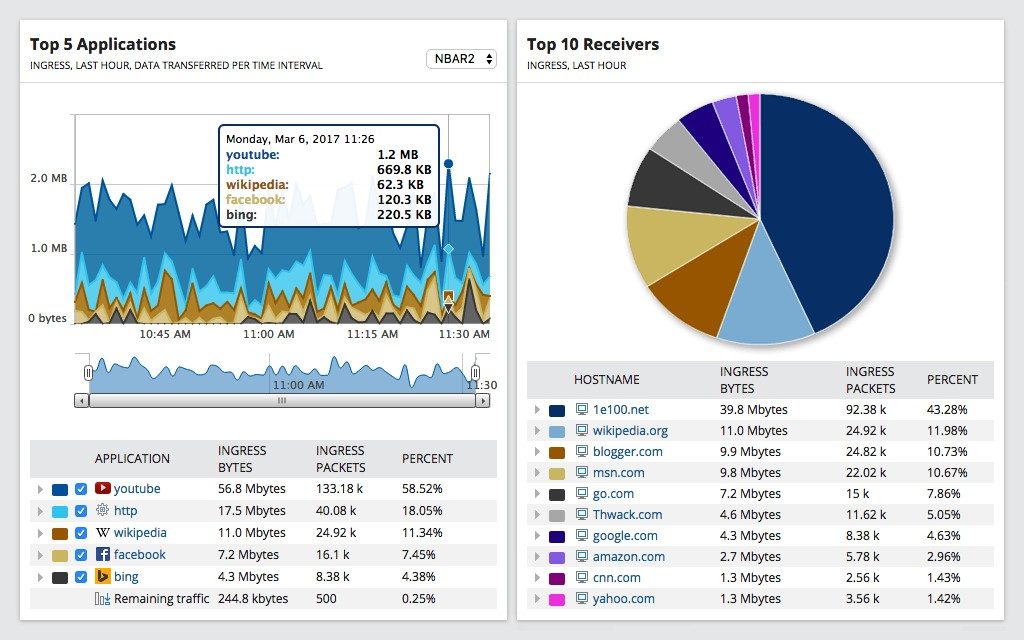 SolarWinds NTA is a tool designed to help you perform in-depth network traffic analysis with ease and accuracy. This network traffic analysis software tops our list of the best network traffic analyzers because it's comprehensive, enterprise-grade, and easy to use.
With NTA, you can:
build customizable reports – NTA is built to report on both current and historical network traffic data—including CBQoS data and flow data—so you can detect trends in peak bandwidth usage and adjust policies for better management.
set alerts – to provide you with immediate insight into unusual network traffic behavior, such as when bandwidth usage exceeds your set thresholds.
detect bandwidth top talkers – NTA helps you achieve this by revealing which endpoints and applications are generating heavy network traffic and creating bottlenecks.
use custom options – allowing you to track network and application traffic arriving from source IPs, designated ports, destination IPs, protocols, or applications.
This contributes to the comprehensiveness of the tool's offerings.
NTA uses automation to simplify otherwise time-consuming and labor-intensive tasks. The tool automatically collects and correlates traffic data, giving you insight into network traffic patterns for any network. NTA can collect and analyze flow data from multiple vendors, including the following:
Collectors for NetFlow v5 and v9
Huawei NetStream
Juniper J-Flow
sFlow
IPFIX
Advanced application recognition with NBAR2
NTA can analyze network traffic through custom, overlapping IP address groups, which lets you create your own IP address groups and visualize network traffic in the way best suited for you. This makes the NTA dashboard and UI especially easy to use and navigate. The tool's web-based interface presents network traffic in a user-friendly and visual way, helping you get to the root cause of bandwidth issues with an intuitive point-and-click interface. NTA also features color-coded graphs and charts to help you quickly identify peak bandwidth usage.
SolarWinds NTA is a highly sophisticated solution ideal for small and large companies alike. It's easy to use and requires no initial training or experience to get started.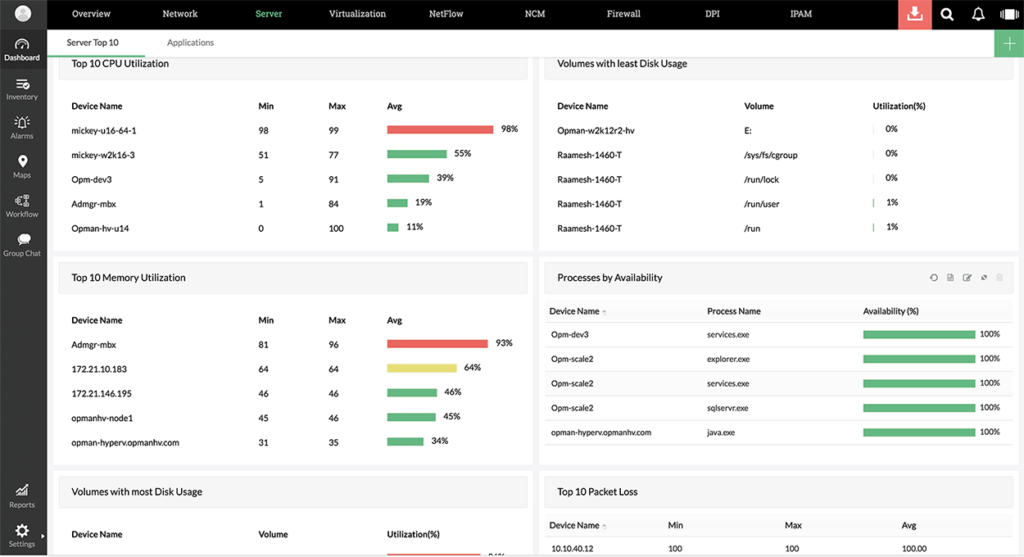 ManageEngine OpManager Plus is an all-in-one IT infrastructure monitoring tool. It offers a comprehensive range of monitoring capabilities, including network device health monitoring and traffic flow analysis.
OpManager Plus gives you immediate insight into your network by scheduling regular scans and creating a topology map and device inventory. This gives you an overview of your network, so you can test the traffic on each link or end-to-end between two network nodes. Whenever you make modifications to your network—such as adding, moving, or removing equipment—your topology map and inventory update automatically. The map displays the status of each device and the load on each link, giving you an at-a-glance view of your network health.
This network traffic analysis tool also features a traffic flow capture system capable of communicating with network devices through AppFlow, IPFIX, J-Flow, NetStream, NetFlow, and sFlow. OpManager Plus displays real-time network traffic metrics on a dynamic dashboard, and the packets captured by the system are stored in files for analysis purposes.
OpManager Plus lets you configure threshold alerts to notify you if resources are likely to be exhausted. These alerts can be sent to you via SMS or email, so you're always kept in the loop, even when you aren't viewing the OpManager Plus dashboards.
OpManager Plus also allows you to explore the sources of traffic by interface, IP address, or application. It uses NBAR to achieve this, which stands for Network Based Application Recognition and is the mechanism used by some Cisco routers and switches to recognize a dataflow by inspecting some packets sent. This network flow analysis software also includes forecasting assistance to help with capacity planning.
Additionally, OpManager Plus can monitor wireless networks and standard LANs. If you run a WAN, this tool can cover internet links between sites. The tool can also integrate links to cloud servers, and OpManager Plus is supported by Windows and Linux servers. Although OpManager Plus is a versatile tool, the user interface can take some time to get used to. A 30-day free trial is available.
SolarWinds Network Performance Monitor (NPM) (Free Trial)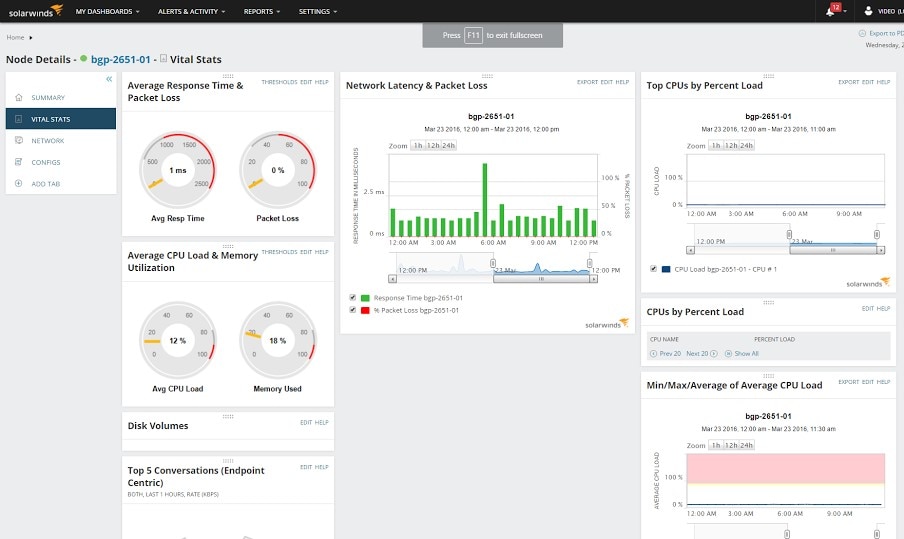 NPM is another SolarWinds program offering impressive network traffic analysis tools. This includes the network packet analyzer, which turns granular, real-time data into key network insights.
The NPM network packet analyzer measures network path latency—or the response time between client and server—to identify irregularities or bottlenecks. This packet-level data provides network administrators with the most relevant metrics, including a pinpointed network location, traffic volume, traffic count, and network and application response time. This makes it easier to diagnose root causes and address problems before they further impact end-user connectivity.
NPM also features a performance analysis feature called PerfStack™, which can be used to drag and drop performance metrics onto a common timeline; this allows you to visually correlate data and quickly discover the root cause of issues.
NPM is an all-in-one network monitoring and analysis tool offering an array of other powerful features, including network availability monitoring, advanced alerts, critical path visualization, and more.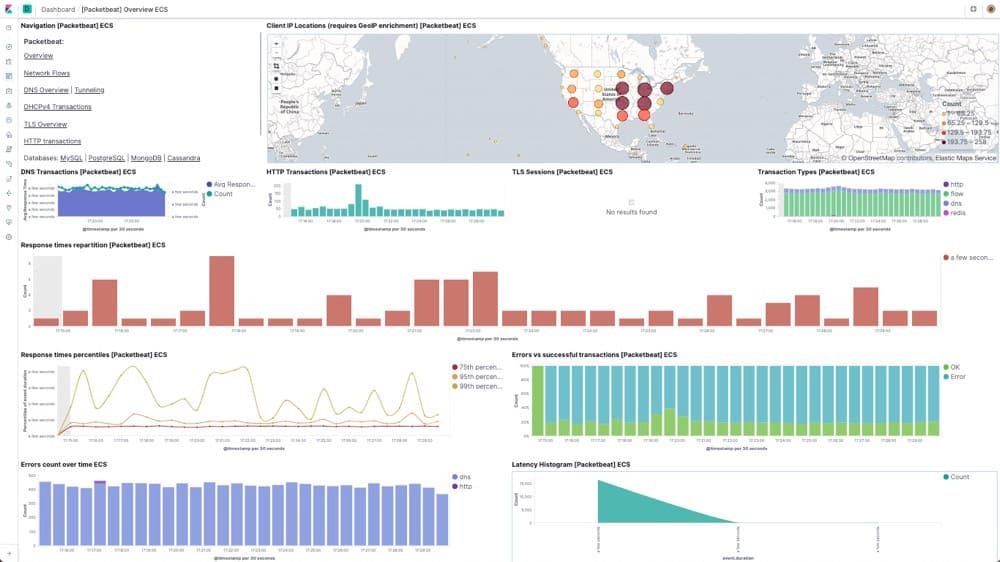 The Elastic Stack, as its name suggests, offers a flexible way for companies to buy software without being restricted by all-inclusive monitoring and analysis systems. Instead, the Elastic Stack allows users to select the best-of-breed for each network analysis function. This software works together to capture packets, analyze them, and display the results, and you can even deploy each element separately and use them alongside tools from other vendors.
Kibana serves as the front end of the Elastic Stack, and it comes highly recommended by many other network analysis tools. Kibana was created to interact with many back-end data gathering and interpolation systems (like OSSEC), but it was specifically designed to work with Elasticsearch. It features dynamic data visualizations and customizable dashboards.
Logstash is a log server capable of creating storage files for a wide range of data. It's the lowest layer of the Elastic Stack. To conduct traffic analysis, you could use a free pcap tool, which you could then feed into the stack via the Logstash utility.
Elastic Stack programs are free and are available for macOS, Linux, and Windows. A cloud-based Elastic Stack service called Elastic Cloud is also available.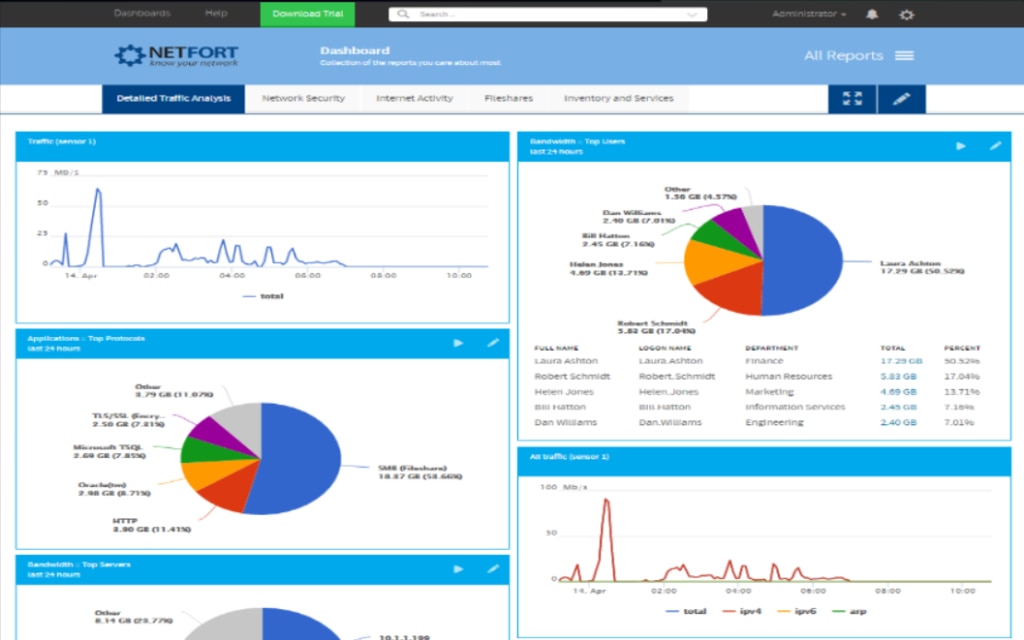 NetFort is a deep packet inspection software for monitoring, analyzing, and reporting on a range of infrastructure activities, including users, applications, and networks. This is a passive network traffic analysis software with no impact on network performance. LANGuardian inspects the content of traffic packets and headers and provides detailed and reliable information on application and network traffic status.
NetFort is fast and easy to use, allowing you to capture all network traffic over a long period of time and providing instant visibility into your network traffic. This tool is prebuilt with hundreds of charts, graphs, and reports, all of which are customizable.
NetFort LANGuardian also offers a range of other features, including file monitoring, web monitoring, and wire data analysis. A 15-day free trial is available.
Choosing the right tool
If you still aren't sure which network traffic analysis software is right for your company, we encourage you to take advantage of the free trials linked throughout this guide. Overall, we most highly recommend SolarWinds NetFlow Traffic Analyzer as an easy-to-use, comprehensive, and scalable network traffic analysis solution.